145 Reviews
Recommended by 98% of couples
Quality of service

4.9 out of 5 rating

Average response time

4.9 out of 5 rating

Professionalism

4.9 out of 5 rating

Value

4.8 out of 5 rating

Flexibility

4.9 out of 5 rating
77 User photos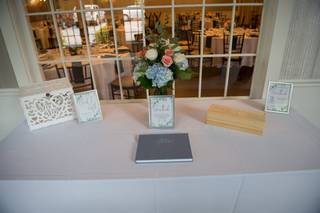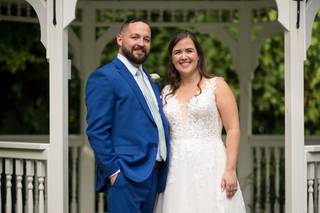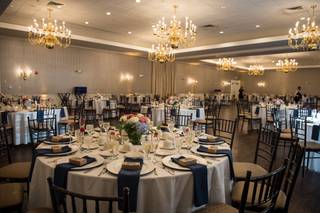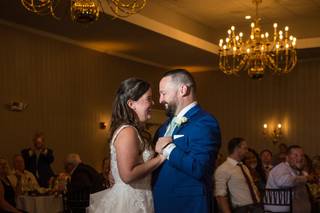 + 73

photos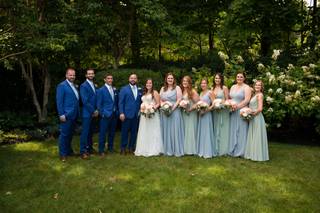 Featured

Allie F.

Married on 09/03/2022

We'd do it all the same

I cannot say enough about The Chocksett Inn. We had initially booked with another venue that wound up changing hands and asking us to break the contract. After some sleepless nights, we restarted our venue search and it was truly a blessing in disguise because Chocksett was everything we could have hoped for and more. If we had found Chocksett first, I'm certain we would have booked it from the beginning.

From the first meeting with Tianna, I knew we had found our venue. It had everything you could possibly hope for: on-site accommodations, beautiful outdoor space, an on-site restaurant that allowed us to go to many tastings throughout the year leading up to our wedding, a beautiful cocktail hour space, and an even more gorgeous ballroom. That initial feeling was only solidified in the months leading up to our wedding as we had email conversations and in-person meetings with Tianna helping us through decisions and giving us great ideas. The wedding day was icing on the cake as we had a stress-free morning with both bride and groom getting ready on-site, we had a first look and photos with our wedding party before going to the church only 5 minutes down the road and then were able to spend the entire cocktail hour with our friends and family, which is unheard of! As another reviewer mentioned, part of the beauty of Chocksett truly is that it's a one-stop-shop. We opted to host our rehearsal dinner off-site, but had the option to do it at the Grille, we then slept at the Inn on Friday night so we could just roll out of bed on Saturday morning to each get ready in the two conference spaces. Our first look was perfect with the gazebo and patio spaces outside. Our ceremony ended a bit earlier than our cocktail hour was set to begin, but everyone was able to grab a beverage at the Chocksett Cellar Grille (which I highly recommend you visit as the food and drinks are amazing and will give you a great sense of the high quality you'll get on your wedding day), which helped us to eliminate that dreaded "Catholic gap." We then heard many compliments about the beautiful lobby area and ballroom where our reception was held. We then went back down to the Grille for our on-site after party before our guests retired to their rooms, only to join us in the morning for a beautiful send-off breakfast on the back patio. The weekend could not have been better, and the fact that we rarely had to leave the Inn's grounds made it so easy!

We continue to receive compliments from our guests about the comfortable rooms, delicious food, and friendly staff. I truly cannot wait for another opportunity to visit, whether it's for a one-night stay with my new husband to celebrate our marriage or to attend another wedding or event. By the end of the weekend, the entire team at Chocksett felt like members of our family. I am so beyond thankful that we had the opportunity to book this venue, as it truly made our wedding a day to remember. If I could do it all over again, I hope it would go exactly the same way. Thank you, thank you, thank you for a fairytale weekend. We are so lucky to have found The Chocksett Inn.

+ 3

photos

Megan R.

Married on 09/02/2022

This place is magical

I will be the first to say that I am a control freak and I wanted to make my wedding special. I found out really quickly that the staff at Chocksett was way ahead of me and provided the care and compassion I needed to get through it. They made me feel supported even when I asked the dumbest questions. This place was the best part of my wedding and me and my guests loved every moment here.

Melissa B.

Married on 07/30/2022

PERFECT - One Stop Venue - No Regrets!

Where does one even begin with the Chocksett Inn. Let's just say we saw a few other venues and when we met Tianna (wedding coordinator) she blew us away with the ease of everything. She was always available when needed, responded in such a timely manner, effortlessly answered every question. She brought our simple sparkle theme to life. I was able to drop items off and the team took are of everything. My vision was flawless! The bridal suite(spiral stair case/two floor suite)/conference room I highly recommend for getting ready. Conference room is spacious and on site and bridal suite is ideal for a Bride/Bridesmaids to get ready and take those fun Bridal party pix. There is also a room for Groomsmen to add those finishing touches. The outdoor Gazebo/Ceremony area is private. We did our first look down the aisle and were we able to take some private pictures before our guest arrived. Our guest were pleasantly surprised of our secret little area to say our "I Do's." Our food was flavorful and filling between the served apps and seated dinner. The guest were raving! We also provided our guest with an after party in the restaurant downstairs with unbelievable snacks before they headed to their rooms. I do not have any regrets with this one stop venue. We HIGHLY RECOMMEND!! They made our day perfect. Forever thankful and grateful!!

+ 2

photos

Are you interested?

Send a message

Christian B.

Married on 06/17/2022

A Hidden Gem

The Chocksett Inn in Sterling was the perfect location for our wedding. It felt like it was tucked away in a quiet location and peace surrounded us. We first noticed the parking space and there was alot of it. The building itself gave off a quaint feel from the outside but the inside was far more modern. The gazebo garden is tucked away and allows for a very private ceremony. The Foyer and Ballroom allowed for an elegant and amazing cocktail hour and reception. Both areas are very big and can accommodate a large guest list. One of our favorite parts of the venue is the fact that would could do everything onsite including renting rooms for our guest to spend the night.
The staff at the Chocksett were absolutely amazing. Tianna who is the wedding coordinator was fabulous from day 1. We understood that she had alot of other weddings that she also had to work on, but she still crushed it whenever we had questions and always returned our emails and calls. The staff at the Chocksett (Chefs, Front desk, Bartenders, Servers etc.) went over and beyond anything we expected. The backup help for Tianna on our wedding day were friendly and attentive. Our entire wedding day was so much better because of how well the Chocksett staff did to ensure that not just the wedding party felt welcomed but all of the guest felt the same way.
In closing, we would like to thank everyone at the Chocksett Inn for making our day so memorable and truly special. We cannot wait to come back for our Anniversary Dinners and if anyone asks us for recommendations on wedding venues, The Chocksett Inn will be at the very top of the List.

Thank you from Christian & Courtney - Wedding date: June 17th-2022

Julie R.

Married on 06/11/2022

Everything We Could Have Hoped For

If I could give all the stars to Tianna and the incredible crew at the Chocksett Inn, I would! From the moment we toured, we knew it was going to be our venue. The outdoor garden area is quaint and gorgeous, the newly renovated cocktail area is absolutely beautiful, and the classic ballroom was the perfect spot for our live band and an amazing night on the dance floor.

From day 1, Tianna was such a pro - she took the time to sit with us at our initial appointment and even priced out different options for us depending on the various packages we were able to choose from (we were even able to customize what made the most sense for our day). Tianna was always so calm and kind, from the initial planning leading up to the wedding, and especially on the day of when I was so nervous! Her and her staff made sure the day went so perfect and smooth and we truly could not have asked for a more perfect venue than the Chocksett Inn.

The food was INCREDIBLE! Everyone kept coming up to us at the wedding saying how delicious everything was. The wait staff were friendly and attentive, and truly we had ZERO complaints from start to finish. Also, the rooms were clean, large, and the wedding suite we stayed in has its own little porch and outdoor entrance - perfect for the night. We truly cannot say enough wonderful things about this place.

We want to go back to the day and do it all over again! If you are looking for a venue with onsite ceremony, reception and overnight stay with wonderful staff, food, and atmosphere, don't hesitate to book here!

Chris B.

Married on 05/28/2022

Perfect Wedding Venue

From the very beginning we fell in love with everything about the Chocksett Inn. We knew right away that the aesthetics were exactly what we were looking for. The garden space is beautifully manicured. The ballroom and pre-function spaces are sleek and modern and provide an elegant city feel within a more rural setting. While we didn't ultimately host our ceremony in the garden due to inclement weather, the ballroom back up space still produced a very intimate ceremony and allowed our photographers and videographers to use the garden without chairs or anything in frame. During our initial site meeting Tianna made us feel welcome and confident in the venue's ability to meet our expectations and deliver the perfect day for us. Tianna was extremely patient and understanding when we were delayed with our decision making due to COVID infections and once we formally booked she was very responsive to any of our communications. She assisted in the planning process and was quick to provide us with answers to questions, additional quotes, recommendations or anything else that we needed. Her attentiveness during the entire process including the wedding weekend itself is unparalleled and hard to find in this industry. The entire staff did a wonderful job executing the event the way that we had planned it. We continuously hear from our guests how much they enjoyed the venue, the food, the service and the entire experience. Some specifics about our wedding details: We did not host our rehearsal dinner on site although this is an option at the Cellar Grille. We were provided with a complimentary suite the night of the wedding and during our final drop off appointment Tianna informed us that the suite was also available the night prior. We were able to book this for an additional cost. This allowed early access to the bridal suite and adjoining conference room which was perfect for bridal hair and makeup. Otherwise you can book just the adjoining conference room starting at 7am but may not have access to that particular suite until they can get it cleaned after checkout. There are two bridal suites to choose from - one on the first floor with a spiral staircase and a loft bedroom (this has the adjoining conference room) and one in the second floor with a fireplace and hot tub in the room. You can pick either one for your complimentary night. As part of the contract you are given a room block. The venue has 27 room so depending on the size of your wedding you will definitely need additional room blocks. They leave a few rooms outside of your block (I believe they provide 20 rooms out of the 27 rooms) but because we provided additional room blocks at nearby hotels with busses we did not fill up the block anyways. This venue hosts a group menu tasting in lieu of a private menu tasting. While a little less personal it did provide a nice way to meet some of their preferred vendors. We ended up booking our DJ because of the experience with him at the tasting. The room rental is for a 5 hour block. You can pay to extend this or you can host an after party in the Cellar Grille which is what we chose to do. There was an additional rental fee for this ($500) and the ability to have catered food available as well. We did not offer a breakfast the following day but they also can accommodate this if you wish. Having the ability to keep everything contained in one location is a huge plus as it makes the logistics of the day so much easier.

+ 5

photos

Akash A.

Married on 05/27/2022

The brochure says "wedding of your dreams," and they delivered

Tianna at the Chocksett Inn made our wedding SO EASY. I had a lot of stress about details and space and all sorts of things, but Tianna was so organized, attentive, and professional that I felt extremely safe working with her. She was helpful and very accommodating with our needs and everything went so perfectly.
The venue itself was amazing! We took pictures in their garden and the ones in the gazebo came out especially beautiful. Dinner was so tasty and the reception hall was everything you're looking for in a wedding venue. Many of our guests stayed at the Inn itself, which made everything so easy. The Chocksett also gave us a special suite as part of the basic package, and it was so nice that when we said goodbye to our guests, we just walked upstairs instead of driving to some other hotel or something like that. All in all, this was beyond our wildest hopes for what our reception would be like.

Mariana

Married on 05/20/2022

Perfect Venue and Staff

I had a dream wedding and the Chocksett inn team was responsible for making this day memorable. I would like to point out that I visited around 12 venues between Ma and RI and none of them I had fallen in love with. but as we had already been to several places, we decided that we would choose one anyway. That's when I saw the Chocksett inn and fell in love. I fell in love so much that I went as fast as possible to see if that place was really beautiful as I saw in the photos. When we got there, it was love at first sight. not only for the divine location, but also for Tianna who throughout the process was very helpful and made me feel like the only bride she was working with. I am Brazilian and my husband is American. And I made sure that some things from my culture were included in my wedding and they were extremely flexible with me. I think that was the most important thing for me because of all the places I visited, they were the ones that exceeded all my expectations. my guests can't stop talking about how perfect everything was and how wonderful the food was! I had my rehearsal dinner there too and it was a dream! All that i ever wanted! thanks to Tianna and all her team for helping me make a dream come true.

+ 11

photos

Kristen

Married on 12/11/2021

Incredible

I can't begin to tell you how thrilled we were with our wedding at the Chocksett Inn. The Chocksett Inn had every thing we were looking for and more!!
Before I break down our day, I have to give the BIGGEST shout out to our wedding coordinator, Tianna!!! Tianna made wedding planning a joy. She was so helpful and went above and beyond to make our visions a reality. She answered countless emails, always putting my mind at ease. She was there to reschedule our wedding from Dec. 2020 to Dec. 2021, planned my bridal shower (Aug 2021- on the patio at the Chocksett- HIGHLY recommend) and made every detail of our wedding perfect. And I mean every detail. Every little minor request or detail I envisioned she made it happen. She really made you feel like you were the only bride she was working with! She was a gift! Tianna was definitely a highlight!!! Our day went so smoothly and I give Tianna and the Chocksett team all the credit!!
So here we go!
It was important to us to have a venue with accommodations. The rooms at the Inn were impeccably clean and spacious. It was great for staying over the night before. Already being there for on site hair and make up made the day start off so smoothly!! Many of our guests took adavantage of the accommodations. I feel like having everything in one location allowed guests to relax and enjoy the evening from the start. It was great, too, since we hosted an after party downstairs at the Chocksett Bar and Grille. **We had our rehearsal dinner there the night before- 10 out of 10 food and service!!**
We had our ceremony on site. It was winter, so the ballroom was separated in two by a wall down the middle of the room. Honestly, you didn't feel like you were in the same room as the reception. It felt just like an intimate ceremony. Complete with our Christmas tree backdrop and aisle.
Cocktail hour is held in the most elegant foyer. We had passed appetizers and food displays (cheese & crackers, a Mediterranean spread etc.) Our guests were greeted with wine and beer as they exited the ceremony. We had our own assistant that welcomed us and our wedding party with champagne and our own apps display while we took photos.
We did do a first look in the foyer prior to the ceremony. It was in front of their Christmas tree. The decor, especially the fireplace, and the grounds outdoors all make for great photos.
The reception was everything! Our tables, the FOOD!! Everything was on point! Tianna and her team really took the time to make our table settings and all the little details shine.
Our guests are still raving about the food! Our food options were the Colonial chicken, beef tenderloin and eggplant ratatouille. You can't go wrong with any of them!
The after party food, pizza and mozzarella sticks (so good-they have the best marinara dipping sauce) were so tasty and just what you wanted at the end of the night! They also brought down a whole tray of sliced wedding cake. I thought that was a really nice touch :)
When we got to our room at the end of the night, we arrived to champagne on ice, 2 slices each of our 3 flavors of cake, and all our decor and details neatly boxed and ready to go home with us the next day! They made it so easy!
It makes my heart so happy to still hear people complementing our wedding. We've heard so many times how impressed people were with the Chocksett!
We are so grateful for Tianna and the Chocksett Inn for such an unforgettable experience. Thank you for a wonderful wedding!

+ 4

photos

Ashley J.

Married on 12/04/2021

Simply Amazing

I don't know where to start with reviewing how amazing the Chocksett Inn is. After looking at numerous venues online I had almost given up hope on finding our dream place to get married. One that could accommodate our guests and have space for an indoor ceremony and reception. With a December wedding, an outdoor ceremony wasn't really possible. I knew exactly what we were looking for and what we needed for our venue. The Chocksett had everything we had hoped for! The pictures for the Chocksett don't do justice to just how beautiful it really is, inside and out! From the moment we arrived for our tour I knew this was the place for us! The space was perfect, elegant, and the ballroom could be divided for our ceremony to be held indoors. Tianna was amazing to work with. She was so sweet and knowledgeable about everything there is to know about planning a wedding there. She was always so helpful and responsive to the countless emails I sent asking questions. From early on at the wedding tasting, to all of the events of our big day, (rehearsal, rehearsal dinner, getting ready, ceremony, cocktail hour, reception AND after party) the staff at the Chocksett were all wonderful! So welcoming to all our guests, polite, friendly, and went above and beyond to make sure everything was as we wanted it and that everyone was satisfied. They set everything up the day of the wedding and broke everything down and brought it to our suite at the end of the night. We had not one worry the day of our wedding and we have the Chocksett to thank for a lot of that! I could go on and on about how wonderful this place is… The Chocksett Inn truly is a 10/10, highly recommend!

Sarah B.

Married on 10/24/2021

AMAZING and beautiful Inn-perfect wedding venue

We had the perfect wedding reception at the Chocksett Inn!
From the moment we decided to look into the Chocksett, they were incredibly kind and helpful, and it was an easy decision to have our reception there! Sterling, and specifically the Chocksett, was a very meaningful place for us to have our reception-it's the town where we had our first date, adopted our dog, and the inn where my husband's grandparents were married. Then, after meeting Tianna and the seeing the space, it was a no brainer.
We planned a pretty quick wedding, and they made it super easy for us. They were knowledgeable, worked with us easily, and answered any and all questions we had! Tianna was so friendly and made sure everything was perfect for our big day! They are also dog friendly, so our pup Luna got to join in for some of the festivities!
Our guests, and specifically parents, continue to talk about how beautiful the day was, and how amazing the Chocksett was in every way.
We couldn't be more thankful to them for helping us create our dream wedding and would highly recommend them to any couple looking for a spectacular wedding venue.
We did not have our ceremony on the grounds, but they have a beautiful garden area for couples looking to do both the ceremony and reception there, and we did take advantage of that area for photos!
We will forever remember our wedding day as nothing but the best day of our lives, and that is in large part due to the Chocksett Inn. We plan to be back for many future anniversary's and absolutely loved everything about this venue.

Karla C.

Married on 10/03/2021

Great food, great service, great time

We live locally around the Chocksett Inn. In fact, we have frequented the ice cream shop that is in front of it almost annually. It's a little hidden gem. I had never been inside until touring it. Once my husband and I stepped into the Foyer it was absolutely breathtaking. We knew that this was our venue. Tiana and her team did a wonderful job. I had a bunch of decor items that I hadn't really specified what I planned to do with them / had a final vision for. However, it was like they read my mind. It turned out stunning. Our wedding was originally for October 2020, and we moved it to 2021. They were very accommodating to move the date forward. We even had our rehearsal dinner there, and try to visit their restaurant as often as we can. Their food is superb. Would definitely choose them all over again!

Kelsey A.

Married on 10/01/2021

Absolutely perfect and stress free

We couldn't have asked for a better venue!! It is beautiful inside and out! We had creative freedom and they were considerably more flexible than other venues.This was very helpful because my mom and I used to work in the industry so there was a lot of stuff we wanted to do. Tianna was excellent!!! She was so accommodating and was always available to answer phone calls and emails. Anytime we talked to her, she knew exactly what we were talking about like we were the only couple she was working with. The food was excellent! Everyone was talking about the appetizers and the dinner. I am very much a food snob and so is the rest of my family and we couldn't have been any happier. The fall table was gorgeous! The staff was so accommodating and nice and personable. They were always making sure my husband and I had everything we needed. Nicole was great during the rehearsal dinner and the ceremony. Making sure everyone was where they needed to be. I couldn't have asked for a more perfect venue, coordinator, and staff. Everything was just perfect! I would recommend them to anyone!

Jess S.

Married on 09/25/2021

Perfect Wedding!

We are so thankful for the Chockesett team and Tianna! Our wedding this weekend was absolutely perfect! The venue was exactly what we wanted, they are very accommodating, from hotel rooms to the ballroom and the secret garden to after party and the breakfast we couldn't have asked for anything more! Our guests were so happy and couldn't stop talking about how beautiful everything was!

Emily B.

Married on 09/05/2021

Beautiful venue

We had an amazing time at our wedding. Beautiful outdoor ceremony space and everyone who works there is great!

Zachary R.

Married on 09/04/2021

Wonderful Wedding

Tianna made sure that our day was just as perfect as we could have ever dreamed of. Due to some delays with hair and makeup both bride and groom were a bit uneasy, but Tianna and her team kept us calm and made sure that everything still flowed smoothly. The team was so caring, attentive, focused, detail oriented, and PERSONABLE. We felt as though they cared so much about how the day went for us, and we knew that no matter what was going to happen, they would have it under control. It was so nice to not have to worry and to know they had our back. Thank you so much to the Chocksett Inn for an amazing day

Julia G.

Married on 07/31/2021

Perfect wedding venue and amazing team!

There are not enough words to describe how great our experience was with the Chocksett Inn for our wedding in July 2021. We were lucky enough to not have to postpone our wedding due to COVID-19, however the Chocksett was completely transparent with us and always kept us up to date based on the latest information available to help with our planning process. The venue is absolutely beautiful, including a quiet and secluded garden where our ceremony occurred, a spacious cocktail hour space, beautiful ballroom for the reception, and bar downstairs to keep the party going afterwards! Additionally, we loved being able to offer some on site accommodations to our guests. We could not have asked for a better location to host our wedding. Beyond all that, the staff are incredible. Tianna, the wedding sales manager, is the best of the best. She is knowledgeable and organized, and makes each couple feel like the only couple she is working with! Tianna answered each and every one of our (many) questions with patience and kindness and was always available to schedule a phone call if needed. She was our day of coordinator, ensuring that our day ran smoothly and helping all of our planning come to life. On the day of the wedding, Billy was our wedding hostess and he took care of everything for us during the cocktail hour through the end of the night – making sure we had enough to eat, packing everything up for us, and just in general always making sure we were having a great time. Some other amazing staff on the day of the wedding were Nicole from the sales office, the bartenders, and all of the servers. Our guests are still raving about the food and the amazing experience they had at the Chocksett Inn. We are so grateful to Tianna, Nicole, Billy, and the rest of the team for helping make our wedding day so perfect and would recommend this venue to anyone! Thank you all for making our day so special!!

Yissel J.

Married on 07/30/2021

Memorable Wedding!!

We got married at the Chocksett Inn, on a Friday in July. Tianna and her team were just amazing. Good food , amazing drink, good vibes from the begging of the planning until the end. It was great that we could do everything in one place and stay overnight. Our guess really love their room and we totally love our bridal suite.

Marissa P.

Married on 06/27/2021

The coziness of "home" and the grandness of a fairytale wedding!

Our wedding day was amazing! I would absolutely recommend Chocksett Inn as a venue. We had a lot of particular small details for the wedding ceremony and reception that were executed perfectly. The planners and staff are very accommodating and were able to fulfill our every request! The wedding, reception and after-party were amazing. It was the exact atmosphere we wanted of the comfort and coziness of being in a home-y space, while also the refinement and grandness of a fairytale wedding! The food was also amazing (a rarity it seems for many venues) and we received multiple compliments from guests about being very impressed by the food, atmosphere, and everything in between!

Shannon K.

Married on 06/26/2021

Amazing time!

My husband and I would highly recommend the Chocksett Inn! Tiana was a pleasure to work with really helped to ensure that everything ran smoothly. Our pictures in the garden came out beautiful and our guests are still raving about the food! We were really happy we picked a venue that has guest accommodations on site - it really made it convenient for both out of town guests and for those who were enjoying our open bar. The rooms were nice and spacious and with so many staying over we were able to add on a fun after-party and bridal breakfast the next morning. We had shopped many venues and found The Chocksett's price and contract/policies to be very reasonable and the staff were all flexible and easy to work with. Our original venue had gone bankrupt and we cannot thank the Chocksett enough for saving the day for us. Our wedding was perfect and there is not a thing that I would have changed!

Jess B.

Married on 11/28/2020

Wedding event

Excellent experience. Everything was perfect!

Karianne M.

Married on 09/05/2020

Amazing experience!

I would absolutely recommend the Chocksett Inn to anyone looking for a beautiful and local wedding venue in the central Massachusetts area. The venue itself is absolutely gorgeous. The staff are amazing. Tianna saved the day when a wardrobe malfunction happened. I truly cannot put into words how happy we were with the Chocksett Inn and we are so thankful we chose this venue for our wedding. They were great to work with during one of the most difficult years with rescheduling due to COVID and really accommodating with anything we needed.

Ashley

Married on 08/27/2020

Amazing all around

The staff is not only friendly but so quick to respond and accommodating. They offer so many packages and they give you all that you could want on your big day! We are so excited

Alyssa C.

Married on 06/27/2020

Excellent, highly recommend

Choosing Chocksett inn for our wedding reception was the best decision we could have made. We had to reschedule due to covid and they made the process stress free and easy. Our reception was beautiful and everything was done exactly how we wanted. Tianna and her team were exceptional and went above and beyond to make everything run smoothly. Choose Chocksett and you will not be disappointed!

Alexandria

Married on 06/01/2020

Fantastic!

I highly recommend choosing Chocksett Inn as your event venue. Everyone on their team is great to work with and so accommodating. They helped make my dream wedding come true and their attention to detail the night of the event blew me away. They are so caring and make sure you don't have a worry to even think about it. The Inn is very clean and so cozy! It's so convenient to have everything all in one place as well (rehearsal dinner, event, hotel room, after party etc).
Are you interested?
Send a message