22 Reviews
Recommended by 100% of couples
Quality of service

5 out of 5 rating

Average response time

5 out of 5 rating

Professionalism

5 out of 5 rating

Value

5 out of 5 rating

Flexibility

5 out of 5 rating
Awards
2 User photos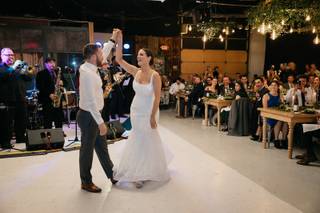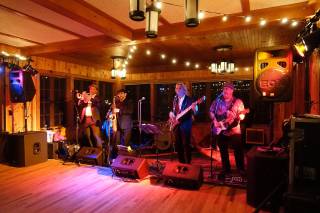 Amanda E.

Married on 10/22/2022

Chicken Slacks are the BEST!

Jeremy and the entire team with the Chicken Slacks are amazing! We had so much fun dancing the night away with them and got countless comments from friends and family that they were the best wedding band our guests had ever seen (no joke!).

We also used the Chicken Slacks for our ceremony and cocktail reception musicians. We did a trio for each block of time and I cannot recommend this enough!

The entire group was easy to work with start to finish and really brough the fun on the big day. 10/10!

Cassie A.

Married on 09/24/2022

Our dream wedding band DELIVERED!

The Chicken Slacks are amazing! They handled the sound for our ceremony and played during the cocktail hour, dinner, and dancing. Jeremy also did a fantastic job as emcee for the reception and brought a lot of energy to the wedding. Their wedding experience and questionnaire helped us plan out a flow that got everybody excited and dancing. Our guests were very impressed and looked like they had a lot of fun dancing to the music. We cannot recommend them enough, and we're so glad that we chose them for our wedding.

Aaron

Married on 05/29/2022

Made the wedding!

Jeremy and the chicken slacks were unbelievable for our wedding! Our one request was to have people dance, our dance floor was packed from start to finish. The set list and energy the band produced was why everyone stayed on the dance floor. Dance floor was hot!!!

Chicken Slacks's reply:

Y'all rock! Thanks for all of your hospitality. We had a blast! I will absolutely pass along this amazing review to the guys. See you soon:)

Are you interested?

Send a message

Dafna G.

Married on 11/10/2019

Best part of the night!

The Chicken Slacks were known to us as a great band from soul/funk nights at the Cantab Lounge. We knew we wanted them to play at our wedding and they did not disappoint! The Chicken Slacks were by far the reason we had such an incredible wedding night, and all of our friends and family were raving about the band and the overall fun atmosphere. The Chicken Slacks were engaging, fun and brought a ton of energy to the room! The set list was great and kept everyone dancing for hours! They also played funky New Orleans tunes and we had a traditional second line during the reception! Jeremy, the band manager, was extremely easy and fun to work with and provided so much wonderful advice to us during our planning process, helping us create a perfect timeline that included everything that was important to us. The entire reception went so incredibly smoothly because of him and the rest of the band. He was accessible and always open to chatting in preparation of the wedding. Overall, The Chicken Slacks helped us having the best wedding we could have imagined, so thanks!!!

Julia J.

Married on 11/05/2019

Great band, great people!

The Chickenslacks are professional, timely, and ALWAYS bring the party. They worked with us to plan out the evening and played an amazing reception for us! They also worked with us to have a jazz trio for our ceremony which was beautiful and really added to our experience! Would definitely recommend working with them!

Hannah

Married on 09/07/2019

The Absolute Best!

If you've seen the Chicken Slacks at the Cantab, you already know how great the band is (and if you haven't, go see them!!) They set the tone for our reception and completely made the night. Absolutely everyone, all ages, was on the dance floor - even the groom's 83yo grandma was grooving until 10 pm.

Great music was a given, but the levels of professionalism and organization went above and beyond our expectations. Jeremy was incredibly responsive, and so helpful in guiding us as we put together our wedding day schedule. He was accommodating, flexible, and not shy about giving useful advice. The band learned a new song for our first dance, let us have input on the arrangement, and even let my father join the horn section to accompany us. In addition to the reception, the Slacks put together a jazz trio for our cocktail hour, and their sound engineer stuck around late into the night so that we could continue using their sound equipment after the bands sets had ended.

The only downside I can think of in hiring the Chicken Slacks is that it appears that our wedding was completely deserted in photos taken anywhere other than the dance floor. With the exception of who to marry, they were the best decision of the day. Thanks Jeremy & co - I can't count how many compliments we've received on your behalf!

Chelsea

Married on 08/30/2019

The Chicken Slacks are simply the BEST!!

If you're going to have a band at your wedding, look no further than the Chicken Slacks!!!

My husband and I knew of the Chicken Slacks as they perform around the Boston-area (where my husband is from) regularly and have a standing residency at the Cantab Lounge in Central Square. We attended a casual backyard wedding in CT a few years ago that they performed at, and had the best time singing and dancing all night. They perform many well-known classics that are PERFECT for getting people of all ages on the dance floor (think: Stevie Wonder, Otis Redding).

We weren't interested in having a "traditional" band that only played at weddings and performed too many of the songs often over-done at weddings. The Chicken Slacks were the PERFECT mix of fun, talent, and creativity - not to mention their outstanding professionalism that made the planning process easy and individualized. We got married in New York City and were thrilled when we found out the band was available and able to travel there. Jeremy took us through the process step by step, was upfront about everything, and was overall great to work with.

Our guests were coming up to us and our parents throughout the entire evening and afterwards about how impressed they were by the Chicken Slacks' professionalism and talent - the band was by far the aspect of the wedding we got the most compliments on.

We truly had the best day ever, and cannot thank or recommend the Chicken Slacks enough!

Louisa

Married on 08/24/2019

Chicken Slacks bring the party!!!

Hiring the Chicken Slacks for our wedding was the best decision we made. From the beginning, Jeremy was super responsive and helpful, and we went in to the day expecting great things. The band far exceeded our expectations, which an amazing sax/keyboard duo during our ceremony, and jazz trio during cocktail hour, and the best dance party we could have possibly imagined at our reception! All of our guests were on the dance floor all night, and weeks later are still talking about how amazing the band was. If you want to throw a rocking party that gets people of all ages on the dance floor, hire the Chicken Slacks! You will be SO glad you did. Thanks Jeremy and the gang for making our wedding so special :)

Jean K.

Married on 06/16/2018

The Perfect Band

The Chicken Slacks played at my daughter's wedding in June of 2018. They were fantastic! Jeremy was a great MC and kept things going very smoothly. Everyone danced and had a great time. Couldn't have been better!

Andrea

Married on 08/05/2017

We heard about the Chicken Slacks from my husband's coworker who has great taste in music so we figured they had to be good. We went to Cantab's on a Tuesday night in February to scope them out and we had a great time. We loved their vibe and everyone in the bar was really getting down which we thought was pretty impressive for a Tuesday night. To make the story even better, we had our first date at Cantab's so the choice was a no brainer. Curtis is the band manager and although he lives in CA and manages the band from afar, I was super impressed with his communication. I really appreciated his quick emails that he sent just to let us know everything was all set on their end. We met with Jeremy about a week before the big day and he put our mind at ease. He talked about the other weddings they had done and what the flow typically is so he directed the conversation. He took notes and wrote it up and did a great job communicating prior to the event. The band played all their songs with soul and flare and everyone complimented us on the band. Our only hiccup was a few moments when the sound cut out, but thankfully the engineer was to quick to fix it. Also, there was some confusion about the end time and apparently we hadn't booked the final half hour so we added on an extra half hour from 10:30 - 11 at the last minute, but we opted for just the DJ. I'm not sure what caused the confusion, but it worked out OK and everyone appreciated having that last half hour with our iTunes playlist to bring the event to a close.

Evan

Married on 09/10/2016

The best in the biz. If you like real music - soul music - serious funk - and like to get down, then THIS is your wedding band. If you've been to the Cantab Lounge on a Thursday night then u already know - if not let me school you: these guys are the REAL deal. I'm still amazed they even are available to play weddings and their pricing was beyond fair (especially compared to those normal (ie LAME) wedding bands. Also importantly Jeremy and Curtis are super responsive and fun to work with you - Jeremy was also super accommodating and navigating a few unique musical requests. Finally the band is sick - I'm a musician and their were several musicians that were guests at our wedding, who couldn't believed how tight these guys are (literally someone thought we were playing an Al Green record during the dinner set when it was the Slacks performing 'Let's Stay Together'). The vocals are amazing - the bassist is a living legend - horns on point - awesome guitarist - tight new drummer - super talented keys. Can't recommend enough!!!

Chicken Slacks's reply:

Evan and Meredith-- thanks so much for such kind regards! We had a great time in Catskill, NY-- the The Kaaterskill is a great venue and the venue coordinator, Kate Arel, was great to work with. Congrats on venue choice! Most gratifying for us-- your friends and family know how to have fun, and the vibe coming back to the stage was huge! Thanks again for inviting us to the party-- please come down to the Cantab before too long and say hi.

Caroline

Married on 05/21/2016

We could not have been happier with our decision to hire the Chicken Slacks for our wedding! They were incredibly organized, professional, and easy to work with leading up to our big day, and their performance definitely exceeded our expectations. We loved that they are not a traditional wedding band and their music appealed to all our guests, young and old. The band was one of the most complimented parts of our wedding – several of our guests asked where they could buy CDs and are planning to make trips to Boston just to see the Chicken Slacks perform! We can't recommend them enough.

Chicken Slacks's reply:

Thanks so much, Caroline and Scott! Great time with great people in Newport! Come on down to the Cantab and we'll keep the party going. Wishing you the best from Jeremy, the Chicken Slacks, and me.

Susannah

Married on 07/25/2015

The Chicken Slacks MADE our big day! They got everyone dancing, including my father, who I don't think has danced at a wedding since his own in 1976. :-) We have received so much positive feedback from our guests-- many commented that it was the best dance party they had been to in years. We had so much fun with the Slacks!!

Not only that, I can confidently say that they were by far the easiest, most flexible, and most understanding vendor we worked with. They went out of their way to arrange for a sound system and keyboard for my uncle, who played at our ceremony. Indeed, when we thought we might have to rent a keyboard, they even offered to pick it up for us (instead they ended up providing their own personal keyboard for our use!). Curtis was incredibly gracious and helpful in the months leading up to the wedding and Jeremy was a wonderfully calming and joyful presence on the day of-- a very valuable skill set for calming jittery brides.

I cannot go on enough about how terrific the Chicken Slacks were. I HIGHLY RECOMMEND them! If only we lived in Cambridge and could go see them at their regular gig at the Cantab Lounge. ;-)

Chicken Slacks's reply:

Thanks, Susannah! We had a great time partying with your people at the Pierce House, and you and Eli were a pleasure to work with. Jeremy sends his best!

Emily

Married on 07/18/2015

The Chicken Slacks absolutely made our wedding. We had a non-traditional wedding set up in that we eloped and had a party at our family farm a month later, for which we hired the Chicken Slacks. Despite it being an extremely hot summer night, 100% of the guests were dancing until the final song. They were a total crowd pleaser for both young and old; their energy is totally amazing. A year and a half later, we still have people commenting to us about what an amazing night they had at our party "because of that awesome band." They were the best decision that we made in the whole party planning process, and I would recommend them to anyone.

Chicken Slacks's reply:

Hi Emily and Liam-- so kind of you to write this review! We loved your plan of having a good old fashioned dance party to celebrate your prior "elopement." Relaxed, lots of fun, and we had a great time. And thanks for coming back to visit us at the Cantab! How about another party to celebrate your two year anniversary? Hmmm....Cheers, Curtis and Jeremy

Christine

Married on 05/30/2015

As soon as we were engaged, the Chicken Slacks were the first vendor we KNEW we wanted. We had seen them at a friend's wedding a few years ago, and loved how much energy they brought to the party. They brought the same super-fun vibe to our celebration too, everyone was dancing into the night!! They were also super nice and Jeremy the M.C. made sure everything went smoothly from our ceremony through to the end of the reception. They even accommodated and provided backup for an impromptu performance by my husband's uncle, who wanted to surprise us with "Fly You to the Moon," which was such a special and unforgettable moment of the night. Highly recommended!!!

Chicken Slacks's reply:

Thanks for the kind words-- brings back memories of a great party at Camp Kiwanee! Especially cool when you and your Dad sang "Mockingbird" together, instead of the traditional father/daughter dance. Jeremy says hi, and we all wish you and Daniel a long and prosperous marriage!

Allie

Married on 03/21/2015

Hiring The Chicken Slacks as the band at our wedding is easily the best decision we made throughout the planning process. Every single person who attended our wedding commented on how fantastic they were. Our dance floor was packed all night - and we mean that quite literally. The party started before dinner was even served and lasted until the final note of the very last song! They are so talented and it's obvious to see how much they enjoy what they do and the music that they play. It was evident that people of all ages enjoyed themselves at our wedding because of the entertainment that The Chicken Slacks provided!

Working with them leading up to the big day was a piece of cake. We worked out the contract details with Curtis, who was always very responsive. We then touched base with Jeremy a few weeks before the wedding to discuss timeline, song selection, announcements, etc. I also communicated a bit with Ben, the keyboardist, who played our ceremony music. They were all so nice and left us feeling like that we had nothing to worry about, which turned out to be true!

We can't wait to see them again at the Cantab Lounge and would highly recommend them to any couple out there who is planning a wedding! Seriously - if you want people to tell you over and over again that your wedding was the best one they've ever attended then look no further!

Chicken Slacks's reply:

Hi Allie-- good to hear from you! Hoping all is well. Jeremy says hi, and we both say it was a pleasure working with you. Give our best to Brendan!

Caleb

Married on 08/09/2014

Thank you, thank you, thank you. For me, there were two important aspects in planning the wedding, the drinks and the music. If there is one thing that all our guests commented on, it was how great the band was. Simply put, you guys were professional, polished, personable, a boatload of fun, and you just rocked! There was so much going on that day and Jeremy I can't tell you how much easier it made it for us that you were able to keep the night moving with the formalities, announce everything, and adjust on the fly. Every member was really "on key" that night and all of you brought such an energy that the entire crowd was swept up in the energy. I saw people getting down who I would never imagine dancing in most settings. Because you guys bring so much energy, the music is fun, and you guys are clearly all having a great time, all the guests feel free to cut loose. It was great that a band of your talent level and energy was willing to play our little wedding. The personalization was also really really nice. The shout outs from Jeremy (loved the encore shout!!!!) and Sweet-T, really made it feel like you guys were just there for a paycheck, but also that you were having a great time as well.

I want to say the sound guy did a great job as well. We thought it sounded better than the Cantab, with each instrument being much more distinct and at the same time, the overall volume level wasn't too loud (often a problem with live bands in smaller settings). He also did a great job getting music going between sets.

We could not have been happier with the decision to have you guys; we thought the whole night was just a huge huge success and are looking forward to reliving it back at the Cantab. Thank you again and look forward to seeing

Chicken Slacks's reply:

Caleb-- what great words! Thanks for the effort. We had a blast at Morain Farm, and it was great to see you and Suzanne again at your cousin's wedding! Here's wishing you a long and prosperous marriage. --Curtis, Jeremy, and the Slackers.

Sarah

Married on 06/28/2014

You guys were positively flawless. A dream to work with, so flexible on the day (we were anxious about our timeline changing up so much and you were so reassuring and supportive). And obviously you made our wedding a celebration. It was important to us that everyone love the music; we wanted it classic, irresistable, and intergenerational. Personally, I've never been to a wedding before where everyone (literally!) got up and danced between salad and dinner!!! When it was still light out!!! We were amazed and delighted. You guys WERE irresistable. Thank you for making everyone's night.

Chicken Slacks's reply:

Hi Sarah and Nick-- what a great time at the Old Manse! Jeremy says hi and gives his best. Thanks again for inviting us to the party! Here's wishing you a long and wonderful marriage-- Curtis, Jeremy, and the guys.

Joseph

Married on 05/10/2014

The Chicken Slacks were AMAZING! They were awesome musicians and had everybody on the dancefloor. We had a small 70 person wedding and the dancefloor was packed the whole night. Months later, we are still getting comments about how great the Slacks were. They are a little different than traditional wedding bands in that they focus on certain genres, but they do what they do very, very well, and the music appeals to all ages. Book them - you won't regret it!

Chicken Slacks's reply:

Hi Marina and Joe-- Jeremy and I want to say thanks for these thoughtful words! You were a pleasure to work with, and your family and friends at the Rockport Art Association were a blast to party with. Hope all is well with you-- come visit us at the Cantab!

Julia

Married on 08/31/2013

The Chicken Slacks killed it at our wedding. They played their faces off and had everyone on the dance floor. Even the people who didn't know their kind of music very well had an amazing time, because you simply can't not dance when they're playing. We had to end the music by 9:30 because it was an outdoor wedding, but that was more than enough time for them to turn the reception into a hot and sweaty mess. On top of all that, they are consummate professionals. They have a questionnaire you fill out ahead of time that let's you know how you want the party to flow, and we had an hour long phone conversation with Jeremy a few weeks before where we went over all the details. On the day of, they were in control of the reception, meaning that we could just let loose. If you want (several) people to tell you that your wedding was the most fun they've ever been to, then you should probably book the Slacks now.

Chicken Slacks's reply:

Thanks, Julia and Ross, for these good words! It was a pleasure planning the details, and an even greater pleasure hanging with your partying friends and family! Hope to see you again! Best wishes from Jeremy.

Carolyn

Married on 05/25/2013

Before we booked anything else for our wedding, we booked the Chicken Slacks. We'd seen them a few times at the Cantab and knew they would put on an amazing party. Leading up to the wedding, they were highly professional and communicative, and raised several issues that we hadn't thought of, so we could troubleshoot in advance. They also worked closely with our caterer and other vendors so that we didn't have to direct them day-of, which was great, because we didn't have a planner.

At the wedding itself, they were unbelievable. EVERYONE was on the dance floor from the first song to the encore. Most people when they talk about our wedding now reference how great the band was. We would highly recommend the Chicken Slacks for your wedding/party/whatever. You are guaranteed to have an amazing time.

Chicken Slacks's reply:

Thanks so much, Carolyn, for all your support. We'll see you soon again in Albany! Give our best to Johnny-- Curtis, Jeremy and the guys.

Erin

Married on 07/19/2014

The Chicken Slacks are great. They played our ceremony, cocktail hour, dinner, and dance party. If you're looking for jazz, soul, funk...they are perfect. Their value is good and they were flexible to work with. A huge hit at our wedding! Go check them out at the Cantab lounge in Cambridge on Thursday night and get a feel for them live.

Chicken Slacks's reply:

Another fine day in Vermont! Thanks for sending along these thoughtful words, and thanks again for inviting us to a great party with a fun crowd! Jeremy sends his best to you and Matthew.
Are you interested?
Send a message