Reviews
5.0 out of 5 rating
Quality of service

5 out of 5 rating

Average response time

5 out of 5 rating

Professionalism

5 out of 5 rating

Value

5 out of 5 rating

Flexibility

5 out of 5 rating
100%
Recommended by couples
9 User photos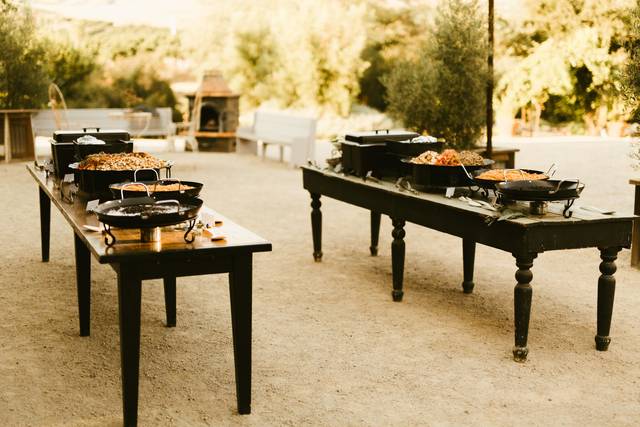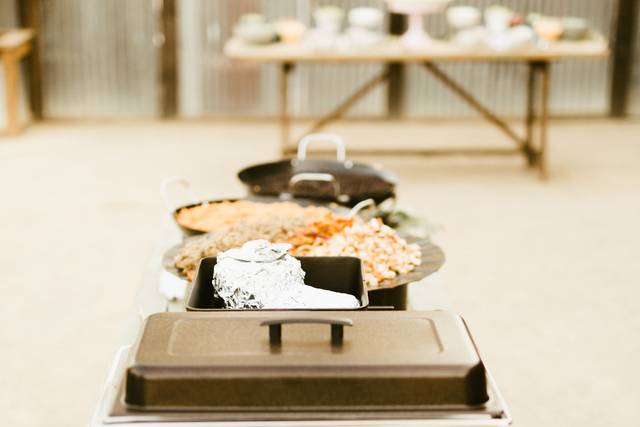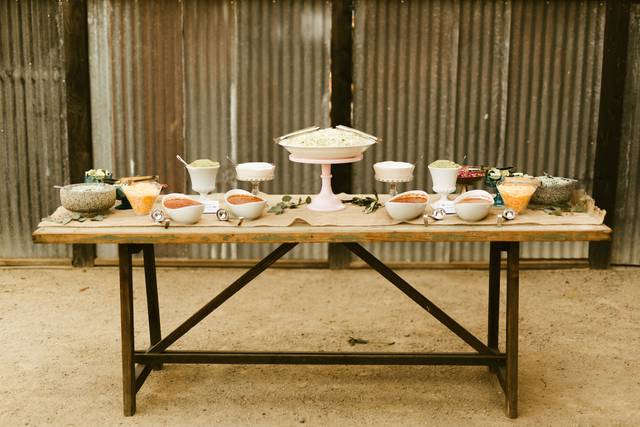 + 5

photos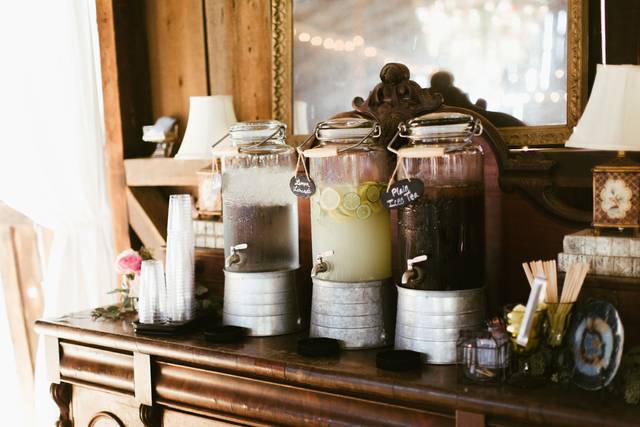 Morgan Q.

Getting married on 10/01/2024

Best caters ever!

They have the best food around! They're so flexible and have a huge variety of options for food. Mike and Becky made the process super easy and worry free. Makes planning a wedding just a little less stressful when you don't have to worry able a vendor.

Elise B.

Married on 09/08/2023

The best wedding food in Central CA!

My husband and I knew from the moment we started talking to Becky and Mike at Chef's Table Catering that they were the company for us! We found them through The Knot and our venue was very familiar with them, they couldn't recommend them enough! Becky was so friendly and helpful in deciding on our menu choices, and once we did our tasting and got to try their food, we knew we'd found the right caterer for our wedding. We went with a breakfast-for-dinner theme, and boy did they deliver! We had the whole spread: breakfast burritos, biscuits and gravy (Mike's grandma's recipe!), eggs benedict, breakfast potatoes, chicken and waffle skewers, and more! Our guests LOVED the food and it kept us energized all night. Whether you want a unique or classic menu, Chef's Table delivers!

Kathryne D.

Married on 08/19/2023

Excellent from start to finish!

Chef's Table did an excellent job for our wedding! So wonderful to communicate with and so flexible with all our requests. The food was delicious and the service was superb. Becky and Mike are thoughtful in their menu preparation and willing to adjust and be flexible for any dietary needs. Would 100/10 recommend to anyone planning an event!

Are you interested?

Send a message

Terri A.

Married on 07/01/2023

Chef's Table is a caterer to be trusted.

If you are looking for a caterer that is great from beginning to finish , rest assured you've found them. When planning any event things can change or possibly you may have new requests, Chefs Table will try their best to accommodate. The food is delicious and their flexibility is great. Expertise on labor needed etc. all great. So with delicious food and service... no worries.

Kelley K.

Married on 06/10/2023

Great food and great people!

Mike and Becky were beyond amazing to work with. They were both extremely responsive and accommodating and I never had any worries about the catering for my wedding. Above all, the food was DELICIOUS. Many of our guests still mention the food months after our wedding and it would not have possible without the Chef's Table team. Thank you Becky and Mike!!

Karl D.

Married on 11/24/2022

Delicious food

The mashed potatoes were the best mashed potatoes I've ever had. All the food was delicious and wonderful hard workers making it all. Definitely recommend

Theresa C.

Married on 11/05/2022

Chef's Table delivered on an outstanding culinary experience!

When we began searching for our wedding caterer over a year before our wedding date, we had a very specific menu in mind. We wanted something unique and delicious to incorporate our heritages (Italian, Korean, & German). We sent our list of food requests and Mike out did himself in a meal our guests are still raving about! From the Italian, Korean, & German appetizers to the family-style Italian/Mediterranean, each dish was better than the next. When we talk to our guests, each of them mentions how great the food was and how they'd never had such delicious braised short-ribs. They're truly one of a kind! We must also mention how great the dietary restricted meal was for those who required it. Mike still delivered an impressive and delicious dish for those who couldn't have garlic, onion, gluten, and more. We highly recommend Chef's Table for anyone looking for a caterer who can deliver a creative and impressive meal you'll remember for years to come!

Alex A.

Married on 10/01/2022

Wonderful service with amazing attention to detail

The food was amazing and such a crowd pleaser! Mike and Becky sat down with us and personally helped us craft an extremely personalized menu that truly was the highlight of the event. Everyone loved the chicken and waffle skewers! All of the staff were very professional and courteous too!

Marissa H.

Married on 06/25/2022

Catering Dream Team!

Chef's Table provided catering for our wedding this past July; they were a dream to work with. From the beginning, Becky and Mike were friendly and responsive. Leading up to the wedding they guided us through the process to ensure everything was ready for the big day. They blew our expectations out of the water on our wedding day. The staff was incredibly attentive and the food was delicious. They were always a step ahead making sure everyone was happy and plates were full. Our guests raved about the food and we enjoyed every bite. We had a guest who had a minimal diet and they made a separate meal to ensure they had what they needed. We can't recommend Becky, Mike, and their entire team highly enough!

Amber G.

Married on 04/30/2022

Exceptional Catering Experience

Becky and Mike (Chef's Table Catering) were absolutely amazing throughout our entire wedding process! We had to reschedule our wedding date twice due to COVID and Chef's Table was incredibly understanding and flexible every time we had to go back and request a new date. The food -- incredible, flavorful, and delicious! Chef's Table was organized and efficient. Their staff was professional and courteous. We received many compliments from our guests regarding the quality of the appetizers and main dish along with the friendliness of the staff. Becky and Mike take extreme pride in their work and it showed at every step of the process from the initial tasting to building out the customized menu and finally to execution! We were so pleased and never once had to worry whether our guests were hungry. Thank you Chef's Table for making our special day one to remember!

Diane

Married on 10/30/2021

Happy Family and Friends!

The food from Chef's Table Catering was one of the highlights of our special day! The team worked with us to ensure that all of our favorite flavors and foods would be included in the presentation to our guests, and they suggested extra touches and ideas that made the presentation and timing extra special. Definitely would use them again for another special event. Their reputation and experience did not disappoint!

Krysta C.

Married on 07/17/2021

10 Star Catering Company!

If I could give Chefs Table a 10 Star Review I would! Their customer service is one of a kind from start to finish. Becky and her talented Chef hubby, Mike are genuinely good people! They have a talented team of kind service staff that ensure every guest is well cared for throughout the entire event. The food is ALWAYS outstanding and accommodating to guest with dietary restrictions. I recommend Chef's Table to all my couples because their team never disappoints!

Mary F.

Married on 07/16/2021

The best wedding food & service ever!

We had decided to plan our wedding in 6 weeks. With this insane decision came worry of who would be able & available to make delicious food for 175 guests with such a last minute booking. Becky and Mike OUTDID themselves. They provided food for our rehearsal dinner, helping us choose Paella to help tie in our 6 months that we lived in Spain. On our wedding day they provided the tastiest appetizers and family style food while providing excellent and kind servers. Our guests could not stop raving about how amazing our food was and that it was the best wedding food they had ever tried. Mike & Becky also hosted our next morning brunch, bringing amazing breakfast burritos and the tastiest bacon skewers for the Bloody Mary bar. On top of all of this Mike & Becky are truly the sweetest couple you could ever meet. They are top notch professionals that want to make your wedding day truly the best and easiest ( and of course tastiest) day of your lives. My husband and I cannot thank Mike & Becky for all of their help! We love you guys :)

Holly S.

Married on 07/10/2021

We loved working with Chef's Table!

When my husband and I were wedding planning last year, Chef's Table was recommended to us by our venue coordinator and our wedding planner! Becky was so easy to get in touch with, helpful throughout the planning process, and we knew right after the tasting that this was our caterer!
All of the staff truly went above and beyond on our wedding day. They reserved passed appetizers for our bridal party while we were taking pictures during cocktail hour, made my husband and I our plates and served them directly to our sweetheart table, and packed us a cooler of leftovers for our weekend in Pismo. And our guests are still talking about the mac n cheese side dish. :) We cannot recommend Chef's Table enough for your wedding day!

Michele C.

Married on 04/10/2021

Highly recommend!

Mike and Becky are a dream to work with! Not only do they have some of the most delicious tasting food, that is home made with fresh ingredients, but they are some of the kindest people you will meet! They strive to give 110% in everything they do, and it shows! I am a local wedding planner and Chef's Table Catering is at the top of my recommended list! I know that when I recommend them to my clients, they will be getting delicious food and excellent service! You can not go wrong with Chef's Table!

Robert

Married on 11/14/2020

Professional, creative and wonderful food!

We had an event in The Central Valley and hired this catering company. Our entire experience was wonderful from the menu planning to the execution. The food was beautiful and tasted great. I would hire them again.

Great Catering

Great caterers who serve with a smile on their faces. Scrumptious food prepared with love and kindness.

A. Jofes

Married on 06/02/2020

Excellent!

Mike and Becky did a great job, it's was everything we asked for and more. Thank you to the entire Chefs Table Team!

Adrianne

Married on 11/03/2019

Incredible

Chef's Table Catering deserves your special day or event and you will be absolutely satisfied! Becky is incredible and I'm so thankful for her. She was always so quick to respond to any of my emails and she answered every single question of mine without any hesitation. We met Becky at a vendor fair and the tastings that they had to offer solidified our yearning to book them for our special day. Our wedding tasting was all around incredible! They prepared a full meal with all of our selections and every single selection was just INCREDIBLE! Make sure you attend the tasting on an empty belly because you are going to want, and need, to try everything. We couldn't wait to share with our guests. Becky and her staff were very attentive and professional at our wedding. And the food, oh the food, was so delicious! Our guests couldn't get enough of it. Becky made a point to serve my husband and I a plate of appetizers and had our food plated for us, which such a great idea on her part. We are so incredibly grateful for Chef's Table Catering and I hope that you waste no time booking them for your special day or any event for that matter!

Nicole F.

Married on 08/31/2019

Amazing Food and Amazing People

I can't say enough how happy we are that we had Mike and Becky as our caterers. Throughout the planning process, Becky was extremely responsive and kind. When we went to do a tasting, we were extremely pleased with the variety of flavors and delicious food that Mike was able to create! We were even able to request certain aspects of the meal to match elements of the foods that we had eaten on our travels. There were many aspects of travel and adventure at our wedding, and it was wonderful to be able to have the food be a part of this theme as well.

During the wedding, Becky checked in and continuously made us feel like our wedding was perfection. The serving staff was attentive, and checked in multiple times with us making sure that we got to eat all of the food that we were so excited about. To make sure that we got to say hi to everyone during dinner, we were served an appetizer platter, salads, and main courses, while the buffet was opening. We were so happy to get a chance to eat everything, which we seriously didn't know if we were going to have time to do.

There was barely anything for us to take care of after the wedding because Chef's Table had cleaned and put away so much for us.

So many people have complimented on the food! Thank you Becky, Mike, and everyone at Chef's Table for creating such a delicious and memorable wedding meal and dining experience for us!

Nicole

Married on 08/10/2019

The BEST Catering Team!!

From the minute we started working with Chef's Table we never looked back. We had the most incredible tasting with Mike & Becky and booked them right away! They are the sweetest couple who made you feel so special during the entire process!! They were responsive, easy to work with, professional and their food is DIVINE!! Many of our guests said it was the best food they have ever had at a wedding. Mike even created special al pastor taco appetizers (my husband's favorite!!). On our wedding day they went out of their way to make sure Austin and I tried all of the appetizers, we actually got to eat our meal (they served us first) and their team was attentive to the both of us throughout the entire evening.

From their presentation to their incredible team to their exceptional food, you will not find a better caterer than them!! Thank you Mike and Becky for helping make our wedding day the best day ever!!

Emma H.

Married on 06/29/2019

The Most Delicious Wedding Food Ever!

Chef's Table did the most fantastic job for our wedding! We did a Taco Bar and oh my goodness it was delicious. Their salsa's were some of the best I've ever had honestly and the meat was wonderfully flavored. We did a tasting with them before we hired them and they were so sweet and the food was incredible. It was so hard to choose what to serve because everything was so good! Mike makes the best sauces around. No matter what kind. Becky is the sweetest and made the planning process so easy! Their staff on the day of were very attentive and professional. I cannot recommend them enough! Anything you order from them will be delicious!

Leanne

Married on 06/01/2019

They made it feel like it was OUR Dinner!

Becky and her team were amazing! They really made our wedding day ours! Becky made a point to make sure I got to try the Mac & Cheese appetizer even though we were busy with family photos after the ceremony! The servers were all so polite and on point! I truly appreciated everything and the food was remarkable! I had so many guests tell me it was so delicious! My husband and I were happy with our choice from the moment we did our tasting, we could tell they were a great fit and really made our special day ours!

Lindsay K.

Married on 11/11/2018

Hire Chef's Table!!

Becky and Mike at Chef's Table Catering were a dream to work with during our wedding process! After our tasting they worked with us and created a beautiful menu for our wedding. We had a plated dinner and their service was absolutely beautiful. The servers were all sinked as they served the tables! We had filet with butter poached shrimp and it was the most amazing filet I have ever tasted. Becky and Mike knew that we really loved their macaroni and cheese so they offered to make us a mac n cheese course. It was so delicious! Chef's table was also able to accommodate the needs of our gluten free guests. Our meal was easily one of the highlights of our night! If you are looking for delicious food, the most amazing service, and a dream experience hire Chef's Table!

Mercedes

Married on 10/20/2018

Amazing Food and Service

You cannot go wrong with Chef's Table Catering, they catered my daughter's wedding on 10/20/18. The food, from the appetizers to the buffet style dinner it was absolutely delicious! Our guests said how much everything tasted so good and how they enjoyed it. The service was awesome also. Thank you so much!
Are you interested?
Send a message