284 Reviews
Recommended by 97% of couples
Quality of service

4.9 out of 5 rating

Average response time

4.9 out of 5 rating

Professionalism

4.9 out of 5 rating

Value

4.8 out of 5 rating

Flexibility

4.8 out of 5 rating
78 User photos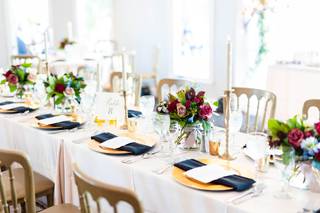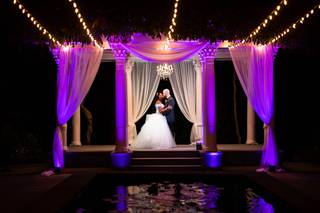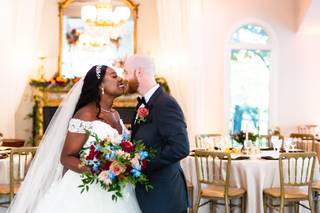 + 74

photos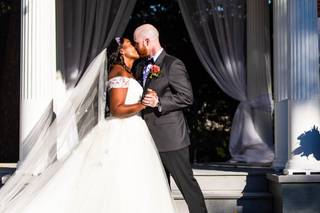 Lina K.

Married on 03/25/2023

Loved everything about the venue and the food!

Food was incredible good! The Lemon Decor did an excellent job decorating! The value of the meals was incredible even with all the upgrades was totally worth every penny!
Juli was very helpful, she accommodate our needs and the whole process is very easy even if you don't have a wedding planner, they serve your choices in a silver platter to pick your favorite. Definitely go to a public tasting to meet the vendors and taste the food. I change my mind after I did this and made different choices. Our DJ was Malachi and he was soo much fun! Everyone and I mean grandmas and all were in the dance floor. A couple of suggestions for the next bride, just make sure you know where things are going to be, for example at the last minute, we didn't know where the flowers for the cake were left at. Little did I know it was in the refrigerador and the cake vendor had to go out and get some. More than anything I think communication is key as usual and ask lots of question. I am the first one to get married so I didn't know what questions to ask but overall it was an amazing and unforgetable experience for all of us and our guests.

Catherine E.

Married on 03/11/2023

A perfect team for a perfect venue

I don't even know where to begin. We fell in love with Ceresville Mansion the second to step foot on the property. We had both our ceremony and our reception there in March 11th 2023. We booked them in August of 2021 and they were amazing for a year and a half of emails, thousand of questions, payment plans. Juli answered all of my emails even when I would say two or three in a row and the entire team helped bring our wedding vision to life. Our wedding day was absolutely perfect. Beautiful, light and airy exactly like we had hoped for. Juli and our day of coordinator Haley checked in on us during the day and got us sandwiches or fruit (which they provide!) and made sure I was drinking water. Juli helped make sure that my husband didn't see me at all, even through windows before our ceremony as we didn't want to do a first look at all. She held my dress and I walked around the building. She got us drinks during the reception. The bartender kept making sure we had drinks the entire night. The food is amazing. Everything we could think of, they thought of first. Our wedding day was wonderful because we got to marry each other but it was perfect because of the Ceresville Mansion crew.

Rob

Married on 11/05/2022

Ceresville Mansion is an all-in-one gem!

Juli Rosenberry and the Ceresville staff were incredible throughout our wedding journey. Juli kept in constant contact, was transparent about venue and food costs, and helped us get in touch with their preferred vendors. Ceresville made it so easy, having both the gorgeous venue, catering, and a vendor package available (DJ, Videographer, Photographer, Flowers, Decor, Limo service, plus options to add more services, so we could customize to our liking), so the planning process was straightforward, and as easy as possible!
The rehearsal was flawless, with Juli working easily with our wedding planner, and then the day of the wedding, everything was beautifully orchestrated. The food was incredible (seriously - don't sleep on the Mac & cheese or crab dip appetizer stations!), service was impeccable (Judy made sure my folks and we got extra Mac & cheese). We're so grateful to Juli and the Ceresville Mansion staff!

Are you interested?

Send a message

Taylor N.

Married on 10/22/2022

Our Perfect Fall Wedding!

Our wedding on 10/22/2022 was absolutely perfect and it's largely due to the hard work and dedicated staff at Ceresville Mansion. Juli, our coordinator, was absolutely phenomenal from our first tour of the Mansion to the very end of our wedding reception. She made sure every question we had was answered, and worked directly with us to recommend vendors, food and drinks, even helping us design our seating chart layout! She made sure everything was perfect and that everyone had an absolute blast at our wedding. Haley, our day-of coordinator, was also amazing! She ran our ceremony rehearsal, ensuring that everything was set and ready to go for the big day. During the wedding, she made sure we stayed on track and stuck to the timeline, and everything went as planned!

The Mansion itself is absolutely beautiful and the perfect backdrop for a timeless and classic wedding. Planning was made easy because it is an all-inclusive venue. We didn't have to worry about coordinating outside vendors because they came as part of the package. This helped take away a lot of the stress of wedding planning.

The food was SPECTACULAR! Everything is of the highest quality, and no guests were left hungry! One specific item our guests raved about was the lobster mac and cheese, which we offered as a late night snack. It was a huge hit and gave our guests the energy to dance late into the night!

We are so grateful to the Ceresville Mansion staff for all of their hard work. Our big day was perfect, we could not have picked a better venue and highly recommend Ceresville for anyone looking to plan a wedding or any event.

Photo Credit - Nesh Photography

+ 4

photos

Tiffany K.

Married on 03/12/2022

Wonderful Venue

My husband and I had our ceremony and reception at Ceresville Mansion. We had an amazing experience from the time of inquiry until the very end of our wedding. They were very patient as I had to make a lot of changes throughout the process due to the highs and lows of the pandemic. Our wedding planner, Kate, was on top of helping us through the planning process. Haley was our day of coordinator who helped me so much on our wedding day! I was a nervous wreck but she was able to guide me through everything. I am so happy we choose Ceresville Mansion as the venue to celebrate the happiest day of my life.

Amanda O.

Married on 11/20/2021

Beautiful Fall Wedding!

Our wedding reception at Ceresville was absolutely phenomenal! We heard rave reviews from friends and family alike on the food quality, staff friendliness (especially the bartenders!), and overall experience at the mansion. Our day-of coordinator did a great job of making sure everything went flawlessly - it was truly a magical day in a gorgeous venue.

As an extra bonus, we went with the all-inclusive package, which made vendor selection and coordination super simple and having vendors who were very familiar with the venue was so helpful in making things go smoothly.

Brittany R.

Married on 10/15/2021

Victorian Mansion and Professional Wedding Venue

This venue was the perfect size for our 60 person wedding. The venue was gorgeous enough that we didn't need much decoration beyond the tables. I absolutely loved the pergola as the ceremony site with the little pond. One guest said that attending our wedding felt like being in a Monet painting. Compared to other venues, this place really gets the details right, with a light champagne breakfast for the bride's wedding party, time for a private secluded moment for the bride and groom the 15 minutes after the ceremony, a coordinator that tells each member of the processional when to go so that it all goes smoothly, and a vendor all-inclusive package, so that the couple does not have to fuss with too many vendors on the day-of. Food was also delicious. Highly recommend for more intimate weddings.

Kristen R.

Married on 10/09/2021

Amazing Wedding Venue

Ceresville Mansion is everything you could want in a venue! There are so many small details that go into planning a wedding, and the staff there are experts. The planning services and day of coordination add so much value- Juli and Haley made sure every part of our day went smoothly. Ceresville accommodated all of our guests with food allergies and everyone said it was the best food they ever had at a wedding! We had our ceremony and cocktail hour outdoors, and our reception indoors, and the transition was seamless. The staff was great with helping us set up and clean up. Our guests had an amazing time!!

Doreatha

Married on 06/26/2021

I had my wedding and reception and everything was wonderful staff, food and I really loved Meghan she was wonderful I couldn't ask for a better place to have my wedding!

Megan H.

Married on 06/05/2021

Afternoon wedding of our dreams!

We were having a smaller wedding and Ceresville worked with us to provide a cost effective wedding with all of the elegance of a larger one. From start to finish the staff was amazing. Our wedding planner Juli made sure all details were taken care of and there was someone by my side the entire wedding day. We had some guests with special needs and the staff was extremely accommodating and kind. Every one of our guests made comments on the beauty of the outside wedding/mansion and kindness of staff. Our dreams came true!

Lizzy D.

Married on 01/30/2021

Like having professional family organize your wedding

The team at Cersville is so responsive and helpful when something comes up. Planning during Covid was rough, but everyone was very flexible and understanding. We had to make changes up to the day before and they had no problem rolling with it. Social faux pas abound were handled with grace during our event, and when EMTs were needed the day of, our event coordinator was great at keeping things together and keeping myself and my husband updated without having to give up our day to the unexpected circumstances.

The on-site catering and food service is fantastic; everything is delicious and the staff is so thoughtful. We needed a break for a bit in the chaos and without being prompted they not only got us food and drinks to a private room, but the head chef even came to check on our personal situation, not just the food. It was just so thoughtful and kind and made our day feel magical despite all the things that could, and did, go wrong at no fault of the Ceresville staff.

I've wanted to get married here since I was a little girl, and Ceresville did not disappoint.

Maren F.

Married on 01/23/2021

Everything & more

Hosted my wedding reception at Ceresville in October and I cannot say enough good things about it! The venue is beautiful, both indoors and outdoors, the staff is extremely professional and responsive, their catering is above and beyond. We've received many remarks from guests commending us on Ceresville. They also have an all-inclusive option, which is a huge plus! Kate and Haley were so easy to work with and made our vision come to life. I could not have asked for a better experience or imagined a better venue to host our special day!

Kaitlin C.

Married on 05/03/2020

Beautiful Venue - the Total Package!

I cannot recommend the Ceresville Mansion highly enough. We were originally supposed to get married there on May 3, 2020, and with the initial shutdowns due to COVID, we had to reschedule to September 13, 2020 with about six weeks notice. The staff here were so incredibly helpful every step of the way. We worked primarily with Alison, but even when she was on vacation for a week the staff member who filled in for her (Ali K.) was top-notch. They are incredibly prompt in all of their communications and very patient in answering our (what felt like hundreds of) questions. The space is gorgeous, the outdoor areas are picturesque and well maintained, and the food was absolutely delicious. This place really is a package deal and 100% worth the cost.

Joshua R.

Married on 02/29/2020

Perfect Venue!

After meeting with Michele at Ceresville there was no doubt in our mind that is was the venue for our wedding. The venue itself is beautiful and perfect for the our guest count of 75 people. Working with Michele and Ali was a joy and they helped us plan a well-organized event. The fact that they provide a day of coordinator is amazing, and our wedding won't have run smoothly without Alison's organization. All of the staff were helpful and the food was delicious.

Taylor

Married on 01/11/2020

So Happy We Chose Ceresville!

I researched basically every single venue in the DMV for my winter wedding and narrowed my search down to my top 5 or so. Well, I only had to visit 2 of them to know that Ceresville was the place for me. Ali Kuchman was amazing about listening to what we wanted and making you feel like she truly cared about your wedding even when you were only in the searching phase. She also sent us a (very reasonable) quote almost immediately. Ali was the perfect POC throughout the year of planning. The other great thing about Ceresville is how much they provide: food, beverages, tables, linens, decor, coordination. The list goes on! Let me tell you, having an "all-inclusive" wedding makes things so much less stressful.

The day itself could not have gone more smoothly. My girls and I (all 12 of us!) were able to get ready in the upstairs of the mansion, which made things incredibly easy. The outside pergola, which is obviously beautiful in warmer months, was the perfect backdrop for night time photos, especially with the holiday decor and lighting, which they left up for me at no extra cost. All of my guests raved about the venue too. I highly recommend Ceresville, any time of the year!

Abby R.

Married on 10/19/2019

Fantastic experience!

We had our wedding there last month and could not have had a better experience. Excellent food, excellent ambiance and very helpful staff who seemed just as excited about our day as we were. We can't say enough good things about Ceresville, and neither can our guests!

Photo credit to Tori Nefores Photography!

Ceresville Mansion's reply:

Thank you for the kind words, we all enjoyed working with you and loved the sweet surprises that were added to the day to make it extra special!

Michele Dure-Chavis
Sales Director

John

Married on 10/18/2019

Caring and Professional

Our experience with Ceresville was pleasant from start to finish. We worked with Ali for about a year an a half prior to our wedding day, and she has been exceptional at ensureing that everything that we wanted was executed well. They also worked with us with complex requests with meals and decoration and coordinated with all our vendors to ensure setup went flawlessly. Our wedding day was as incredible, and the venue being beautiful just added to it. Staff was always available to assist in every way possible through the event.

Ceresville Mansion comes highly recommended to anyone looking to get married or have a reception there.

+ 5

photos

Hannah

Married on 09/01/2019

The best decision in all of wedding planning was choosing Ceresville

From start to finish, Ceresville was the most helpful, flexible, cooperative, and exciting decision we made during the whole process. We would do it again and choose them again in a heartbeat. Kate was our coordinator and she was very organized and precise, extremely appreciated. Amanda was our event manager and everything ran SO smoothly and perfectly under her guidance. Robin the bridal stalker was fantastic and we ate so much food. I wish we could have fit more into our stomachs! XD All the weird little things we did and different touches we asked for were executed flawlessly, and we cannot thank them enough.

Ceresville Mansion's reply:

Thank you Hannah and Eric! I am so glad you enjoyed your day. It was a pleasure meeting and working with you both.

Kate

Ngoc-Han

Married on 08/25/2019

Amazing wedding

First of all, let me preface by saying that we did not plan this wedding until March 2019. When I went to search for a venue, Ceresville Mansion stood out because of the budget and because I fell in love with its terrace. While most couples do their ceremony there, my vision was to have an alfresco reception on the terrace and the ceremony on their big meadow. When I first contacted Michele, she was absolutely on board with my vision and even showed me a few photos of a similar wedding. Throughout the process, I coordinated with Michele who was so patient with me because I was not the most organized bride. Because the wedding was in August, we also had contingency plans set up in case of bad weather but months of praying helped because we had the best weather for an outdoor ceremony and reception (a high of 79F in August with low humidity)! We were also able to make use of the ballroom for the cocktail hour and then dancing after dinner. The day of went very smoothly and Vicky and Amanda helped set up for the wedding and also with making sure that we stayed on time and on schedule. Lauren my bridal attendant was fantastic and made sure we always had food and something to drink.
The wedding was so great and the staff at Ceresville was extremely nice and helpful. We have gotten many compliments on the venue, the staff and the food. Overall, I highly recommend Ceresville Mansion!

Carli F.

Married on 06/08/2019

Fantastic!!!

I immediately knew as soon as we walked in for the first tour that this was where I wanted to have my wedding. The price made us hesitate but it is ABSOLUTELY worth every penny. Ali out coordinator was so responsive and accommodating throughout the entire planning process. There were no other events planned before ours so Ali let us show up early so we could take our time getting ready and setting up the decorations.

Vicki our day of coordinator kept everything running so smoothly and Lauren my bridal assistant was fantastic! Carrying my train down the stairs, saving us a plate of hors d'oeuvres that we did not have a chance to sample during pictures. And the food, OMG, was to die for! We received so many compliments on the food and no trouble accommodating some of ours guests severe food allergies.

The pergola out back was so beautiful, full of greenery that was the perfect backdrop for our ceremony and at night the lighting was magical! Half our guests ended up wandering outside to talk selfies there. Cannot say enough about how gorgeous the venue is, and how fabulous the entire staff was!!!

Lydia

Married on 04/27/2019

Excellent staff, beautiful venue

Gorgeous venue for an ouriasw spring wedding. The staff was fantastic keeping everyone on schedule the day of. Alison was great to work with leading up to the wedding. Definitely great value for the service received.

Ximena T.

Married on 04/05/2019

Surpassed our expectations!!! Amazing!!

Ceresville Mansion exceeded our expectations, Michele Dura-Davis helped us plan everything from the very beginning always answered any questions I had quickly. She also helped us by making sure we were on track to submitting everything before the big day which was a big help. Overall she was wonderful and we are so glad she helped us! The staff from the mansion went above and beyond to make sure everything on our special day was perfect. The attention from Vicki our day of coordinator was amazing, she made sure everything ran smoothly and that we were on track with the sequence of events of that day. Everything was perfect, all my guests can't stop talking about how amazing the attention was, everyone felt important that day. Lauren was my bridal assistant and she was wonderful! She was always making sure I didn't need anything and even helped me carry my bridal train before I walked in to the Venue because it was raining outside! The attention and great customer service from all the employees at the mansion was more than what I had expected, I am so thankful I choose Ceresville Mansion as our reception venue. It was an unforgettable day all thanks to them!

Stephanie

Married on 01/19/2019

Ceresville made my day magical!

I could not have imagined having my wedding at any other venue. Ceresville has been professional and helpful every step of the way. The staff let me take a second tour of when my mother was in town visiting to give her a chance to see it in person. My planner had left, and they were quick to assign a new planner to work with me. Natalie and Alison helped me to plan out everything that I needed to make my wedding run smoothly. Vicki, my day of coordinator, keep everything running and on task. Lauren, my bridal assistant, was wonderful and made sure that anything I needed help with was taken care of. I cannot stress enough how wonderful everything was. The whole team was fabulous at Ceresville!

Jillian

Married on 11/11/2018

Amazing venue

The employees all worked so hard to make my dream wedding come true. I did not have to stress at all the day of the wedding and everything went smoothly.Michelle was a pleasure to work with and the venue its self is beautiful.

Stephen

Married on 11/08/2018

Beautiful venue, inside and out

Ceresville Mansion is a hidden treasure. It's very easy to miss, as it's RIGHT off of a major road, but I'm so glad we found it. All of the staff that helped us coordinate our wedding were able to quickly and knowledgeably answer all the questions we had right up to the time we walked down the aisle. The rehearsal was smooth, and the day of was even better. Neither of us had to worry about a thing thanks to the fantastic staff, even with some last-minute changes on our end. Food was provided by the venue, and their entire menu is to die for. We opted for a brunch wedding, with about half of the menu being vegan-friendly (and DELICIOUS!). Could not be happier with choosing Ceresville!
Are you interested?
Send a message