Reviews
5.0 out of 5 rating
Quality of service

5 out of 5 rating

Average response time

5 out of 5 rating

Professionalism

5 out of 5 rating

Value

4.9 out of 5 rating

Flexibility

5 out of 5 rating
99%
Recommended by couples
24 User photos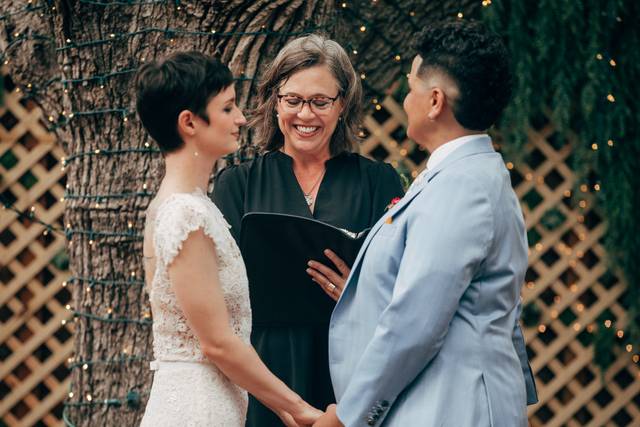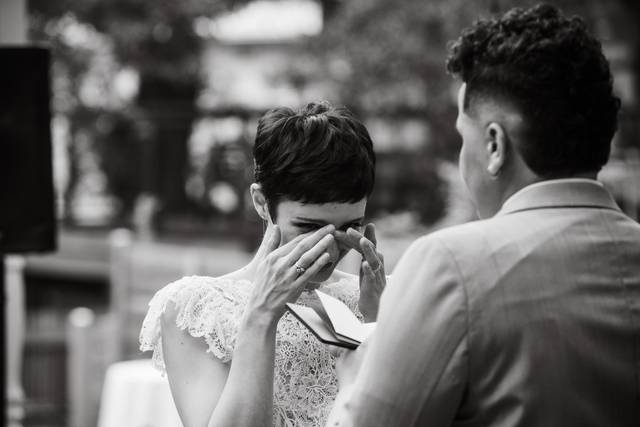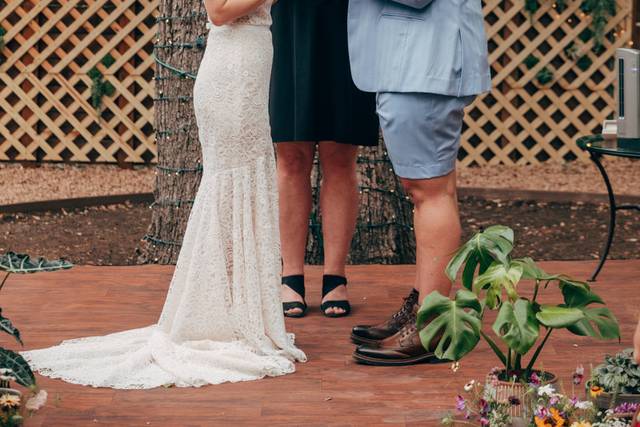 + 20

photos
Featured

One of the best highlights of our wedding!

We were so happy to have Reverend Cam officiate at our wedding! We had several meetings before the wedding to discuss what we would like to see in the ceremony and what direction we wanted to take for our wedding vows. He really took the time to listen to our stories, with how we got to where we were and what our backgrounds were, so that he could use elements from these stories to personalize our wedding ceremony. He also provided many samples of wedding exchanges to help us navigate through this writing process and gave great feedback on the ideas that we had. The wedding vows drafted were perfect and encapsulated everything that we wanted to share with our families on our wedding. He has a great sense of humor and his immense positive energy really helped us relax and focus on one another during a very emotional ceremony. He delivered a wonderful sermon and reading that deeply spoke to who we are and what we value, and we're both so happy he helped to make our union a special occasion. If you ever need an officiant, Reverend Cam is truly the best person to have!

Sarah is Awesome

Sarah is a true professional who helped make our ceremony better than we every imagined. We are thankful to have had her guidance on our wedding planning journey! Sarah is a wonderful officiant and would recommend to any type of couple.

Agnieszka G.

Sent on 08/09/2023

An incredible partner and guide in our wedding process

My husband and I worked with Sarah on our ceremony at Central Presbyterian. Given that our families have mixed religious and cultural backgrounds, we were nervous about how to proceed with putting together a ceremony that felt authentic to us while respecting our different family members. Sarah was a blessing from day one; in our intro chat I could feel how much she pours her heart and soul into making meaningful moments and getting to know the couples she works with. I knew we were in capable hands. Sarah wrote a gorgeous ceremony for us. I loved the process, as we explored what marriage and religion means for us and it felt very custom and special. Several attendees commented on how this was one of the most beautiful and unique weddings they have seen. I would recommend Sarah to anyone looking to get married. Thank you so much Sarah!

Are you interested?

Send a message

Bennett M.

Sent on 07/26/2023

Awesome experience!

My wife and I were married on April 1st and it absolutely would not have been as memorable of a ceremony without Sarah! Her approach to personalizing the ceremony and vows worked flawlessly. Sarah herself was so personable, friendly and easy to work with. I think the best referral I can give is that my wife and I received many questions at the reception and over the following weeks about how we were able to write our own vows so well – but we didn't! Sarah listened to how we spoke and laughed with each other, the answers we had to her questions both long and short, and understood the ideas and words we wanted to include even though we probably did a terrible job of explaining them in the first place. My wife and I are fortunate enough to have attended multiple weddings of friends and family, and this has truly helped us to appreciate how lucky we were to have Sarah as our officiant. I haven't even gotten to touch on the rehearsal yet, and that went so smoothly. Even before the rehearsal itself, Sarah walked us through even the smallest details we hadn't even thought about. All around, we can't recommend Central Ceremonies and Sarah enough. Thank you Sarah!

Andrada L.

Sent on 08/10/2023

Ceremony that will never be forgotten

The most incredible experience working with Sarah. She made the process incredibly easy. Everyone continues to speak about Sarah and the ceremony to this day! We both agree the ceremony wouldn't have gone the way it had without Sarah's support, calmness, and articulation. She truly captured the most meaningful part of the rest of our lives!

Sammy I.

Sent on 11/18/2022

Best Officiant Ever!

Sarah was absolutely perfect to work with! She helped make our wedding day even more special. After an initial skype call and just a couple of emails to get to know each other, she was able to craft a romantic, poetic ceremony that was so true to my wife and me.

Could not recommend her highly enough!

Amber H.

Sent on 11/19/2022

Best Decision

We had Liz as our officiant and she was great! We went back and forth between having a friend do the ceremony or hiring someone. We came across central ceremonies and met Liz and knew we made the right decision. Liz made the process so easy and we had so many compliments on the ceremony. We felt like she really knew who we were and was able to share that with our guests during the ceremony. We highly recommend her! 10 out of 10!

Ashley K.

Sent on 10/26/2022

Liz Bailey was a wonderful officiant!

We had a great experience with Liz Bailey with Central Ceremonies! She was timely, responsive, and worked with our unique requests. Would totally recommend!

Hannah P.

Sent on 01/14/2023

So glad we had Cam as our officiant!

- My husband Jordan and I could not have been happier with having Cam (Cameron Burton) as out officiant for our wedding. We were looking for someone who would really care about crafting a ceremony that represented who we are and what our love meant to us, and from the word go he was invested in us to do just that. He wrote a gorgeous ceremony for us, and also helped us to guide and refine our own vows that we wrote ourselves. No small task considering we had 10 years worth of love to cram in! I cannot recommend working with him enough; he is knowledgable, considerate, professional, and a genuinely wonderful person to be around. Thank you to Central Ceremonies and especially to Cam for helping us make a wedding ceremony that was truly ours and oh so wonderful

Keely K.

Sent on 11/15/2022

amazing!!!!

From the first time I spoke with Sarah and heard the easy going/calmness in her voice- I knew she was for us. She was beyond professional, and went out of her way to help us get our marriage license figured out since we were out of state. One of the many compliments we heard back from our wedding was how amazing our officiant was. Book Sarah to make your special day even more special!

Shelby D.

Sent on 12/05/2022

Incredibly personalized and professional. Could not have chosen a better Officiant!

Central Ceremonies (Sarah in particular) was the absolute perfect choice to be our officiant. Being new to the area, my husband and I had yet to find a church home with an officiant we felt could provide us with the quality premarital counseling and personalized wedding ceremony we were looking for. Sarah not only met those expectations, but far exceeded them. She took the time to know us, counsel us, and provide us with so many tools to utilize throughout our marriage. She was inspiring, collaborative, accommodating, and empathetic at every turn. To find someone that was such a perfect match to officiate our ceremony was a true blessing for us. I would (and do!) recommend Sarah and the Central Ceremonies team to any friend looking for experts in navigating the premarital process and creating a meaningful relationship with their officiant.

Braxton R.

Sent on 12/25/2020

Our Experience with Cam Burton

We loved Cameron! He was very professional and provided a lovely service. He made the writing of the ceremony and vows so easy and really cared about giving us a ceremony that was true to us.

Leisha K.

Sent on 11/16/2022

Highly recommend!

What a wonderful officiant we found in Sarah! She was very patient and helped us through the wording of our vows. She brought calmness and serenity to our day and we cannot thank her enough. HIGHLY Recommend!

Ryan L.

Sent on 01/23/2023

Epic Wedding Officiants

My wife and I worked with Central Ceremonies when planning our wedding. We met with Cam Burton and immediately clicked with him. Cam was wonderful. He took time to get to know us personally, understand what we wanted in our ceremony, and work with us to ensure our day was comfortable and fun. I could not recommend Central Ceremonies highly enough.

Hannah B.

Sent on 07/09/2022

Rev Sarah is the best!

We worked with Rev Sarah and she was simply amazing. She immediately made us feel comfortable while remaining professional. There was no judgment as we discussed religious vs spiritual options, and she helped us find the right balance of traditional for our parents and modern for us while still staying true to the vows that best represented our union. On top of that, we were married outdoors on a 100 degree day but Rev Sarah wasn't fazed; multiple guests mentioned how much they liked our officiant. 100% recommend!

Jack I.

Sent on 07/01/2022

Fantastic Ceremony Professional

My wife and I recently had our wedding officiated by Sarah, who did a truly wonderful job! She crafted a beautiful ceremony and really "connected" with us throughout the planning process. She also helped us feel extremely comfortable and relaxed on our wedding day with her matchless humor and enthusiasm. She is energetic, personable, and sincere. Having her as our officiant felt like being married by a trusted friend. We could not be happier with her work, and would recommend her (and her team) without hesitation or qualification!

Bridget

Sent on 07/01/2022

LOVE working with Central Ceremonies

We loved working with Central Ceremonies, and we would wholeheartedly recommend Sarah to anyone looking for an officiant. With her expertise, Sarah guided us in developing a wonderful ceremony, and we appreciated that she had a deep sense of what marriage means and its importance. Sarah was responsive, kind, and very patient, and she also brought a touch of humor to our big day! One of my husband's cousins is a pastor, and he learned things from Sarah and the beautiful ceremony that she officiated!

Seth C.

Sent on 11/17/2022

Excellent service, fun and professional

Liz did such a great job on the ceremony. We really enjoyed working with her throughout the entire process. She made it easy and was very responsive to our questions and requests. On the day-of she was very personable, which makes a big difference when everyone is under pressure. Fun but professional and best of all a beautifully performed ceremony!

Lauren H.

Sent on 05/02/2022

Perfect Ceremony!

Sarah officiated our wedding and helped make it the perfect ceremony - it was tailored to us and felt very personal to us and our guests. She was a great communicator during the process and very efficient in planning on our ceremony. Highly recommend!

Emily G.

Sent on 05/10/2022

Best part of our day!

We loved working with Central Ceremonies. We wanted a custom ceremony script and Rev. Sarah went above and beyond to truly make the ceremony more beautiful and memorable. It was our favorite part of the day, and months later I still think about what she said. We also procrastinated until the last minute to work with her to draft the script, but Sarah made us feel comfortable, made the writing process really easy, and always responded incredibly fast! She also seamlessly guided the rehearsal, and checked in with us to make us feel at ease on the big day. Sarah is such a sweet and caring person, who truly loves love. She writes beautifully and is an expert! We can not recommend her enough.

Kara S.

Sent on 03/18/2022

Hire Sarah for a beautiful, custom ceremony

My husband and I recently had our wedding ceremony officiated by Sarah, and we could not recommend her enough! From our very first meeting Sarah was kind, thoughtful and intuitive to our relationship. After a few "getting to know you" conversations Sarah was able to craft a beautiful, personalized ceremony that just felt like "us". She is one of those people that as soon as you meet her you feel like you've known her forever, and that truly came through in our ceremony. We had so many guests say that it was their favorite part of the day, and she is a large part of why! Absolutely hire Sarah for a beautifully crafted and elegant, light, meaningful ceremony that is specific to your love story - you won't be disappointed!

Abby L.

Sent on 01/11/2023

Incredible Experience

Cam from Central Ceremonies was truly the officiant of our dreams. We live in New York, so we Zoomed with Cam multiple times prior to the ceremony. He helped us take our very different ideas about a ceremony (one wanted it to be "funny," the other wanted it to be heartfelt and full of ritual) and combine them into the perfect ceremony for us.
We also took advantage of Cam's premarital counseling services and we were so glad we did. He helped us talk through a variety of questions, prompts and topics and treated both of us with so much empathy, kindness and humor. He listened more than he spoke, and when he spoke it was clear that he was paying attention. He pulled out the deeper themes of what we were saying and asked guiding questions that helped us align about our goals, fears, anxieties and aspirations about our wedding and future together.
Closer to the wedding, he crafted a script for our ceremony, responded quickly to our feedback, reviewed and supported us with our vows, and just generally made us feel that the ceremony was the one thing we didn't have to worry about at all!
When the big day came, he was such a fun, calming, positive presence. He delivered the ceremony with the perfect mix of gravitas and personality- folks were raving about him afterwards. Thanks to our Zoom ceremony planning and counseling sessions, it felt like we had a friend marrying us, and we wished he could have stayed for the entirety of the party. Could not recommend him (and Central Ceremonies) more!

Lindsay B.

Sent on 12/02/2021

An Intentionally Crafted Ceremony

Reverend Sam from Central Ceremonies was our officiant for our wedding and he was a complete joy to work with! We loved Sam's bio on the website and felt he would be a good fit for us and when we met him in person it was completely solidified. Sam was very helpful in working with us to craft a ceremony that reflected who we were by offering several examples from previous ceremonies and allowed us to make one that felt right for us. He did a wonderful job performing the ceremony and our families loved getting to know him during the rehearsal. When Sam speaks his voice really demands attention and he emanates a deep spiritual connection. I just really can't say enough good things!

Sam Riccobene MADE our wedding

My husband and I were looking for a LOT in an officiant - someone who could help us combine two cultures and faith backgrounds and make our wedding perfect for us and our families. Sam was all of that and more! He listened so carefully to us, worked with us for months ahead of our big day, and crafted a gorgeous ceremony that our family and guests are still talking about (really!). Our wedding photographer asked "Where did you FIND this guy?!" and didn't believe us when we said "the internet!" Sam felt like an old friend from the get go, and he was incredibly flexible when we needed to make last minute changes to our ceremony due to a family emergency. We also did three sessions of premarital counseling with Sam, which helped us get to know him and each other better. I can't say enough about how perfect he was or how grateful we are to him. Do yourself a favor, hire Sam!

Christine W.

Sent on 10/31/2021

Would highly recommend Liz!

Liz was amazing! She was extremely accommodating and made our day even more special! She did a great job leading our outdoor ceremony!
Are you interested?
Send a message