Reviews
4.9 out of 5 rating
Quality of service

4.9 out of 5 rating

Average response time

4.9 out of 5 rating

Professionalism

4.9 out of 5 rating

Value

4.9 out of 5 rating

Flexibility

4.9 out of 5 rating
98%
Recommended by couples
6 User photos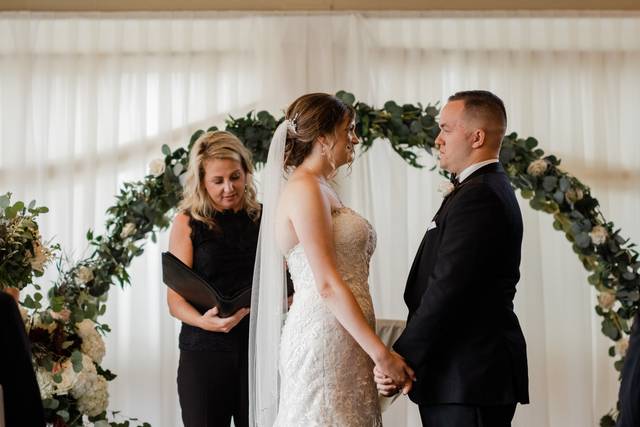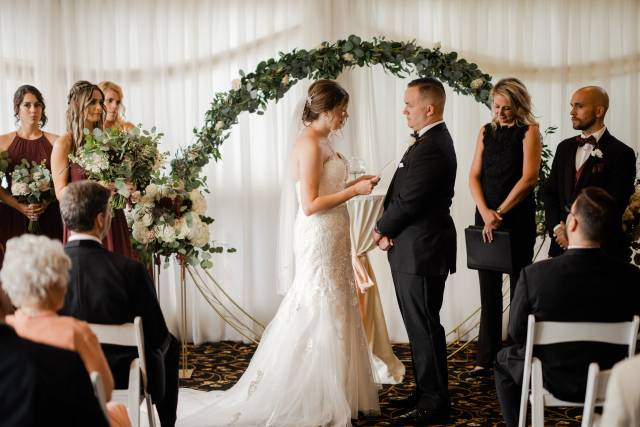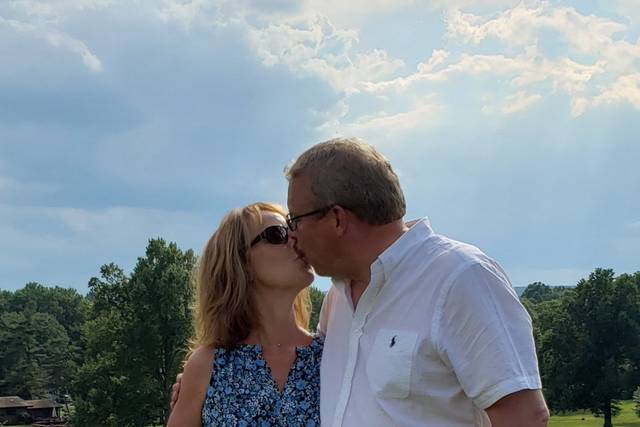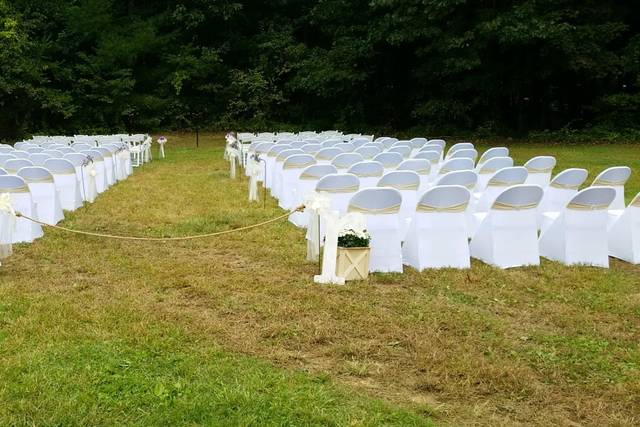 + 2

photos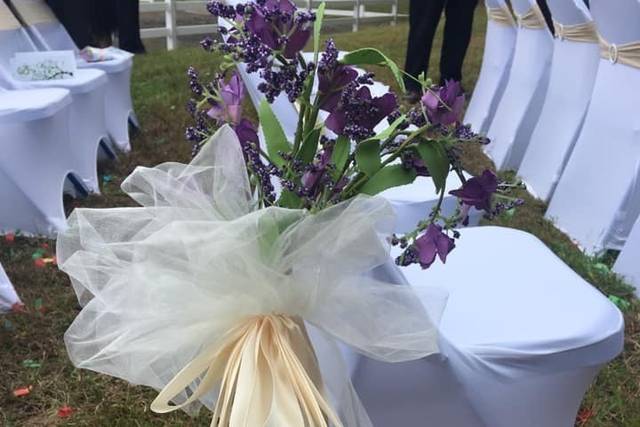 Featured

Kelly J.

Married on 08/20/2022

The best!

There aren't enough words to describe how invaluable Christina was to making my wedding the most amazing day ever. I decided to hire Christina as a day of coordinator after booking all of my vendors. I had wanted someone who would be able to make the wedding day running smoothly so I could enjoy the special occasion. At my first meeting with Christina we went over all basic details of vendor information and the people included in the bridal party. She made sure I didn't miss any details. Having her go over my plans felt like a huge weight lifted off my shoulder.
But it wasn't until the week before the wedding where Christina really started to shine. She was my rock as I stressed over family member after family member getting COVID, unsure if they would be able to attend the wedding. She listened and reassured me that everything would be alright. We also came up with backup plans that would still allow those family members to still experience the special day (thankfully it never came to that!)
Even after we dodged the COVID obstacle, Christina showed her best talents even more the day of the wedding. She ran the event so smoothly, making sure we were on (and even ahead of) schedule. All the guests were thoroughly impressed with how efficient she worked. She directs in the most firm, professional manner, yet still comes off as super friendly, a skill I genuinely admire.
If you were to ask me if I would recommend Christina, I would say ABSOLUTELY 1000%. Thanks to Christina, we had an amazing wedding day that my husband and I will never forget, and a day that our family and friends will talk about for years to come!

Lauren J.

Married on 10/15/2022

Christina is AMAZING!

Christina was our JOP at our wedding this past weekend and was absolutely awesome. She crafted a heartfelt, unique ceremony that was absolutely catered to us and our relationship. Our friends and family raved about it. She was reasonably priced, easy to work with, very nice and professional. Absolutely recommend!

Megan J.

Married on 09/24/2022

The best wedding coordinator!

Christina was the best to work with! She was so helpful in keeping me organized and on track during the planning process. She was an excellent resource to help with the selecting of vendors for the big day. The weeks leading up to the wedding Christina was there to connect with the vendors to be sure that everything would run smoothly on the wedding day which was a huge help! On our actual wedding day Christina was absolutely incredible. She took care of everything. She kept the bridal party on track and everything ran SO smoothly. Christina also was our JP and wrote a lovely ceremony for my husband and I. I am so grateful for her help in the planning process as well as everything she did for us on our wedding day! You won't regret using Christina for any of your planning or wedding day coordinating!

Are you interested?

Send a message

Sarah D.

Married on 08/28/2022

Excellent!

Christina was wonderful. Having only met us on two occasions, Christina put together the most beautiful ceremony. It captured us exactly! She spoke gracefully and we got so many compliments on her after the wedding. We could not recommend her more!

Emily C.

Married on 06/26/2022

Absolute magic!

Christina worked SO hard on our intimate wedding— as our wedding planner, day of coordinator, and our justice of the peace. Also, just as our constant life line whenever we needed help or had a confusing question. She is absolute magic, because she tackled so much for us and gave us the most perfect, personalized recommendations for vendors, all while making it look effortless. Christina is incredibly warm, professional, and encouraging. We felt so well taken care of by her, and are so thankful for her guidance every step of the way. She took so much stress off my shoulders, which allowed me to enjoy my wedding day in a way I wouldn't have been able to without her. She's just THE BEST!

Natalie

Married on 10/01/2021

Christina was everything you would hope a wedding planner would be and more

Christina was very professional , yet you feel like you've been friends already with her. She's a power house, doesn't stop. She made the day of my sons and daughter in- law wedding run very smoothly. Highly recommend her. She won't disappoint disappoint. She knows her craft

Natalie D.

Married on 10/01/2021

Christina is Amazing!!

3500 characteristics honestly isn't enough space for me to talk about how great Christina was. From the very second I received my first email reply from her, I could tell she was going to be so fun to work with. We hired her for day of services, but she went above and beyond for us from the start. She made sure to schedule regular meetings with us to go over where we were at in the planning process, she helped us find numerous other vendors for our budget and even pulled a few strings to get us special accommodations, such as ceremony seating and a traffic director for our day. She was never more than a text or phone call away to answer questions, listen to me vent about wedding stress and/or offer me guidance and advice. Our wedding took place in my in-laws back yard, so as you can imagine, there was A LOT of DIY projects and pieces of the day to mold together. When the day finally arrived, I felt more than confident handing her the reigns to put my vision to life. Not only did she do a SPECTACULAR job at recreating the images I had in my mind, she did even better with her eye for detail and organization. Our day was perfect because of Christina. She was never more than a few steps behind us making sure we had everything we needed and was comfortable. Everything ran so smoothly, without a single hiccup!! She kept the day flowing at a natural pace, kept the energy high with her positive attitude and really was a rockstar. I really don't think I could have hired someone better to help me - and that's the God's honest truth. I really owe her so much gratitude for all she did for my husband and I! As I said, I could really go on and on about how great she was, but I'm sure you've gotten the point by now. We love you Christina!! Thank you again!!!!

Jessica D.

Married on 09/04/2021

Fantastic!

From the first phone call we knew she was a perfect fit. She is very attentive, patient and does what's needed to get the job done. She has a lot of well known vendors and was so helpful with everything. We had weekly phone calls and lots of zoom meetings. We were unhappy with the way one of our vendors did something. I called Christina right away and she fixed it all without a problem. She was also our officiant which was a great package deal! She stayed basically till the end of our whole event making sure everything was handled and went well. She even cleaned my dress after I got food on it from dinner. If you're looking for the perfect wedding planner/officiant she is your girl!!

Karli N.

Married on 07/29/2021

Christina is amazing!

You will not be disappointed if you choose Christina. Christina is simply a wonderful person. The kind of positive energy she brings to the day is exactly what you need on your wedding day. She also really knows what she is doing and is great at it! She put together such a thoughtful and personal ceremony for us. She included everything we wanted and gave great suggestions. She definitely puts her heart into it to make it special and perfect! We have had several guests ask about her after the ceremony and we got so many compliments on our officiant. She was seriously amazing!

Kim C.

Married on 07/20/2021

Relax! Christina's Got Your Back!

Christina Morin jumped in to be the onsite wedding planner for our destination wedding when our planner could not attend in-person. Upon arrival to the resort, there were a ton of last-minute logistics that needed to be ironed out - Christina proactively took care of every last detail with ease. Besides orchestrating the timing and arrival of the florist, officiant, and photographer to the beach ceremony; she made countless trips in the heat, driving the golf cart all around the resort - picking me (the bride), the entire bride squad and hairdresser up, so we could get ready for the big event. When I left my engagement ring in my room safe, she smiled and made an extra trip to retrieve it for me. Christina made sure our wedding went beautifully and eliminated any stress for me so I could enjoy the event.

I highly recommend Christina to plan any event you may have - she knows what she's doing, she knows what you need and gets it all done with a smile. Her warm, affable demeanor and kind personality make her a pleasure with which to work.

Nicole G.

Married on 06/26/2021

Fantastic!

We hired Christina for our original wedding date of 6/27/20. Due to COVID we had to postpone and she was incredibly flexible and supportive throughout the entire process! It was great to have someone to vent to and bounce ideas off of when things got stressful and we weren't sure if plans were going to happen. She made the day-of process for our postponed reception so easy and stress-free! We cannot thank her enough for being a crucial part in our day!

Emma C.

Married on 09/01/2019

Exactly what we needed!

When we reached out to Christina about her being our JOP we were looking for someone who would help us have a sweet and simple ceremony - and she did exactly that. After meeting us for dinner and talking for a short time, she was able to draft up the PERFECT ceremony for us. She was professional, efficient, and very fun to work with. Couldn't have asked for anything more. Thank you Christina!! - Emma&Brian

Chris M.

Married on 06/29/2019

Our Wedding in Suffield

My wife and I had a great wedding. Christina was really a big part of this. She made everything perfect. Although this was a 2nd marriage for both of us, we wanted a simple celebration accompanied by our immediate family. It was absolutely perfect.

Lyn

Married on 06/08/2019

Christina - Highly Recommended Wedding Planner

I was the mother of the groom and had several interactions with Christina Morin. As the wedding planner and Justice of the Peace, Chrisrina was a pleasure to work with, knowlegable, experienced, organized and efficient. I think what sets Christina apart from other wedding planners is her ability to also officiate the ceremony with warmth and genuine joy. Having spent the last year learning about the bride and groom as they planned their wedding, she kept the wedding intimate and personal. I would highly recommend Christina as she will meet your expectations and more.


Mary G.

Married on 03/16/2019

christina is awesome!

Christina showed up to our wedding on time and even helped out getting last minute things set up. She didn't have to do that! She was also well spoken in our ceremony. She did a great job :)

Colleen

Married on 01/19/2019

Wouldn't have done it without her!

The only reason I wasn't stressed on my wedding day was because of Christina. I would have never been able plan without her! Highly recommend

Mary

Married on 01/19/2019

Quality professional, with a heart of gold, exceptional!

Christina is exceptional, my daughter and I we so happy to have assistance with the planning. My daughter had a vision, I had none and am not familiar with how things are done now a days. Christina helped with any questions we had. She has great vendors she recommends. Our situation was complicated as the groom is from London and 30 of his family and friends were coming to the USA. Christina helped with ideas for entertaining a large group days before the big event. On the day of the wedding, we only had to listen to her and everything was perfection!! She looked after everyone, something we could not have done. Every little question or concern was managed by Christina. I was able to relax and enjoy the party. Hiring Christina was the best money I ever spent!!

Renee

Married on 12/08/2018

Amazing JOP and Coordinator!

If there was ever a person destined to work in the wedding industry, it's Christina. We requested her services for both day of coordination, and as our justice of the peace. I just have to saw, WOW! The ceremony she wrote for us was so beautiful and touching, we had to keep telling guests it was all her and that we didn't write our own vows. The whole process from start to finish with her was incredible though. She made sure we stayed on top of things and we're well-prepared all the way up until our wedding day. We looked forward to our check-in calls with her throughout our engagement, and had so much fun at every touch point.

Julie

Married on 10/06/2018

AMAZING Professional!

Christina was amazing from the moment I found her and contacted her through Wedding Wire to the moment she hugged me goodbye on our wedding day. Our wedding was at an unconventional location, so we had to do everything from setup to take down to organize vendors. I only hired her for day of services, but throughout the planning process she was always there to answer any questions I had. On the day of her wedding, Gabby and Christina had their hands full, with all of our vendors, finishing our venue set, lots of children, lots of out of town families, an ambulance call, me being a little nervous that it wasn't all going to come together... to an insane timeline! She handled it all like a professional and like she has done it a thousand times before. I am sure she went home and put her feet up with a sigh of relief!! I know I did! Thank you Christina and Gabby we would not have done it without you!

Kyrsti

Married on 10/05/2018

5 stars does not even do Christina justice. She made our rehearsal and wedding day run so smoothly and flawlessly I could not recommend her enough. She made me feel so stress free the day of that I just got to relax, get my hair and makeup done and go marry my best friend. She took care of literally everything - she shared her lunch with my starving bridesmaids when we forgot to bring food, she picked up my aunts and uncles when the limo did not get there for the scheduled time, and made sure that all the decor for the ceremony and reception were put out and in place. She fluffed my dress for pictures and made sure we all had everything we needed. I am a very organized person and thought I would be able to handle my wedding day without a coordinator, but hiring Christina was the best decision we made in terms of the wedding because I could not have handled everything she did. I highly recommend her if you are considering hiring a coordinator for your wedding!!

Keren

Married on 06/22/2018

Celebrations by Christina was referred to me by a friend and I'm so glad she was! From the first meeting to discuss our Justice of the Peace services to ultimately using her as our day of coordinator, Christina helped make our day so special. She puts you at ease with her easy going personality and really tries to get to know you as a couple. She met with us several times the year leading up to our wedding day and helped keep us on track. She also offered us recommendations for several other vendors and they all were fantastic! We were not planning on having a day of coordinator but we are so glad we did! She helped us deliver our flowers to our venue and took away the stress of transporting our delicate arrangements, which we did ourselves. She bounced back from the bridal suite and the grooms suite to make sure we had everything we needed leading up to our ceremony. She also made sure we ate, always had a drink in our hands and to remind us to ENJOY THE MOMENT. She did an amazing job as our JP and even convinced my husband and I to read our vows we wrote for each other. Originally, we wanted her to read them but after reading them herself and noticing how similar they were she insisted we read them. I am so happy we did as it made our ceremony that much better. We have stayed in touch since our wedding and would recommend her to anyone!

Ally

Married on 11/04/2017

Christina was great! Very helpful and guided us to exactly what we needed. I would recommend her collaborative package for a hands on yet helpful experience

Peggy

Married on 10/07/2017

My daughter and son-in-law hired Christina for DayOf services for their wedding. Christina helped make their day flow seamlessly and kept excited groomsmen in check to get through the service. They were like excited six year olds! Christina worked with the caterers to make this day very special and totally stress free (for me). Thank you Christina!
Love you! Not sure of total cost.

Megan

Married on 09/16/2017

Christina is very friendly, personable and hilarious! She's very quick at responding and very efficient. She did an amazing job officiating our wedding and assisting planning it. Thank you!!!

Milton

Married on 07/03/2017

What can I say about the wedding Christina and Celebrations by Christina helped us plan other than AMAZING!!!! Our wedding was magical. For over a year, we worked extremely close with Christina on every detail from the venue selection to the caterer to the table cloths and linens. Christina coordinated with everyone involved to make sure the day went perfectly. She helped us arrange the amazing fireworks, found the perfect MC and host and also officiated our ceremony perfectly. You won't find a better plan, a better person or a better friend for your wedding day!
Are you interested?
Send a message