Reviews
4.9 out of 5 rating
Quality of service

4.9 out of 5 rating

Average response time

4.9 out of 5 rating

Professionalism

4.9 out of 5 rating

Value

4.9 out of 5 rating

Flexibility

4.9 out of 5 rating
98%
Recommended by couples
8 User photos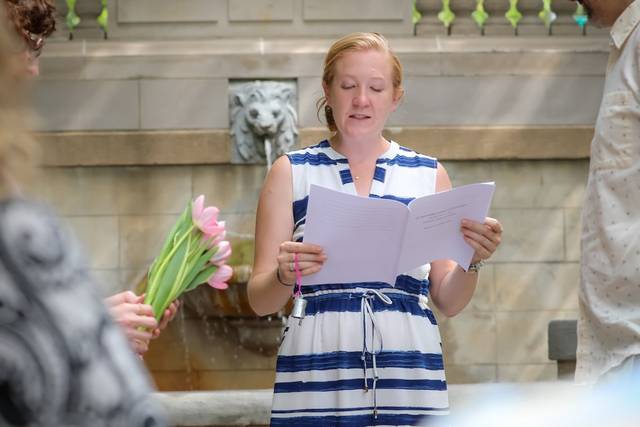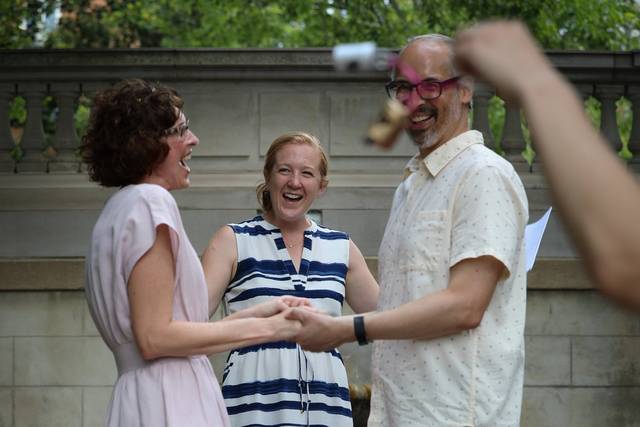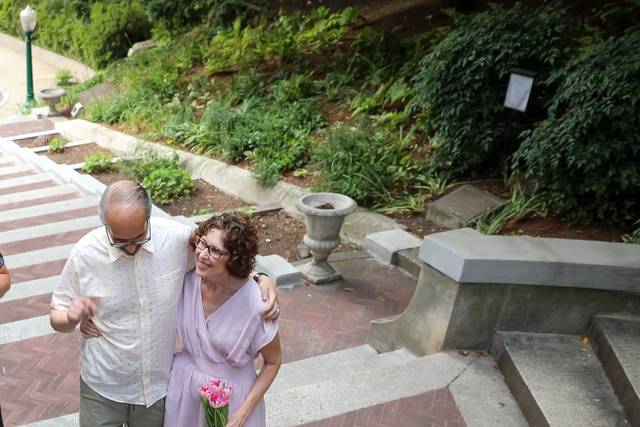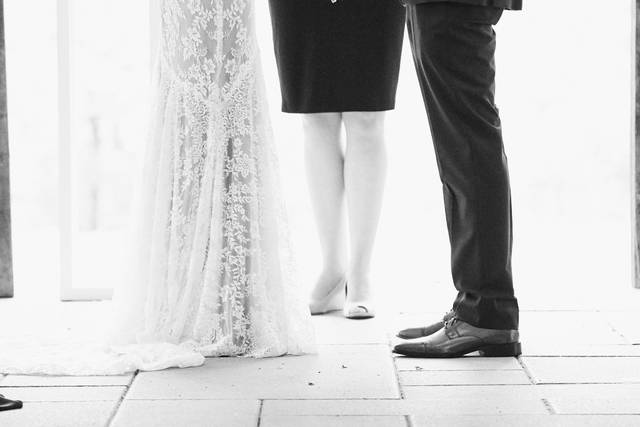 + 4

photos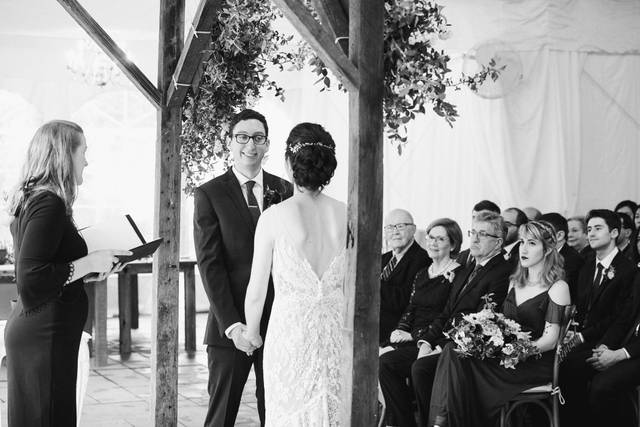 Gwen A.

Married on 07/11/2020

Highly recommend as a secular alternative

We had a great experience doing the Prepare/Enrich premarital counseling sessions and having Emily officiate our "minimony" wedding ceremony. (Because of the pandemic, we postponed our wedding event to next summer, so we're also looking forward to our future ceremony, with her officiating again in 2021!) Our Prepare/Enrich sessions with Emily gave our marriage a confident foundation -- we highly recommend the experience. It compliments the fun of wedding planning with deeper conversations, insights and love. It brings a whole new level of depth and personal connection to the officiant role, too. We really appreciated Emily's work throughout. Thanks Emily!

Krista

Married on 06/01/2019

Smartest Pre-Wedding Decision!

My husband and I cannot say enough good things about working with Emily. Since we don't go to church consistently, we didn't want a random pastor performing our wedding. Thankfully we found Emily and did five pre-marital sessions with her. We used the Prepare-Enrich materials for about two of our sessions to get started and then Emily did a wonderful job of tailoring our following sessions to us more specifically.

When it came to plan the wedding ceremony, Emily made it super easy and provided us with a lot of guidance on how to customize our ceremony to incorporate the traditional religious moments that were important to our families but also incorporate moments and language that felt true to us.

Emily was great on the day of the wedding and after getting to know each other so well, she ended up being such a wonderful calming presence on our actual wedding day.

Logistically, she took care of all of the marriage license steps and it was easy to schedule sessions with her that fit our schedule.

If you're doing the five-part counseling with her, we'd recommend starting that sooner that you finish up with a least 3 or 4 months to spare so you can focus on the final wedding details.

Tacy L.

Married on 05/05/2019

Loved working with Emily

Emily is wonderful! We're so happy that she officiated our wedding and facilitated our premartial counseling. We met with her several times before the wedding, around a few topics of our choice (finances, family planning, etc.). We found this to be really helpful in learning how to talk through challenges that we may face as a married couple. It was also a great way to get to know Emily, and vice versa. She was very flexible and right on point when it came to writing our ceremony - she understood what we wanted, and helped us put together a beautiful ceremony that we loved (and that our family and friends loved, too!). We especially needed guidance around creating a ceremony that would incorporate our shared interests and our different religious backgrounds, and Emily made sure that everything flowed together beautifully. She was great to work with on the big day, too; the ceremony was smooth and totally stress-free. Thank you so much, Emily!

+ 2

photos

Are you interested?

Send a message

Jenny K.

Married on 02/22/2019

Emily is wonderful!

Emily is wonderful! We would highly recommend her as an officiant. We had worked with Emily previously in couples therapy and we decided to work with Emily for pre-marital sessions as well as choosing her as our officiant. At first, we thought we would have a friend marry us for free, but we are so glad we decided to go with Emily instead--well worth her reasonable fees! She is caring, thoughtful, and strong as a therapist. As an officiant, she worked with us to plan a beautiful ceremony. She is very professional and easy to communicate with throughout the process. On our wedding day, she was early and prepared, and it was so reassuring to have her play such a special role in our ceremony. From her appearance to the readings, she was exactly on point and exceeded all expectations we had discussed. It could not have been more perfect as an experience! Thank you, Emily!

Melissa

Married on 09/29/2018

Emily is an amazing listener - she was able to hear what my partner and I were interested in during our first meeting, and turn that into a deeply personal, intimate and beautiful ceremony that fit us just right. There wasn't a dry eye in the gathering. Emily is very professional - she had everything prepared for the rehearsal, including having our readings and vows printed out and mounted on nice cardstock. Full of resources, books and ideas for readings and wording, she is a fountain of knowledge about family and marriage. Highly recommend!

Doris

Married on 06/16/2018

My groom and I decided to use Emily as our officiant because she offered the dual package of pre-marriage counseling and officiating. We wanted our officiant to be someone who knew us as a couple. The counseling was offered through the lens of a licensed therapist (as opposed to religious). She's a thoughtful and responsive counselor who did an amazing job of reading the language between us! As the officiant, Emily made sure we were comfortable and happy with our ceremony and did such a great job the day of. She was quick to respond and always made sure that we knew she was there to help. We were so happy to have her marry us after working through our relationship together with her! Such a worthwhile and special experience!!

Jean

Married on 10/14/2017

I think another review has already said this, but working with Dr. Cook was literally the best money and time we spent on our wedding, because we were able to focus on why we were doing all of this in the first place: the marriage and the relationship.

Dr. Cook is both a licensed therapist and a licensed officiant. This dual service is pure gold. She offers a variety of packages that are flexible and accommodating. We chose to complete a series of pretty intense pre-marital counseling sessions loosely following a curriculum, plus Dr. Cook's officiating services at our wedding. The sessions helped tremendously, and it was very meaningful and calming to have her present on the wedding day. She worked with us to craft an entire ceremony that felt meaningful and balanced to both of us, took care of some of the details I never even considered (printing out vows and readings in large type on heavy card stock, for example, so we didn't have to carry anything) and was a lovely presence the day of.

Dr. Cook helped us make some big decisions about merging our lives together. She is not overly directive, but I really appreciated that she was able and willing to give our conversations and decisions some direction when needed.

HUGE bonus that she offers a variety of weekend appointments. It really helped us tremendously to avoid rush-hour traffic and be calm and focused when we got to her office.

We have no regrets and a lot of benefits from working with Dr. Cook. Truly the best money spent.

Rachel

Married on 09/03/2017

Emily was the best officiant in every way. We knew we wanted an officiant who offered premarital counseling, who would tailor our ceremony to us, and, maybe most importantly, someone we liked and felt comfortable with. Emily was amazing on all fronts. From the start, her kindness and warmth came across even in her emails before we actually met her.

On our wedding day, my mom and our wedding coordinator couldn't stop gushing over how great Emily. And later, when I was going through our wedding photos, you could see that Emily was so genuinely happy for us -- it makes our ceremony photos feel that much more special (since of course she's in quite a few of them!).

And as far as the premarital counseling goes, we're actually still going to counseling with her! She's just really that good.

Mary

Married on 09/03/2017

No matter what combination of services you are looking for, Emily is fabulous and we cannot recommend her enough. We did the Prepare and Enrich program with Emily as well as ceremony planning and officiating. We are still receiving compliments regarding Emily's words and officiating.

Michelle

Married on 03/04/2017

Emily was so easy to talk to and did a great job of asking us questions to get us thinking and discussing various topics. We didn't feel like she was telling us what to think, but instead introduced various options and perspectives from her considerable experience to ensure that we were aware of the challenges in marriage, and had skills to meet them. Emily wrote and performed a lovely ceremony, one well suited for us and our families.

Kelly

Married on 10/22/2016

Emily Cook provided five sessions of premarital counseling and served as the officiant for our wedding. Over the course of the sessions, we developed a good relationship with her as she learned about us and we learned more about each other and her style of communicating and working together. The counseling sessions helped us ask important questions and work through their solutions before we faced them in our marriage. Emily used a lot of metaphors when we discussed certain topics (like conflict, anxiety, etc), which made these intangible ideas into something we could both relate to, understand together, and refer back to as they come up in our marriage. We also deepened our connection by improving our communication skills. By the time our wedding came, she knew us well enough to help us design a ceremony that fit us perfectly. Emily was a calming presence the day of the wedding and even stepped up to help out when one of our ceremony activities didn't go as planned. Emily's personality is warm, friendly, approachable, and professional, and our experience with her was very personal and fulfilling. We HIGHLY recommend Emily to anyone looking for a personalized, and extremely positive experience leading up to/on their special day.

Lindsay

Married on 09/24/2016

We are so happy that we booked with Emily! I wasn't sure about fitting premarital counseling into our busy schedules, but Emily offers Sunday and evening hours which was SO helpful. She is a very intelligent, thoughtful and helpful therapist. She was easy to communicate with in email. phone and in person. Emily provided a beautiful wedding ceremony - I could tell in her welcoming words to our guests that she had truly listened and gotten to know us to be able to provide such kind words. Overall, we highly recommend Emily for premarital counseling and officiating your wedding!

We decided we wanted to take premarital classes before getting married and since neither one of us is affiliated with a church we looked into marriage counselors. We saw that Emily Cook Therapy offered the Prepare/Enrich program and had excellent reviews. Hands down, this is the best wedding-related decision we made! Emily Cook was our counselor/officiant and not only guided us through the premarital program, but listened as we navigated our first big decision together - moving! I recommend any couple getting married go through the Prepare/Enrich program and Emily is an excellent facilitator.

As an officiant, Emily sat down with us to construct a ceremony that felt authentic to us and included both Christian and Buddhist prayers. We chose to write our vows and she helped us with that process as well. It was important to us to have an officiant who knew us and could speak to us as a couple on our wedding day. Emily met this mark and delivered a beautiful personal message! She also put together and delivered an album of our ceremony. It will be so nice to go back and re-read our ceremony and vows in the years to come!

Sara

Married on 07/02/2016

I found Emily through Wedding Wire as I was looking for an officiant who offered premarital counseling. My husband and I found the counseling sessions very helpful and still use some of the tactics Emily suggested. When it came to the ceremony planning, Emily met with us to discuss what we wanted to have read, then she used our ideas and built on them to create a perfect ceremony. Emily is responsive, kind, caring, and a wonderful writer; I highly recommend her!

Erin

Married on 06/04/2016

Emily helped make our wedding ceremony perfect for us. We felt connected to her after participating in sessions, which were even more beneficial than we anticipated. She worked with us to make our ceremony very personal and meaningful.

Rachael

Married on 05/07/2016

I knew that I wanted an officiant who would be able to get to know us and speak from the heart during our ceremony and make it personal and meaningful to us. When I discovered Emily, and saw that she provided premarital counseling in addition to officiant services, I thought that was the perfect plan for us. I think that having some sort of premarital counseling is important, whether it's coming from a religious source or not, and we found it to be a great experience. From our first session with Emily, she immediately made us feel comfortable. Both my husband and I are somewhat shy and we both found it very easy to talk with her and open up about our relationship. After only 2 sessions, she was able to create a perfectly simple, but sweet (not cheesy) and personal, ceremony, which was exactly what we were looking for. She was always extremely well composed and professional, and I loved her calm demeanor on the wedding day. We loved working with her and would absolutely recommend her to anyone looking for an officiant!

Using Emily for premarital counseling and as our officiant was the absolute right call and made our wedding day even more meaningful. Our five sessions of premarital counseling let my husband and I take a hard look at our relationship now and what we might face in the future, and helped us focus on the marriage we were about to build even in the middle of the chaos of wedding planning. We worked with Emily to plan the ceremony, and her help was essential. She was able to explain the different parts of the ceremony, give us recommendations on what to include and how to structure it, and she was incredibly helpful in drafting the ceremony and responding to our thoughts and edits.

I would - and do already! - recommend premarital counseling to any engaged couple, and in particular I recommend Emily.

Kris

Married on 08/08/2015

Emily did an outstanding job as our wedding officiant. More importantly, the time we spent working with Emily leading up to our ceremony provided us insight into our unique personalities and the strengths and weaknesses that we each would bring to our marriage. With Emily's guidance we examined key subject areas that were specifically important to our relationship situation. She worked with us to develop a wedding ceremony that fit us perfectly!

Cindy

Married on 06/19/2015

Dr. Emily Cook is outstanding! My husband and I were seeking a non-religious officiant who we could get to know and he/she could get to know us before the big day so that our ceremony would have a personal touch. We were extremely happy when we happened upon Dr. Cook's website. My husband and I completed a pre-marital counseling program which allowed us the opportunity to work with and get to know Dr. Cook. Our ceremony was personal and professional. We highly recommend Dr. Cook for both counseling and as an officiant.

Carli

Married on 06/06/2015

My husband and I went through Emily's "Prepare and Enrich" premarital training after we got engaged and it was super helpful! Emily helped us find out strengths and weaknesses and provided us with tools we could use to communicate more effectively. We decided to keep seeing her even after the initial training. Now we've been married for almost a year and still have sessions with Emily every 2 months. I've recommended her to numerous friends :)

Emily

Married on 05/30/2015

My husband and I went to Emily Cook prior to our wedding as we felt it was a good idea to participate in "pre-marriage counseling" since we weren't getting married in a church that traditionally has couples go through a type of counseling prior to the nuptials. Emily Cook utilized the Prepare/Enrich program. We completed the program (typical discussions that are good to touch base on prior to marriage - finances, children, how to spend time with one another, responsibilities, family background, expectations, etc.). Emily was very professional and didn't just stick to the script of the program - my husband and I were on the same page regarding most of the topics as we had discussed most prior to making the commitment to get married; however, Emily zero'd in on some issues that needed more time. We enjoy her guidance and facilitation and have even committed to going back one more time since the wedding to check-in. I would highly recommend Emily Cook for this type of service prior to or after your wedding. Her services promote a happy, communicative relationship!

Tyler

Married on 05/09/2015

After having our initial consultation with Emily, we knew she would be a great fit for us. We met with Emily three times before the wedding and went through the Prepare/Enrich process with her as well. This was great for both pre-maritial conversations as well as for Emily to get to know us as individuals and as a couple before she officiated our wedding. Through our time together, Emily was highly engaged and we felt she was invested in our relationship and also getting to know us to be able to speak from the heart about us during our wedding ceremony. Creating our ceremony was the most important aspect of our wedding to us. She helped us think about what we wanted to convey, the structure of the ceremony, and also coached us through writing our own vows- which turned out to be perfect. She was very responsive and incredibly thoughtful throughout the entire process. I would highly recommend Emily Cook for both pre-marital counseling sessions as well as for her officiating and ceremony planning services. We are so thankful that we had Emily up at the altar with us, participating in the most important day of our lives. Thank you for everything, Emily!

My fiance' and I were looking for a premarital counselor who could also serve as our wedding officiant. After our first meeting with Emily, we were sure she was the perfect choice. By the end of our counselling sessions, Emily knew us well enough to speak about us as a couple during the wedding ceremony. She has several books on wedding planning that she loaned to us; this was very helpful. On the day of the wedding, we had no worries about the structure of the ceremony because the three us developed a detailed ceremony schedule together. Everything turned out great. Emily's knowledge of weddings, organizational skills, and warm personality made her a pleasure to work with.

Jennifer

Married on 11/23/2014

Working with Emily was wonderful! She provided us with premarital counseling prior to officiating our ceremony. We took an assessment and then based on the assessment talked each session about important items that couples looking to marry should really get out on the table. She is kind, insightful and very personable. Since my husband and I are not religious, it was nice to be married by someone that we felt we really got to know and got to know us. Most of our communication was done through email and she was always responsive in a timely manner.

Very simply stated, Emily was great. We highly recommend her for both her officiant and pre-marital counseling services.

We found Emily when searching WeddingWire for an officiant to perform our interfaith ceremony and to also provide pre-marrital counseling, should we desire this service.

Regarding pre-marital counseling, Emily worked with us to plan and tailor our sessions, and she counseled us using the Prepare/Enrich program over the course of five sessions --- several before our wedding, and one or two after. We found her facilitation extremely useful and well balanced; she let us engage on our own and encouraged us to complete more of the exercises and discussion topics than we might have otherwise.

As for her officiant services, she was willing to meet with us for an in-person consultation session as well as two follow up sessions before the big day itself. She was also willing to use a ceremony format of our own design that integrated elements from my husband's reform Judaism background and my family's traditional (and 150 year old) Episcopalian marriage ceremony text. Her command of the material and poise at the ceremony were put fantastic --- and both were put to the test as she calmly handled both a tripping father-of-the-bride and the dropping of the rings.

Through all of our interactions with her, Emily has been very flexible, extremely personable, and all around wonderful to work with. Again, and very simply stated, we wholeheartedly recommend Emily and strongly suggest that you give her due consideration --- you will be glad that you did.
Are you interested?
Send a message