108 Reviews
Recommended by 100% of couples
Quality of service

5 out of 5 rating

Average response time

5 out of 5 rating

Professionalism

5 out of 5 rating

Value

5 out of 5 rating

Flexibility

5 out of 5 rating
53 User photos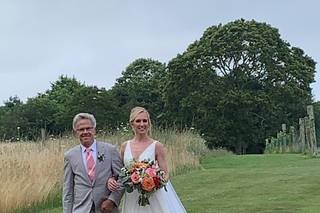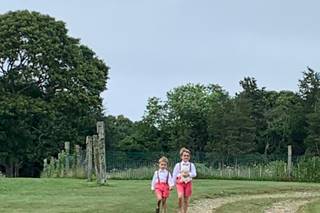 + 49

photos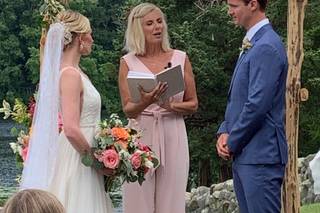 Featured

Haley N.

Married on 05/08/2020

You need a CCC Coordinator!

After last summer when Jamie was instrumental in making my sister's wedding day perfect, I knew I couldn't get married without her! We hired Jamie (and her team) for day-of coordinating which I recommend 100% to anyone debating on if they need it or not. I didn't worry about one thing on my wedding day because I knew Jamie was taking care of everything and I knew I was in good hands! Even in the months and days leading up to the wedding, Jamie helped to make sure I was on track and made me feel at ease that we didn't forget anything in planning. She has great vendor recommendations and I trusted her opinion on things more than my own! Our wedding day was perfect and I know I wouldn't have felt nearly as calm and collected if it wasn't for Jamie! I can't recommend her and her team enough!

Ali H.

Married on 05/13/2023

10/10 Recommend

I would recommend Stephanie and the entire Cape Cod Celebrations team 1000 times over! We had Stephanie help with day of coordination and for the entire month before she kept me organized and calm. If you are hesitating at all about hiring a coordinator for your wedding just do it - Stephanie ensured the day ran smoothly and made an incredibly Type A bride feel completely calm and stress free. Knowing Stephanie was in control allowed us to really enjoy our day! This was the second wedding Stephanie and Cape Cod Celebrations has helped coordinate for our family and we could not have imagined the day without her. My best piece of wedding planning advice is to use Cape Cod Celebrations for your special day!

Regina

Married on 04/29/2023

Couldn't have done it without Heather!

This was a second wedding for both my husband and I so we have both been through the process before with other wedding planners. Cape Cod Celebrations, and specifically Heather, went above and beyond our expectations and our prior experience with highly qualified and recommended planners. From our first call, Heather was engaged, knowledgeable, and fully on board to make our wedding dream become and reality. She went above and beyond to guide us while being mindful of our wishes and wants. Her expertise shined not only during the planning process but on the day of the wedding. She handled all aspects and coordinated all vendors and guests in such a way that even our guests commented on how lovely, helpful, and wonderful she was to interact with that evening. Most importantly, we know that our wedding would have never come together so effortlessly without having Heather a part of the process and we will always be eternally grateful for everything she did for us.

Are you interested?

Send a message

Kim

Married on 03/03/2023

Absolutely perfect!

Absolutely perfect – I cannot begin to thank Jamie and Cape Cod Celebrations enough for making our wedding day so amazing. It was so beautiful and simply the best day.

We live outside of Philadelphia and were planning a wedding in the Cape without a lot of knowledge on the area and local vendors. We got married in March 2021 and even though we were planning through covid, she made the entire planning experience easy, stress free, and enjoyable. We did not have a clear vision coming into the planning, but she was able to help us narrow in on a location, connect with vendors that matched our style, and recommended details that I never would have thought about including – each one made the wedding that much more perfect. It was such a beautiful, classy, fun, beach wedding with a bonfire.

The whole wedding weekend was perfect. Not only was Jamie amazing during the planning process, but made the wedding day run so smoothly. Keeping us in line and making sure everyone was where they needed to be. It allowed us and our family to just relax and enjoy the beautiful day.

I know that I would not have had that experience if I would have tried to plan it myself. Looking back on the weekend, I am just so happy with every detail – I would not have asked for anything more; or done anything different – from Chatham Bars and working with Kristin, the food, Patrice's flowers, Kim's Photos, Graham's music and the cards from Dulce Press. Just perfect and Jamie coordinated it all.

Thank you, thank you!!


Paige R.

Married on 10/08/2022

The BEST Planner

I do not know what I would have done without Jamie when it came to wedding planning! She helped recommend vendors, kept me on track with outlining what I needed to have done, and most importantly, ensured the actual wedding day went off without a hitch! I wouldn't have thought of half the little things she brought up and I know the wedding wouldn't have been as perfect without her. She really helped me feel totally stress free on the actual wedding day because I knew she had everything handled. If you're on the fence about getting a planner, DO IT and hire Cape Cod Celebrations!

Nina M.

Married on 09/10/2022

Great experience!

We worked with Jamie from Cape Cod Celebrations to plan our wedding at Wequassett and are so happy we decided to do so. Jamie offered us many creative ideas and suggestions which ultimately led to our dream wedding. She was the breath of fresh air and calming voice that undoubtedly got us through our planning. There were times that I let myself get very stressed out, but the moment I got off a meeting with Jamie, I instantly felt a million times better. We feel so lucky we worked with a planner that already had such great relationships with our vendors. I learned how important that is. When a vendor wasn't communicating well or lacked flexibility, Jamie always intervened and solved the issue. Our wedding was truly everything we had hoped for and we are so beyond thankful for that. We couldn't have imagined a better day and are so fortunate that Jamie was apart of it. Cape Cod Celebrations will forever hold a very special place in our hearts.

Lori M.

Married on 07/31/2022

Professional and Gracious wedding planner

I highly recommend Cape Cod Celebrations, and more specifically Jamie Bohlin if you are looking for a wedding planner in the Cape. I have worked with many Cape Cos vendors over the years but none as professional as Jamie. Jamie has a vast amount of resources available to her on the Cape, is quick to respond to emails and phone calls and listens well to help you create the perfect vision of your wedding. She has great relationships with other vendors and is an absolute pleasure to work with. 5 Stars for Jamie!

Kaitlyn

Married on 07/25/2022

Highly Recommend!

We cannot recommend working with Cape Cod Celebrations more! Since we are not local to the Cape, working with Jamie to plan our Wychmere wedding was so helpful. We had a less than a year engagement, and we could not have pulled it off as flawlessly as we did without her. She has great connections with all of the best vendors, and truly cares about you and your experience planning. On the day of our wedding, we had to go with our weather backup plan. Jamie took care of the entire coordination of moving around every vendor inside, while we were able to continue getting our hair and makeup done stress free. Her and her team are just so organized, very professional, and just wonderful to have there for you during the entire planning process!

Kelly W.

Married on 06/25/2022

The best!

Without a doubt the best decision we made for our wedding was hiring Jamie Bohlin from Cape Cod Celebrations. We seriously could not have done it without her and her amazingly talented team at CCC! Jamie is not only detail oriented and meticulously organized, but she somehow also has such a calming presence and is someone you want to be around during months of planning and on your wedding day. We got married at Chatham Bars Inn and opted for full service planning, and I'm SO happy that we chose that option. Jamie showed us that not only did she know the venue so well, but she knew the perfect vendors to pull in to make our vision come to life. She was able to offer advice and suggestions and made sure to always be available to answer any questions we had. I can not recommend Jamie and her team enough and wouldn't have changed one thing about our wedding weekend. If you're thinking about hiring a planner in any capacity (full service, day of, etc.) look no further than Cape Cod Celebrations - you will not regret it!

Carly M.

Married on 06/11/2022

The BEST Wedding Planner

My wedding would not have been possible if it weren't for Jamie Bohlin. She understood my vision, gave me creative ideas and made my dream wedding come to life. She is calm and collective throughout the whole process but at the same time extremely organized and on top of her game. Jamie is attentive and quick to respond back to emails- she would always be 5 steps ahead of me on the wedding planning process. Not only is she organized, Jamie is the nicest person and is always laughing. Jamie is truly the best and my family absolutely adores her. We are so lucky to have worked with her for my sister's wedding in 2020 and now mine. I HIGHLY recommend Jamie and Cape Cod Celebrations

Erin F.

Married on 04/29/2022

Crucial Wedding Vender

I cannot recommend Cape Cod Celebrations enough. We worked with Kate Mann and she was absolutely incredible. She flawlessly helped to execute the most perfect day for us. Multiple guests commented on how relaxed and calm I was. As someone who has neither been described as relaxed or calm I can confidentially say that having Kate was a huge reason I was able to feel so relaxed. Kate was so patient with me while I asked all questions and gave expert advice when I needed feedback. I truly couldn't have been happier with my choice and would recommend Cape Cod Celebrations to absolutely anyone.

Debra

Married on 09/12/2021

Book ccc, now!

Wedding on the Cape?? Look no further. We worked with Kate for our wedding at Chatham Bars Inn and couldn't have been happier. From the beginning we felt that having a person help us out with the details was very important, and we were NOT wrong. She treated our wedding like it was our own, brought ideas to the table, and executed perfectly. We don't know what we would have done without her! It was nice to know a month out from our big day when we were stressed out, that Kate was working behind the scenes for us, coordinating with our vendors, and putting together a detailed timeline. About a month out, we felt pretty confident that our planning was all set, and then once we got things moving with Kate, we realized we had so much more to coordinate!! The day was perfect, and no detail was overlooked. Kate had my trust 100% and was truly amazing. We had so many little things that I really was expecting at least one thing to not be exact (because it is so much!!!) but NO, Kate is a boss and didn't overlook a single thing. She was our saving grace and we are so so thankful for everything that she did for us. Thank you Kate, and Cape Cod Celebrations; you make magic happen!!!

Deborah R.

Married on 08/06/2021

Exceptional

We tied the knot two weeks ago- 2nd marriage for us both and blended family. I admire Jamie's expertise, work ethic and especially her creativity given we did not want traditional. What I admire the most is that she is an exceptionally good person with impeccable integrity. I trust her implicitly and the entire day was perfect because of Jamie.

Katherine R.

Married on 07/31/2021

Totally exceeded expectations!

I genuinely don't know what we would have done without Jamie and Cape Cod Celebrations! She helped us navigate a postponement due to COVID, constantly changing guidelines and protocols, and a few other curveballs with so much patience, grace, and humor. Jamie has an exceptionally calming presence, and we felt like we could be totally open and honest with her about what we wanted for our day. Our wedding day far exceeded our expectations and we felt like we were able to be totally present and enjoy the day because Jamie had prepared for everything so thoroughly and helped cue us on important transitions without us even having to think. She has great relationships with top-notch vendors, so we knew if Jamie was recommending someone, they would be exceptional to work with as well! It felt so good to be able to fully trust that Jamie has thought of everything, has seen everything, and would make planning as fun as possible, even in the midst of a pandemic! Thank you Jamie and Cape Cod Celebrations for going way above and beyond!

Francesca D.

Married on 07/10/2021

Cape Cod Celebrations is the wedding planner for you!

We got married in July 2021, and we had a wonderful experience working with Heather and Cape Cod Celebrations. We had been working together for a year prior to the wedding, and we would not have been able to have our dream wedding without them. Jamie helped us find the perfect venue, which we would not have been able to find without CCC. Wedding planning can be stressful and it is easy to become inpatient. Heather helped me remain calm throughout the entire year, and even the day of! Many guests said it was the nicest wedding they had ever been to, and Heather was a big part of that. I trusted her to make decisions during setup, and she came to me when she needed me while we were getting ready. We had a rain shower surprise that wouldn't go away before the ceremony, but she made it all work out ! We were able to have our ceremony outside of the tent even with all teh last minute uncertainty. Everything came together so nicely, and you will definitely be in good hands with CCC!

Samantha

Married on 06/25/2021

Jamie is amazing!!!!

We had the most pleasant experience working with Jamie from Cape Cod Celebrations. She was there from beginning to end to promptly answer every question we had. (and boy did we have a lot!!) She never lost her patience and always offered creative and thoughtful suggestions. Another aspect of our relationship we were not expecting was her knowledge of other vendors and resources for completing the whole day. I would without a doubt recommend Jamie (and her team) to anyone getting married on the Cape!

Sam G.

Married on 06/20/2021

Jamie is THE BEST!!!

Working with Cape Cod celebrations was without a doubt the best decision we made when planning my wedding at The Provincetown Inn. It was a lobster bake on the water with tons of moving pieces. The wedding was originally planned for last June and needed to be postponed a year due to covid. We were lucky enough to work with the owner of Cape Cod Celebrations, Jamie Bohlin. Jamie managed to keep us calm and on track during the entire planning process. We would have been lost without her! Jamie certainly knows the Cape and recommended fantastic vendors to us. Her attention to detail and creativity made each decision perfect! Decor, flowers, invitations, a gorgeous tent, lobster bibs, even the table and dance floor placement.
Not only was Jamie amazing during the planning process, but she made the wedding day run so smoothly. Keeping us in line and making sure everyone was where they needed to be. It allowed us and our family to just relax and enjoy the beautiful day. Our friends and family all said this was "the best wedding ever"! We know it was the best wedding ever, in large part because of Jamie and Cape Cod Celebrations.

Meghan C.

Married on 06/12/2021

So thankful for Stephanie & Cap Cod Celebrations!

We were so happy with our experience working with Stephanie! She helped us switch our venue last minute when we were feeling like we would need to cancel then she kept us super organized and detail oriented throughout the planning. We were feeling stressed out going into our wedding week, but our final sit down meeting with Stephanie made us feel so much better! Would highly recommend!

Karly

Married on 10/10/2020

Book them - best money you'll ever spend

Let me start by saying if you have a DIY venue that does not include a planner or day of coordinator, YOU NEED CAPE COD CELEBRATIONS. The best money I ever spent. It is pricey, but trust me, so worth it! After selecting my venue, I knew I would need a planner. Everything was brought in- the venue was JUST the venue. I had like 13 vendors. I am Type A and knew I would want to do a lot of hands on preparations, but the weekend of that I did not want to do ANYTHING. I chose Cape Cod Celebrations because they had worked at my venue and with almost all of my vendors and got great reviews. Jamie was AMAZING. She made straight forward recommendations whenever asked. She was great about staying in touch through a year of wedding postponement. I chose the "day of coordinator" package plus rehearsal assistance and vendor check in. Jamie came on Thursday and helped with our rehearsal and went through all my organized boxes of wedding decor. Friday, she came to the venue to check in my vendor drop offs (tent, restrooms, etc.) and make sure everything was delivered and set up as agreed. Saturday she arrived and got straight to it. I didn't have to worry about a thing. The wedding went super smooth. The reception went super smooth. If there was ever an issue, I did not know about it. She said bye at the end of the night, but was more than happy to stay if I needed. If you want to have a stress- free day, book with Cape Cod Celebrations!!

Emily D.

Married on 09/26/2020

Get a Wedding Coordinator ASAP!

I was on the fence about hiring a wedding coordinator for my small wedding, but man oh man I am so glad that I did. CC Celebrations were the absolute best and while I only used them for day of coordination, if I could do it again, I'd have hired them for the whole process. Through and through entirely professional, were amazing and supportive through all the changes we had to make because of the pandemic and my day of coordinator Laurel was an absolute rock star and I had to worry about literally nothing that day and I can't thank her enough for that.

Sarah R.

Married on 08/28/2020

An incredible team - thank you Cape Cod Celebrations!

Stephanie and the Cape Cod Celebrations team are incredible. We worked with Stephanie over two years amid COVID, evolving from our original vision to a 150 person anniversary party last month.

During the days up to the wedding, I, my mom and Maid of Honor were all so relaxed, due to how prepared and organized Stephanie was.

Stephanie has great relationships with the vendors on the Outer Cape, and was able to use those relationships to help us bring our vision to life. She would "yes and" our ideas, and was flexible leading us through all the changes due to COVID.

We'd strongly recommend working with Cape Cod Celebrations! Thank you Stephanie and team!


Jennifer T.

Married on 08/02/2020

A true professional and an absolute sweetheart!

Nobody in the business is more talented at planning weddings than Jamie Bohlin at Cape Cod Celebrations! From day one she was absolutely instrumental in planning our wedding celebration, including navigating the inevitable changes that occurred as a result of Covid. Every single vendor she recommended was top notch and there wasn't a single detail overlooked throughout the entire process. The attention she gave to our event made us feel like we were her only clients and her kind, fun personality but willingness to offer her honest opinion made us feel confident at every turn. Our wedding day was everything we hoped it would be, even in these crazy times, and we TRULY couldn't have done it without Jamie. Do yourself a favor and hire her now for the wedding of your dreams!

Jill D.

Married on 06/20/2020

They make wedding dreams come true!

We don't even know where to start with this review, because words can't do justice to how amazing Stephanie and the team at CCC are! Stephanie was our Day of Coordinator, but it felt like much more than that. She made sure our day went completely seamlessly. She was incredibly professional and kind and helped us execute everything to perfection. We had a stressful week leading up to our wedding with last minute COVID safety protocols implemented the week of and she was incredibly supportive and helpful because CCC had done weddings under lots of different conditions over the past year and half. She helped us roll with the punches and made sure every detail was taken care of so that we could truly enjoy our day. Our families and wedding parties were so impressed with her and we were all so grateful for everything she and the CCC team did for us. We had a coordinator at our venue that helped with a lot of the planning lead up to the day, and even with that being the case I cannot recommend hiring CCC for your day of coordination or more. They really put all those final pieces together to make everything go smoothly! If you are getting married on Cape Cod, you absolutely need to hire Cape Cod Celebrations to help make your dream wedding come true!

Karen T.

Married on 06/05/2020

Perfect wedding planner

Stephanie was absolutely amazing. She was organized, efficient and so much fun to work with. She has an incredible attention to detail. She is very flexible and fair. Our whole family was totally thrilled with the whole experience.

Susan G.

Married on 12/14/2019

An Excellent Choice

I can't thank Cape Cod Celebrations, especially Heather enough for all her help leading up to and the actual wedding day. We truly appreciate everything she and Maia did and don't know what we would have done without them. We would not have had as wonderful a time as we did. The timing of everything was perfect and I know it is because of Heather. She always made us feel so special, especially the bride and groom who were absolutely over the moon excited with how everything turned out. We've gotten rave reviews from our guests. At the end of the night I simply walked out of the ballroom and seamlessly Heather took care of all our wrap up work.

Are you interested?
Send a message