99 Reviews
Recommended by 96% of couples
Quality of service

4.8 out of 5 rating

Average response time

4.9 out of 5 rating

Professionalism

4.8 out of 5 rating

Value

4.8 out of 5 rating

Flexibility

4.8 out of 5 rating
6 User photos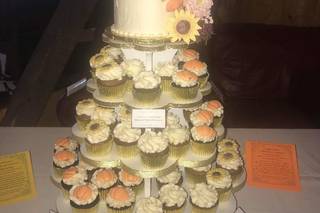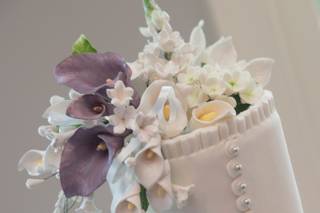 + 2

photos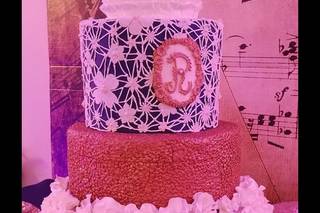 Kalie A.

Married on 08/20/2022

Lisa was amazing!

Lisa goes out of her way to make sure that you get exactly what you want. Everyone at my wedding could not stop talking about the cake and practically begged for seconds. She was amazing to work with and her cakes are PERFECTION!

Candy and Confections by Lisa Stoudt's reply:

Kalie, thank you so much for your kind words. I really appreciate working with you. Don't forget to call me in 11 months to order your free fresh anniversary cake. You get to pick the flavor and the color but I get to pick the design so it will be a surprise just for you and your sweetie. Thank you so much again.

N. M.

Married on 02/09/2022

Best GF Cakes

Ordered Lisa's cupcakes for my mom's 70th birthday, and everyone loved them. We also ordered GF and sugar free cheesecake cupcakes and they were delicious. We have tried many others, but these are the best cupcakes ever!

Michelle

Married on 10/20/2019

Delicious, creative, talented

Lisa nailed our wedding cake vision. She listened to what we requested, and ran with it. She has so many varieties of flavors, all delicious. Our guests enjoyed our cake and cupcakes. Her sugar flowers are absolutely beautiful! We would absolutely recommend her!

Are you interested?

Send a message

Bradford N.

Married on 10/20/2018

We where so impressed

Lisa was a joy to work with from start to finish! The private tasting takes place in her beautiful home, and she has so many wonderful flavors, it was hard to pick! She was always available and responded quickly when we had any questions. She offered great advice in helping us design our cake and made sure we came up with something we loved. She arranged the amazing handmade sugar flowers on the cake and it was stunning and delicious. All of our guests commented on how great it tasted and how beautiful it looked. Lisa is very talented and also very kind and pleasant to work with. Highly Recommended!!!

Samantha

Married on 08/18/2018

Order early, be creative! Lisa is a true artist.

Caitlyn

Married on 06/09/2018

Lisa was very professional and flexible. My husband and I went back and forth on how many desserts (we got cookies and cupcakes in addition to our cake) and Lisa was so accommodating. Everything was delicious, I had multiple guests talk about how tasty all the desserts were. And the cake was beautiful! Lisa is very close to father-in-laws house, and we will definitely going back to her for future celebrations! Couldn't be happier with Candy & Confections!

Alysson

Married on 04/28/2018

Lisa was AMAZING to work with and her cake is the best cake I have ever had. She helped me design my cake from the bottom up and was so patient when trying to get my vision on paper. My guests were in complete awe over the finished product and a month later they are still talking about how good the cake was - rich and moist. We will now always use her for all of our cake and candy needs! Thank you so much Lisa! You truly are the best!

Kayleigh

Married on 11/11/2017

Lisa is fantastic at what she does! She created our wedding cake and was able to bring our vision to life. The cake was beyond delicious and we had so many compliments from our guests. Even better, we were able to keep the gorgeous sugar flowers as a memento for years to come. Thanks Lisa!

Rachel

Married on 07/15/2017

I had Lisa make my wedding cake and it was great! The cake tasted just like it did in the tasting and looked exactly like we discussed. She delivered exactly what she promised in flavor and in looks. Overall an excellent baker and artist. Lisa is very friendly and personable and she clearly cares about meeting her customer's needs. I highly recommend!

Jennifer

Married on 11/12/2016

I loved our cake! It was beautiful and delicious! I would use Lisa Stoudt again in a heartbeat!

Diane

Married on 11/11/2016

Lisa was very professional, the cake was beautiful and tasted wonderful!

Meghan

Married on 09/03/2016

Lisa made a small and beautiful 8 in cake plus our cupcake display AND made pineapple-cutout cookies for favors for our luau-themed wedding announcement party. Everyone RAVED about the look of the display and the design of the actual cake, and they also commented on the taste. We have no complaints, and would strongly recommend using Lisa as your baker for your event----her cakes/cookies are delicious and she's very accommodating and easy to work with!

Kira

Married on 08/13/2016

Lisa was great! She took our cake thoughts and made it into a dream come true! She was so easy to work with. The great looked great, had 3 different flavors and our guest couldn't stop talking about great it tasted! Thank you again Lisa, The Smiths

Jaimie

Married on 05/21/2016

Lisa was wonderful to work with. Her cakes are so good. We loved going to the consult and trying all different cakes and icing. For our wedding cake, we asked Lisa to incorporate 2 of our colors in an ombré effect on the cake... And she totally delivered. She also made 3 flowers to place on the cake out of sugar. She did such an amazing job. The cake tasted so good too! We will definitely be returning to Lisa for more.

Jaimie & Anthony

Lisa did an amazing job with our wedding cake! very professional and had no problems, she even was able to handle last minute color change on a not so easy color and our cake was super moist. I will definitely use her again in the future.

Shari

Married on 08/22/2015

I was referred to Lisa by the owner of the wedding venue I was using. I called her and scheduled a tasting. Lisa was very accommodating to fit us in on my husbands only day off. As soon as we took our first bite, we knew we found our baker!! Everything was delicious. It was very difficult to choose our flavors! We presented Lisa with a photo of a cake we found online. It was half white and half chocolate with strawberries. She assured us she could reproduce the result! And she DID!! The cake looked absolutely amazing and tasted just as great!! Our guests loved the cake and many had seconds!!! My kids are already planning what they want for their birthdays! So, we will definitely be placing new orders soon!! Lisa is so friendly and easy going. She was just fantastic to work with. Thank you Lisa you creating the wedding cake of our dreams!!!

Cake is my weakness. My husband (then fiance) was initially pretty willing to go with anyone I liked enough within the right price range, but after visiting a few bakers, he commented on how flavorless and dry most of them were. Then we met with Lisa. Not only was she willing to work with us to make our somewhat non-traditional design happen, she also made sure we got to taste interesting flavors that appealed to us and our crowd. (We ended up with the bottom tier of peach cake with raspberry mousse filling with fresh raspberries in it, and the 2nd tier was chocolate cake with peanut butter mousse and peanut butter cup pieces in it.) The cake was incredible - it was moist, flavorful and delicious! But it was also STUNNING! We purchased a small castle and Lisa crafted a beautiful sugar dragon with delicate lace wings curled up around it and one of the wings hovering over the castle protectively. She obviously spent a LOT of time on the details - there was no pattern pressed into the dragon's skin, she made each scale individually. She even copied the design from our invitations onto the cake itself! And best of all, we got to keep the dragon and castle afterward. We got so many comments from our guests about how delicious the cake was but everyone was raving about how gorgeous it was. Lisa is an artisan and we could not have been happier with our cake. It was perfect!

Tamara

Married on 06/28/2015

Our wedding guests had to say about our wedding cake..... "AMAZING!!" Lisa's cakes at Candy & Confections are very moist and absolutely delicious! She's a little pricey compared to the average cake baker but it is worth every single penny! We loved that she was home-based and truly a one-woman show. This means she was able to pay close attention to our every request and detail. We started out with a very complicated cake tree design, featuring 7 different flavors including a separate vegan, gluten-free cake for 2 of our extremely allergic guests. Lisa went out of her way to make sure that the Vegan/Gluten-Free cake was made in complete isolation of the rest of the cakes...separate utensils, baking pans, even stored in a separate fridge. She even took the time to read every single ingredient on the back of her extracts, flavorings etc that she would be using to make sure it was "kosher". We were also very impressed with Lisa's diligence and patience as she helped us shop around for different carpenter vendors to make our concept of a "cake tree" come to life! Unfortunately, we weren't able to find exactly we wanted, but Lisa instantly came up with another amazing idea. She rented us one of her beautifully decorated display cakes, and designed a beautiful matching one-tier cake that my husband and I could cut during our cake cutting and STILL made our 6 other flavors to be served to our guests from the kitchen. This saved us over $400 in the cake budget. She's a GENIUS! Our cakes were delivered and set-up early and everything was perfect! We can't wait to order our complimentary anniversary cake in the next 9 months! Oh yes, she gives you that too, no more freezing the top of your wedding cake for a year. Thanks again Lisa! :-)

Shawn

Married on 06/20/2015

My Bride and I had given up on a wedding cake for our wedding until we found Lisa Stoudt at the Reading Country Club Bridal Show! Lisa's dedication to us and what our vision of the perfect wedding cake was truly amazing! The time and effort she put into helping us decide the flavors and styling was remarkable and not copied by any other wedding cake maker! Not to mention the beauty and delicious taste of the finished wedding cake!!!! I highly recommend Lisa to anyone looking for a beautiful, individualized cake that tastes great! Her attentiveness and dedication to her craft comes through as art and her capabilities are endless! I know our new family has found our baker for years to come and can't wait for the next occasion to call Lisa and order a cake!!!!

Janie

Married on 02/15/2015

Wow! We were absolutely delighted with our wedding cake and with the service provided by Lisa Stoudt! Lisa was so easy to work with and even provided samples of her work when we went to look at what kind of cakes she could provide. Awesome! That's all I can say! Everything we tasted was just too delicious! The hardest part was making a choice from among all of the wonderful choices that she offered!
For our wedding, Lisa was so artistic and used the red roses that we gave her to make a work of art on our cake so that our wedding cake blended right in with the theme of red roses for our Valentine Day weekend wedding. She followed our directions to a T and everything was perfect! The cake was delicious and we received many compliments and inquiries from our guests.
In the future, when I need a cake or other confections, I know exactly where to go!

Katherine

Married on 11/08/2014

We were lucky enough to have Lisa make our wedding cake. Not only was it stunningly gorgeous, but it was absolutely delicious! Her sugar flowers had everyone in the room fooled and we polished off every ounce of left overs the next night. She was an absolute pleasure from start to finish!

Rebecca

Married on 10/25/2014

Lisa Stoudt provided the cake for our wedding at the GoggleWorks. The whole experience was fantastic! It started with an amazing tasting with a variety of cakes and icing that we were able to mix and match. And we were able to take all the leftovers from the tasting home. My husband still talks about the tasting:) The cake she created for us was absolutely beautiful. It was exactly what I wanted! And more importantly, it was delicious. All the guests I spoke with, loved it. I would recommend Lisa to anyone to create a beautiful cake for a wedding or any other important event!

Leah

Married on 09/20/2014

I contacted Lisa to request a groom's cake, and all I knew was what flavors I wanted the cake to be and that my soon-to-be-husband (at the time) would love some sort of Philadelphia sports logos to be the theme of the cake decorations. Lisa took on my fairly unusual cake flavor request (banana chocolate chip cake with peanut butter filling) without hesitation. My family and I are not really 'cake people' and we could NOT stop raving about how delicious the flavor and density of the cake was. Everyone at the rehearsal dinner was quite anxious to cut into the cake and taste it! In addition to the cake being absolutely mouth-watering, the decorations were PERFECT. Everyone was getting up to take pictures of the cake, which was decorated with a Phillies and Eagles theme. It was exactly what I was hoping to get. Thank you so much Lisa for such a beautiful and delicious cake with a flawless business interaction to go along with it!

Jena

Married on 09/13/2014

Candy and Confections by Lisa Stoudt blew us away from the moment we stepped in the door for our initial meeting and cake tasting. She gave us so many options to taste and made it so much fun to do so. There are so many flavors and combinations and they are ALL delicious. In addition, we were looking for a Gluten-Free cake and regular cupcakes. Lisa went above and beyond to make sure we had everything we needed. She also, by far, has the best Gluten-Free cakes. They taste exactly the same as her regular cakes, which is awesome. Our display was absolutely beautiful and was exactly what I was looking for. I have and will continue to recommend Lisa any time someone is looking for any kind of baking. I will also continue to go to Lisa for anything I need in the future. She is amazing baker, decorator, and business owner. Thank you for everything, Lisa!!

Danielle

Married on 08/30/2014

We had a very specific wedding cake design that we wanted for our wedding, yet we didn't really think too much about the actual taste. My sister, the maid of honor who is a foodie, urged us to let her come along to ensure the cake tasty. Prior to meeting with Lisa, we had several cake tasting appointments that were all the same- vanilla and chocolate cake with buttercream icing. While they didn't offer us other flavors, they claimed they would taste good as well as look good.

This brings us to our cake tasting appointment with Lisa. She is passionate about baking and it surely comes through in her work. This was the best appointment by far. Lisa offered us at least 6 or more varieties of cake and at least 10 fillings to taste. I wish we hadn't wasted our appetite on the previous cakes because Lisa's cakes was on a completely other level. After seeing her ribbon rose "practice cake", we knew that we had met our baker.

Our cake was very unique and gold. Lisa made sure to test out her technique and consult with industry professionals to ensure she could deliver the dream cake that we showed her. We went with vanilla, chocolate brownie, almond and red velvet layers. On top of the cake, Lisa also made the dessert bar. All of the decadents made by Lisa were beyond delicious. I had guests walking to tables and asking to eat slices that were untouched.

Now that our wedding is one month over, I am still getting asked about the cake. Everyone said that it was not only the prettiest cake, it was also the most delicious cake they have eaten. Don't settle for the pretty "cardboard" cake. It is possible to have a moist delicious wedding cake too!

Are you interested?
Send a message