27 Reviews
Recommended by 92% of couples
Quality of service

4.6 out of 5 rating

Average response time

4.5 out of 5 rating

Professionalism

4.5 out of 5 rating

Value

4.7 out of 5 rating

Flexibility

4.8 out of 5 rating
Awards
30 User photos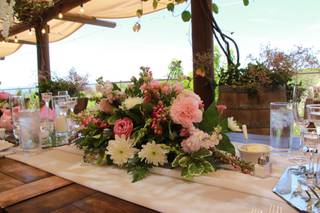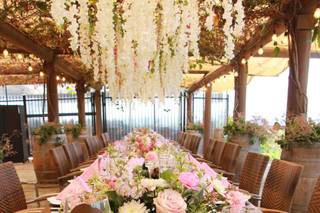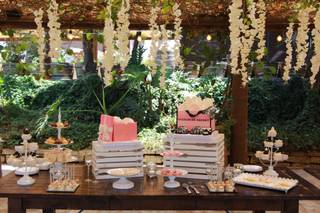 + 26

photos
Veronica

Married on 10/19/2019

Callaway gave us the wedding of our dreams!

My husband and I looked at approximately 15 wedding venues (including 5 Temecula wineries) before deciding on Callaway. Callaway is by no means the cheapest venue in Temecula, but I do believe you get what you pay for, and Callaway was an absolute dream from beginning to end. The venue itself is STUNNING and immaculate, and offers so many location possibilities for ceremony, cocktail hour, and reception. We knew we didn't want the standard, run-of-the-mill ballroom reception, and Callaway's barrel room provided such a unique, beautiful space for our dinner and dancing! Another huge selling point for us was their "all-inclusive package" which allowed us to hire our photographer, florist, and DJ right off the bat, resulting in a whole lot less stress! All these vendors were fantastic to work with! Plus, they're Callaway regulars and know exactly where to go and what to do – once again, less stress for us!
Shelby, our venue coordinator, was unbelievably amazing! She was another huge selling point for us, as we were deliberating between a couple wineries – she just has such a great vibe about her and you can tell that she absolutely loves what she does. Shelby seriously handled SO MUCH of the coordinating for us – from contacting our vendors to setting up extra décor the day of – that we didn't have to hire an outside wedding planner (saving us a couple grand). I was blown away by how smoothly everything went on our wedding day, and how Shelby and the rest of the Callaway staff went above and beyond to ensure that my husband and I didn't have to worry about a single thing, other than enjoying our day! Just one small example of this – immediately after our ceremony, my husband and I were whisked off to the bridal suite by golf cart, where we were able to enjoy appetizers and champagne and bask in the joy of being just married for a few minutes before pictures began. This was such a sweet, unexpected touch… I mean, what bride and groom ever get to enjoy their cocktail hour appetizers?! Alone?! I could say a million more positive things about Callaway, but bottom line – everything was spectacular. Gorgeous venue, delicious food, great wine, and amazing staff! Thank you for the wedding of our dreams!


Bree

Married on 07/13/2019

Beautiful bridal shower

I had the bridal shower of my dreams at Callaway Winery!!! It was absolutely stunning. My mom and I worked closely with Shelby B. who helped us plan the whole event and was fabulous to work with! Everything from the food to the amazing wait staff was perfect :) we could not have had a better event! Highly recommend.

Tania C.

Married on 06/01/2019

They are so worth it

Where do I start... aside from having the best day of my life, I saw my wedding vision come to life and would not have gone perfectly without Shelby there for me every step of the way. Samantha had shown us around the venue and based on her and her team, we knew we'd be in good hands.

The venue layout flows perfectly from beginning to end. The food was amazing, made by Chef Volker and his team, our guests are still giving us their compliments. Our dj who was recommended by them was phenomenal.

We feel like we gained new friends (all of our vendors) along the way. I love that Shelby took the time to really go over things with us, answered many many questions, made sure we did all of our menu and wine tastings, and made sure that my schedules lined up on the day of. A huge thank you goes out to Shelby... without you, I would have been messy, and Samantha, thank you for making sure to come grab me before the ceremony to get a sneak peek of my venue... seeing it for the for the first time after all the planning is something I will never forget. You guys truly made our day special and we can't wait to come back and see you again for our wine pick up days. Of course we had to join the wine club!

For all you brides out there... you won't regret picking Callaway as your venue. They're worth it.

Thank you guys from the bottom of our hearts.

+ 6

photos

Are you interested?

Send a message

Allie

Married on 10/20/2018

Wonderful Venue

After checking out tons of venue spaces in San Diego/Temecula, we discovered Callaway. Callaway offers a pretty comprehensive package (rentals, food, alcohol, etc.) for a fair price, and we were able to make the package match our needs (such as working with the chef to create our own vegetarian dish!). The food was really good, and our guests seemed to enjoy it as well. They only host one event/wedding a day which allows the space to feel more intimate and special. Not to mention, Callaway is absolutely beautiful and offers multiple locations to hold each part of your wedding (ceremony, cocktail hour, and reception) - we loved the versatility. The only thing we're bummed about is missing out on their AMAZING new groom's space ;) We also visited the venue quite a few times before the wedding, and they always gave us top notch service and made us feel so welcome. While we had a great experience with all of the staff at Callaway, Leah in the events department went above and beyond for us. She answered every single question I had, and made sure we felt comfortable with all of our decisions. Can't recommend them enough!

+ 3

photos

Emily

Married on 04/21/2018

We held a company event at the winery. Our clients and potential clients loved the venue, they raved over the delicious food, and were very impressed with the professionalism of each staff member involved. I cannot say enough great things about this location and the great experience we had. I would highly recommend Callaway winery to host your company event, as well as a private party or wedding.

Callaway Vineyard & Winery's reply:

Emily, We are so glad that your company event went wonderfully here at Callaway! Glad that the views wow'd you as much as they do us! It is our passion & priority to make each event quality, and memorable! It was a joy to work with you as well! Thank you!

Sincerely, Callaway Wedding Team


Genessa

Married on 02/18/2018

This venue was amazing. We worked with Leah, who really went above and beyond to make our day wonderful. It's not only the scenery, but the amount of work Leah put into every detail of our day to make sure it went smoothly. She walked us through the day multiple times beforehand, made sure we felt comfortable, and on the day made sure we were taken care of. She was punctual, professional, and we always felt like someone had our backs.
Even after the ceremony, Leah brought us some champagne and some of our cocktail hour appetizers so we could just breathe and take in the moment. In addition to Leah's awesomness, the staff during the reception was incredible. They were really friendly, very attentive, and even our guests were complimenting us not only on the food (which is amazing) but on the staff. Seriously, who gets compliments on the wait staff? We did! Overall, we wouldn't change anything. Our day was amazing, and we owe a large part of it to Leah and the staff at Callaway.

+ 3

photos

Callaway Vineyard & Winery's reply:

Genessa,
We are SO glad that your wedding day was smooth, and that all the details from small to big were made into a dream reality for you here at Callaway! It was truly our pleasure to be a part of your special day!

Sincerely,
Callaway Wedding Team

Tom

Married on 10/22/2017

Corey and the team at Callaway were amazing and they were the perfect venue for our wedding.

The venue is a beautiful, the views are incredible, the food and wine are delicious, and all our guest throughly enjoyed it.

If you're think of having a wedding in Temecula I would highly recommend checking them out.


Lisa

Married on 09/30/2017

So happy we got married at Callaway! The food and staff were amazing! Its such a beautiful location and perfect for w winery wedding!

Lisa

Married on 09/30/2017

Callaway was an absolutely incredible venue from the team, the food, to the services provided. Would highly recommend Callaway as a wedding venue for a picture perfect winery wedding!

Courtney

Married on 06/16/2017

This venue is STUNNING. I knew I wanted to get married at a winery and I visited over 10 places trying to find one that gave that "feeling". Well, as soon as we walked into the barrel room I knew this was our venue. Samantha gave us a tour we left to see a couple other places we had booked appointments for but made it back to have a late lunch and sign on the dotted line! This place is beyond beautiful. They have great food and wine so we were set! Samantha has been in the business for a while and she set us up with the best vendors. She answered all my questions and helped throughout the whole process with little questions here and there to adding on special linens. He assistant Leah is fun to work with and such a sweetheart. Honestly everything was great. I think we ran out of beer (just what I heard but am not 100% sure) also not sure if it was clear about how much beer would be provided so I can't be upset. There obviously was an abundance of wine so it wasn't a big deal either way. They were super accommodating, we were able to drop everything off the day before the wedding and pick it up the day after. The wait staff was super attentive to my husband and I, we literally didn't have to ask for a thing. Food was great and they made sure we my husband and I got both flavors of cake! (super important) :) They did provide security and they only thing I can suggest is that they inform security of who the groom and groomsmen are, security stopped my husband and brother in law from going up to the grooms suite to change during dinner and they were stopped and told they couldn't go up there, my husband had to explain to them that our things were there and he needed to change his vest. I know its minor but it made him uncomfortable. But such a small detail that can be fixed for future experiences. I can't wait to visit and have dinners here for years to come for our anniversary!

Thanks to everyone, especially Sam, Leah and Cory!

Hello Brides! welcome to the best time of your life, and sometimes the most stressful. I can say wholeheartedly that Callaway was the best choice for us. They were extremely responsive, kind, caring and most of all flexible. Overall the experience was amazing and I still hear the rave reviews of the beauty of this venue. how lucky were we to have worked with Lindsay (also newly married and fantastic!) and the other team members at Callaway.

We have not yet had our wedding, but so far we have signed the contract with Callaway and made a few visits to the venue to show family. We are very excited to have our wedding here. One of the main reasons we chose Callaway over the other options is because they seemed flexible with what we could do at their vineyard - they didn't seem pressuring in doing things a specific way. Also, Andrea and Denise have been very nice and accommodating!

Stacy

Married on 04/19/2014

Everything went perfect! The food, the ceremony, the reception. Denise and her team were friendly and willing to help and make sure the day was perfect.

Sarah

Married on 10/19/2013

Denise and Krissy and the entire Callaway team made our wedding dreams become reality. The best feeling in the world was walking around on my wedding day and realizing my dreams/ideas/visions had materialized because of this stellar team! I am so thankful and grateful to the people at Callaway for their work and the effort they put into making our day special!

Debbie

Married on 07/28/2012

Denise Sutterfield was the BEST Wedding Planner EVER!!! She tended to every detail and took care of everything, which created a day of just celebration for me and no stress!! She really has a gift for her art and I sincerely appreciate all she did to make my day special. THANK YOU DENISE!!!! xox

Kristin

Married on 07/18/2009

AMAZING, WONDERFUL, PHENOMENAL...just a few words that I can use to describe Callaway. The location is beautiful, the Barrel room is so distinctive and the pictures turned out amazing. Krista and Jeanne were awesome to work with. So professional, kind and genuine. I would recomend Callaway to ANYONE looking for a wedding location. Such a wonderful experience and we are so thankful for their kindness and flexibility.

Candice

Married on 08/09/2008

PERFECTION! It's almost my first wedding anniversary and I am still getting compliments on the AWESOME venue! Krista was soooo on top of everything and all the support staff was very helpful. My wedding planning was STRESS FREE! Having the reception in the Barrel room was wonderful (so romantic). Would HIGHLY recommend it to anyone who is thinking about having a wedding @ Callaway.

Sarah

Married on 10/05/2012

Callaway and their staff were so helpful and awesome in creating our perfect wedding. Denise is the most AMAZING coordinator and goes above and beyond to help in any way she can. We had goldfish in our centerpieces and not only did she keep them overnight, but even went out to buy them food the next day so they wouldn't die. She makes sure everything is perfect and how you want it and helps you to feel reassured that everything will go smoothly. Her sister, Dina is also very sweet and so helpful in planning everything out so it goes according to plan. The food at Callaway is FANTASTIC and the entire experience is so worth the money!

Harriet

Married on 07/01/2017

This was a great venue. It has a beautiful site and the barrel room was gorgeous. Due to unusual circumstances with a staff on maternity leave and being reassigned a part time staff member as our coordinator, we had some communication problems at first. But other staff stepped forward and they were so helpful. This was a destination wedding, and still everything came together so well.

Alex

Married on 09/07/2019

Wedding at Callaway

The venue was beautiful on our wedding day. We got married outside, ceremony and reception (somewhat hard to find), it was hot but reliably windy. This venue has an excellent backup indoor option, but I am happy we didn't need it. Because we got married outside, the tasting room was still open and security did an excellent job of keeping our space for us. The staff and coordinators (we worked with Leah) were lovely and helpful recommending vendors, being responsive, and communicating with the caterer. I definitely recommend an additional day of coordinator. Also, ask a million questions because there were some additional costs (extra hour or alcohol, table wine service, stationary o'er d'oeuvres (all of which we were fine adding on, but I would have like to know about the cost upfront for budget purposes). Weddings are a fortune, but I would highly recommend this venue for the stunning views, a stable/capable team, and good food and wine.

Susan

Married on 05/19/2012

My husband and I hosted our rehearsal dinner at Callaway. We decided to book with Callaway as this place is a favorite of my family. They are local to Temecula and have been taking out-of-town guests to Callaway for years. In addition, Callaway was flexible in accommodating our request to incorporate a tour and wine tasting with our overall package. Overall, our guests were very pleased with the food and service.

Our event started off with a tour of the winery. Our guide was friendly and walked us through the process of making wine. He was also open to questions, and although he could answer most of them, he was relatively new to Callaway and wasn't directly part of the team that actually makes the wine. Regardless, our guests enjoyed the tour and found it informative.

After the tour, we were led to our private dining room where we began our tasting. Each of the wines was explained well with a balanced progression from lighter whites to full-bodied reds. The Zinfandel was particularly enjoyable.

Once we had finished tasting our flight of wines, we were served our meal. The Garden Lettuce Salad appeared fresh but was a bit uninspired. My husband had picked this salad over 2 others (Classic Caesar and Crisp Iceberg), but ideally he would have preferred a more contemporary option, such as an Asian-influenced salad or something with fresh berries. However, our entrees definitely didn't disappoint. I sampled both the Bacon Wrapped Chicken Breast and the Crab-Crusted Rainbow Trout. Both were cooked well, flavorful, and accompanied by balanced sides. For dessert, we had the Milk Chocolate Chip Creme Brûlée.

I'd recommend choosing Callaway for a rehearsal dinner if you want to provide your guests with a complete Temecula winery experience coupled with solid food and service.

Steve

Married on 09/17/2017

We had our client drive to the winery and it was a good time

Athena

Married on 09/30/2006

This is a beautiful vineyard and winery! Our ceremony was held outside, and the reception was in their barrel room. The wine is not the best, but their food is beyond excellent.

Throughout the entire experience, I only have two major complaints: in the middle of planning, they changed event coordinators and failed to contact us for several weeks. We then practically had to start the whole planning process with them over again. However, there was plenty of time to do this as our wedding was still not for several months. My second complaint is that they did not provide the wine that we requested. They instead went with their standard selection, which was sub-par. But, our family and friends are not big wine drinkers, so they thought it was great, anyway.

Overall, I would recommend them as a great place to have a wedding. Just make sure that you're firm with your demands. They are very flexible, as long as they remember what you talked about. :-)

Jackie P.

Married on 07/17/2021

Beautiful Venue, Average Communication & Professionalism

Callaway was the most beautiful venue for our wedding! We had our ceremony outside and our reception was in the SPECTACULAR barrel room. This venue has the best sunset views in Temecula and classy, romantic vibes throughout their various spaces. We had to reschedule our wedding due to COVID and their team was very accommodating when it came to that stressful process.
Callaway does seem to have a high staff turnover as we had a total of 3 different coordinators throughout our engagement, the last one introducing herself to me only 1 day before our wedding. This turnover could also understandably be due to secondary COVID complications, but I still think it's fair to say that the communication was just not there at times.
If you're going to have your wedding here, I 10000% recommend that you also hire a wedding planner!

Melissa

Married on 05/18/2019

Beautiful venue, inconsistent day-of coordinator, great wedding

When we got to the location we were 100% certain we wanted this to be our venue. It's a little industrial and natural with all the rolling hills in the background. Samantha guided us through the process and gave us tips and tricks. However, about 9 months to the wedding date they switched wedding coordinators. I felt like there was a constant need for me to correct or reiterate what I wanted. Shelby was good at being in the background, but she got frazzled very easily which was frustrating. Our day was beautiful some things didn't go as planned and there was a little bit of negativity from the day of coordinator when those things happened. Also we didn't get to cut our cake because there was major miscommunication between the coordinator and DJ. Overall, I had a good time at my wedding, but I wish I had a day of coordinator that didn't increase my anxiety.
Are you interested?
Send a message