19 Reviews
Recommended by 98% of couples
Quality of service

4.9 out of 5 rating

Average response time

4.9 out of 5 rating

Professionalism

4.9 out of 5 rating

Value

4.9 out of 5 rating

Flexibility

4.9 out of 5 rating
Awards
4 User photos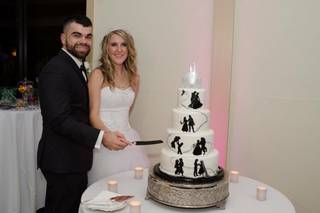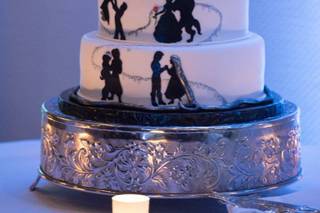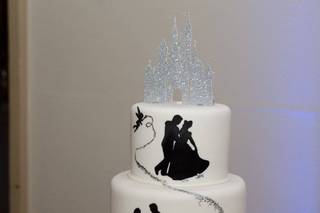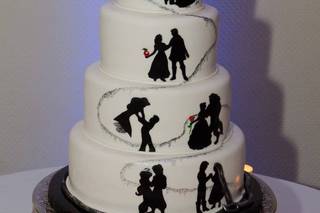 Lena M.

Married on 01/15/2022

Perfect Choice!

Michelle made a beautiful dessert table for our guests to enjoy at our wedding! The desserts were delicious and she even used the sprinkles that matched our wedding colors. Michelle was professional and timely with all communication and made sure everything for our day was perfect!

Cloe J.

Married on 10/09/2021

Delicious Wedding Cake

Delicious cake! Great pricing!

Kristin P.

Married on 12/29/2019

Sooo beautiful and delicious

michelle is so awesome and talented!! I wanted crepe cakes for my wedding and she blew it out of the water!! She also sketched up the whole dessert table for me and how exactly it would look!! My guest loved everything there was no crepe cake left at the end!!!

Are you interested?

Send a message

April

Married on 08/26/2017

Let me tell you what. This lady right here will knock your socks off with her creative designs and amazing details. Michelle took what little ideas I had and ran with them. I knew whatever she came up with would be perfect so we picked out a few things together and then I gave her the creative freedom to make it amazing. I loved every little thing about my cake, right down to the fairy dust! Thank you, Michelle!

Laura

Married on 12/03/2016

Michelle is the sweetest lady. She created a cupcake tower for my wedding and it was not only beautiful, but delicious too! The cupcakes are moist and taste amazing. Michelle delivered the design and look I was going for. Also, you know they are yummy cupcakes when you don't have any leftovers! Thank you so much!

Charlie

Married on 12/19/2015

Cakes by Michelle is awesome! Awesome really doesn't even begin to describe the service provided. Michelle is so friendly and bubbly, you can tell she loves what she does for a living. The first day we met with her she had samples ready to go, and even sketched out what our cake would look like for us. Her prices were very fair, and her product is top of the line! One of our samples was Almond Sourcream, which I totally made a face about. Michelle told us to just try it. I finally tried it, not expecting sour cream to taste good in a cake. I was blown away! I ate the entire sample. Michelle baked us a second sample so my husband could have some, since I ate it all. We loved it so much we chose it for our wedding cake. Knowing that one of our guests had a nut allergy, we asked Michelle if she could make a small cake in just plain vanilla, and asked her to write "Congrats" on it because that same guest had just gotten married. Michelle did just that! We also asked for a small carrot cake with dyed purple icing to share with the immediate family of my husband, as a remembrance of his parents who had passed away. Michelle was ecstatic to do such a sweet gesture. Every cake that we had was amazing in flavor, the best cakes I have ever had. But, not only were the cakes amazing, but they were BEAUTIFUL, especially our wedding cake. And what talent, our cake looked just like the sketch Michelle originally drew for us. All around, we will definitely be hiring Cakes by Michelle again!!

Lucille

Married on 10/24/2015

Michelle was awesome, when we contacted Michelle through Affordable Swarayz and we told her that I wanted to get rid of the center pieces and do individual cakes for each table she loved the idea. after the cake tasting know that she would be amazing. She made the most beautiful cakes for all the tables and everyone was talking about how great they were and how beautiful everything looked with the cakes as center pieces. Thank you Michelle for making my wedding so unique and special.

Rebecca

Married on 10/10/2015

We hired Michelle to make our wedding cake and it turned out amazing! She made the cake we were hoping for even better than we could have imagined. It tasted wonderful, fit perfectly with the theme of our wedding and was gorgeous. Highly recommend Cakes by Michelle!

Denise

Married on 10/02/2015

The cake for my wedding was incredible! !! What a show stopper it turned out to be. We got married at the zoo and while coming up with a different design for our cake Michelle nailed it! It tasted great, looked great! I would highly recommend cakes by Michelle

Megan

Married on 06/27/2015

The cakes Michelle make are absolutely superb! She made my bridal shower cake, which was amazing. She hand drew the Marauders Map on a cake that matched perfectly with my Harry Potter bridal shower theme. I can't tell you how many positive comments I received on it. Our wedding cake was beyond amazing. It was absolutely beautiful! Our guests were blown away about how perfect it looked, our uncle thought we bought a fake cake! The cake tasted amazing and even guests who said they didn't like chocolate cake were taking boxes of it home! Michelle thank you so much for making such an amazing cake for our wedding!

Sara

Married on 06/20/2015

Michelle makes some amazing cake. Our cake turned out beautiful! And of course delicious too. The price was reasonable, and the customer service was great. She stayed in contact with us quite a bit in the days leading up to the wedding and was even accommodating to a small last minute change. She is awesome at what she does.

Nicole

Married on 08/23/2014

Our first baker we tried and booked closed up shop without returning our deposit. Michelle was suggested by our florist, and boy am I glad! She was able to create my dream cake on short notice, and was totally compassionate about the unfortunate time bind we were in.

The almond/sour cream with cannoli filling and chocolate with raspberry were so delicious, we even had a couple slices for our first breakfast as husband and wife! When I lost my crystal cake topper a week before the wedding, Michelle came to the rescue again with a beautiful topper (that wouldn't take 3 weeks to order from Etsy)! And the paisley overlay in icing on fondant matched the beading of my dress perfectly. All in all, exactly what I should have ordered the first time around!

Thank you so much Michelle!



Cakes by Michelle's reply:

Thank you Nicole! I wish we had met under different circumstances however I am so glad I was able to save your day and make your dream cake :) you were a beautiful bride! Congratulations!

Erin

Married on 10/26/2013

My wedding cake was beautiful and so was Michelle. It was gorgeous and just what I envisioned!!

Angela

Married on 04/05/2013

Absolutely loved my cake and cupcakes! Not only was the cake beautiful and exactly what I had imagined, it was also super delicious. We had originally way over ordered for the amount of people but we figured we would have lots of extra cake. Well, the cake was so good that when I got back to my parents house where the leftovers were, there was hardly any left! I was sad I didn't get to try the funfetti flavor but I can attest that every other flavor was absolutely tasty. Michelle will definitely work with you and be sure to give you the cake that you want. :)

Cakes by Michelle's reply:

Thank you Angela & Chris!!! It was great to work with you I appreciate your kind words :) I wish you many years of happiness to come!!

Cakes by Michelle did an amazing job! We originally met with Michelle to do a cake tasting and instantly fell in love with her cakes. I'm normally not a fan of cream cheese frosting but it was made perfectly and I had to have it for our red velvet cake. She was also willing to go outside the box and make one of our tiers a green tea flavor, which was a big hit at our wedding. The groom's cake also came out just the way we wanted it! I'd highly recommend working with Michelle for the perfect wedding cake.

Cakes by Michelle's reply:

Thank you Kristi!! I was a pleasure to work with you. I wish you many years of happiness and laughter :)

Ashley

Married on 07/01/2012

The moment I walked into my cake tasting I knew I had found the perfect person to make my cakes. Michelle made three fully decorated mini cakes plus a plethora of frostings and fillings for me to enjoy. She greeted me with a big smile and a hug and we sat and chatted like old friends while I stuffed my face with her moist, delicious cakes. She made my vision come to life. Even better, my surprise grooms cake was so cool that my hubby didn't even want to cut into it he loved it so much! Thank you!!

Cakes by Michelle's reply:

Thank you Ashley!! You were a beautiful bride!! I loved making the Metalica cake so fun :) Thanks for letting me make your day extra special.

Stacy

Married on 04/14/2012

The best wedding cake I ever tasted. My guests are still talking about it. I gave Michelle a picture and she went above and beyond my expectations. It was the most beautiful cake I have ever seen. She even made my cake topper which was 2 starfish 1 had a veil and the other had a tie. So cute... She is great and her prices are even better.

Cakes by Michelle's reply:

Thank you Stacy!! Those starfish are still a favorite of mine too :) Great to work with you both!

Valorie

Married on 02/16/2014

Said by myself and many of my wedding guests, "best wedding cake I have ever tasted!" Michelle's cakes are not only beautiful but they are SO delicious! We had white almond sour cream with pineaplle filling and the opther layer was funfetti with chocolate ganache. You cannot go wrong with the white almond sour cream with pineapple, moist, light and so damn delicous!!!! I want to order that cake for every occasion from now on :)

Danielle

Married on 05/29/2015

When I coordinated with Michelle for the cake tasting, I was told there would be a popular almond sour cream cake for us to try, as well as some fruity fillers for the layers, along with the usual chocolate and vanilla cakes. When we got there, she had chocolate, vanilla, and fudge marble, with a vanilla buttercream. That was really disappointing to us, because we kind of wanted to go with something more fun, but we had never tried any of the fruit fillers or anything like that. My husband loved her cakes, especially the fudge marble, so we went with that one. I personally felt the chocolate wasn't sweet enough, even with the sweetness of the frosting. It was also a little more dense and dry than what I like. I guess I just expected more from a professional baker, maybe my standards were too high. I would've went somewhere else at this point, but we just didn't have the time. We went with a messy iced fudge marble vanilla buttercream cake, with fresh flowers on top, and Michelle did a purple fondant strip at the bottom of each layer. The purple she used was not my purple at all. I believe I showed her a picture of the flowers I was using (blue orchids) but the color on the cake was more of a lavender. I had a lot of things going on, so I would've really appreciated if she had confirmed with me what color purple I was going for. The fondant strips also weren't as pristine as I expected, there were more small cracks and imperfections than I would expect. Over all, I felt the expense wasn't on the same level as the service I received.
Are you interested?
Send a message