44 Reviews
Recommended by 99% of couples
Quality of service

4.9 out of 5 rating

Average response time

4.9 out of 5 rating

Professionalism

4.9 out of 5 rating

Value

4.9 out of 5 rating

Flexibility

5 out of 5 rating
49 User photos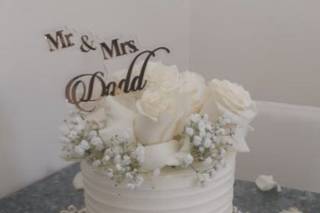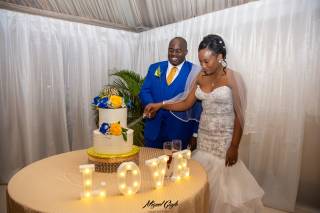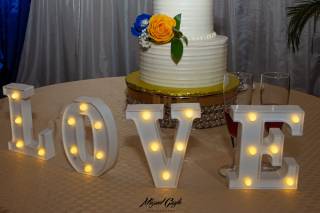 + 45

photos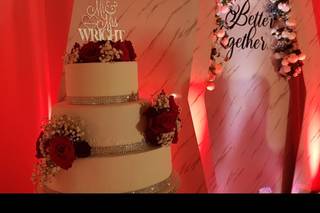 Octavia D.

Married on 05/28/2022

It was good working with this vendor. I was so happy when I saw my wedding cake and how it was displayed. Excellent.

My wedding cake tasted amazing. Not only my husband and I were inlove with the cake and the presentation, but so were our guests. When we finally got to taste it, OMG! It tasted just as good as it looked. Soft and moist, it had all the right flavors! I would recommend Tiers of Sweetness to anyone. It was worth every dollar. I remember also losing my cake knife set and Christie told me not to worry she would provide one. When I entered my reception room and saw the presentation of the cake, I was in awe. I was so pleased. Customer service 100%. I could call or message her at anytime and got through. She also prepared ahead of time pieces of cake for my guests, packaged and placed them on the tables which I thought was AMAZING! Thanks again!

Connie M.

Married on 05/28/2022

From beginning to end, it was the best experience ever, every thing was perfect and I would recommend them highly.

I loved everything from beginning to end. One of the most professional and punctual vendors I have ever encountered. And the taste, delicious.

Mary A.

Married on 12/25/2021

Satisfied, loves dogs enjoy

Was 100% satisfied a taste you will never forget she literally one of the nicest person I ever met she on point give you exactly what you want I would recommend to the world

Are you interested?

Send a message

Trudy-Ann B.

Married on 08/05/2021

Exceptional Service!

The cake was a surprise for the bride and groom on their big day and they absolutely loved it!. The presentation and the taste was nothing short of amazing! definitely would recommend!

Cee M.

Married on 07/24/2021

Best Wedding Cake/ Decor

The red velvet cake was delectable and had great texture and tasted great. The cake was indeed suitable for a wedding setting and you have our endless compliment about that wonderful tasting cake. Your decor was exactly how we wanted it. Love the cake and love your service.

Shalev G.

Married on 07/17/2021

Very accommodating as our request was last minute, looking to order again, especially the muffins.

Will definitely order again, for personal consumption AND events!!!!

Carleene H.

Married on 04/25/2021

Excellent Service

I made a random selection in choosing a cake vendor for our wedding owing to the fact that we were not familiar with any cake vendors in Kingston. I must say if making random choices at all times would give such satisfactory result, I would do so more frequent.
The service received from Nadine was an excellent one, she also offered added assistance. The cake was perfectly done and we were quite satisfied with the final result.
We look forward to doing business with her again.

S M

Married on 07/23/2020

Celebration cake

I had a black cake and a chocolate cake and they were both amazing. No complaints at all.

Zoe B.

Married on 07/18/2020

Beyond amazing!

I had decided to do a small ceremony very last minute after having to postpone my wedding due to COVID-19. I had a week left before travelling and not only did she come up with an idea for a cake she came up with the cutest idea for favours as well ! The cake tasted and looked amazing ! I remember a guest asking me if I brought the cake from Canada lol. I can't wait to work with her again for my wedding & I have already recommended her to my sister brides in Jamaica as well.

Natoya

Married on 04/04/2020

Simple Amazing

Received. more. than. expected.

Cakes By Christie's reply:

Thanks Natoya for the opportunity to share in your day. Wishing you both a delightful journey towards a shared dream and a shared future. May you life be filled with happiness, success and glory!!

Alison

Married on 04/04/2020

Excellent service, great quality

Cake By Christie went above and beyond to ensure that my day was special. She even called to help me with my check list. I just sent a picture and it's the exact thing that I wanted. Everyone loved the cake and I will be definitely be using Cake by Christie in the future.

Cakes By Christie's reply:

Thanks for making us your vendor of choice. Here's to a long, happy life with the one you love. Wishing you well as you embark on this next chapter of life. Cheers!!!

Monique L.

Married on 02/29/2020

Will definitely use again lol

Christy was more than helpful with everything I need it she was there early setup and was even understanding when she came back and we had left her cake was more than delicious my only drawback is that I didn't get to eat enough. It was well worth the price and experience and when we renew our vows in 4 years I'll definitely be getting a cake from her! Thanks Christy

Cakes By Christie's reply:

Thanks Monique for making it destination Jamaica. It was a pleasure to be your vendor of choice. I wish you both a life filled with cheerfulness and bliss. May you enjoy all the happiness that life throws at you. Wishing you all the luck for the wonderful days that are yet to come.

Mureen T.

Married on 02/09/2020

Short Notice but Great Outcome

It was an excellent experience The vendor did not get much time to deliver the service but they did. It was a cake for a wedding and they got only 2 weeks notice. As soon as they were approached they were very responsive and provided all the the necessary information and guidance to get it going. The outcome was a really beautiful and delicious cake which was attractively displayed, really pleasing to the sight and met our expectations.

Vennessa D.

Married on 08/31/2019

I got the best service,the best cake you could ever think of and not even to mention the best person to help making my day memorable..

It's really admirable how wonderful you have done your work.i never had to even think or wonder about what's going on with my cake,I was so relaxed and know that part of my preparation was nothing to worry about. Christie cake helped to make my day beautiful and not even to mention the best tasting cake.everyone was amazed by the beauty of my cake and I'm also amazed by your work ethic,it definatly speaks for itself. Christie cake is well recommended trust me. fantastic work Christie cake.👍

Cakes By Christie's reply:

Thanks for choosing us to be apart of your special day. It was a pleasure to share with you. "May the One who brought you together bless your marriage, enrich your lives and deepen your love throughout the years." Wishing you many wonderful years of bliss.


Sylvia B.

Married on 08/03/2019

Mr. Dave Claire & Mrs. Sylvia Banks-Claire

The service that was provided by Cakes by Christie can only be described as exceptional. She did more than just provide us with the cake service. Timely reminders and valuable suggestions were given at no additional cost. It was a delight doing business with you. My husband and I appreciate your service. Blessings always. Cakes were delicious. Storage tips great. Thanks for dotting all the "i's" and crossing all the "t's" to ensure our day was beautiful.

Cakes By Christie's reply:

Thanks for the opportunity to share in your day. It was a pleasure to have been chosen as your cake vendor. As you begin your new life together the best love is the kind that awakens the soul ; that makes us reach for more, that plants the fire in our hearts and brings peace to our minds.. That is a forever kind of love. May your lives be filled with love and laughter.

Raejan J.

Married on 07/27/2019

This vendor is great.. the cake was on time and beautiful. Loved the water fountain

The service was excellent and everyone was talking about the fountain. Good jo

Cakes By Christie's reply:

Thanks for including me in your day. It was a pleasure to serve you. As you begin your marriage I leave this with you. Marriage is not a noun; it's a verb. It isn't something you get. It's something you do. It's the way you love your partner every day. May your love for each other continue to grow and be the guide to many blissful years of togetherness.

Tamara W.

Married on 07/19/2019

My experience with Cakes by Christie was spectacular! The service was amazing. I would definitely recommend Cakes by Christie to anyone.

Cakes by Christie exceed my expectations. They made the cake for my wedding and it definitely blew my mind. Couldn't have done it without their services.... It was worth it. If you haven't used Cakes by Christie, I recommend her NOW! You'll never be disappointed!.
Thank you Cakes by Christie! Thank you

Cakes By Christie's reply:

Thanks Mrs. George for choosing us to be your cake vendor. It was a pleasure to serve you. As you walk along life's path together hand in hand, may god's blessings be upon you in everything you plan. Congratulations on your wedding.

Tamika

Married on 06/28/2019

Simply awesome

EXTREMELY EXTREMELY please I chose cakes by Christie to make my wedding cake. Just awesome woman who took all my worries about the cake part of my planning to rest. She checked on me to see how I was doing with my planning I felt like she was more than just my cake vendor, but my friend someone who cared. Friendly and welcoming each time my husband and I met with her. I sent her a picture of the cake and I got the exact looking cake with 3tiers instead of 2, just simply awesome and not to mention taste. I had two different cakes (fruit cake and a pink champagne cake) which was a talk after the wedding on how great it was.
Wedding is stressful and I needed someone like her apart of my process and she just made the cake process just simple and worry free and I am so thankful and happy she made my cake.

Cakes By Christie's reply:

Thanks Tamika, i know it was not easy for you to be in the United States and having not met your cake vendor and having no options but to leave It all in her hands was a tough decision . I am happy to know you were pleased with the service offered to you. It was a pleasure to share in your day. I leave this with you as you begin your marriage. Life is not where you live, the only thing that matters is how and with whom you live. May you live happily with your life partner! Congratulations on our wedding.

Shernett M.

Married on 06/15/2019

Excellent service. More than a cake provider.

Christie was awsome. Cake was exactly what I asked for. Both in looks and taste. Perfect wedding cake!!

She not only provided cake but she constantly check to ensure all was going well.
Where I needed suggestions she provided. A wonderful person indeed.

I was very skeptic at first as she did not came by reference.
I saw her page, liked what I saw and decided to give her a try. BEST DECISION EVER!!!
I would recommend her anyday!!

Just remember to trust the process:).


Cakes By Christie's reply:

Thanks Shernette, it's such a pleasure to read this review knowing the many doubts you had when you first contacted me, not been referred to me by anyone just having to trust your gut feelings must have been daunting . I am happy I was able to alleviate your fears, as I have often said to my brides I love when they come with apprehension because I have to prove them wrong and I also encourage my brides to trust the process . It was a pleasure to be apart of your day. As you begin you life as a married couple I leave this with you, the couples that are meant to be are the ones who goes through everything that is designed to tear them apart and come out stronger than ever before. Have a happy and fulfilled marriage.

Sophia N.

Married on 06/08/2019

Happy Bride and Groom (The Nembhards)

Our wedding cake was just amazing. Christie did an awesome job, the details were on point, she was easy to work with, she followed up with us every step of the way and most importantly she delivered. Our cake was not only pretty but it was delicious and moist. We definitely recommend Cakes By Christie. We promise you will not be disappointed. Fantastic service from start to finish.

Cakes By Christie's reply:

Thanks Hamishia and Sophia. It was such a pleasure working with you both. A lovely couple you are. As you begin your marriage I leave this with you. "what counts in making a happy marriage is not so much how compatible you are , but how you deal with incompatibility. "Have a blissful marriage.

Sherene S.

Married on 06/04/2019

she was very helpful with picking cake size an

the cake not only looks good, it taste great and she was on time.

Cakes By Christie's reply:

Thanks Sherene,
Always remember to feel each other's heart and soul. Wishing you a happy married life.

Rachel A.

Married on 05/18/2019

Very Responsive and Helpful During the Planning Process

Christie went above and beyond to refer me to other vendors on the island for other services that I needed. She is flexible and I was able to purchase cake boxes that I wanted and have them shipped to her.

Cakes By Christie's reply:

Thanks Rachel, it was a pleasure to share in your day. Thanks for making it destination Jamaica. We wish you all these things as you both start your married Life, Bliss to fill your souls, Peace to fill your spirits, Joy to fill your home, and love to fill your hearts.

Traci -.

Married on 04/27/2019

Awesome I can't complain about anything.

The service I got was a 5 star service. My cake was a wow factor taste good dam. I would recommend this vendor anytime. I can call up on her anytime, she is always there. Keep up the good work the sky is the limit. Love u.

Cakes By Christie's reply:

Thanks for choosing us as your cake vendor. Wishing you joy, love and happiness and as you begin your new life together, may the love and happiness you feel today shine through the years. Have a blessed life.

Portia D.

Married on 12/28/2018

Davis Wedding December 2018

I ordered a 3 tier cake and send in a photo of the desired colours and style. Cake was made exactly as the model type. Her customer service was exceptional plus she gave suggestions on other services for the wedding. Cake texture and taste was great exactly how I wanted it . Would recommend to others person. You won't regret.

Cakes By Christie's reply:

Thanks Mrs Davis for making us your wedding cake vendor. Congratulations on your first big step together as you unite in marriage as Christians. I wish you both an eternity of love and happiness together. I pray Jesus shine his light upon you. May god send his blessings to you and the family you are about to start. Have a blessed life.

Natalee

Married on 12/22/2018

Cake Quality

If you want real Jamaican fruit cake for your wedding, then Cakes by Christie is the person to contact. Guests and others who tasted the cake commented on the rich texture and amazing taste.

Cakes By Christie's reply:

Thanks Natalee. We are pleased that your guest enjoyed your cake. Wishing you a lifetime of love and happiness. Your wedding day has come and pass, but may your lover forever grow. Best wishes on this wonderful journey, as you build your new lives together. May the years ahead be filled with lasting joy.
Are you interested?
Send a message