11 Reviews
Recommended by 99% of couples
Quality of service

5 out of 5 rating

Average response time

5 out of 5 rating

Professionalism

5 out of 5 rating

Value

4.8 out of 5 rating

Flexibility

5 out of 5 rating
Awards
3 User photos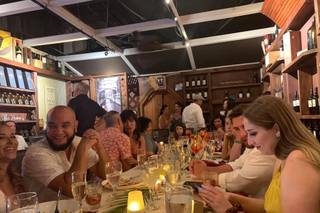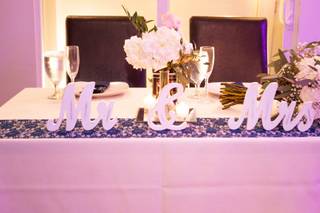 Katie

Married on 10/17/2020

AMAZING Wedding Reception! :)

Cafe Gabbiano was amazing!! We hosted our wedding reception here for 25 guests. The entire experience was flawless, from the decor set up to the amazing staff! Not to mention the food is DELSIH! :) Not too many people can say their guests raved about their wedding dinner, every single one of my guests said their food was AMAZING and even took leftovers home! All in all I cannot recommend Cafe Gabbiano enough has an epic venue for a wedding reception! Thank you again, Cafe Gabbiano team for a magical night!! Forever grateful!! :)

Alicia H.

Married on 05/08/2020

great place and owners are so accomodating!

My fiance and I are traveling to Florida for our wedding because most of my family is there so we wanted a place that we could have the ceremony AND the reception. Cafe Gabbiano is the perfect spot! The restaurant is beautiful and the owners Marc and Peter are amazing and so accomodating, we have 1 wedding guest that has special dietary needs and they said no worries. They can modify anything on the menu. We decided to have dinner at the restaurant before we decided on having the ceremony there. THE FOOD WAS INCREDIBLE! They make their own pasta!! We are so excited for our upcoming wedding day in May 2020.

Melody B.

Married on 12/29/2018

Fantastic service and delicious food

My son and his wife wanted to get married on the beach. They also looked up this restaurant online and said that's where they wanted their reception. Neither one of them had ever eaten there and I did not know anyone that has eaten there so my first response is I don't think that's a good idea. So I read a lot of reviews that gave them 5 stars. I contacted them to check pricing and reception info. From the first phone call they were amazing. I only had 4 months to plan the wedding and reception and they were great about working with me on a short notice. I wanted to taste the food before the reception so me and the bride went for dinner and to finalize everything a month before. I could not believe the quality of the food. Everything was so fresh and delicious. You would have thought we were Queens with the royal treatment we received. Now it's receiption time and I'm trying to be wedding coordinator, decorator and Mom. By the way not a good idea. I was crazy by the time the wedding was to start. I took my reception supplies to them and gave a quick run down on how I wanted it to look. They listen and decorated the room above and beyond my expectations. It was stunning. There was so much delicious food. I coordinate and decorate weddings for people. I have worked at different venues and I have never ever had the service I did at Cafe Gabbiano's. Their staff is PHENOMENAL!!! I highly recommend this restaurant for receptions or just a nice dinner out. There are not enough words to describe how pleased I am with Cafe Gabbiano's.

Are you interested?

Send a message

Kelly

Married on 11/23/2018

out of town wedding

Cafe Gabbiano was so easy to work with in planning our out of town wedding. Communicating with Marc was easy and he was very responsive and accommodating at all times. We had a food and wine tasting after we picked out what we wanted to serve. We had a smaller wedding (70 people) and the reception was held in the backyard of a house we rented. We had a cocktail style reception and the staff at Cafe Gabbiano did an amazing job with this style. Not to mention the food was incredible... our guests are still talking about it. Our guests have said they have never had such good food at a wedding before (kudos to the chef!). All of the waiters and waitresses were so kind and pleasant, they even left us a card, a bottle of Prosecco, and used all the leftover wine to make sangria that we could enjoy the next few days at our rental. They have amazing customer service. My husband and I will definitely eat dinner at Cafe Gabbiano on our future trips to Sarasota!

Tommy P.

Married on 11/23/2018

Wedding reception

My wife and I used cafe Gabbiano to cater and serve at our wedding back in November on Siesta Key. They exceeded all expectations. The food was phenomenal and the service was superb. The owner and his staff made sure that everyone had their undivided attention.

The planning with Marc was great. He always made sure we received what we wanted and stayed within our budget with respect for our needs and wants.

Marc and his staff helped make our wedding special. I would recommend Cafe Gabbiano in a heart beat. We will be sure to enjoy a meal or two at cafe Gabbiano the next time we visit siesta key.

Susan D.

Married on 10/27/2018

Amazing wedding reception!

If you are seeking out a stress free, beautiful venue for your wedding reception Cafe Gabiano is the place for you! We held our wedding reception there in October 2018 and from the initial inquiry to the day of the reception it was the one thing I knew was going to be exceptional. The staff was extremely helpful, they went above and beyond setting up decor I had brought the day before, a cake table, and a gift table! The wait staff was very attentive, I never had to ask for anything! They accommodated every need or wish I had for the perfect ending to the perfect day. The food was incredible and our guests had the best time! The management is extremely flexible and ensured that our day went off without a hitch! I cannot express in words how grateful we were to have such an attentive team of people that were going above and beyond to allow us to sit back and relax. We highly recommend this venue. Thank you, Cafe Gabiano, for creating a great memory for us on our wedding day!

Kelly

Married on 07/23/2018

Wonderful experience!

I worked with Marc via email to plan the dinner after our small destination wedding. He made the whole process so very easy. We had a late Monday evening dinner, close to closing time, but we never felt rushed. The restaurant was fairly quiet and cozy, they had placed our cake on a table by itself and placed palm fronds and flowers around it, and the service ... well, the service was absolutely phenomenal! Our waiter was extremely attentive, gave wonderful drink and meal suggestions, and is, in my opinion, a great asset to Cafe Gabbiano. The meals were wonderfully prepared and presented...by far one of the best restaurants I have ever dined. Our guests still go on about how great the food is and the wonderful service. Thank you, Marc and staff, for the wonderful service and amazing food on our big day. We are looking forward to dining there on our anniversary!

Jennifer

Married on 12/21/2013

I am a wedding planner in Sarasota and am so happy that my clients chose Cafe Gabbiano for their wedding reception. Marc and the staff are flexible, professional and amazing to work with! The space is very versatile and can be transformed into any vision that you may have. I can't wait to work with them again, thank you to everyone at the restaurant - you really made Mary Kate and Jeff's wedding one to remember!

Emily

Married on 04/14/2012

Cafe Gabbiano was a great spot for us! We previously had a different restaurant for our reception location, but 3 weeks before our wedding they decided to give us problems about how they were going to accommodate our party (after accepting our deposit). Cafe Gabbiano was more than welcoming to take our reservation with less than 3 weeks to go, and during a very busy season I might add. Including my husband and I, there were 16 of us total. They accommodated us in their middle area, and had it divided off to be private. The food was absolutely delicious! The value was great too! It was very affordable, and we got so much more for what we paid than what we had planned at the previous restaurant. We got four appetizers (calamari, mussels, bruschetta & I think pickled eggplant), a salad, and then we had three separate dishes (fish, chicken & veal). They also cut our wedding cake up for us and served it. They always made sure the glasses were filled, whether it was a glass of wine or a glass of water. The waiters were very nice as well, especially the one we had mostly for our party. We are so glad we ended up here for the reception. And the owners are incredibly sweet!

Jessica

Married on 05/01/2013

Cafe Gabbiano was the perfect place for our reception. We had a small wedding of about 16 guest and had chosen their restaurant for our special event. I was very pleased with their services. Their servers was excellent especially Alberto! They were very attentive to our needs, explained the dished very well, and also cut and served our cake. The only thing that I would have changed would have been communication of the fee for the cut and serving of the cake. When I emailed them in regards to having our cake delivered, they stated that it wouldn't be a problem and that they would also cut and serve the cake. Just would have been nice to know that they were gonna charge us for the extra service. But by far had a great time and if I had to do it again, I would have still chosen Cafe Gabbiano's!

Hillary

Married on 09/28/2013

We had a small wedding and decided to do a dinner following the ceramony. Marc the event coordinator was so helpful and patient throughout this process! The food was amazing, and staff was very helpful and friendly. The building itself is very intimate and lovely.