141 Reviews
Recommended by 97% of couples
Quality of service

4.8 out of 5 rating

Average response time

4.9 out of 5 rating

Professionalism

4.8 out of 5 rating

Value

4.8 out of 5 rating

Flexibility

4.9 out of 5 rating
2 User photos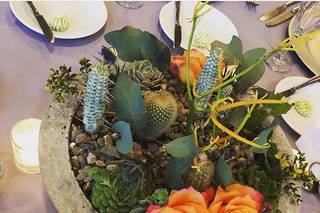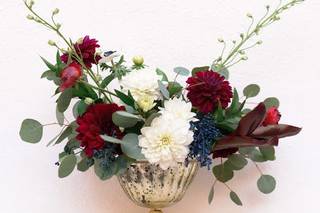 Kate

Married on 11/10/2019

Beautiful Flowers

I appreciate how Camille worked with us to make sure we had exactly what we were looking for with our flowers and table centerpieces. She came up with a perfect vision board, and took into great consideration our venue and how to repurpose items throughout our special day. She was able very conscious of our budget.

Sarah

Married on 10/20/2018

Beautiful wedding thanks to beautiful floral pieces!

Mandi @ Butterfly Petals was awesome to work with, and the pieces that she created for our wedding were beautiful beyond words!

She was very thorough and honest in our design/vision consultation meeting, letting me know what would work within my budget but still capture the look that I wanted. Her inventory is also second-to-none and made it easy for me to pick and choose.

Once I told her what I wanted, she hit the ground running! The pieces were perfect and helped capture the laid back, upscale bar vibe that we wanted for our wedding!

Elizabeth F.

Married on 10/13/2018

Mandi is a creative goddess

I can't say enough about how much I loved Mandi from the moment I reached out to her. So grateful that our photographer, Megan Medlock, recommended her to us. To start, Mandi is extremely responsive and flexible. She is a true EXPERT. I was upfront about our budget and sent photos of the look we were going for, and she helped recommend floral options that wouldn't smash our budget. She also offered suggestions for specific rose variations to get the look we were going for, while saving a little. She NAILED the greenery and eucalyptus we were going for... take a look at the photo below! She was a dream to work with and when day-of venue changes put a kink in delivery, her team worked with our coordinator so smoothly that we didn't even have to think about it. Thank you for everything Mandi!

Are you interested?

Send a message

Camille is wonderful! The floral we ordered for our wedding was a mix of desert plants, including cacti and succulents in our centerpieces. Everything looked wonderful! One of my favorite smells is the smell of Creosote when it rains, and Camille thoughtfully included that in my bouquet just for me. As it turned out, it rained on my wedding day, so I got to enjoy my favorite scent on my favorite day! The boutonnieres were perfect, and the corsages for galman and mother were on beautiful stretchy bracelets. We also loved the arrangements that were hung on our arch during the ceremony. She really knows her plants and made everything just beautiful! Camille is easy to contact, responds pretty quickly, and is overall easy to work with. Highly recommend!

Jason

Married on 11/04/2017

Mandi was hired very late in the game after our initial florist was just too difficult to work with. Mandi's actions from the moment we reached it to her casually for a quote completely validated our decision to make a change. She responded to our requests promptly and professionally. She was patient, precise, not pushy and very tolerant when we requested changes. The flowers at our wedding were stunning and fairly priced for what we received. At one point, Mandi had the opportunity to upsell me but instead advised me not to add the additional flowers in the places I was considering as she didn't feel it would have the impact considering the cost. We highly recommend Mandi!!

Jillian

Married on 10/07/2017

Mandi and Butterfly Petals were absolutely perfect. I love her and her work. She was extremely responsive and easy to work with. When I first started speaking to her about the wedding, I had NO idea what I wanted. She knew exactly what I would love after speaking to her only once or twice. She also listened to any "visions" I had or ideas. We had greenery everywhere and dahlias everywhere. It was perfect

Sheryl

Married on 05/28/2017

Butterfly Petals provided the flowers for my daughters wedding and they were beautiful. Her bouquet made with cactus and succulents was so gorgeous and was just as she wanted. The saguaro ribs for the altar were perfect for the desert venue where the wedding was held. Thank you and we will definitely be recommending them in the future!

Bianca

Married on 05/12/2017

Thank you Mandi and Butterfly Petals for the amazing bouquets and decor at our ceremony and reception! The arrangements came out EXACTLY the way I hoped they would! I received tons of compliments on my bouquet as well as every other aspect of the floral at the wedding. Thank you!!

Alli

Married on 05/06/2017

Mandi was absolutely amazing through the whole planning process and really seemed to understand our vision for our wedding day. We trusted her decisions for containers and she totally nailed what we were going for. Couldn't be happier with how everything turned out on the wedding day!! Thank you Mandi!!!

Hannah

Married on 04/08/2017

Butterfly Petals- simply stunning! As a DIY bride that just could not cover one more thing- Mandi at Butterfly Petals listened to the vibe of our wedding, considered the venue, and our general desires. She was SPOT ON! Butterfly Petals created natural looking bouquets and centerpieces all in beautiful colors that enhanced the tone our our special day. A great bunch to work with! Thank you!

Amanda

Married on 03/11/2017

Mandi is amazing and so talented! She was able to take my general ideas of what I was looking for and turn it into a beautiful masterpiece. She helped make my day the best day ever!! And it was so beautiful!!

Krystle

Married on 01/21/2017

My husband and I just got married on January 21st at SoHo63. We had a very long engagement and I had our first meeting with Butterfly Petals a while back. Initially I had a couple set backs with communication and I wasn't sure how things would end up. A couple months prior, I was able to schedule a second meeting with Mandi, the owner. We went over the details and she reassured me that everything would be set up as expected. She was VERY flexible on working with me to get her a large mirror that we were using for our escort board. I was even a little late and she was accommodating.

On the day of our wedding, when I walked into the venue, I was in awe. From our escort board, to the reception décor to the ceremony. I mean, it was GORGEOUS. They not only delivered, but went above and beyond for me adding some additional centerpieces that weren't originally planned. My vision wouldn't have come to life without Mandi and her team. Thank you Butterfly Petals!

Butterfly Petals was recommended to me by several wedding vendors. I was looking for a unique, fresh, and desert-focused floral perspective - and Butterfly Petals met all those qualities and more! Mandi was easy to work with and quick to grasp my vision and transform it into a reality. During my mock up a month before my wedding, I made a change to the color scheme and she successfully implemented the change seamlessly on my wedding day. The floral was above and beyond my expectations! It was absolutely stunning!!! We were getting compliments and praises all night long. I highly recommend Butterfly Petals to anyone!

Camille was so accommodating. I brought colors, multiple magazine pictures of ideas I had in mind and she transformed my floral and color requests into a work of art! My bouquet and centerpieces were the talk of the evening!!! I had never seen such unqiue and gorgeous arrangements. I would highly recommend Camille and Mandi for your wedding or special event!

Desi

Married on 07/03/2015

My wife and I were hesitant with booking a florist for our wedding. We thought we would be able to make our own arrangements but with only two months left until our wedding, we panicked and were referred by our venue (SoHo 63) to Butterfly Petals. We scheduled a meeting just to discuss options and our budget and Camille Goulding absolutely delighted us. She didn't even hear our budget but managed to read us so well and gave us what we wanted and so much more (all within in our budget.) Our centerpieces consisted of three stacked books, topped with a mason jar full of fresh cut lemons and floral. Although any florist could have simply added the flowers the day of, Butterfly Petals insisted we take all the materials to them prior to the meeting and said they would deliver the entire completed centerpieces the day of the wedding so we don't have to worry about them. WHAT A RELIEF AND HOW CONVIENENT IS THAT RIGHT? The last thing family or Brides want to do the day of their wedding is stress about centerpieces and Butterfly Petals eliminated so much stress for us.

The day of the wedding, their décor was above and beyond. We knew what to expect (after our initial meeting) but they absolutely gave us so much more. Every detail with the ceremony space, the alter, the bouquets, our ceremony leis – were absolutely gorgeous! They captured our theme and our colors perfectly. As we were sitting at our sweetheart table during the reception – we couldn't stop looking at all the beautiful centerpieces and arrangements around our table. We would highly recommend Butterfly Petals to anyone looking for a professional, sweet and dedicated team to work with on your wedding day.


Working with Mandi was a great experience for us. She was incredibly responsive and patient with us as we figured out exactly what we wanted for the wedding. We were so specific about the colors that we wanted, and she worked with us over and over again to make sure that we got the exact color. We did approximately 3 floral showings to get it exactly that way, which made us feel like we were in amazing hands. Our rehearsa dinner, ceremony/cocktail space, dinner and dance spaces were all beautiful and flowed so nicely together! Our friends all said how unique and special it was, and we loved Mandi's creativity. We incorporated monograms and hashtags in ways that we hadn't seen our friends do before, which was a lot of fun. We would not have gotten our dream decor for the wedding had it not been for her patience and understanding. We also have to give her and her team a lot of credit for moving locations so quickly when it rained for our outdoor wedding, and for being up so late as our friends decided to keep our wedding going an extra 2 hours until 2am. As a wedding planner, I would love to work with her again and really enjoy her creative spirit. Thank you so much!

Butterfly Petals and Camille specifically was terrific! We had some unique pieces within our ceremony backdrop and head table lighting. Not only did they pull it off, but both pieces showcased our magical evening. The centerpieces were a big hit as well tying in our color scheme with succulents. Thank you Camille and to the entire Butterfly Petals staff!!!

Melanie

Married on 04/24/2015

Would highly recommend Butterfly Petals, very easy to work with and awesome ideas!

I am so happy we went with Butterfly Petals! From the start, Mandi was willing to do anything to ensure that our vision was well represented at our wedding. The flowers were unique and simply beautiful!

Brittni

Married on 02/28/2015

My flowers from Butterfly Petals were the talk of the wedding. They were absolutely perfect. The staff that delivered them was super friendly and set them up exactly like I wanted. Camille was awesome to work with and she perfectly recreated my vision. My wedding wouldn't have been as great as it was without the amazing work of this team.

Krista

Married on 11/07/2014

Our floral was unique and beautiful!

Adriana

Married on 11/05/2014

Butterfly Petals did the boutonnieres and my bridal bouquet. Mandi was quick and responsive, she listened to what ideas I was kicking around, turned around some ideas right away, and the cost was incredibly competitive. When I received my bouquet the day-of it was more beautiful than I imagined. There were fall colors, big orange leaves, red roses, berries and hints of blue. Absolutely gorgeous. I highly recommend Butterfly Petals, you cannot go wrong!

Alissa

Married on 11/01/2014

I'm not a huge flower girl. I don't really even have a favorite flower. I also probably did not budget enough for wedding flowers because they just weren't that important to me. So when I contacted Butterfly Petals with all of this information, especially my budget for the amount of bouquets/bouts I needed, I thought they would say it couldn't be done. Fortunately, the exact opposite was true!

Amanda was absolutely amazing to work with! She responded to all emails super quickly (usually within a few hours). She put together a proposal very quickly too, which was great since I kind of waited until the last minute for flowers.

As far as the flowers themselves, I told her I liked succulents, gave her our wedding colors, and let her work her magic. I was thrilled with the results! My bouquets and bouts were unique, beautiful, and best of all, with in my budget! My groom didn't even want to wear a bout, and he ended up loving it. They were also flexible with delivery, and they did it for a very nominal fee.

I cannot say enough good things about Butterfly Petals! If you are looking for affordable and unique floral arrangements, call Amanda!

Saskia

Married on 10/25/2014

I absolutely adore Butterfly Petals and would use them again without a doubt. Not only did they go above and beyond for our wedding, but they added so many personal details that it truly made our wedding perfect. We are dachshund lovers and they were able to incorporate an origami dachshund into my bouquet that was just so sweet and perfect - I loved it! The staff are personable and professional - they truly listen to what you like and your ideas and then create a beautiful product. Butterfly Petals is so talented at personalizing your event - it truly turned out better than I could have ever imagined!

Courtney

Married on 10/20/2014

What a great decision! Mandi, Candace, and their team really brought my vision to life. I've seen Mandi's work in my own career and have known for years that her touch had to be at my wedding. I was excited when I met with her and Candace and gave them my ideas. They got me so excited and really heard what I was saying. That said, I wanted to give them some creative freedom as well which led for nice surprises on our wedding day. :) I can't say enough how much I love their untraditional style.

Thank you all so much!
Are you interested?
Send a message