Reviews
4.8 out of 5 rating
Quality of service

4.8 out of 5 rating

Average response time

4.8 out of 5 rating

Professionalism

4.8 out of 5 rating

Value

4.8 out of 5 rating

Flexibility

4.8 out of 5 rating
96%
Recommended by couples
2 User photos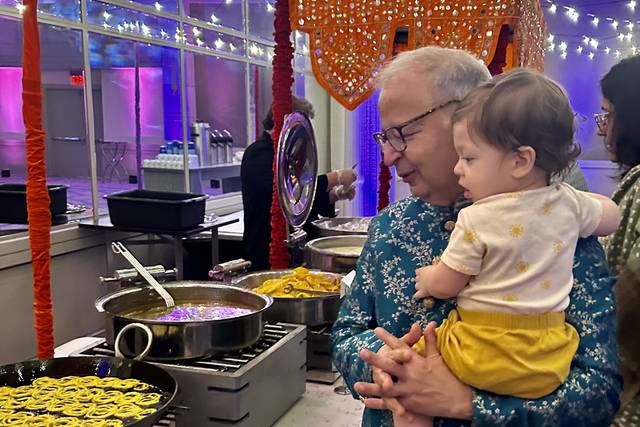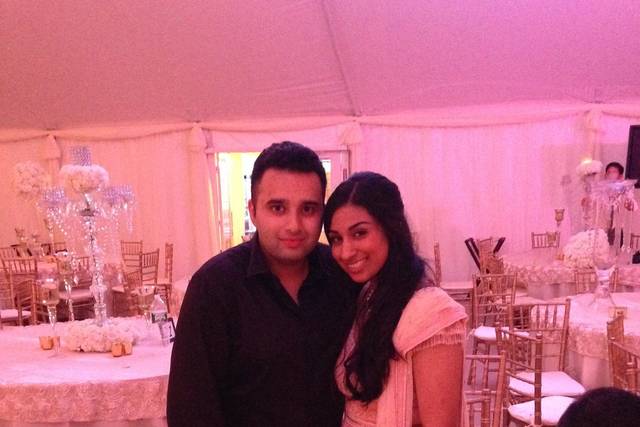 Sanjay K.

Married on 10/28/2023

Amazing experience and the right choice!

Bukhara Grill was our caterer of choice for my son's wedding in NJ and they were among the best vendors we had. We had close to 400 guests for the wedding and they covered post ceremony lunch and well as the reception which covered the cocktail hour followed by dinner and dessert spread. The team at Bukhara was extremely responsive from the very beginning arranging a widespread for the first tasting with lots of variety of options and fusion dishes which were all delicious.
We appreciated that they were extremely responsive to little things we had mentioned and really showed their attention to details. Raja and Akshay went above and beyond to ensure that our expectations were met and were quite hands on at the event. Highly recommend this team!

Sungae

Married on 10/21/2023

Amazing Vendor!

We researched several different vendors before we chose Bukhara Grill and so pleased we did. From the tasting to the professional service to the most amazing food at our wedding, our guest shared several times with me throughout the night it was the best food they have had at any wedding. Thank you to Akshay and team for making our wedding so special.

Raza H.

Married on 10/07/2023

Amazing weekend

We had several people come up to us and say that they have never had better food at a wedding (including their own). We cannot thank Akshay and his team enough for all of their hard work to make our wedding wonderful. Good food helps to make a wedding enjoyable, but great food makes a wedding unforgettable, and Khyber grill/Bukhara grill certainly did that for us.

Are you interested?

Send a message

Aditya R.

Married on 08/26/2023

Outstanding in every way

Buhkara Grill Caterers did the food for our wedding weekend in August 2023. The entire team was outstanding, starting with Akshay. We wanted Friday to be all Indian food, and Saturday to be an assortment of different cuisines, and they knocked it out of the park. Everyone was raving about the food on both nights, and it was just as good as the tasting we had done. The professionalism of the staff, the flexibility of the team, and the overall experience was fantastic. Cannot recommend highly enough!

Anil M.

Married on 06/02/2023

Excellent Wedding Catering

Bukhara Grill catered to our daughter's wedding Sangeet function, held recently in Philadelphia, PA. Their food quality (both Veg. & Non-veg.) and service was excellent! A special hit during the evening was the "Live Jalebi Station" with Rabri! All our guests were raving about the food at the wedding function. A special thank you to Mr. Vicky Vij and his team! Highly recommended!
Anil Mathur,
Collegeville, PA

Rajat K.

Married on 05/27/2023

Highly recommend for catering service!!!

Amazing service and excellent food with so many Indian and international options to choose from. Very easy and smooth transition to work with for our wedding reception. Highly recommend for anyone looking for catering service. Ask for Vicky.

Shreya S.

Married on 05/21/2023

Excellent Food Fabulous Service

We recently had the pleasure of hiring Bukhara Grill to cater the food for my daughter's Sangeet and Wedding (May 2023), and we must say, they exceeded all expectations. The experience was absolutely fantastic from start to finish, and we couldn't be more thrilled with their services.

First and foremost, let's talk about the food. It was simply outstanding. Every dish that Bukhara Grill prepared was a culinary delight, leaving all the guests in awe. The Paalak Chaat, Jack Fruit Biryani, Lamb Sliders, and Moong Daal Halwa were the absolute highlights of the menu. The flavors were rich and authentic, and each dish was prepared with utmost care and attention to detail. It's no surprise that the food received high praise from everyone in attendance.

What truly impressed us was the level of service provided by Bukhara Grill. Vicky Vij, the owner, personally supervised the serving of the food at the wedding. His presence and dedication to ensuring a seamless experience was remarkable. Vicky's commitment to excellence was evident in every aspect of the service. He worked closely with us prior to the wedding, helping us select the perfect menu that suited our preferences and the occasion. His expertise and suggestions were invaluable in creating a memorable culinary experience.

Moreover, in the days leading up to the events, Vicky went above and beyond to coordinate with the venue managers. He took it upon himself to ensure that everything ran smoothly, leaving no room for any hiccups. His proactive approach and attention to detail were truly commendable, and it gave us immense peace of mind knowing that we were in capable hands.

Overall, we wholeheartedly recommend Bukhara Grill for any catering needs, especially for special occasions like weddings. The combination of exceptional food, impeccable service, and Vicky's personal involvement sets them apart from the rest. They not only met but exceeded our expectations, leaving a lasting impression on our guests. Thank you, Bukhara Grill, for making our daughter's Sangeet and Wedding an unforgettable culinary experience.

Naga G.

Married on 04/29/2023

Outstanding Experience

We worked with Vicky Vij and the Bukhara Grill team for our recent wedding on 10/28/23 in Virginia. The event would not have been what it was without the entire Bukhara Grill staff. The team did an astounding job under Vicky's leadership. Our guests are still raving about the food. The team is professional, courteous, and extremely attentive to all guests needs. We catered South Indian for lunch and North Indian with an array of specialties for Cocktail Hour and Dessert. It was a pleasure working with Vicky. He's available, personable, transparent and always puts the needs of his clients first. I highly recommend this team for any catering event. I know I will be using them again!

Ami S.

Married on 04/01/2023

Engagement Party 5/21/2022

I used Bukhara for my engagement party earlier this year & did not regret it! I primarily communicated with Akshay throughout the entire process and he was courteous & professional throughout the entire experience, giving me prompt responses to any questions/concerns I had. They have an extensive list of items you can choose from to create a menu for your special day. All my guests loved the food, and we kept receiving so much positive feedback. I believe food is one of the most important parts of an event and you will not be disappointed by choosing Bukhara Grill for your next occasion.

Amrit M.

Married on 02/25/2023

Excellent food and service!

Vicky Uncle and his team provided phenomenal food and service for our wedding. We really appreciated the thought and care that Vicky and his team showed at each step in the process, from our tasting through our wedding. We appreciated that the team put together a menu which incorporated delicious Indian food, as well as Indo-Chinese and fusion dishes - which our guests have not stopped raving about. Everyone also enjoyed the live jalebi station as well as the ice cream bar that the team put together, which was a truly unique touch!

Bayan A.

Married on 12/03/2022

Best in the game

Vicky Vij made our wedding as delicious as it was beautiful. There's a reason Bukhara has been the best in the game for so long, and their quality had only improved. Definitely suggest going with Bukhara for your next event.

Deepti R.

Married on 09/17/2022

Amazing Food and Experience with Bukhara Grill

We used Bhukara Grill catering for our wedding reception. The food was excellent (we also heard a lot of the guests say they really liked both the food and the variety). The appetizers (all types, butler passed, or via stations) were really tasty, and the mains were tasty as well. I wish I could eat everything I ate that day again. The dessert, especially the paan ice cream, was excellent. We particularly appreciated how well organized they were — it seems that all guests were able to get food quickly (as they had multiple stations) without having to release guests table by table.

Ramaa R.

Married on 09/09/2022

Exceptional and beyond our expectations!! It was a pleasure to work with Vicky Vij!!

For our daughter's wedding on September 9, 2022, we made the best decision to hire Bukhara Grill as the caterer for Mehndi, Sangeet, Ceremony and Reception. Vicky Vij provided the most delicious food with innumerable variety and flavorful delicacies. Every guest made a special mention of the food and service and they could not resist multiple servings. The icing on the cake were the live Jilebi/Rabri and Malpura stations and of course the Falooda/ice cream treat!!!!! Vicky made it extra special for our family with his personal touch and going the extra mile.

Sunil J.

Married on 07/03/2022

Bhukhara made my daughter wedding very special

Bukhara made my daughter's wedding very special.

Their mouth-watering dishes were made extra special by a live station for Rotis and Jalebis.

No one has seen a live station for Rotis being made next to Buffet and most of them did not even touch the nans.

Some of them went directly to Live jalebi station, ignored the food and rest of the big desert station.

All this was possible because Vicky ji guided us with his experience to make the right choices, provided an amazing service.

Result was delicious food, once in a lifetime experience for guests and lots of returns from guests sharing their amazing experience.

Glad we chose Bhukara as cateror for the most special event of our lives.

Ajay V.

Married on 07/02/2022

You are in good hands with Bukkhara

We used Bukhara Grill as our caterer for a pre-wedding event, Vicky went above and beyond to create a unique menu for our events and was very responsive whenever we had a question.
Or family was happy we chose Bukhara and we got so many compliments from the guests regarding the food and we couldn't have asked for a more reliable caterer.
Forget the other name brand caterer's in the NJ/NY areas, they have failed on us, we now absolutely trust Bukhara for all of our event catering.

Olympic L.

Married on 06/28/2022

Outstanding in every manner!

We have had the pleasure of using Bukhara Grill for our daughter's wedding functions and reception. The consistency and quality at each function was excellent.
All of our guests remarked as to how incredibly wonderful the food is.

We first came across Bukhara Grill, five years ago at a friends wedding reception. At that time we found the food to be exceptionally good and made note of the purveyor. Five years later, we used the same company after doing our diligence in taste testing, and found that nothing had changed in terms of quality and management of food.
All of these wonderful and sumptuous meals is as a testament to the owners (Raja Janaji) dedication towards ensuring a wonderful experience for the guests who shall be eating his food. He cares about his reputation, and it shows in every regard. Raja is very easy to deal with and has wonderful suggestions on menus to put together for your function.

An added bonus was the way the service stations and individual items were adapted to the venue. Artfully done and with courteous staff.

We have also used Bukhara Grill for parties as well since then and the same comments apply. We will definitely go back for more

Ryan W.

Married on 06/18/2022

Fusion Wedding June 2022

Our wedding was in June of 2022. Part of my now-wife's family is Indian, while most of my family is American and unfamiliar with Indian foods and customs. Because of this, there was a need to provide Indian dishes and a variety of other menu items from different cuisines to suit a wide range of palates. We thought Bukhara Grill did an excellent job recommending a menu to suit our needs, and the feedback from our guests was universal; the food was excellent. We would highly recommend Bukhara Grill for weddings or other catering needs based on our experience.

Karan P.

Married on 06/04/2022

UNBELIEVABLY amazing experience!

We are not exaggerating when we say Vicky and his team at Bukhara were world class in making our event exceptional. We had dozens of guests come up to us and comment on how the food was better in taste and presentation than any prior wedding they had been to. We couldn't recommend Bukhara more highly to anyone planning an event!

Divya P.

Married on 05/22/2022

Bukhara exceeded our expectations

Bukhara grill catered our wedding event May 2022. From start to finish working with Akshay was seamless. He was patient and allowed us to customize and create menus exactly the way we envisioned. The execution during the wedding and reception was also amazing, no complaints. We still receive compliments on our wedding food! Best decision we made was to work with Akshay and Bukhara, highly recommend them!

Sphoorthi J.

Married on 05/14/2022

Wedding 5/2022

We used Bukhara Grill for our wedding weekend in May 2022. We had a fusion wedding and Raja was wonderful to work with as we blended Indian and Italian cuisines for our guests! Bukhara Grill offered us endless options and were willing to tailor things to our needs. Raja was easy to work with and promptly answered our questions. Perhaps more importantly, our guests absolutely loved the food and are still talking about it!! If you are looking for a solid Indian caterer, especially for a fusion wedding, Bukhara Grill is your place!

Robin S.

Married on 04/09/2022

Amazing Food

Vicky from Bukhara Grill helped us craft the most amazing menu for our wedding including lunch, cocktail hour and dinner. He constantly provided his expert guidance and was always willing to incorporate our thoughts/vision. Our friends and family could not stop raving about the food and kept saying that even when they felt full, they had to go back for more! Thank you to Vicky and the whole Bukhara team for such a phenomenal culinary experience!

Rajeev M.

Married on 08/28/2021

Food at its best

Vicky from Bukhara Grill, incredible and the best choice in USA for catering at any indian wedding. An example of total Customer Centric because he listens to the customer and makes changes according to their liking.
Thats what sets him apart from other caterers .
He and his team delivered a "tongue tingling gastronomical delights " at my sons sangeet, wedding and Reception
Vicky is extremely talented, knowledgeable and total professional but at the same time very warm and personal and always suggested the best options which fit our needs.
Blessed with 40 yrs of culinary experience , Vicky crafted a perfect menu for all our functions.
His creative culinary team can make anything!... and I mean anything. We could not have made a better choice !
His detailed oriented approach made things so easy because He knew exactly what we needed for our various functions. He made great suggestions for our different stations and displayed food from various Indian states which added to different flavors and every single guest told us how EXCEPTIONAL the food was.
From pineapple rasam shots to jackfruit biryani to indian Chinese to mini dosas to Chicken 101 to kathi rolls and kababs , makke ki roti and sarson ka saag, and then petha Phirni, live jalebi station being made as you wait, paan icecream and then shami kababs to famous daal Bukhara and many more.
OMG, the guests raved about the food at each and every single event. He gave us over 30 dishes just during sangeet alone.
We are so incredibly happy with our choice in Bukhara as They left no stones unturned and after 2 weeks, we are still receiving compliments on the food-
One guest said
" I never had so much variety and tasty food in last 20 years"
That says it all. We owe it all to Bukhara, VICKY AND HIS AWESOME TEAM.
In short
"Vicky listens, Vicky executes, Vicky delivers"
Thanks a Ton Vicky, for making all our functions, memorable which we will talk and remember for years.

Prachi

Married on 07/31/2021

Bukhara is the best

Vicky and team are incredible! We could not have made a better choice in or caterer! He knew exactly what we needed for our wedding. He made great suggestions for our fully vegetarian multi- cultural wedding and every single guest told us how exceptional the food was. From the snacks at the ceremony to the main courses, the guests raved about the food at each and every single event. There was so much variety offered in all different cuisines. We opted for a few live chefs at our events which our guests truly enjoyed. In addition to the food, the team has incredible service . We really do feel like family with and are so incredibly happy with our choice in choosing Bukhara for our wedding! They leave no stone unturned and weeks after our event, we are still receiving compliments on the food- we owe it all to Bukhara!

Farida P.

Married on 08/01/2020

Exellent food and execellent service

Exellent service and exellent food.

Arjun S.

Married on 05/16/2020

Amazing food

Food for all of our events were amazing, all of our guests told us how much they loved their meals. Vicky and his staff are great to work with!
Are you interested?
Send a message