39 Reviews
Recommended by 94% of couples
Quality of service

4.7 out of 5 rating

Average response time

4.6 out of 5 rating

Professionalism

4.6 out of 5 rating

Value

4.7 out of 5 rating

Flexibility

4.8 out of 5 rating
Awards
1 User photo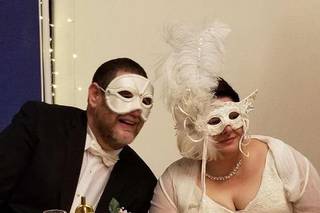 Petra M.

Married on 10/31/2019

Absolutely excited!

This is a beautiful venue and the staff is absolutely amazing! I can't wait until my big day here!

Stephanie

Married on 06/24/2017

I can't imagine being married anywhere else! The BVEC staff went above and beyond to make our event perfect. They were approachable, kind, and really cared about our event. They bent over backwards to make our dream wedding a reality. Roberta and Payton and the support staff were so responsive and personable- it felt like we were working with our friends.

Thank you, thank you, thank you!

Jacob

Married on 03/04/2017

Roberta and her staff were very prompt and extremely professional. Everything was there on site and couldn't be more convenient. The hotel in particular was great because the family was able to stay there and not have to travel back to a hotel! It was truly a wonderful experience!

Are you interested?

Send a message

Natalie

Married on 06/18/2016

This place is absolutely amazing! It's beautiful inside and out. We ultimately chose this place because the people are wonderful- Payton and Roberta especially are just over the top exceptional people. They truly do care about you and your special day. I was upset at first as I wanted to bring in a caterer; however after our first 'tasting'- we were hooked on Roberta's cooking, you wont find better food anywhere!! They are incredibly accommodating- anything you want they will get and make sure your day is as perfect as you want it! The hotel on site is a huge plus- we had several guests end up staying the night of so it was great to have that option there. They are pretty strict on outside alcohol and have no tolerance for over the top shenanigans- which I appreciated their patience as well as their help keeping the crazy families in line. This is a family business which makes it more personable as well as you just know that they are in this to ensure your milestone is beautiful. I 110% recommend this place to anyone who wants an unforgettable and amazing wedding!

Melissa

Married on 06/05/2015

My husband and I had actually spent our entire engagement planning our wedding at another venue. Unfortunately, three days before our wedding day, we learned that the Grapevine Lake flooding had made that location inaccessible for our wedding. We were scrambling to find a venue that could accommodate us on such short notice, and I am thankful beyond words that we found Buffalo Valley. My sister had actually gotten married here the year before, so having our wedding at Buffalo Valley was even more sentimental. The entire situation started to feel familiar, since my sister went through a similar experience when the ballroom at Buffalo Valley caught fire days before her wedding. Just as they did for her, the staff did everything they could and more to make sure our wedding was as close to what we had been planning as possible. Angela was one of our many saviors that week. She was wonderful in answering all of our questions and working with our budget. We went from thinking we might have to reschedule our wedding to having everything figured out in just one meeting with Angela. I was immediately relieved, and so grateful that she was able to make all of the arrangements along with our coordinator in just a couple days! Angela and the staff were wonderful during our wedding day, and I was so happy to be able to enjoy the day knowing we were being taken care of. My bridesmaids and I loved being pampered in the bridal suite! We were very excited to be able to utilize the guest rooms that weekend as well. It was so much fun to have our best friends and family with us all weekend! The food was fantastic, and most of our guests have told us that ours was the most fun wedding they had been to! We can't thank Angela and the staff enough for all of their hard work, and for giving us a PERFECT wedding day!

Judy

Married on 07/25/2014

BVEC is the perfect place for a wedding. They put on an amazing wedding for my daughter and son in law. They came thru on everything they promised to do. Special thanks to the Merrits for keeping things going after the fire. Roberta is an amazing chef and wonderful manager. Lauren, our coordinator , kept the day running smoothly. They all went above and beyond to make sure their wedding was special. When we had our first visit with Roberta, my daughter knew this was the perfect venue for her wedding. They are the kindest, warmest people you will ever meet. I Highly recommend Buffalo Valley Event Center

The venue had a terrible fire three days before our wedding, but Lauren and Roberta worked so hard to make sure that our wedding still happened, and was even more beautiful than we planned! We had an amazing time and they were so awesome to work with!

Lianne

Married on 06/08/2013

I recently got married at Buffalo Valley Event Center and our entire experience was AMAZING! The venue is so unique and just gorgeous (real buffalo roaming around as your guests pull in is quite the showstopper!) Their staff was great as well; Lauren and Roberta were over the top helpful and accommodating as they kept me updated as our big day came closer. On the day of, I was truly able to enjoy being with my bridesmaids and closest family and friends as BVEC kept the stress off of my shoulders. We got married at the gazebo and the landscaping was very lush and well maintained. The reception was by far our favorite part- the fajitas were delicious and the staff kept the tables clear and the guests happy. They also have a hotel on the property which was great. Since we had lots of out of town guests, we were all able to hang out together afterwards too. (A four hour reception just isn't enough time to visit with old high school and college friends and revisit memories! We didn't go to sleep until close to five that morning, and it was such a fun time!) We could not have imagined a better place for the best day of our lives. THANK YOU BVEC for making it such a special memory that we are so excited to one day tell our grandchildren about.

Linda

Married on 11/10/2012

Great venue and staff! Food was fabulous..Roberta was flexible and accommodating especially for a couple of guests' dietary needs. Lauren our coordinator did a wonderful job of keeping the wedding running smoothly and dealing with last minute changes like moving the ceremony indoors hours before the ceremony due to the weather. Jackie the owner stepped in to officiate the ceremony after an unexpected departure of the original officiant. The hotel facility was great for us also so that our family could stay together and didn't have to travel to and from the reception. Very happy that they made my daughter's day special!

Buffalo Valley Event Center went above and beyond to make our daughter's wedding perfect. From our first meeting with Jackie, we knew this was a very special place. Mary helped to make this a wonderful event that was as stress free as possible. She had excellent communication so I was never waiting for answers. Lauren did a wonderful job with being the wedding coordinator. Thank you, thank you BVEC! Great place for a wedding and our guests loved staying out there, too.
Shari, MOB October 2011

Linda

Married on 09/03/2011

My daughter got married at Buffalo Valley Event Center in September 2011. Everyone at Buffalo Valley was great to deal with: especially Mary, Lauren and Roberta. They made the whole experience enjoyable and stress free. Everything turned out even better than we had hoped. My main worry was that I kept thinking I should have been more worried and stressed than I was; but they minimized my worrying by doing an excellent job of keeping up with the details.

R &

Married on 07/31/2011

To everyone at BVEC,
Thank you so much for everything! You were FABULOUS to work with and we would highly recommend you to anyone! Thanks for making our big day so special!
The Walkers

Chris

Married on 07/22/2011

It was wonderful!! The only problem was that the evening went by way too fast, we all agree on that fact. All of our guests just loved the location, we received many compliments on the openness and the lighting.

We really enjoyed getting familiar with Jackie, what a great lady. We also enjoyed working with Mary, Dana, and Roberta - thanks for making everything such a great day!

Thanks again for everything,
Chris (MOB, July 2010)

Shannon

Married on 05/21/2011

I wanted to thank you, Lauren and Roberta for making our wedding absolutely perfect! I'm so thankful we chose to have our wedding at the Buffalo Ranch. It was beyond everything I wanted and hoped for on our big day. I can't say enough good things about the Merritt's and everyone else I worked with :)

Thanks again,
Shannon (May 2011 Bride)

Ellen

Married on 03/18/2011

We just wanted to say how much we appreciated everything BVEC did to make Amanda and David's wedding so memorable. The atmosphere was elegant, the food was excellent and the setting was perfect. You all truly know how to throw a party. Scott and Ellen

Julia

Married on 03/15/2011

By far, they have been the most professional, efficient, timely, and courteous people we have had the pleasure of dealing with on this journey. Although we haven't used BVEC, I will recommend them unreservedly to anyone who asks. Honestly, they have wowed us.


Brenda

Married on 03/12/2011

I just wanted to thank you all for making Laura & Steven's wedding a special day.
Mary, thank you for making phone calls and checking into a cello player, and other info. for us. For working with us to get everything together.
Lauren our coordinator was so organized and helpful and kept everything going for the rehearsal and the wedding. She knew just what to do and kept things moving.
The food was great and it was so nice of them to bring food to the girls in the dressing room the day of the wedding. The wedding and reception room looked beautiful.
It was nice to have the hotel rooms for Friday and Saturday night. Less traveling for some of the family.
Everyone had such a wonderful time and we thank you all for helping to bring it all together. God Bless and thank you, Brenda & Bill



Kaycee

Married on 02/05/2011

The staff was amazing! We had our wedding and reception at Buffalo Valley Event Center, it was great. The Catering Manager met with us to plan our menus. The day was perfect – we had the venue to ourselves all day long – there was no rushing us in or out for another party. The Grand Ballroom was beautiful place to celebrate our wedding day!

Linda

Married on 11/06/2010

Mary - I can't believe it has almost been one month since Jennifer and Claude's wedding at Buffalo Valley Event Center.

I just want to tell you that EVERYTHING was fabulous. The food was fabulous. And the way everything was presented was so beautiful. I really appreciate the way the Center made it so easy for us to come in and decorate before the wedding. Dana and Lauren were SUPERB. They made sure everything went off right on time, kept everyone in line, and it was all perfect. The bride was ecstatic. Jennifer couldn't believe how beautiful everything was. She loved the ideas given to us about pictures on the balcony in the Ballroom. The DJ was the best. He really played great music and the entire family was out dancing. I even learned the Texas two-step.

I also loved being able to stay all night at the Ranch. It was sooo convenient. We all got up on Saturday morning and about 10 of us went to breakfast before we had to dig in. Then Sunday morning we brought coffee and donuts in and got to visit some more. The bride and groom even got to enjoy breakfast in their "pj's". Your facility is just perfect for a wedding, or any other event for that matter.

Aunt Linda


Tabitha

Married on 05/15/2010

This was the most beautiful place, and people there wil treat you like family. There ball room is unbelavblely beautiful with the hand crafted shandlears. You will be amazed. Everyone that works there is on top of everything. This is a compleatly worry free place and you will be amazed with everything.

Sarah

Married on 10/10/2009

We loved dealing with the 2009 staff. Ms Pantel... and Mr. Bailey were professional, accommodating, corporative, organized and provided a quality and memorable event for our affair. Hat's off to that management team!!!!
I am saddened to hear they have left.


Thanks guy's,
Sarah K

Tanesa

Married on 08/08/2008

I loved the place and the staff!!!!! Best experience EVER!!!!!

Jamie

Married on 06/15/2007

I couldn't have imagined a better place to have our wedding! We wanted the ceremony outside and the reception inside. I didn't want people to have to drive from the ceremony to the reception so it was even more perfect! There were a ton of ways to do your ceremony and room for a ton of people! The manager, Julie, was so helpful and nice. She really wants to help make your day exceptionally perfect! They also have a huge bar and a living area (with couches and sitting areas) upstairs where you can overlook the entire wedding reception. They even have a hotel with a few rooms on the site! O and I can't forget my favorite part which was the bridal room and the groom room. They were so neat and so roomy to get ready in! Just take a look at the website and call Julie and you will want your wedding there too!

Jennifer

Married on 03/10/2007

We had a beautiful wedding and it was stress-free. The place looked beautiful...the floors are just amazing. There was plenty of room for everyone to enjoy talking with each other and dancing. I also really liked that we had the ceremony right outside and all the guests had to do was walk into the reception area. It was such a great day for us and we will always treasure our memories there!

Janet

Married on 04/28/2017

The road into the center is not paved so cars will get dirty. But once you are inside, it is absolutely beautiful! The sound system was spot on. We were able to decide that day whether or not we wanted to be indoors or out (we chose in). Our guests kept commenting on how much they were enjoying our reception. The food was great - the bartender the best! We had guests with special dietary needs and their food station was integrated but separate from the rest of the food. Roberta and Payton were very attentive and professional.
Are you interested?
Send a message