Reviews
4.9 out of 5 rating
Quality of service

5 out of 5 rating

Average response time

4.9 out of 5 rating

Professionalism

4.9 out of 5 rating

Value

5 out of 5 rating

Flexibility

5 out of 5 rating
99%
Recommended by couples
23 User photos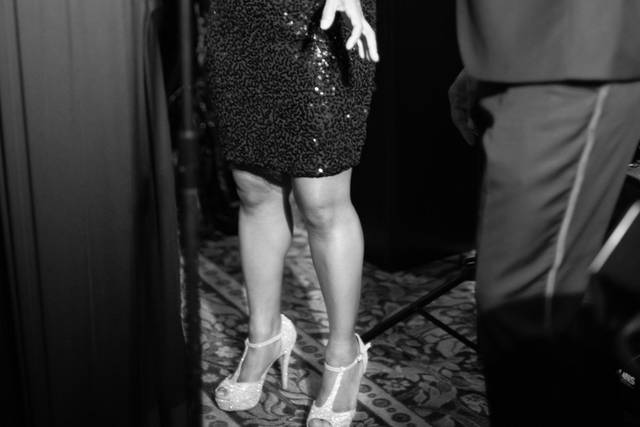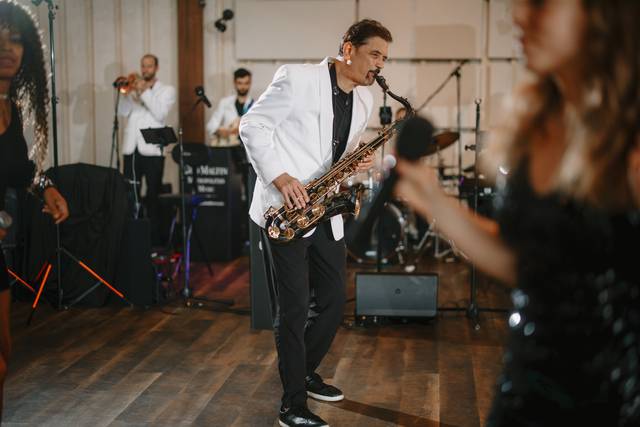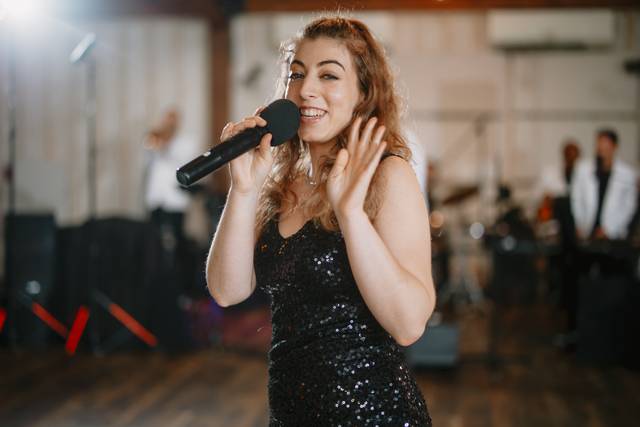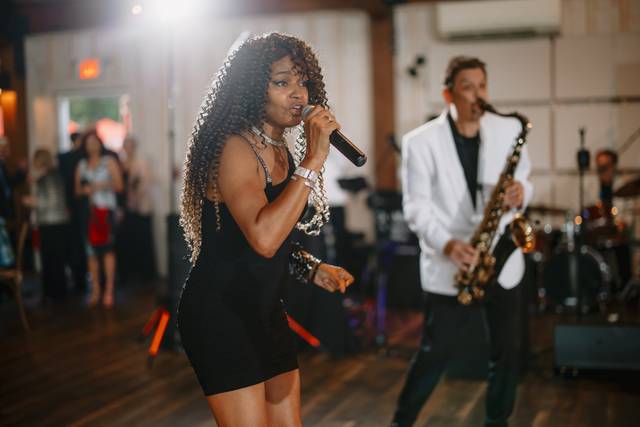 + 19

photos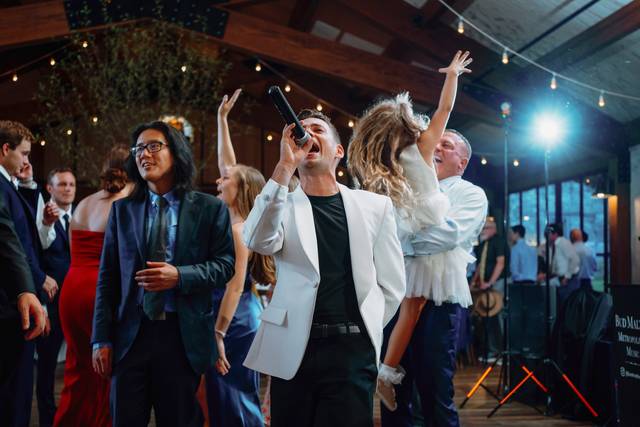 Featured

Brie B.

Married on 08/27/2021

Great Band For the Most Recent Music to the Classics

We couldn't say enough about Bud and his band! They're incredibly talented, entertaining, and can sing everything from the most recent Top 10 Billboard Hits to the Classics - they'll even learn a few songs for you if they don't know them! The best part is that they're super versatile with the number of players/singers/intruments you can get. Bud is the friendliest man alive, and his entire team of musicians and singers are great. It's a big miss if you don't hire them for your big day!

Adam J.

Married on 10/29/2022

All the reviews are true - Bud Maltin and his band are the best!

We are music lovers, so when planning our wedding the music was a top priority. Because we were planning at the height of the pandemic, we never got to see any bands live (including Bud), and had to go off of reviews, videos, and conversations with the bands themselves. From our first call with Bud, it was obvious he loved music (including much of the same stuff that we love), he knew how to get a party started, and he was easy to talk to and work with. Leading up to our wedding, Bud met with us several times and provided great suggestions on music as we wanted a focus on funk, soul, and disco - and he helped put our pre-wedding anxiety at ease.

On the day of, Bud and his band killed it! From the ceremony music (all Beatles songs performed on flute and guitar), to cocktail hour (piano jazz), to the reception - everything flowed well and we had the packed dance floor we dreamed of. Bud is a great MC and his bandmates are truly talented. Our crowd loves live music and loves to dance, and so many of our guests commented on how great the band was. Everyone especially loved when the singers and horns came out on the dance floor with the crowd. Plus, they really do the best Hora!

We feel lucky that Bud and his band kept us on the dance floor all night, and even when we tried to step away the music just kept pulling us back. Thank you to Bud and the whole band for making our wedding so fun and memorable!

Matt J.

Married on 09/17/2022

Bud Maltin is the best!

Bud Maltin and his band were unbelievable at our wedding this past weekend. Bud was so wonderful to work with in the lead up. He was very organized and easy to communicate with. On the day of the wedding he and his band knocked it out of the park. They created such a fun vibe and their musicians and singers were incredible. The energy on the dance floor was electric! I can't count how many guests came up to us saying how much they loved the band. Highly highly recommend this group for your next event. Thank you to Bud and his band for making our wedding an unforgettable experience :)

Are you interested?

Send a message

Rebecca P.

Married on 06/03/2022

Excellent!

Where do we even begin?!? Don't walk, but RUN to book the Bud Maltin Band. From the beginning, Bud was an absolute pleasure to work with - he was so attentive and personable from our initial call to the end of our wedding night. The entire day ran so smoothly because of Bud & his band! Everyone from our wedding kept coming up to us and asking for the bands contact, they listened to everything we said and even provided their own twist. Nobody left the dance floor - seriously made our wedding night. Can't recommend the Bud Maltin band enough!!!!

Rebecca W.

Married on 03/05/2022

Choose Bud Maltin Music!

Entertainment is such an important piece of a wedding and you can't go wrong with the team at Bud Maltin Music! We were referred by a friend to Bud. He was very responsive and worked with us to fit our budget. He also listened carefully to our music choices. The combination of DJ and live music was great for our guests. Many of our friends told us how amazing the vocalists were! Bud also offered instrumental music for the ceremony and it was so easy having the same team doing both the ceremony and reception. He also worked well with the event staff at the venue for our wedding.

Stacey N.

Married on 11/20/2021

BEYOND thrilled with our wedding band

Bud and team were such a pleasure to work with. Bud even collaborated with my high school friends and provided back up instrumentals for them to sing during our ceremony. It was such an important and special touch to us and Bud really went above and beyond to spend time organizing that. The transitions throughout the evening were seamless and the music was a non-stop party. You can't go wrong with Bud Maltin!

Brad F.

Married on 10/24/2021

Our Guests Didn't Stop Standing

We hired Bud Maltin Music to perform live at our wedding and it was easily the best decision we made. The mix of classic and contemporary songs kept ALL of our guests on the dance floor the entire night. We were fortunate to have Dani and Anthony as our lead vocalists and at more than one occasion, our guests stopped dancing IN THE MIDDLE of the song to applaud them. What more could you ask for! One of the other standout moments of the night was having keyboardist and vocalist Jon sing "New York State of Mind." Our friends and family have been raving about his cover of it for weeks! And then there's Bud, whose MC skills are just as phenomenal as his saxophone skills. We highly recommend Bud Maltin Music and look forward to the day that we can work with them again.

John S.

Married on 10/22/2021

Bmm are rockstars

Bud Maltin Music were the rockstars (no pun intended) of our wedding. Not only was the band absolutely incredible (multiple people said this was the best wedding band they've ever heard) but Bud was amazing in helping us set the music program for our reception, providing not only music for the dance floor but also for the cocktail hour and lovely background/ambiance music for dinner. They absolutely rocked and coaxed the entire guest list, from young to old, onto the dance floor - and really help make the night one to never forget. Run, do not walk, to book Bud Maltin Music for your wedding - you will not regret it.

Samara A.

Married on 10/10/2021

An incredible wedding band!!

The Bud Maltin Band was absolutely incredible to work with. From our first conversation, we knew it was the right fit. Bud is so kind, willing to answer our many (many, many) questions, and so knowledgable about the industry. Leading up to our wedding, he helped us plan out the schedule of the day and, on the day of, made sure everything happened according to plan. The music was amazing, it was the best party we've ever been to!! Our guests are still raving about the music more than a month after our wedding, and that's exactly what you want out of a wedding band. We highly recommend the Bud Maltin Band!!!

Meghan R.

Married on 10/02/2021

Incredible Music! Great Band!

Bud and his band were absolutely incredible! All of our guests never sat down, they were always on the dance floor. I highly recommend this band! They are all so talented!

K Sehlinger

Married on 09/25/2021

Incredible

We knew the Bud Maltin band came highly recommended, but they blew us away. For our first dance song, the main vocalist actually did a better rendition than the original artist, and the horn section made our jazzy song totally exquisite. Also, my brother sang the father daughter dance song, and Bud personally coordinated and rehearsed with him to make sure they could pull it all off live. Our guests are still raving about how good the band was. They kept the dancefloor lit up all night

Jen C.

Married on 09/18/2021

Amazing Band - Would Highly Recommend

Bud Maltin's Band played at our wedding in Manhattan at the Harold Pratt House. They did a truly amazing job and even stayed an extra hour when we didn't want the night to end. They played a great variety of songs including some oldies and new pop hits. Everyone was up dancing the night away for hours. Would recommend anyone to use them for your big day! Thanks again!!!

Alexa B.

Married on 08/28/2021

So. Much. Fun!

What an incredible night with the Bud Maltin Band! My goal as a bride, was to not leave the dance floor and that's exactly what I achieved! From beginning to end, the band produced incredible music and sound. They listened to all of our requests and were truly amazing. Couldn't have asked for anything more. We can't thank them enough!

Kimberly R.

Married on 08/07/2021

Best Band EVER!

I cannot rave enough about Bud Maltin Music! They worked so closely with us on our selections for every aspect of our wedding at Castle Hill Inn in Newport, Rhode Island, from the ceremony through the cocktail hour and of course the reception. They have tremendous range in their styles and repertoire, and totally made our party come to life. We loved every minute of dancing with them. So many guests complimented us on hiring the best wedding band they'd ever seen! Thank you, Bud Maltin Music!

Kim

Married on 05/07/2021

Unbelievable!

Unbelievable band! I would highly recommend for anyone who is looking for quality live music for their wedding. Our guests are still raving about our incredible band months later. I don't think words can describe how awesome Bud and his band were to work with and to have at our wedding!

Planning a wedding during COVID was quite a challenge to say the least. We had to postpone our wedding several times and Bud continued to stick with us and support us along the way. THANK YOU, THANK YOU for the wonderful memories!! We are forever grateful.

Julia D.

Married on 09/19/2020

Best Musicians You Will Ever Meet!

It is hard to find the words to describe how incredible this group is. My husband and I were married a month ago and we are STILL getting raving reviews from our family about the amazing band we had. Bud and his group pulled out all the stops, literally, and made our wedding the most gorgeous, seamless, spectacular experience we could have imagined. The musicians were excellent, professional, and could play literally every single song we asked for. They personalized the night and captured the intimate family nature of the backyard covid wedding. Honestly, I was skeptical about investing in a full band at first, but after seeing how truly wonderful Bud and his musicians were I could not be more thankful that we hired them for our special night. Our family is already demanding that we get them again for our one year anniversary (and every year after that!) I am just so thankful and truly moved by how sweet and dedicated this group was, and how much they did to make sure we had the best possible wedding night. You absolutely must go check this band out, I promise you will not regret it!!! Thank you Bud and Metropolitan music!!

Kristin P.

Married on 08/15/2020

The best band around!

We had a great experience working with Bud! He took the time to get to know us and the kind of music we liked. They were very flexible when we had to reschedule our wedding (twice!) due to COVID.
The band at the wedding was phenomenal! When I see someone who was at my wedding the first thing they say is how great the band was. From the cocktail hour to the last song they set the mood for the wedding. They played a great variety from classic hits to current pop songs that had us on our feet all night! It was so much fun to interact with the band when they joined us on the dance floor to sing or play the saxophone. Bud was a great MC who kept the flow of the wedding going.
We had a memorable wedding thanks to Bud!

David

Married on 07/26/2020

Contagious energy!

Words cannot begin to express our gratitude for Bud and the Metropolitan Musicians. Our wedding would not have been the same without them. The band created an uplifting environment, filled with lots of singing, dancing and banter between the band and guests. Fun does not begin to touch the surface of the night we had!

We were so excited to spend our night with Bud and his 8 Metropolitan Musicians for our August 2020 wedding. However, Covid forced our wedding plans to take a turn of events. Bud remained by our side through multiple postponements, venue changes and wedding dates. Bud was more than accommodating and flexible. He became a friend and guided us through 1.5+ years of planning.

Bud was always available to answer questions and help create a timeline of events when certain decisions had to be made. We had many zoom meetings to discuss logistics and keep him updated with any changes. But more importably, he supported all of our decisions. Bud continued to reassure us that it did not matter how many people were at our wedding, if we wanted a party, he would make sure it happened and he did not disappoint!

Our wedding turned from a 130 person wedding to a small, very small (12 person) intimate wedding with only immediate family. However, we still wanted to dance and celebrate and that is exactly what we did! Our entire family spent the night on the dance floor and didn't want the night to end. Isn't that what every bride and groom wants?! We were hesitant about our small wedding at first but we would not change a thing! Bud made sure we would still have the most special night. We were surrounded by all the people we love, celebrating our new chapter.

We continue to talk about Bud and the Metropolitan Musicians and how our wedding would not have been the same without them.

They all truly love what they do (and are great at it) and it is obvious by their professionalism and contagious smiles behind their instruments and voices.

No matter what kind of wedding or size of event you are having, Bud and the Metropolitan Musicians will make your wedding dreams come true! We cannot recommend Bud enough. If you are having them at your wedding, please invite us so we can relive the night with Bud's energy!

Bill Q.

Married on 05/08/2020

200 Guest Wedding: Everyone's favorite part? -The Bud Maltin Band. Period.

My wife and I were married and had a reception with 200 guests. We had listened to about 6-8 bands before making a final decision and my wife and I came to a unanimous decision in choosing the Bud Maltin band. There is a tremendous amount of talented musicians especially in the NYC area but we felt that we were in the best and most capable hands working with the Bud Maltin Band.

We had 11-12 musicians the day of our wedding which provided continuous music throughout the day. For the ceremony we had a Bud play flute and an electric guitar. It set the tone for the entire ceremony and delivered renditions of the songs that we requested which were recognizable as soft instrumentals but perfectly arranged as to blend into the backdrop.

The band does a walk through of the venue before the day of the wedding to ensure that all of the logistics are accounted for. Bud and his manager Bill worked with the venue to organize a time without us (as we were very busy and weren't required to walk through with them). In doing so, they came up with recommendations on how to setup the band to optimize the acoustics in our rather large open space. In addition to this, having seen a grand piano on site while doing their walk through, they were able to utilize it doing our cocktail hour. The day of our wedding we had a bass guitar and piano entertaining our guests which was an incredible demonstration on Bud and Bill's experience to have had the foresight to visit the venue and make these kinds of suggestions. The final decisions were always left in our hands (Bride & Groom) and we never felt pushed. Given the bands collective experience, we took them up on every suggestion they made, each time adding more and more value.

During the reception Bud and the band put on a spectacular performance. Although the band was completely capable of learning anything we requested, we chose to trust their expertise in curating the music that was played during our day. This may sound scary to some but let me tell you, no one knows how to entertain a room of 200 people like the Bud Maltin Band. They played top hits across 70s-2010s, They had three generations of people up dancing and not once was there an empty dance floor. All transitions into traditional wedding reception rituals like the 'first dance' and the 'father daughter dance' were all done in a way that made sense and didn't disrupt the flow. This is all another testament to this band's experience.

The wedding is now behind us both and looking back at all of the decisions big and small we had made. One of best decision my wife and I made around planning our wedding was hiring The Bud Maltin band. Since our wedding everyone reflects on the wedding the same way: "THE BAND WAS INCREDIBLE!".

Book a time to see them perform. They are kind, generous, and a pleasure to work with. My wife and both feel booking them for our wedding was an absolute home run for all of our guests!

- Bill & Chelsea

Christine S.

Married on 12/10/2019

Bud Maltin Metropoiltan Music is FABULOUS!

Hiring Bud Maltin Metropoiltan Music was one of the best decisions my husband and I made. We loved the option of having a live band with live musicians AND a terrific DJ. Talk about a winning combination! We were able to have the DJ play specific songs we loved (with original/specific artists) and also had the benefit of also offering amazing live music to fill the ballroom at our reception. Bill Galbo (business manager) and Bud Maltin are both incredibly personable and always made my husband and me feel like our preferences were being heard. They are a class act. I cannot recommend them more highly.

Renee S.

Married on 09/28/2019

Excellent!

I only have wonderful words to describe this company and their DJ who worked at my sons wedding celebration. They were easy to work with, will go out of their way to make sure everything is perfect and the DJ, Danny, did a great job getting everyone dancing throughout the night. You won't go wrong hiring this company for your music needs.

Veronica

Married on 09/07/2019

Thank you Bud and Ariana!!!

Bud and Arianna came DJed/ played live music for our wedding back in November 2019. They made our party- THE Party! Working with Bud and Bill was calming and quick. I did not stress out one bit. The music they played was a lot of what we requested and the live music was unbelievable. Bud played the sax and flute and it was awesome. Arianna has an amazing voice and she sang so many awesome songs during dinner. We kept looking at her and giving her a thumbs up because everything was so great that she sang. My wife and I are so pleased with you guys! Thank you for making our day so special and giving us the time of our lives. THANK YOU!!! 😊😊

Jon L.

Married on 09/02/2019

Tight beats and beautiful melodies

After shopping around and copious research, we chose Bud Maltin Metropolitan Group and to say the least - they DID NOT disappoint! Our process began with hearing some of the band perform live in a Midtown Manhattan studio. What we saw then was what we got on our wedding day. Professionalism, talent, energy, and a natural harmony with the crowd and the entire experience. All aspects, discussed and implied, went off without a hitch. From the ceremony music, featuring a violinist and keyboardist duo pulling off our non-traditional processional music, to ending the night with our specific request (including the obviously necessary "I Want it That Way" by The Backstreet Boys :), it goes without saying that guests and staff alike shared nothing but positive feedback. Let's not forget a fun and relaxing cocktail hour featuring the smooth sounds of the acoustic guitar, followed by the 4-hour reception with our 7-piece band and that unforgettable whirlwind of a Hora to start off the party. Bottomline is that you will not be disappointed. Thank you to the band for providing the perfect soundtrack to our big day!

+ 8

photos

Renata

Married on 08/24/2019

Better than I could have imagined!!

Working with the Bud Maltin Band was absolutely incredible! They provided music for our wedding - reception, cocktail hour, and reception… All of which were a dream. They sounded great, and really set The tone for a fantasy night. We were really nervous to hire a band, because we had really specific music in mind. My husband's side of the family is Indian, and more on the young side, while my family is American and a bit older. We wanted music that would appeal to both, but were convinced that a band who could do it all was going to be impossible to find. But then we found Bud Maltin. With their band/DJ hybrid combination, they were able to not only play all the songs that you wanted to meet both criteria, but also songs that felt personally significant to my husband and I. They even learned some special Hindi songs we requested! They were incredibly professional, responsive, warm and easy to work with. Their sound is unbeatable. I'm already working with them on another event. I cannot recommended them enough!!

Bud Maltin Metropolitan Music's reply:

Thank you so much for this wonderful review & we're so happy to have the opportunity to see you again so soon!

Samantha

Married on 07/13/2019

Bud Maltin Metropolitan Music is AMAZING!!

My husband and I got married on July 13, 2019 at the Village Club at Lake Success. While planning our wedding, we knew that we wanted to have a band that also had the capacity to play music like a DJ. Bud and his team were the perfect fit. Working with Bud and Bill made the entire process so easy. They know so much about music, and they are incredibly professional. Bud was so patient and kind as we spoke on the phone multiple times to ensure that the ceremony, cocktail hour, and reception music was exactly what we wanted. We had a talented pianist play during the ceremony and cocktail hour. We ultimately had a nine piece band play at the reception. All of the music was phenomenal. In the two weeks since our wedding, I have had many many people tell me how impressed they were with the band. I am so happy that they were the ones to play at our wedding. I highly recommend Bud Maltin Metropolitan Music for any event with music, especially a wedding.
Are you interested?
Send a message