50 Reviews
Recommended by 100% of couples
Quality of service

5 out of 5 rating

Average response time

5 out of 5 rating

Professionalism

5 out of 5 rating

Value

5 out of 5 rating

Flexibility

5 out of 5 rating
Awards
19 User photos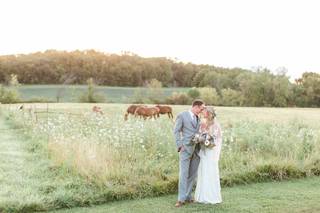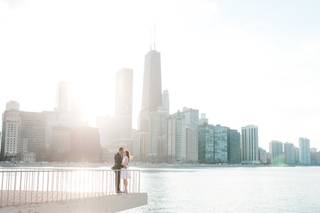 + 15

photos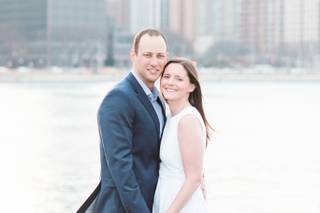 Beth S.

Married on 09/17/2022

Best wedding photographer!

I'm so glad that we chose Brittany Bekas as our wedding photographer. I happened to come across one of her blogs with some suggestions for engagement and wedding shoot locations right where we were getting married which initially intrigued me. After looking at some of her work online, I could see just how stunning her work was and how her style fit mine. From the initial phone call, she felt like a close friend and I knew we would have a great time shooting with her. She was very easy to work with and helped us start a timeline as well as provided some great templates to help make sure we didn't miss any important pictures with friends and family. She helped us become more comfortable in front of the camera during our engagement shoot which turned out awesome and then it was smooth sailing on wedding day! Brittany was efficient, made us laugh and captured all the most important memories from our wedding day. The results speak for themselves - our wedding pictures are amazing and we are having a hard time deciding which ones to put in our album because we love them all! Our bridal party, family and friends were so impressed with her and also love our pictures.
We would choose her again in a heartbeat and highly recommend that you hire Brittany Bekas!

Gina P.

Married on 08/06/2021

Greatest decision we made

Choosing Brittany Bekas as our wedding photographer was one of the best decisions we made. Right from the moment we met her, we knew she was a perfect fit and our wedding photos were in very capable hands. Brittany was prepared from our first meeting to the day of our wedding. She was super communicative and willing to answer questions and concerns at any time. When we had to deal with the difficult decision of postponing our wedding, she was extremely supportive and understanding. We were able to reschedule with her without any trouble, and she was also willing to photograph our minimony! We had the unique opportunity to see Brittany work on two different occasions and we are extremely grateful for every moment.

Brittany is calm and collected, but at the same time works efficiently to capture every beautiful moment. She was able to handle the chaos of those days and a very large group without difficulty. She somehow managed to effortlessly capture our favorite moments and create beautiful photos. We are so happy and impressed with our photos from both of our wedding celebrations. We are beyond grateful for her understanding, guidance, patience, and generosity along the way.

Joyce

Married on 07/10/2021

Professional, committed, great eye

We worked with Brittany for both our engagement photos and wedding day photos. She was so sweet and produced amazing results! I chose Brittany because I really loved her style and she did not disappoint.

Brittany is energetic, responsive, and committed. Even as we were dealing with COVID and changing our plans, Brittany was reliable and consistent. Truly appreciated the support from her throughout. I just felt that I could trust her work and she's amazing as a person as well. I would definitely recommend working with Brittany if you have the same style and vision!

Are you interested?

Send a message

Paige L.

Married on 06/27/2021

Photos that will last a lifetime

Brittany was the first vendor we hired for our wedding because pictures were extremely important to us. She came highly recommended from friends and she did not disappoint. Our engagement photography session was so much fun! It was freezing and windy, but Brittany made it fun and made us feel comfortable the entire time. Our wedding day finally arrived and Brittany was extremely efficient. We had so many pictures to get on a tight schedule, and we got them all thanks to Brittany. She went above and beyond her role as a photographer in so many ways. During our first look, I got a mosquito bite that was making my arm red and swollen. Some groomsmen went to a pharmacy to get Benadryl cream and the second photographer working with Brittany applied the cream to my arm to take down the swelling. Then Brittany edited the bite out of all of our pictures. Brittany was on my side 100% of the time, even when that meant respecting when I needed a moment when the heat/posing for pictures became too much. Lastly, Brittany worked with us to create a beautiful album filled with intimate moments she captured through her camera lens. She is extremely talented and wonderful to work with. I can't wait to recommend Brittany to all of my friends when they are ready.

Lauren

Married on 06/12/2021

Best Decision We Made

Brittany was wonderful to work with. She was thoughtful about planning in advance, so we didn't think about a thing on the actual day and just enjoyed ourselves. Brittany was so efficient we were still able to get so many great photos outside before a thunderstorm rolled in. Would definitely recommend working with her!

Courtney T.

Married on 08/14/2020

Beautiful Wedding Photos!!!

Brittany Bekas is AMAZING!! She is so talented & photographs the most beautiful pictures I have ever seen. She photographed our wedding last month with her assistant (who was also lovely). Brittany was very responsive & friendly the second we started working together. She was so flexible with us & traveled 2.5 hours for our wedding! She is super informative with details / tips and keeps you organized with her emails and worksheets. The day of the wedding, she was on top of everything! She kept us on schedule & made sure to capture all the pictures we requested. Her bubbly personality made everyone feel super comfortable when being photographed. After the wedding, she was so quick to get us our special pictures back. Everything she does is so detail oriented & creative. I cannot say enough great things about her! We will definitely be hiring her again in the future :)

Nicole L.

Married on 10/08/2019

Honestly the best decision we made!

Brittany is amazing. Hands down. Obviously she is wildly talented and her photography is amazing, but she is so present, organized, thoughtful, thorough, dependable the list can go on. She is the ideal photographer you want - especially for engagements & weddings. Our engagement and wedding photos are unreal. Obsessed with them! So many good ones to choose from, its hard to narrow down our faves for prints.

Brittany made our engagement photo session so freaking fun. After it was done, I was surprised how fun it was. It really helps to have a photographer like Brittany who is coaching & guiding you and giving you little moments to talk about so she can shoot you candidly. She communicated so well and posed us with everything - nothing felt awkward. She had a great eye making sure my dress wasn't flying away or hair doing its own thing, she would stop and fix it for us. She was THE best! Going through the engagement shoot process made us feel so prepared for our wedding.

On our wedding day, she was got to our venue super early ahead of the scheduled time we set and started to jump right in, shooting our invites and my shoe/jewelry details. Prior to our big day, she sent over a comprehensive photo list of group family combos which I was really impressed with. She had me fill out people's names (so she can familiarize herself with our families) and then it was a great guide to follow and bang out all the family photos.

Brittany was so fun, easy going and captured our day perfectly. Everyone raved how amazing our photographer was and people were so impressed with her professionalism. She is the BEST and I could not recommend her more!!


Ray

Married on 09/19/2019

Working with Brittany was a PHENOMENAL experience! She was so personable, patient, and kind! Brittany was in constant communication with me and went above and beyond to ensure that everything went as planned. She made my engagement so special and captured this memory so perfectly - all of my friends and family are thoroughly amazed by the quality of the pictures! Brittany even sent me some pictures within HOURS after taking them so that I would have a professional picture of the proposal to share right away, she truly cares about her clients' experiences. Her energy, passion, and knowledge of her craft are fully represented through her work. My fiance and I are so happy we chose Brittany to help us remember this life-changing day forever!

Katy M.

Married on 09/07/2019

Stunning photos, Brittany is wonderful

Working with Brittany was a wonderful experience. She worked very hard to help us feel relaxed about the amount of photos (family) to get through the day of. She and her assistant worked incredibly hard on our wedding day and the photos we now have are absolutely stunning. I would highly recommend her to anyone.

Allie O.

Married on 08/17/2019

Simply the best!

We can't really put into words how great our experience with Brittany was. From planning our engagement shoot to pictures at the church and our reception she was beyond helpful. Neither of us are very comfortable being the center of attention or in front of the camera, but Brittany made everything so easy and relaxed. We're so happy with how all of our pictures turned out. Brittany also helped every step of the way with suggestions on our reception timeline, order of our pictures, and general wedding planning. She was always responsive with our endless questions (not always picture related) and was easy to work with. ChoosingBrittany as our photographer was the best decision we made for our wedding!

Elena

Married on 08/17/2019

Best crew in the city

DREAMY. There is no other way to describe the magic that Brittany and her team are able to create. Working with Brittany throughout the planning process was amazing. She is so relatable, detail oriented, and responsive. She delivered all teasers and full galleries well ahead of time and thinks of everything. She was able to offer so much insight as we developed our timeline and always made time to discuss logistics. Nicole and Ashlyn were so much fun to work with on our wedding day and for engagement photos! They made us feel so at ease and were able to capture our day perfectly. We will cherish these moments forever.

Monika N.

Married on 08/09/2019

A dream to work with!

Brittany Bekas Photography captured the real, magical, hidden life moments of our wedding day. From our first meeting Brittany was kind, incredibly helpful and kept our communication open. We felt like we really were able to get to know Brittany and her team. Nicole and Ashlyn did an absolutely amazing job the day of the wedding, we could not have felt more comfortable and at ease during our big day. Thank you for doing what you do Brittany, we cannot wait to cherish our photos for years to come!

Katie

Married on 08/06/2019

The BEST Photographer!

Brittany is an extremely talented and professional photographer. She travelled out of state for my wedding last year and the whole process from the engagement session to the actual wedding day was so simple. She is detail oriented and flexible. Her pricing is very reasonable. I could not recommend her highly enough!

Samantha

Married on 07/06/2019

Brittany was incredible!

Brittany was INCREDIBLE! She was so easy to work with and captured our vision for our wedding day immediately at our first meeting. She helped every step of the way from engagement pictures down to checklists for the final weeks out before the wedding (not just for picture details...the lists covered everything!). We are so happy with our photos. Brittany is so thoughtful and generous in everything she does throughout the process. She helped make our day everything we dreamed of and more!

Elisa

Married on 05/25/2019

Boudoir at it's best

I absolutely loved working with Brittany for my boudoir shoot. Right away she was extremely responsive, knowledgeable, and helpful. I wasn't really nervous about doing boudoir but she made me feel even more comfortable immediately. Within 5 minutes she made me feel like an old friend. She was really helpful in posing and directing me, fixing my veil/clothes if they were out of place, and letting me know when something didn't look good.

Her pricing is competitive and she's not trying to nickel and dime you like every other boudoir studio in Chicago (trust me, I've done the research).

Her work speaks for itself. I had an extremely hard time deciding on just 15 prints to use for a photo box. I loved her bright and airy studio in Elmhurst although it was a tad bit cold in the winter (literally my only critique). I really appreciated that she gave me access to the full online gallery as opposed to some other photographers only showing 10 photos and making you pay for their rest. I would definitely work with Brittany again.

Emily H.

Married on 11/24/2018

Wonderful experience and even better photos

From start to finish, my experience with Brittany and her team for our November 2018 wedding was amazing. Brittany always made her self available to discuss and questions and offer suggestions throughout the planning process. She eagerly worked within our budget and suggested her associate photographer to accommodate our price point. The best part was that we still got to work with Brittany behind the scenes with editing, etc.

Overall, I was drawn to the aesthetic of Brittany Bekas Photorgraphy photos. They captured the theme and vision of our wedding and are so incredibly beautiful, it's hard to choose which ones to frame and which stay in the book! I am so pleased with our photos and look forward to Brittany and Co. capturing many more of our life moments!

Roz

Married on 11/10/2018

Such Pretty Photos!

What can I say, Brittany is amazing. The photos speak for themselves. She was truly amazing to work with. She always had helpful suggestions - like where to do engagement pics in March when Chicago weather is chilly - which was helpful as we were planning our wedding from out of town. She is super organized, which also really helped with the planning process, if you have a planner or not. She was also extremely helpful on our actual wedding day - making sure we got all the pictures we wanted, even stopping at Taco Bell with the wedding party on the way to the ceremony. Most of all...our pictures are absolutely stunning. I can't stop looking and them, and get so many compliments from everyone who sees them. She really captured the magic of the day

Taylor B.

Married on 11/09/2018

Boudoir Shoot

I used Brittany for my very first boudoir photo shoot. She was incredible to work with start to finish. We went back and forth via email before my shoot was scheduled. She answered every single one of my questions and prepared me for the 'big' day! She had me send over my own ideas/inspirations on how I wanted my shoot to go and on the day of my shoot, she used every ounce of that inspiration. If you can imagine, stripping down can be nerve wracking, but not once did I feel nervous or insecure. Brittany and I immediately connected and she kept the photo shoot light, fun, and exciting! After cracking jokes, talking about our lives and basically having a blast, I completely forgot that I was barely wearing clothes. This was such an amazing experience and I don't think I would have been as comfortable as I was going with any other photographer for this photo shoot. My biggest fear with a shoot like this was that I was going to look tacky, and believe me when I say my photos were GORGEOUS. I would 100% do another boudoir photo shoot with Brittany in the future and I probably will!

Ariana

Married on 10/20/2018

Brittany is amazing!

I honestly cannot say enough positive things about Brittany. Not only is she talented, but she is so personable and makes the entire experience seamless and stress-free. We got married in October, and it was snowing that day. Of course, me and my girls were freezing. Brittany decided to take off her jacket and be freezing with us :). She truly is an amazing photographer and I would recommend her to anyone I know getting married!

Jordan H.

Married on 10/19/2018

So lucky to have had Brittany as our photographer!

After months of research, we decided on Brittany as our wedding photographer. Her professionalism and responsiveness stood out to me in the "search process" - she was always so quick to respond to emails and answer any silly questions I had. She was very communicative about shoot details, and did a good job of rolling with the very windy weather we had during our engagement shoot. Most importantly, all of the photos we received from our wedding and engagement shoot were just stunning. Our friends and family have all commented on how beautiful they are. We liked Brittany so much that she is taking our family photos for Christmas as well. We cannot say enough good things about her!

Jen G.

Married on 09/21/2018

Brittany is the best!

I'm amazed with with how my pictures came out! Every time I think I find a favorite another one pops up. Brittany and nikki were so easy to work with and she made sure to get all the pictures I wanted! NEW BRIDES I highly reccomend brittany!

+ 5

photos

Amanda

Married on 09/15/2018

Don't look any further!!! Love love love!

Brittany was by far the most amazing person to work with. She is so organized and made all my wedding planning so easy. She takes away all your stress on your wedding day the minute she walks through your door with her big warm smile. I adore her! She is always very prompt with emails and answers almost instantly. She is always so sweet and personable and makes you feel so comfortable. I love every single one of my photos! She captured every moment perfectly and we got all our entire album super fast! I can't wait to use her for future life events. Brittany is is no doubt the best photographer around!!!

Melanie T.

Married on 09/08/2018

Best Photographer out there!

Since the first time we met with Brittany, we knew she was going to be amazing to work with. For us, wedding photography was going to be one of the most important pieces of our big day and experience – after all, these capture the moments and are what you save to share the memory with family and friends FOREVER!

Our entire experience with Brittany was amazing! Brittany always made herself available to discuss even the smallest of questions and details, offered suggestions, and helped to plan a flawless day. My now husband and I have very busy work and personal schedules, and it made "sticking to a schedule and deadlines" somewhat of a challenge, but Brittany worked through this with ease. She considered our budget, what was most important to us, and executed the best experience. On top of it, she made EVERYONE in our wedding party feel comfortable and like she was part of the group – this helped to capture the best memories of our entire day. I am so pleased with our photos and look forward to any future opportunities to work with Brittany and team!


Jessica I.

Married on 09/01/2018

Great experience & beautiful results

Brittany is simply the best. So easy to work with, really knows her stuff, and produces beautiful results. We love, love, love our photos - but also love that the experience was so positive. She's extremely flexible and nothing throws her off her game, even on a hectic wedding day. We're so grateful that we had her as part of the team and that we have our memories captured so beautifully.

Molly

Married on 07/28/2018

Perfection

We couldn't have asked for a better photographer for our wedding day. Brittany captured our day flawlessly and was awesome to work with. She was organized, professional and has a bubbly personality that our entire wedding party and family enjoyed being around on our special day. The photos came out perfect and she captured everything we asked for and more. She also made our gallery available very quickly and even included a bonus slideshow. I would definitely recommend Brittany Bekas Photography!
Are you interested?
Send a message