27 Reviews
Recommended by 100% of couples
Quality of service

5 out of 5 rating

Average response time

5 out of 5 rating

Professionalism

5 out of 5 rating

Value

5 out of 5 rating

Flexibility

5 out of 5 rating
Awards
24 User photos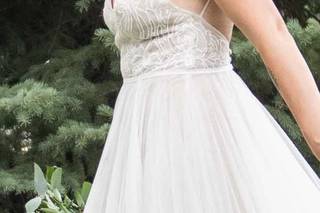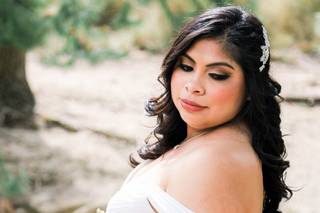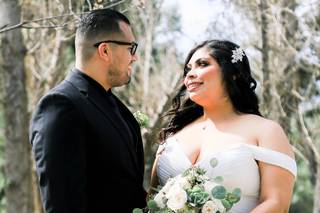 + 20

photos
Katie D.

Married on 09/30/2022

Brianna Is Your Gal!!

First, let me preface this review with a disclaimer that I am ridiculously picky about make-up. I'm fairly certain I stalked every CO make-up artist there is and through my investigative work, I found Brianna. I'm so grateful she has a great online presence and showcased her amazing work, otherwise, I don't think I would have found her. I was so excited to meet her in person for our trial. After our trial, it was confirmed Brianna is THE REAL DEAL. Her work is flawless and on top of it all, she has the warmest and most inviting personality. She made me feel comfortable and beautiful immediately. Her knowledge of how the make-up will photograph really impressed me, as well. I think it's important to remember how things will read in a photograph and I felt so confident we nailed it. Skincare is also a big deal to me and I really appreciated her approach to prepping the skin prior to applying the make-up. My wedding morning was fantastic with her and all of my bridesmaids were in love with their make-up. I loved my bridal make-up so much and felt truly beautiful that day. If you are looking for professionalism, years of industry experience, and an all-around beautiful person inside and out to do your make-up for your special day (or any day!), look no further. It's Brianna. Can't recommend her enough

Brianna Macias & Company's reply:

Absolutely adore you! You have been a dream to work with and I'm just sad it's "over" even though us working together is just the beginning! p.s. welcome back from your honeymoon, I may or may not have been living vicariously through you lol xo, Bri

Carissa R.

Married on 10/16/2021

Brianna is a skilled professional! She made me look and feel amazing!

Brianna did my makeup for my wedding day. After rushing about playing wedding coordinator all morning, I walked into the room to find Brianna set up with an organized spread of brushes, products, and beauty tools. Everything was so clean and organized. She asked me if I had reference photos of how I wanted my makeup, what style I was going for, and if I had any concerns. Brianna focused on hydrating my skin prior to applying makeup. It was calming and refreshing. She asked me a few questions and before I knew it, I was the most flawless bride I could have imagined. My make up lasted all day and night and didn't feel heavy on my face. Brianna is the professional you should hire for your wedding day! You won't regret it!

Brianna Macias & Company's reply:

Thank yo so much Riss! Can we go back to the best day ever?! Such a love -filled day! All my love to you and Sal. xoxo

Felicia M.

Married on 08/21/2021

Book her for your wedding!

BOOK HER FOR YOUR WEDDING!!! Brianna was incredible to work with! She did my makeup for my wedding and I cannot say enough good things about her work. I have never felt so beautiful but also so much like myself! I showed her inspiration pictures and she took it over from there, I'm so glad I trusted her with my big day! She also did my entire wedding party which consisted of older women and younger girls and she knew how to balance the challenges that came with both. Brianna was able to accommodate last minute requests and any changes to lashes, lips, ect. I was so happy with her services! She's the only MUA I'll use now. As a recently married bride the best advice I can give is to BOOK BRIANNA!

Brianna Macias & Company's reply:

THANK YOU FELICIA!! Ahhh I love what I do because of brides like you. A day full of 10 faces can be long but you all made us (team) feel like one of your own which is such a huge compliment. All my love! xo, Bri

Are you interested?

Send a message

Emily M.

Married on 07/31/2021

Brianna was fantastic! I've never felt so pretty in my life.

I have only good things to say about Brianna, I did a trial run on my make up for my wedding and absolutely loved it, but when my husband let me know he thought it was "a little too much " on me )because I typically don't wear a ton of make up), Brianna was so accommodating and just toned it down a little for our wedding day. I have never felt so pretty, and I am so grateful to have found such a wonderful artist.

Brianna Macias & Company's reply:

I love that together we were able to create your perfect look, loved by you and your hubby! Thank you again for including me on such a special day! xo, Bri

Katherine N.

Married on 11/14/2020

Talented, Professional, Classy

Brianna was recommended to me by a good friend. I messaged her and right away I noticed she had great energy and a positive attitude. The pricing was very clear and straightforward, no hidden fees or up charges. Everything was laid out in the contract so you knew exactly what you were paying for. She happily answered all of my questions and her response time was quick.

I met Brianna's team artist Melissa during my preview and her friendliness, professionalism, and talent sold me. I didn't know what to expect since I've never had my makeup done professionally, but she showed up with a cool chair, every shade of makeup and tools/brushes possible, and even her own lighting.

Brianna sent me pre-wedding skin tips and followed up with me throughout the entire process, from booking up until the night before my wedding, even afterwards. She is extremely thorough. The day of, everything went according to plan. 4 of us had our makeup done and we were ready exactly when we were supposed to be, everyone loved their looks! I was so happy with my makeup, it was everything I asked for and more, I felt so beautiful. The entire experience was flawless and stress-free. I couldn't have asked for more from this company, Brianna goes above and beyond for her clients. Thank you for making my wedding day extra special!

Brianna Macias & Company's reply:

Thank you for making our week! It was truly our pleasure to work with you on YOUR SPECIAL DAY! xoxo Bri

Athena F.

Married on 12/30/2019

I never felt so beautiful!!

I was lucky enough to have Brianna Macias do my proposal makeup! My boyfriend (now fiancé) contacted Brianna to do my makeup on the day that he planned his proposal. He had planned this elaborate day in secret, and with the help of Brianna to do my "dinner makeup". I didn't realize she was preparing me for proposal photos! She asked what I was wearing that night and my normal makeup style. Brianna was a delight to work with, she helped me feel comfortable and left me genuinely happy. I absolutely loved how my makeup turned out! Her makeup application was flawless and beautiful. And though I ugly cried as I saw him on one knee... my makeup stayed in tact and continued to looked amazing. Loved my makeup so much that I booked with Brianna Macias and Company to do my wedding makeup!

Brianna Macias & Company's reply:

One of my favorite memories ever, so happy I could be a small part of it (I'm not crying...). I love your love story! xo, Bri

Ioana

Married on 12/08/2019

Amazing Photography

Brianna's style, vision and talent are truly breathtaking and her gift in
capturing every detail has always amazed me and left me in awe. If you're
looking for an amazing makeup artist with a passion for her work look no
further than Brianna! I highly recommend her as you will cherish them for a
life time!

Audrey A.

Married on 10/26/2019

Just amazing!

Choosing Brianna as the makeup artist to use for my wedding was an easy and amazing choice. She was highly recommended by my maid of honor, who was a former client. We were beyond happy with using her for my wedding. Brianna was very quick with responding to emails and happy to answer all questions I threw at her. The bridal preview was a fantastic look into how the big day was going to go. I have had my makeup done several times but I have never felt more beautiful and like myself than after seeing my makeup done by her. The day of the wedding, Brianna was prompt, ready to go, and had her time well managed for all the girls and myself to be done on time. We all looked so great and could not have done it with out her. She is awesome and definitely recommend you look into having her as your makeup artist for your Big Day or other occasions. She is very to easy to work with and a talent you will appreciate.

Anne G.

Married on 10/26/2019

Best makeup ever!

Brianna is a joy and a talent! I've been honored to have her do my makeup as a bridesmaid twice now. The first time she did my makeup, I walked by a window and the beautiful woman on the other side caught my eye. I then realized it was a mirror & couldn't believe that I was looking at myself! She accentuates all the good things! I will count down the days until she was able to work her magic on me again.

Brianna Macias & Company's reply:

Thank you for making my day with this story & review! Absolutely love doing your makeup! Can't wait for next time :) xo, Bri

Yazmin

Married on 09/28/2019

Best in the Biz

Brianna is truly one of the best in the business. She a true professional; responds in a timely manner, is always punctual and ready to do work her magic. She is always my go to when needing my makeup done for events. I'm excited to be working with her for my big day next year!

Brianna Macias & Company's reply:

Being a part of your destination wedding in Yosemite was hands down one of the best moments in my career, thank YOU for including me! xo, Bri

Diane A.

Married on 08/10/2019

Brianna is a gem!

I first heard of Brianna through a report on KTLA about a group of vendors who got together to provide free services for an Orange County couple who had put their wedding on hold in order to pay for their daughter's cancer treatment. I looked for Brianna on Instagram to see more pictures and I was amazed by her work. Everyone in her pictures looked beautiful and I wondered if I would have that same glow if she ever did my makeup.

When I got engaged, I knew I wanted Brianna to do my makeup for the big day. I contacted Brianna and we set up a preview. She was very professional yet so personable. I showed her different looks I liked and she knew exactly what to do. I expressed to her that I don't ever wear false lashes and that I feel like a clown when I wear too much makeup so during the preview she showed me everything she was doing and constantly asked if I liked it or if I wanted to go darker or more subtle and she also suggested we try the lashes during the preview to see how I liked them. I loved the final look and I was less nervous about the big day because I knew if something went wrong, at least my makeup would look good!

On the wedding day, Brianna also did makeup for my sister, my mom, and my best friend. They all looked GORGEOUS and they all loved their makeup! Brianna even gave each of us a touch-up kit for the day. My makeup did not get oily and it stayed put and fresh throughout the entire night (in hot July!). It looks so good in the pictures we've received and in our wedding video. One of my favorite parts of my wedding day is when Brianna finished my makeup and she took a final look at every angle of my face- she smiled at me and I could tell she was proud of her work. This made me feel so beautiful!

Brianna is a gem inside and out!


Brianna Macias & Company's reply:

THANK YOU to one of the sweetest brides I have ever met in my career! I am so grateful to have worked with you, thanks again for the sweetness, your kindness, and your review that brought tears to my eyes! xo, Bri

Angelica S.

Married on 07/26/2019

So talented and sweet

I've had Bri do my make up several times when i was a bridesmaid so it was definitely a no brainer that she would be doing my wedding make up. She is so talented and always goes above and beyond. She is always on time and ready to make you feel beautiful.

Brianna Macias & Company's reply:

Your destination wedding near Sequoia was one for the books! Thank you so much for always including me in life moments! xo, Bri

Brittany

Married on 06/22/2019

Brianna is incredible!

Brianna Macias is the best makeup artist I have ever worked with. She is incredibly professional and does such great skin prep that your skin looks flawless. She is worth every penny, and stays on schedule. Everyone in my wedding party was impressed by her skills and made the young and mature look equally beautiful. I've used other makeup artists for other weddings I've been apart of and none were as high quality as Brianna. She knew I had to do my own makeup for an event and gave me some sample products to aid me in doing my own makeup. I will use her again for anything I need my makeup done for and recommend her to anyone else getting their makeup done. She is sweet and thoughtful with her touch up kits and thank you cards. Absolutely a pleasure to work with her and I felt so comfortable with her and trusted her completely on my wedding day after my trial run. Because of how many people getting their makeup done, we didn't have enough time to get ready at the wedding venue, so she met me there after everyone's makeup was done to do some faux "getting ready" shots. She goes above and beyond for the brides she works with and I cannot find enough words to express how exceptional her work truly is.

Brianna Macias & Company's reply:

So grateful to work with crazy cool brides like you! Thank you so much for trusting me on your wedding day!! xoxo

Ana

Married on 06/01/2019

I loved Brianna!!!

Where do I start? Brianna was the sweetest and made sure to ask exactly what we wanted and everyone's makeup turned out beautifully and perfected it to every skin tone. She was patient, kind, professional and I couldn't have asked for a better person to have done our makeup on our special day. I highly recommend her for your events! Thanks so much Brianna!

Brianna Macias & Company's reply:

Thank you so much for the love Ana! Your wedding was one to remember and I'm so grateful to have been part of it - thanks again!

Sarah J.

Married on 05/19/2019

Amazing in all areas

Briana has done my make up for all my big life moments as an adult. She did my make up for my engagement photos, wedding party, and graduation from graduate school. It never fails that I get sooo many compliments. She goes above and beyond. She arrives on time and is prepared. She communicates everything up front and is very professional. The best part, besides her talent, is her sweet personality. She genuinely cares and is so supportive. Not only is her makeup great but so is she.

Brianna Macias & Company's reply:

Being there with you for so many milestones is a constant reminder of why I love doing what I do. Your heart is unmatched and I'm so happy to know you! xo, Bri

Samantha

Married on 04/13/2019

I've gotten my make up done by Brianna several times, she does an amazing job!! I booked her for my sister's wedding. Brianna did my sister's, my mom's and my make up and we all looked great thanks to her! My sister loved her make up and felt beautiful on her big day!
She was so great, I booked her for my engagement shoot. She did airbrush for that and O.M.G... I loved it!!! It was flawless! So of course, I booked her for my big day coming up in April. I'm so excited to see what I'll look like! She's super professional and always on time. Book her, she won't disappoint!!!!

+ 2

photos

Brianna Macias & Company's reply:

I am so honored to be invited back for so many special moments in your life. I'm glad that you enjoyed the airbrush service for the first time - such a treat right?! See you soon for more special occasions!

Heather F.

Married on 02/23/2019

Absolutely Flawless!

Where do I even begin? I absolutely cannot tell you anything other than USE HER! She is incredible. We had a slight mishap on the day of my wedding which was in no way her fault, my venue put her at the wrong ceremony site, but like an absolute professional Brianna got to me and exceeded my expectations. I never even met her before my big day and she had me looking flawless. She listened to what I wanted and made me feel like an absolute queen, so much so that when I finally got to see her work on me I almost cried it off. She is an absolute god send and a master at her craft. I recommend her to everyone for everything! She is definitely my go to for any future events and I cannot stop raving about her. She's literally the best!

Brianna Macias & Company's reply:

Such a memorable day, THANK YOU for choosing me to be there for the glam process! You were a joy to work with on your wedding day and leading up to it, you rock! xo

Julie

Married on 09/22/2018

Highly Recommended

Thank goodness I found Bri!!

I booked her for my last minute engagement photo session and also for my wedding. During my trial bridal session with her, she really spent the time to get the right look for my wedding. At no point in all my sessions (engagement, trial, wedding) did I feel like she was rushing and she really made it feel special.

On the morning of my wedding, she arrived promptly at 5 AM ready to rock and roll. She is sweet and easy to talk and did a great job! My skin glowed in the engagement and wedding photos and can't recommend her enough.

Don't hesitate, book her now!

Brianna Macias & Company's reply:

Julie, you truly are a gem! Connecting with you across the coasts during the booking process was fun and then meeting you for all of your special moments was even better! I hope it won't be the last time! xoxo

Ivania

Married on 08/11/2018

Brianna was recommended to me by my photographer and I am so happy that she was able to do my makeup for my engagement pictures. She is an absolute sweetheart and I would absolutely recommend her to anyone! I had so much fun talking to her while she did my makeup. She was also able to bring to life the natural look that I had envisioned and for my fiance to say that I looked absolutely beautiful was priceless! During our engagement photo session I was sweating a lot and was surprised that my makeup held up extremely well! Thank you so much Brianna for bringing to life the look that I had envisioned.

Brianna Macias & Company's reply:

Thank you for the kinds words Ivania! I'm so glad that we were able to connect through one of our favorite "friendors!" xo,Bri

Ceora

Married on 08/10/2018

Absolutely Amazing!!!!!! Brianna did my makeup for my wedding in August. Found her through yelp and emailed her for a quote for myself and bridal team. She was less expensive than the other MUA I found around the area. I decided to book her. She made things so easy. Payments were over Venmo, sent me the contract via email, and she was very understanding when the contract needed adjustments for the special day. My make up trial went so smooth and she did a wonderful job! I don't wear makeup and was scared it was going to be too caked on, but she did it perfectly!! Lightweight and beautiful!!!! The day of, she came on time and my whole bridal team and myself were very pleased. I wish I could hire her everyday to do my makeup!!!!! I absolutely LOVE Brianna!!!!!! you'd be making a mistake to hire anyone else!

Brianna Macias & Company's reply:

You and your girls were a dream to work with, thank you so much for the opportunity! xo, Bri

Anthony L.

Married on 02/24/2018

Thank You Brianna!

Brianna is a great make up artist!
Everything about her is beyond amazing!
I really enjoyed her professionalism and work ethic.

I look forward to booking Brianna in the near future.


Brianna Macias & Company's reply:

Thank you for sharing such kind words! I really enjoyed working with you too and hope to work with you again!

Jasmine

Married on 01/13/2018

Brianna is everything you want in a makeup artist! She's puntual, professional, friendly, and does an amazing job with her makeup skills. I didn't even want to take off my makeup at the end of the day, because I had never felt more beautiful in my life. I found her on Yelp and I'm glad I did. If anyone needs a makeup artist I would highly recommend her! My bridesmaids, my mom, and myself of course, couldn't stop taking pictures of our gorgeous makeup. Brianna is the best!

+ 2

photos

Brianna Macias & Company's reply:

THE Princess Jasmine, it was an honor to be a part of your glam team on such a special day. Thank you so much for the sweet words! xo, Bri

Rosa

Married on 12/30/2017

Brianna is simply amazing in what she does! All my bridesmaids makeup looked amazing and they loved it. She gave them exactly what they asked for. Not only is she a super talented makeup artist she is super kind! I absolutely love her and recommend everyone to book her! She's super professional and will not let you down!

Brianna Macias & Company's reply:

Rosa, thank you so much for having me be a part of the glam team for your bridal party! xo, Bri

Aurora

Married on 12/02/2017

Amazing experience

So I have a great story I would love to share about Brianna and her passion for making people feel beautiful with her gift as a MUA. I got married last year in December 2017.
My now husband and I had the big wedding planned for the year prior but unfortunately our daughter who was in remission from her battle with leukemia relapsed and all plans were canceled. We learned about a treatment at the Children's Hospital in Philadelphia which requires for us to travel from SoCal to Philadelphia every 3 months and the wedding was just not something we could do or think of at the time. Fast forward to a few months later and after spending the entire summer of 2017 in Philadelphia, the treatment in Philadelphia was working and our daughter was in remission again and was feeling great! My husband and I decided it was time to get married as our daughter was feeling great & figured there was no better time than now, except this time we would NOT do the big wedding and maybe just get married at the court house. We called a friend named Jessie, who is a wedding photographer, and asked if she was available to do some photos of us at the court house in the next two months. She said of course! The next day she said I told people about your story, and one of those people was Brianna. She told me that Brianna heard our story and volunteered to do the makeup for our wedding. After that things escalated and the word spread out.. Brianna along with Jessie and other wedding vendors got together, the next thing we knew was that we were having the wedding of our dreams! In the two short months of our now big wedding planning Brianna went out of her way to reach out and ask what the bridesmaids were looking for and had a schedule ready for everyone.. I did not have to worry about it at all.. she made everything so easy and stress free. The day of the wedding Brianna was so wonderful .. we all talked and laughed .. and she made every single one of my bridesmaids look and feel beautiful (including my daughter Eva!) everyone in my wedding loved Brianna! I can't express enough how great she is and I will never forget what she did for me and our entire party. I HIGHLY recommend Brianna as she not only has a big heart and truly cares about her customers, but makes them look fabulous!!

And just in case some of you are wondering about my daughter, she is 1 year cancer free and doing great :)


+ 3

photos

Brianna Macias & Company's reply:

Your family will always have a special place in my heart, especially Eva! Thank you so much for supporting us! xo

Desiree A.

Married on 07/07/2017

Excellent, professional and friendly

I have booked Brianna many times to do my make up because she is amazing at what she does! I love her work so much I have referred over to my friends and family members, and they all have loved her work as well. She has made us all feel and look so beautiful! Not only is she professional and punctual but she is so very sweet and friendly. She is my go to make up artist and Id recommend her to anyone wanting to look natural and beautiful on their special day, she's the best of the best!
Are you interested?
Send a message