25 Reviews
Recommended by 100% of couples
Quality of service

5 out of 5 rating

Average response time

5 out of 5 rating

Professionalism

5 out of 5 rating

Value

5 out of 5 rating

Flexibility

5 out of 5 rating
Awards
14 User photos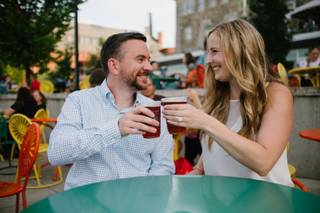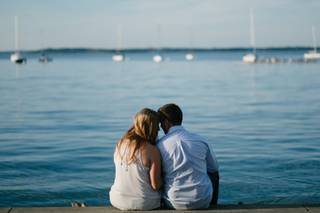 + 10

photos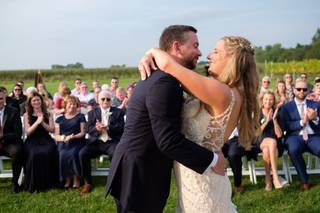 Deisha S.

Married on 09/20/2019

Absolutely the best!

Choosing Brian as our wedding photographer was such an easy decision for us. The moment we started looking through his portfolio we knew that he was the photographer we wanted to capture our wedding day. I wanted to work with someone who saw the moments most don't see but love to remember. But it's easy to see how talented he is from his work so let me explain why he was the best choice for other reasons. First off, his responsiveness and flexibility are unparalleled. My partner and I live in CA but were planning our wedding in WI and also wanted our engagement photos shot in WI. We planned to come during the summer for our engagement photos. Unfortunately, the week we were planning to be there was filled with storms and rain. The week leading up to the day, Brian was so good about checking in with us, reporting on weather, and reviewing back up options with us. On the day, the forecast was showing that it would be clear but a couple hours before our meeting time, the storm clouds rolled in. Brian was already on his way to Madison but was so kind about rescheduling since all of our photos were intended to be outside. He was so flexible and made himself available to us knowing that we lived out of state. We ended up shooting the engagement photos the week of our wedding which ended up being a really great way to kick off our wedding week! Plus, we really got to know Brian and felt so comfortable with him later in the week for the wedding day.

He delivered on every expectation (to be honest, exceeded all expectations) at our wedding as well. He's incredibly humble, fun to be around, and makes intimate moments with you and your partner plus a photographer not as awkward. We were so impressed that he delivered both our engagement and wedding photos exactly one week after our wedding. The photos were incredible and we couldn't be happier with them. We love so many that we're having a hard time deciding which ones to print because they're all so amazing!

We highly recommend Brian and can't wait to partner with him on another moment that we'd like to capture!

+ 5

photos

Jessica O.

Married on 07/14/2018

Would Recommend Brian to Anyone!

Brian truly did such a great job with our wedding and engagement photos. He by far was one of our favorite vendors to work with. He was so flexible on the day of our wedding. Also he even stayed an hour longer for us when we asked him at the end of the night. We loved how is photos were more about capturing the moments rather then posing too much. It felt more natural. Overall, great experience and the photos turned out amazing!

Kristin

Married on 10/21/2017

I could not have been happier with my experience working with Brian from start to finish. He was very easy to get a hold of and answered all of my questions before I signed my contract. He had a thorough questionnaire during the planning phase that covered all the key information and details and even let me submit my photo wish list (i.e. every photo combination I wanted for family and bridal party photos). Brian responded to emails in a very timely manner both up front and in the weeks leading up to my wedding.

On the day of, Brian and his assistant were very friendly and polite. They gave all of us space, but made sure I was getting all of the pictures I wanted. He followed my picture wish list and we got all of the pictures I wanted and then some. Brian made suggestions throughout the day and was not pushy. He was the ultimate professional. I never noticed him during our church ceremony, but the pictures from the ceremony were amazing. He also took a lot of beautiful portraits of my guests during cocktail hour.

Lastly, the pictures came within two weeks of our wedding day. The pictures are on a website and a flash drive was mailed to me. I could not be happier with my pictures. They are very natural, not photoshopped or forced, and are beautiful. We got all the shots we wanted and had a really hard time picking pictures to print because there were so many great ones to choose from. The pictures on his website are representative of the pictures we received from our wedding.

I would recommend Brian to all of my friends and would be happy to use him again.

Are you interested?

Send a message

Tailyr

Married on 09/09/2017

Brian was wonderful to work with! Always professional and was so great at making us fee comfortable with him!

Susan

Married on 08/26/2017

Any couple would be lucky to have their wedding photographed by Brian Milo Photography. He's professional, organized and very talented. He takes time to listen to the couple and works hard to deliver beautiful photos. The images we received included all of the traditional shots. He executed those quickly and efficiently and made everyone comfortable while he worked. Capturing candid moments is where Brian really excels. He has the rare ability to see those special, small moments and the skills to know how to best photograph them. You spend so much time planning for a day that goes by way too quickly. Brian's images are what will stay with you forever.

Kolver

Married on 08/13/2017

We could not be happier with the incredible job that Brian Milo did for us! The photos were all that we hoped for and more. The candid shots he took were amazing. We loved that they captured the raw emotion throughout the night. One of the major reasons we booked Brian was because we fell in love with the candids in his portfolio, and he did not disappoint for our wedding! His calm demeanor along with his energy and passion for his work were apparent at every moment. It was clear that his number one priority was for us to enjoy our day. Him and his assistant were always moving trying to find the perfect shots. One of the comments we heard repeatedly with enthusiasm was that our photographer was "everywhere!" It was clear that he was going above and beyond to make the photos a wonderful addition to our special day. I could go on for much longer with all the great things I have to say about Brian and his work, but just know that he is the right photographer for you!

Codelyn

Married on 07/08/2017

Brian Milo did an amazing job with our wedding in July 2017. He is so flexible and willing to do what ever will make you happy. I could not be happier with how my photos turned out. I have gotten so many compliments on the pictures and the quality. His photos are like no other. I'm so happy I have these pictures to relive my special day for the rest of my life!

+ 2

photos

Hilary

Married on 04/08/2017

Brian got back to me very quickly when I initially reached out to him about looking for a photographer. We set up to meet a few days later. He was on time and professional for all the interactions we had. He has a very relaxed personality and offered help and suggestions on anything having to do with the wedding. If you are looking for someone to capture your entire wedding day including all the little moments that may be forgotten Brian is the right photographer for you. Not only do you get the beautiful portraits but you get raw, organic, candid shots that exude the roller coaster of emotions that your wedding day is. I can't say enough nice things about Brian he really knows what he is doing. His photos speak for themselves but if you have any questions feel free to ask.

Aaron

Married on 09/10/2016

From the time we hired Brian as our wedding photographer we were nothing short of impressed. He was incredibly professional and personable, discussing his style of photography while incorporating our thoughts and desired photos for "our big day". He thoughtfully asked for our tentative schedule, particular images we wanted, and the even the names of "key" persons included in our day. With this simple "plan ahead", he and his team knew who were the most important people to us on our wedding day so he (they) could identify them and refer to them personally by name, making them comfortable with their presence. No wedding will ever go as planned perfectly, as any person should know. Their knowledge of key people, times, and other details made Brian and his team incredible flexible for the inevitable changes. For example, my wife (to be) was having a challenge getting all of her family together for pre-ceremony pictures, so wh ile waiting, Brian came and photographed me, the ring barer, and one of my groomsman throwing a Frisbee around killing time, while his associates got the desired photos. The images showed the true essence of the moment. I will be honest, I do not remember seeing him or his team during the ceremony itself. They were all so respectful and conscientious of the importance for that time that we didn't even realize they were there. Only after seeing the final images did we realize they did phenomenal work!! After the ceremony, Brian met us at park for outdoor photos. He and his crew had the necessary equipment to manipulate the natural light to create AMAZING outdoor images. Following that session we arrived at the (not very well-lit) reception hall. The images Brian and his crew were able to capture in such a low-light setting were astonishing to say the least. The pictures of "our first dance", "daddy-daughter", and "mother-son" were absolutely perfect . Every experience we had with Brian was excellent. His professionalism, friendliness, flexibility, a

Mary

Married on 09/04/2016

Brian was a pleasure to work with. He was able to capture the feel of the event as well as the important shots. Very professional and polite.

Elizabeth

Married on 07/30/2016

From the moment my husband and I met with Brian Milo, we knew we had to have him as our photographer to capture our wedding day. He has such a unique style when taking photographs and I was extremely impressed. Brian went out of his way to meet with us at our wedding venue in Lake Geneva to discuss locations for where we could take our wedding day photos prior to the wedding day. On the day of our wedding, Brian made sure to incorporate his unique style of photography with other "must" have photographs that I had requested. Also, Brian arrived early (and even stayed later then he was supposed to), was extremely organized, and made sure that everything ran smoothly with all of the family and bridal party photos by knowing the "key" people we had to have photographs with on our big day. I was (and still am) amazed at the priceless "moments" that he was able to capture, which were unbelievable!! Brian and Greg will literally go above and beyond to capture the perfect picture by climbing walls, trees, and bushes. The day that we returned from our honeymoon, a link to our online wedding photographs was emailed to us. We were extremely impressed that he had our wedding day photographs ready by the day we returned from our two week honeymoon. My husband and I would highly recommend Brian and Greg!

Melinda

Married on 06/06/2016

You did such an amazing job, Brian! The compliments we receive are endless! I've had people come up to me recognizing our photos to tell me what a gorgeous wedding we had. I don't have to words to thank you enough for capturing our happiness perfectly. We are forever grateful!

Meagen

Married on 06/04/2016

Is it possible to give more than 5 stars!? Brian was absolutely incredible his pictures tell the story of your wedding. His candids captured the little moments that we missed and instilled the moments we wanted to freeze in time. When reviewing the photos I laughed, I cried, the pictures brought out every emotion they held. I loved every single one. He was so amazing to work with so professional, friendly, talented and punctual. Everyone loved him even our incredibly shy flower girl. If you book Brian you will get more than you ever could imagine!

Bryanne

Married on 05/29/2016

Brian was very proffesional and so much fun to work with! Everyone at our wedding was complementing how they loved our photographers..the wedding was still happening. We then received our photographs so quickly and they are wonderful, I was honestly speechless! Brian was very creative and captured so many candid moments that we have truly enjoyed looking at over and over.

Sarah

Married on 07/31/2015

Choose Brian! He is one of the very best in the northern Illinois area, and we are so happy that he was the one to take our wedding photos. He was fun, professional, and accommodating, and we are so happy with the photos we received.

Brian Milo was awesome, and so was his partner in this shoot, Brian Adams.They were extremely personable, creative, and fun to work with.

Brian shot for my wife and I's wedding in 2014. He is unlike your traditional wedding photographer meaning he doesn't group everyone together to capture the same old boring poses. Brian captures the moment. My wife and I are still in awe every time we look back at our wedding photos. It is as if we always find something previously not seen, such as the face of a loved one in the background. It is these moments that keep our special day living forever .

Melinda

Married on 06/14/2014

Brian is a truly talented and delightful photographer! He's documentented some major milestones in our lives. Our engagement and wedding photos, family portraits, and his latest work of my grandparent's home. His photos capture memories that will stay with us always. We greatly appreciate his work.

Melinda

Married on 06/07/2014

Brian is a truly talented and delightful photographer! He's documented some major milestones in our lives. Our engagement and wedding photos, family portraits, and his latest work of my grandparent's home. Brian's laid back personality and creative eye makes him the ideal wedding photographer! His photos capture memories that will stay with us always. We greatly appreciate his work.

Ben

Married on 05/23/2014

Brian Milo...Wow! is really where I want to start. Brian was able to capture our wedding in the most beautiful way imaginable. It's like, I gave my closest friend a camera and they walked around taking pictures of all the things we spent that year planning out and all of the friends and family that mean so much to us! The minor details that are so easy to overlook to someone else, Brian was able to capture. The little moments that we missed as we were walking around and talking to friends and family, he caught. Moments that are fleeting on your wedding day but, are what truly made the day so special, we have. Our pictures didn't come back to us looking rehearsed and formal, they came back fully capturing the beauty of the day with everyone and everything that was a part of it. When we sat down with Brian to book the wedding, I knew we were going to get something special but when our pictures were given to us, I was finally able to grasp what that really meant. We have a collection of photos that will be with our family forever. The pictures still invoke the emotion of the day and they're now priceless to us ..that's what you truly get with Brian. He's not just another wedding photographer, he's an artist in the highest sense of the word and I cannot give him enough of a recommendation.

Heather

Married on 05/17/2014

Brian is professional and very easy to work with. We would highly recommend him. He surpassed our expectations! Our photos are amazing!

Brian was extremely helpful throughout the planning process. If I had any questions for him, he was just a text, phone call, or e-mail away. He is so easy going. He made us feel comfortable in our engagement photos, as well as with our wedding day photos. He is very personable and does an amazing job. He was able to get our photos to us within a little over a week. Our wedding party, family, and guests enjoyed him and his assistant Greg a lot. They made it fun and relaxing and we were able to enjoy our day without feeling like a camera was in our face.

Jesse

Married on 08/11/2012

Brian was AMAZING!!! His pictures are genius and his turn around time is phenomenal! He had the link in my emails the day we got back from the honeymoon. Talk about impressive. The pictures were so amazingly breath taking. I am not a model but in those wedding pictures I look and feel like one! He was so creative and I cannot pick a favorite out of the hundreds of pictures. He made my wedding unforgetable. I would definitely recommend him to all future brides!!!!

Melissa

Married on 07/14/2012

Brian was 100% on every aspect of service and professionalism. He provided us with breath-taking beautiful photos that I will treasure for our lifetime. I could not be more pleased with his services and creativity. THANKS BRIAN!!!

Mary

Married on 06/23/2012

AMAZING!!! STOP NOW & SIGN THE CONTRACT!!! If you are lucky enough to hire Brian for your wedding you have just won the photography jackpot!!! I cannot say enough great things about Brian and ability to give you the best memories of your day. He worked so hard for us on our wedding day! Brain shot my wedding on June 23, 2012 and I am so impressed on how he captured the essence of our day and every emotion that went with it. I have so many amazing photos to choose from - yes that may be your only issue is that when you do get your photos back good luck choosing your favorites because they will ALL ROCK! The time frame that Brian turned around my photos was so quick and he asked if I wanted to do my own album or if he could have the first shot at it…once again Brian blew me away with how he put my album together. At the end of the day all you will have is your photos; it is the one area I urge you not to skimp on. I will treasure to my death the gift that Brian has given me by helping me preserve the memories of the best day of my husbands and my life! Please feel free to contact me if you have questions. I highly recommend Brian for your wedding or any other special event that you will want memories of. I will use Brain again for family photos or any other events. Brian THANK YOU so much for capturing the memoires of our wedding, the gift you have given to us is truly priceless!
Are you interested?
Send a message