Reviews
5.0 out of 5 rating
Quality of service

5 out of 5 rating

Average response time

5 out of 5 rating

Professionalism

5 out of 5 rating

Value

4.9 out of 5 rating

Flexibility

5 out of 5 rating
100%
Recommended by couples
Awards
1 User photo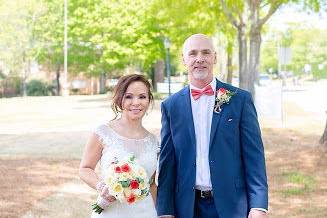 Melissa

Married on 08/11/2019

Brent was the finishing touch!

Brent showed up, found himself a spot and helped set the "stage" for our intimate courtyard wedding. I gave him a list of a few songs we liked and he took it from there. His talent and song choices helped maintain the mood of exactly what we were trying to achieve. He exceeded our expectations!

Trey S.

Married on 04/20/2019

Perfect for any wedding

We could not have had a better experience. He's super experienced and made us feel comfortable. Price is affordable for all that he offers. Great communication throughout the process. He was flexible and even made wedding announcements and introduced the bridal party. The trio band played flawlessly, it was perfect. Highly recommended, 5 stars!



Steve

Married on 04/21/2018

Brent performed at both our wedding ceremony and reception. First of all, Brent is extremely reasonable on his prices.. But above that, we could not have asked for a better person to work with. Brent has a wide range of playlists but if there are songs you want that he is not familiar with he learns then plays them like he's been so going them for years. He is extremely responsive as this is very important when getting ready for a wedding. My wife and I HIGHLY recommend Brent for any event that you have planned. He did an amazing job and our guests loved the music that he played.

Steve and Lucy Edwards

Are you interested?

Send a message

Erika

Married on 10/28/2017

Brent did an amazing job at our wedding! He really helped make our day special. Brent was able to play all of the songs requested and more. He was flexible at the reception and kept it lively. I would highly recommend him for any wedding or event!!

Jessica

Married on 10/14/2017

Brent was amazing from start to finish. He was quick to respond to every email and helped me feel confident that everything I envisioned for my ceremony/cocktail hour music would come true. He learned 3 new songs for our ceremony and everyone keeps talking about how amazing he was. I would use his again 10/10 times!

Brent McDonald Music's reply:

Jessica,

Thank you so much! I really had a great time and as I said before, it was one of the most beautiful weddings I've done! Great job as I know that was a TON of pIanning! I wish you both all the best in your new journey together!

Jennifer

Married on 08/26/2017

Perfect Party Musician!

Brent was absolutely perfect for a recent engagement party we hosted! He was easy to communicate with when planning pre-event, timely, organized, and friendly. The music was amazing! He is so talented and has an excellent playlist for a fun, laid-back event. We couldn't have been happier with our musician selection!

Brent did a fantastic job. He is a true professional. I would definitely recommend him to all my friends. Many guests at the event were interested in booking him for their own events.

Jessica

Married on 05/29/2016

Brent was extremely professional showed up on time, delivered exactly what we were hoping for, and we all enjoyed his music. True talent and perfect businessman. Thank you so much for making my daughter's engagement party so much fun.

Sandy

Brent provided the most sensational reception music at our son's wedding held at The St Regis in Atlanta. During dinner we heard very positive comments from our guests - one said it sounded like we were at a John Legend concert during dinner. After dinner the music was perfect for dancing - so great, all of our guests stayed until midnight to dance. Outstanding professional - highly recommend.

Matthew

Married on 10/10/2015

We found Brent 30-40 days before our wedding because our other musician cancelled on us. His fee was very reasonable considering the short notice and distance to our venue. He had no problem driving 2+ hours to Blairsville from metro Atlanta. He was extremely professional and organized. He played before our ceremony, during the ceremony, and at the reception. He was willing to learn any songs that we wanted and were not on his list. We requested the songs that he played while myself, the wedding party, and the bride walked in, when we walked out, and during our first dance and father/daughter, mother/son dances. For the reception, Brent was very low maintenance. He set up and played hit after hit. We got so many compliments on his song selection and voice. I think he was actually a lot better than the musician that cancelled on us. We will definitely consider Brent for our next party or event.

Jim A.

Married on 10/03/2015

Brent McDonald was absolutely amazing! Our guests raved about how talented Brent was and his selection of music. He played during the ceremony and the reception. Throughout the planning and right up to the day of the wedding, Brent maintained communications with us and was responsive to our needs. From the very first cord until the end of the reception, he captured the attention of everyone and his talented performance got all of our guests up and dancing. I would highly recommend Brent McDonald to anyone planning a wedding or special event - he is that good! Thanks Brent for helping make our wedding night so special!!! - Jim and Laura

Joel

Married on 05/10/2015

Brent McDonald is an extremely talented musician and a true professional. My wife and I hired Brent to play two events in Columbia, SC - a graduation/wedding rehearsal party on Saturday, May 9th, and our wedding ceremony and reception on Sunday, May 10th. On Saturday, Brent provided a 4-man band (two guitars, saxophone, and drums), and on Sunday, Brent played solo with acoustic guitar. The music at both events was perfect!
When we were planning our events, we got quotes from several bands, and Brent's quote was well below that of other groups. The reason was this - all the bands were from out of town; however, Brent has a band in Columbia (even though he lives in Atlanta), so he didn't have to recoup costs for travel for the band members. Before we hired Brent for our events, we went to see him and his band at Tin Roof in Columbia. The show was awesome. Brent and his guys had the whole crowd dancing and singing for hours. Our decision was a no-brainer.
When I arrived at the venue on Saturday, Brent was already setting up outside. It was threatening to storm, so Brent moved the setup inside, which turned out to be perfect. Some of our guests sat inside, focusing on the music because the band was so good. Outside, you could still hear the music, and the level was a perfect backdrop for the party.
On Sunday, Brent set up outside and played for a while before the ceremony. During the ceremony, he played several songs that we chose. He then played for a couple hours after the ceremony, including our first dance songs. Brent even learned a new song for the father-daughter dance.
Dozens of our guests commented on how great the music was at our party and wedding, and I agree with them. Brent is an excellent guitar player and has a wonderful voice. He and his bandmates are all stellar musicians. I'm not sure you can find better music in Columbia or Atlanta, and the price is right. I would not hesitate to hire Brent for another event.

Susan

Event on: 03/22/2015

Simply put, Brent McDonald is fabulous! He is a fantastic musician, and we were all so happy with his talent for our big corporate event. We loved him! Brent was a great communicator with me before the event. He arrived on time and was prepared. He was flexible, and even worked with me on switching the dates of the function. All around, he was perfect, perfect, perfect. As a corporate meting planner, it is always a pleasure to work with someone who is so professional and nice. We will be using him again and again for our big social events!! Susan King, Davidson Hotels & Resorts

Tracy

Event on: 01/31/2015

Brent played our opening for our salon and was wonderful!! I am still getting compliments! He was the right volume and his voice and the pick of music is just what we wanted! He was so helpful, polite, and all around wonderful!! He would be an asset to any venue- corporate, wedding, get together! He was so helpful and just fabulous!!!

Lauren

Married on 11/22/2014

A lot of fun

Brent was amazing! The set was great and he was a lot of fun! Definitely recommend for any event.

Michele

Married on 10/11/2014

Brent was amazing! From the first contact to the time he started packing up to leave, he was personable, professional and one of the best live musicians I've seen perform in a long time. He was extremely communicative and priced to the market. Brent was easy to work with and never complained. He was well organized and had current technology to work with us and make our wedding day more special than we could have planned. He was just what we wanted and performed the additional songs we selected for him to learn quite beautifully. Many of the guests, and our wedding designer, loved him so much that they requested contact information so they could book him for some of their future events. Our first dance was even better than the recording artist and he made the moment something we will never forget. He was lively, interesting, fun and never boring. He is a great musician and even better than that, a terrific person!

Kimberly

Married on 09/20/2014

Brent was exactly what we were looking for! He had the perfect laid back vibe for our outdoor wedding on Lake Lanier. He even learned an acoustic Beastie Boys song to surprise the groom! Loved it!

Kate

Married on 09/11/2014

Brent was a pleasure to work with! He was quick to respond to all of my questions and concerns, which is nice when dealing with all of the details of wedding planning. I was so impressed with how Brent handled some of the day of "glitches" with set-up. He simply told me not to worry and that they would get with the event planner and get it all handled. Sure enough, when we arrived, everything was running smoothly! The band played a great selection of songs and everything sounded perfect! We had a great time dancing the night away and we will definitely keep this band in mind when planning events in the future!

Terry

Event on: 07/05/2014

Brent McDonald is an awesome performer, has a great voice, and the best selection of music!!!

Brent McDonald is a true professional and just a very special person. We could not have had a better musician play for our graduation party. He learned several new songs just for the party and performed them flawlessly. Everyone who attended the party had great time because of Brent. We had nothing but high complements from all who attended. You will have a great time with a very talented performer but even better you gain a new freind.

Brad

Married on 03/05/2011

We asked Brent to perform some Brad Paisley and Stevie Wonder. He showed up on time and blew everybody away (330 ppl)!! I would definitely have him preform us again and would recommend to anyone.

Christie

Married on 05/16/2008

Brent McDonald was perfect for our wedding ceremony. He learned a few songs for us and we can't say enough about how great he was! He was professional and delivered a perfect performance! We highly recommend him!

Ashley

Married on 05/13/2006

Brent is an amazing musician and talented artist. He was extremely focused on our event and exactly what we wanted. He was able to take songs we loved from artists like Marc Brussaed and John Mellencamp and play them beautifully just like we envisioned.
You won't find a musician more versatile and talented than Brent. He's the total package!!

Dan

Married on 11/07/2015

Excellent entertainment and song choices for mostly senior guests (55+) during a Knights of Columbus 25th Anniversary Gala.

User2005507

Event on: 12/13/2014

Excellent, versatile musician. Captured the room and really made for a great event. Thanks Brent!
Are you interested?
Send a message