Reviews
4.9 out of 5 rating
Quality of service

5 out of 5 rating

Average response time

4.8 out of 5 rating

Professionalism

5 out of 5 rating

Value

4.9 out of 5 rating

Flexibility

5 out of 5 rating
99%
Recommended by couples
Awards
7 User photos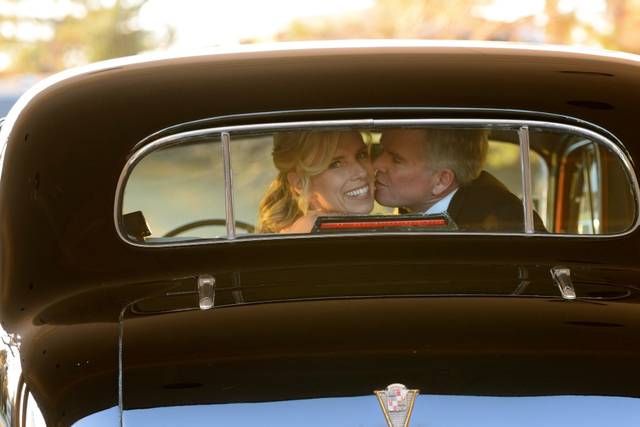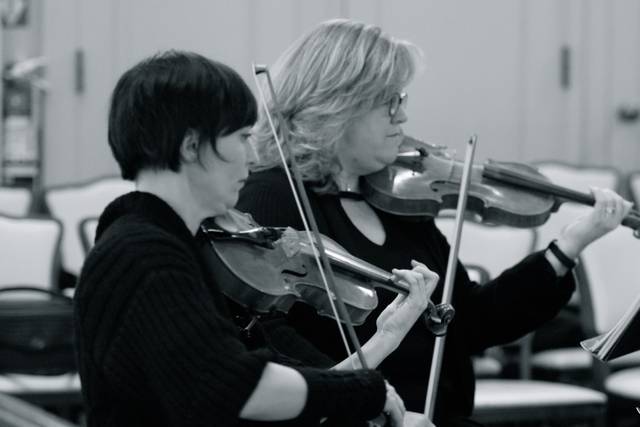 + 3

photos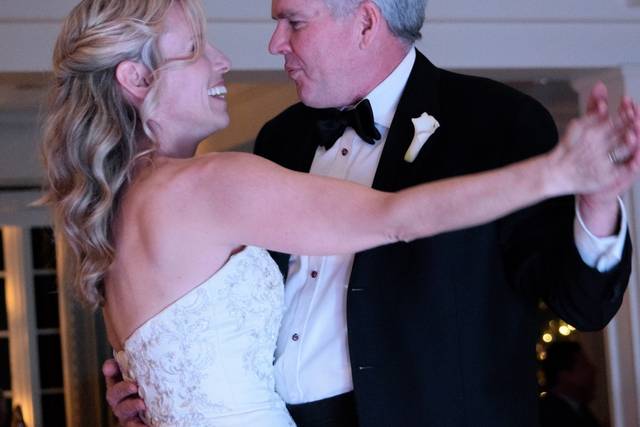 Featured

Dee D.

Married on 05/25/2019

Music by the BSCE sets the perfect tone for your wedding! They are incredible!

I cannot imagine an instrumental ensemble capable of creating a more beautiful musical experience than BSCE! The music they provided for my daughter's wedding was absolutely magnificent! Every piece was polished and perfected, yet played expressively from the heart. We chose to have a string quintet, 2 trumpets and a timpani. Each musician performed at virtuoso level; as a group, they achieved a superb blend. The BSCE has an endless repertoire, ranging from chamber classics and trumpet voluntaries for ceremony music to light jazz and pop for cocktail / dinner music. Each piece is arranged so creatively and played so professionally that is is an absolute joy to listen to them play! Plus, they will customize their music to fit your needs: in our case, they worked with us to add and subtract interludes and musical repeats to achieve the perfect timing for our processionals. They will also customize the combination of instruments to fit your preferences. They are consummate professionals who love what they do and perform with breath-taking artistry. In addition, founders Paul & Kris Semanic are among the most delightful people l have ever worked with. They will take a genuine interest in making your event musically perfect!

Jennifer W.

Married on 06/23/2023

Wonderful Music

The wedding and cocktail hour music provided by this group far exceeded my expectations. They were professional, had wonderful suggestions for songs and were easy to work with. Their music was beautiful and the trumpet added to the magic of the evening. Paula and Chris were such a joy to speak with and their knowledge of weddings and music is evident. I would highly recommend them.

Natalie T.

Married on 07/30/2022

The Perfect "Wow" Factor to a Wedding

Hiring the BSCE for our ceremony and cocktail hour was one of the best decisions we've ever made. Paul and Kris were a dream to work with. To say they were "accommodating" is an understatement. They arranged a special version of my one of my grandmother's favorite songs to play for her at cocktail hour AND they arranged the most gorgeous version of my favorite Rolling Stones song, which my dad walked me down the aisle to. They went above and beyond all expectations – the perfect "wow" factor for any wedding.

Are you interested?

Send a message

Scarlett E.

Married on 06/11/2022

Worth Every Penny!

Booking the Brass String Chamber Ensemble was undeniably one of the best decisions my wife and I made in our wedding planning. We were thoroughly impressed with the skills of all their musicians, especially the Trumpet player, Paul, who worked with us to select the perfect program of classical pieces. When the ensemble began "Trumpet Voluntary" it set a triumphant and glorious tone for the rest of the ceremony and the entire day. If you're wondering whether it's worth it to hire professional musicians for your wedding, I can say without a doubt that it was well worth it for us!

Avani P.

Married on 06/08/2019

Indian-American Fusion Wedding

Very professional and very accommodating! We had an Indian-American fusion wedding. They were able to play both Indian and American songs for the wedding ceremony and cocktail hour. They made our wedding very special!

Kim

Married on 09/15/2018

Outstanding, amazing, talented group of people

Planing a wedding is very stressful. I am sure everyone can agree with me on this. However, working with Kris & Paul Semanic -The Brass String Chamber Ensemble was a pleasure. They are very special people that go above and beyond. They helped me immensely. Very detailed and professional. They have forms to help with all the details of the ceremony (readings, wedding party, etc.) They walked me through all of the music to select from. Not to mention there website. Everyone should check it out. The instrumental music is just beautiful to listen to. I cried when I heard them playing. I knew right then and there that this was what I was going to have playing at my wedding ceremony. When I walked down the isle and hear the ensemble playing it was just breath taking. ALL of my guests were in awwww. I had so many compliments. They said "they had never been to such beautiful wedding" and that "the music was unbelievable and it made my wedding complete." I have to agree with them.
I also had them play during my cocktail hour. Just an amazing talented group of people. I highly recommend Kris & Paul Semanic - The Brass String Chamber Ensemble you will NOT be disappointed. I am so very grateful to them both. Wedding Date 9-15-18
Kimmy D.

Stefanie

Married on 06/09/2018

The Brass String Chamber Ensemble (BSCE) truly made our wedding special! My husband and I are professional musicians and wanted only the best as far as music for our wedding. The BSCE was hands down the best choice for providing professional musical performances for our wedding! They were easy to communicate with and they provided helpful suggestions to make the experience for both ourselves and our guests a memorable one! It's been 3 months since our wedding, and people are STILL talking about how wonderful the music was that BSCE provided!

Natalie

Married on 05/05/2018

ris and Paul made the process of choosing our music so easy. Phone calls helped answer any questions and Paul had contacted the church to become familiar with the setting. We are grateful that this process was so easy. On top of that, the string quartet and cantor that we had perform for our ceremony was amazing. We got to select each and every song and they were beautifully played. Our guests enjoyed the music so much; a family member booked BSCE for their big day coming up!! We're so happy with how everything turned out, and would recommend BSCE for any event! Our wedding was perfect and the BSCE helped contribute to the most perfect day!

Claire N.

Married on 12/08/2017

Best choice we made!

Adding live strings/brass to our mass and reception was one of the best decisions we made! This Ensemble is FABULOUS!!! Our reception took on a regal and majestic tone from the minute our guests stepped into our church, hearing the warmth, grace and elegance come through our music selections. And having the BSCE at our reception elevated our celebration, making it truly a special party. They were not only our musicians but our music consultants, holding our hands as we navigated through our choices. I loved working with them and loved having them at our mass and reception.

+ 3

photos

Melissa

Married on 10/07/2017

In October my wife and I were married in Bolingbrook, the Brass String Chamber Ensemble played a beautiful prelude and throughout the wedding ceremony. The trumpet was particularly spectacular and really made an huge impact when my bride appeared at the back of the church for the first time. 5/5 would recommend!

Suzanne

Married on 08/11/2017

We were thrilled with the professionalism and quality of service from the BSCE for our Aug 2017 wedding at White Eagle in Naperville, IL. Paul and Kris were easy to contact, communicated with us frequently, and helped us truly personalize our wedding. We had some specific song requests that they were able to accomodate—some Beatles, Dave Matthews, and Allman Brothers tunes. They were responsive to our requests and super easy to work with. Our guests LOVED the string quartet and were quite impressed with the addition of the trumpet. We had guests coming up to us throughout the reception to tell us how beautiful and unique the quartet music was!! We highly recommend the BSCE!

Julie

Married on 06/10/2017

The Brass String Chamber Ensemble was the first and only group that I contacted to perform at my wedding. The first time I spoke to Paul on the phone, he was very kind and personable.. and it was also a great surprise that he used to perform at the same church that I was getting married at many years ago! It was a wonderful coincidence! As my wedding planning progressed, Paul was very helpful when it came time to choose my songs. He provided many options, but also allowed for flexibility to add mine and my husband's cultural and personal "flair" to the mix. My husband and I come from a Polish background and we were in need of a Polish-speaking cantor. Paul has a long history of networking and was able to find a woman to sing both English and Polish for us at the mass and she was wonderful! With that, Paul and his wife were able to build an ensemble that played both English and Polish songs! I recieved many compliments about the music that was performed at my church and shortly after my wedding, two of my guests had contacted them to play at their wedding! Looking back (and watching my wedding video), I am so glad that I found this ensemble! I could not have asked for a more perfect group! I highly recommend the Brass String Chamber Ensemble to any bride and groom who want to add beautiful music to their wedding day!

Samantha

Married on 07/16/2016

One of my most favorite memories from my wedding was walking down the aisle to Trumpet Voluntary, I had goosebumps from the BSCE playing Trumpet Voluntary. This was the same song my mother walked in to at my parents wedding and it literally took my breath away as my dad and I began our walk. The BSCE played this song (and all the others) with exceptional finesse! I can't remember a time in my life when I felt more like a princess than in that moment. To say they added a great sound to the songs for my ceremony would be an understatement, they completed my ceremony! The BSCE added a level of class and elegance with their perfect sound to give my wedding ceremony the magical feel I was envisioning. The rich sound of their instruments filled the church and really put our ceremony over the top, I still get compliments about them! They will be my first call if ever the situation arises for musical talent! Kris and Paul were super easy to work with, once we picked our songs we emailed them over and it was so stress free! We recommend them to all our friends and family and hope to have an event that needs their talent again in the future! Thanks for making our day so perfect and memorable and for making this day everything we could have dreamed of and more!

Paul and Kris were so helpful and accommodating in working with our church music director/organist/cantor for our full Catholic mass by providing their string quartet and trumpeter. We appreciated their sound with our special vocalists: my sister & brother-in-law and cousins for the Communion and Ave Maria. Thank you!

Jennifer

Married on 07/15/2011

The Brass String Chamber Ensemble did an amazing job at our ceremony. Being a musician myself, it was very important to me to have quality musicians for our ceremony. We hired a trumpet, 2 violins and a cello. Paul helped us through every step of the way, from choosing which instruments, working with our vocalist, and deciding on our music. He even arranged "All You Need is Love" for us so that we could have it after the ceremony ended. I would highly recommend the BSCE for any bride looking for musicians.

We contracted for a string quartet with 2 trumpets and they were amazing! Our wedding guests could not stop telling us how wonderful the music was. We had some definite ideas on what music we wanted performed at certain times during the ceremony and Paul was great to work with throughout. They were professional, easy to work with, flexible and the sound was rich and beautiful. You could definitely count on this group to give your guests a quality musical experience during the ceremony - Bravo!!

Lisa

Married on 07/14/2007

The string quartet was had at our wedding was perfect! Making the arrangements were so easy- Kris was so easy to contact via both phone and email. They even surprised us with a special arrangement of 311's "Amber" during our preservice music- my husband is a big 311 fan! We were very pleased with the music they provided during our ceremony. A very professional and personable group!

Megan

Married on 09/10/2016

I would highly recommend the BSCE. I worked with Paul leading up to the wedding and found him to be very helpful and very accommodating. He worked with the music director from our parish, and helped us to put together a music program that matched exactly what we wanted for each part of the ceremony. Our wedding guests kept telling us throughout the rest of the day and night how beautiful the music was at the mass. The BSCE really is wonderful.

We had a trumpeter and violinist from BSCE accompany our church pianist and cantor. They did a beautiful job and we were happy that we chose them to enhance the music at our ceremony. It was a full Catholic mass and they played all of the musical pieces throughout.

Sarah

Married on 12/02/2017

Kind of hard to get in touch with at times, but overall totally worth it! My only regret is not being able to meet with them. Everything was arranged over the phone, email, and snail mail. The day of was so busy, I still didn't get to meet them! I had to have my sister run their tips up to them because I was busy getting my dress bustled, signing the marriage license, and taking family photos (and she said she caught them as they were leaving). They played during our ceremony and part of the cocktail hour (our DJ took over the second half since the room changed). It's true what they say about the day flying by - I don't think I even got a chance to look over at our string quartet. I'll have to rely on photos & videos!

Jill

Married on 10/07/2017

BSCE provided beautiful music for our daughter's wedding. We were very happy with them. They were prompt and professional. A couple times during the planning process, I had some difficulty in connecting with Paul.



Christine L.

Married on 12/20/2008

So this review is going to have to be based mostly on guest's response as I was in the basement of the church for the majority of the time they played... We hired the brass quintet (Stonegate Brass) through the BSCE. Paul was my contact and was a pleasure to deal with.

As soon as I saw how big our church was (St. Ben's on the northside), I knew that a brass quintet would sound great. We were married right before Christmas, so we had many options on music. My husband, before I hired the musicians, really didn't have a preference as far as strings or brass went and quite frankly didn't want to spend the money. One of the first things he said to me after the wedding was, "that brass quintet was worth every penny." We also had several people during the reception comment on how wonderful they were.

It was my wedding day and I said I wanted to have a grand entrance... Nothing like a brass quintet for a grand entrance!!!

Are you interested?
Send a message