62 Reviews
Recommended by 99% of couples
Quality of service

4.9 out of 5 rating

Average response time

4.9 out of 5 rating

Professionalism

5 out of 5 rating

Value

4.9 out of 5 rating

Flexibility

5 out of 5 rating
30 User photos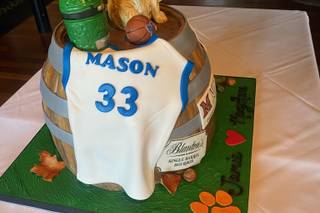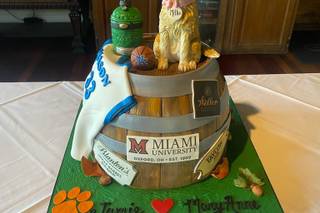 + 26

photos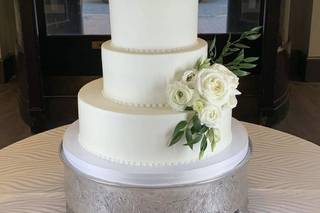 Victoria K.

Married on 03/25/2023

Love the cake!!

Loved my wedding cake and how my vision came out. Bonnie and staff were very responsive and always friendly. Everyone raved how beautiful the cake was. Even though my cake didn't make an appearance on her business page, I think it was the PRETTIEST, MOST GORGEOUS CAKE EVER!!!

Mary A.

Married on 03/25/2023

Showstopping & Delicious!

Oh my goodness, I cannot recommend Bonnie Brunt Cakes enough! From the start, Bonnie and her team made us feel so welcome. We had no idea what we wanted and Bonnie took the time to get to know us and listen to our vision to create the perfect wedding cake and groom's cake. Our wedding cake was a true masterpiece that was not only stunning to look at, but also tasted absolutely divine. And my husband's custom groom's cake was a complete showstopper! I have to say, Bonnie Brunt Cakes made our wedding day extra special and unforgettable. Their attention to detail and dedication to making our dream cake a reality was truly heartwarming. We will definitely be returning customers for all our future special occasions. If you're looking for the best wedding cake in town, look no further than Bonnie Brunt Cakes!

Bonnie Brunt Cakes's reply:

It was TOTALLY our pleasure. You were just a joy. Happiness to you both!!! I hope to be able to work with you again on your next happy celebration. :)

Kimberly M.

Married on 12/27/2022

Fabulous wedding cake

Bonnie Brunt Cakes is fabulous!! Their communication - phone and email - and wedding cake design were top notch! We did not sample the cake before - or after! - deciding on Bonnie Brunt Cakes; we had complete confidence their cake would be yummy! The sour cream pound cake with buttercream frosting was delicious!! Bonnie Brunt Cakes also baked the cake for the rehearsal dinner and it was delicious also!

Bonnie Brunt Cakes's reply:

Thank you SO much on your kind words...and your happy happy wedding. We wish you ALL the very best. :)

Are you interested?

Send a message

Brian F.

Married on 10/22/2022

Delicious sweet potato cake for a fall wedding!

Bonnie Brunt is a great choice through and through. Our cake tasting at the bakery four months before our wedding was an enjoyable experience that allowed us to sample all the cake flavors we had to choose from. We ultimately settled on alternating layers of sweet potato and red velvet. The flavor of the sweet potato cake with spiced cream icing was the perfect compliment to our fall wedding. The cake was beautiful and tasted equally amazing!

Bonnie Brunt Cakes's reply:

LOVED working with you both! ALL our very best to you for ALL the joy. Thank you. I wish you the best and look forward to working with you on future amazing life events. :)

Lindsay H.

Married on 10/22/2022

Bonnie made the most AMAZING groom's cake!!

Bonnie made the most AMAZING groom's cake for our rehearsal dinner!! My mother-in-law and I had a complex, specific vision for this cake and she executed perfectly. Not to mention, the cake itself was one of the most delicious carrot cakes we've ever had. This cake was definitely a focal point of our rehearsal dinner celebration that everyone continued talking about all wedding weekend and long after. We are sooo thankful!!

Bonnie Brunt Cakes's reply:

We LOVED this cute dog! He was just precious and thanks so much for choosing us!!! We also appreciate all your kind words and we greatly look forward to working with you again for future fun events.

Madison B.

Married on 12/31/2021

The most amazing cakes

I cannot describe how amazing these cakes are. We tried so many bakers who cost the same amount of money but the taste didn't even come close to comparing to Bonnie's cakes. I had so many guests rave about how much they loved the cakes. She produces the most beautiful and tastiest cakes imaginable! Don't walk, run and hire her now!

Octavia C.

Married on 10/16/2021

Wedding cake

Beautiful and awesome. Delicious and moist.

Carolyn D.

Married on 09/04/2021

Simply Amazing

Bonnie Brunt and her team did an amazing job. The cake was moist and very delicious. Thank you for making my wedding amazing!!!!

Tiffany W.

Married on 04/17/2021

Phenomenal!

Everyone loved the cake. It was phenomenal. We had red velvet with amaretto cream cheese.

Bonnie Brunt Cakes's reply:

Oh Tiffany! We LOVED this cake SO much. Thanks for allowing us to participate in your BEAUTIFUL wedding. Happiness to you BOTH!!!!

Esther B.

Married on 03/06/2021

Excellent service and friendly staff

Tasteful cake!! Beautiful 3 tier for my wedding day!

Bonnie Brunt Cakes's reply:

Esther! I am thrilled you loved it. I thought that sweet pink cake with the pink marble was lovely! You were a joy to work with, and ALL our best to you!!!

Scottie

Married on 10/31/2020

Always amazing

Mrs. Bonnie always delivers what she promises. She bakes the most amazing flavors and her designs or absolutely beautiful.

Bonnie Brunt Cakes's reply:

Thanks, Scottie! You know I LOVED your project...all of it. Your wedding was so fun, creative, and unique. We LOVED working with you!

Scottie H.

Married on 10/31/2020

Best in the business

Mrs. Bonnie is hands down the beat in the business. She creates and designs the most beautiful and delicious cakes out there. She has made multiple cakes for me. And every time they are the biggest hit at my events.

Bonnie Brunt Cakes's reply:

Scottie...your wedding was BEAUTIFUL! I loved that venue, especially the rooster! Thank you for allowing us to be a part of it. We wish you ALL the very best!!!

Whitney H.

Married on 09/06/2020

Amazing Cake!

We met Bonnie at a wedding Expo and my hubby fell in love with her Sweet Potato cake. He knew then that Bonnie was making our wedding cake. Bonnie was so sweet to work with and is extremely talented. Our cake was amazing!!!

Krystal H.

Married on 08/15/2020

Absolutely exquisite

I met Ms. Bonnie Brunt and her team at a bridal expo I attended in June 2019 and was instantly impressed that I tried every single sample of cake she had available! Once we made the decision to book, we went to her very user friendly website and scheduled our tasting. Once we arrived, we were welcomed as if we were family. Ms. Bonnie is such a sweet spirit and her cakes were even sweeter. She is the true definition of southern hospitality. On the day of the wedding, the cake table was set up the table so beautifully. Her cakes are AMAZING and we are still receiving compliments to this day! Book her for your next event or whenever you would like a sweet treat!

Bonnie Brunt Cakes's reply:

Krystal...you were just a darling to work with also! The Capital City club looked beautiful for your wedding...and I know that you were just stunning. Thanks so very much for the kind review. I hope to have the joy to serve you again soon. :) Even if it's just for one of the french vanilla cakes with strawberry and raspberry! Just because. :)

Hannah R.

Married on 10/05/2019

Honestly Magical

Her cake tasting was truly magical. I loved the experience and being able to taste the different cake/icing options really helped us pick the best option. Her artistry was beautiful and I've already ordered a dozen cupcake versions of our wedding cake flavor to reminisce!

Bonnie Brunt Cakes's reply:

Hannah...thanks so much...and what a joy to work with you and your SWEET family were!!! You were such a BEAUTIFUL bride. I know you had the very best time. Thanks so much for including us in the lovely day. :)

April W.

Married on 09/07/2019

Beautiful wedding cake! ❤︯

I really love Mrs. Bonnie!! She is AMAZING. Nothing on my day went well but the cake was awesome. Everyone loved it. Mrs. Bonnie gave me the biggest hug ever when I dropped the cake stand back off!! Really Nice Christian lady!!

Bonnie Brunt Cakes's reply:

April. You are such a sweet girl. I'm sorry you had some disappointments, but you got to marry your true love. THAT is a win win win!! I'm so thrilled that we got to work with you and provide your beautiful cake. Congratulations to you both...all the happiness and joy to you!!!

Courtney

Married on 08/17/2019

Absolutely delicious!

Bonnie Brunt Cakes worked with me to deliver a simple, small wedding cake. Hubby and I did the sample kit and decided on the carrot cake with spiced frosting, and it was a major hit with our guests!

Bonnie Brunt Cakes's reply:

Courtney. Thanks for taking the time to share your sweet words. I just loved that cake topper. I love it when brides make things personal. Thank you for including us in such a beautiful time. Happiness and joy to you!!!

Alana T.

Married on 06/08/2019

Beautiful and Delicious

People have continued to rave about the tastiness of the cake long after our wedding day! Not only was it absolutely stunning, but tasted just as amazing as it looked. Top that off with incredible customer service.. Bonnie and her whole team were quick to respond, answer questions, and just be completely on top of everything. We will definitely use them again for any special event needing a cake!

Bonnie Brunt Cakes's reply:

Alana...Thanks for taking the time to share such warm words about our cakes and service. You were such a joy to work with, and we can't WAIT to work with you again.

Lindsey P.

Married on 04/27/2019

Best wedding cakes!

There is nothing more delicious than a Bonnie Brunt cake. And I mean NOTHING. Bonnie and her team are incredible and her cakes are above and beyond beautiful! They are so attentive to detail and so thoughtful in their design. Bonnie can make any cake vision into a reality. She is also the nicest and sweetest woman in South Carolina. My entire family absolutely adores her! Every time I open my freezer and see the top of my amazing sweet potato wedding cake, it takes every fiber in my body not to take it out and eat it all. April 2020 can't come soon enough!!

Destiny B.

Married on 04/13/2019

Delicious cake

Not only is the cake beautiful, it is very delicious! Highly recommend.

Megan

Married on 03/23/2019

Absolutely Amazing!

Very personal, plenty of options to choose from, and a sketch of what the cake will look like before you leave. Bonnie makes choosing a cake a wonderful and stress free experience.

Ashlin

Married on 10/20/2018

Absolutely stunning

Bonnie actually did my very first birthday cake (22 years ago) so for her to do my wedding cake, it was only fitting. From the cake tasting all the way down to the wedding day, Bonnie and her team were nothing short of excellent. We chose to have the Sweet Potato cake for two layers and Red Velvet cake for the other two with cream cheese icing for both and it was perfect for our fall wedding, our guests were so impressed. Also had a grooms cake done, we had a chocolate cake with chocolate icing. Would definitely recommend!

Cecilia

Married on 10/13/2018

Best Cake Ever

I could not have possibly asked for a better wedding cake. Bonnie is incredible, hands down. I was drawn to her elegant yet versatile style and the existing reviews about her flavors had me sold. When I went to visit Bonnie for a consultation, I was not sure at all what sort of cake I wanted. I brought a few photos of cakes that I liked and I told her some details about my likes and interests (lace, flowers, pearls, rose gold, babies breath). She disappeared in the back to draw something up and when she came back, I was stunned! I was so excited; the cake she drew for me was perfect in every way and I couldn't believe that she nailed it and came up with the dream cake I didn't even know I wanted!
She had so many incredible flavors, it was very hard to choose. We ended up doing red velvet cake with amaretto icing and sweet potato cake with spice icing. The sweet potato cake and spice icing was an absolute hit at the wedding!
Bonnie also did my husband's groom's cake and I was equally impressed. She took a concept that I was almost certain wouldn't be able to be translated into cake form (the pokemon Beedrill) and she somehow figured it out! The grooms cake was strawberry cake with lemon icing. Bonnie is a cake genius!

Bonnie Brunt Cakes's reply:

Cecilia...you were such a delight to work with. THANK you for these very kind words. We had such a good time with your grooms cake...and the wedding cake...well, lovely brides make for lovely cakes. :) Thank you...so much...and happiness to you BOTH!!!

Andrea

Married on 09/01/2018

She is so amazing! She took my ideas and made them come to life! She worked with my florist for the flowers on the cake so I didn't even have to worry about it! Her cakes taste unbelievably amazing and I had fondant on my cake which can taste nasty with the wrong person making it. Her's is amazing and actually tastes great!!! She is so amazing!

Kellie

Married on 09/01/2018

Bonnie was amazing! She is very detailed which makes the end result that much better. My husband loved his surprise groom's cake and everyone thought it was spectacular!
Are you interested?
Send a message