37 Reviews
Recommended by 98% of couples
Quality of service

4.8 out of 5 rating

Average response time

4.8 out of 5 rating

Professionalism

4.9 out of 5 rating

Value

4.9 out of 5 rating

Flexibility

4.9 out of 5 rating
Awards
5 User photos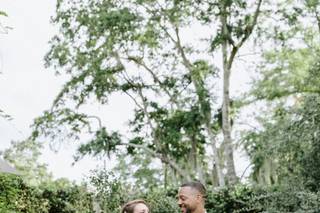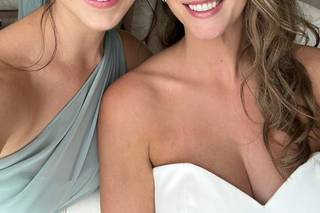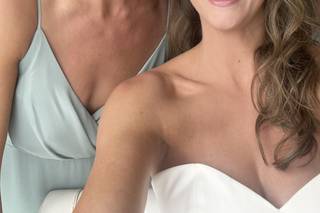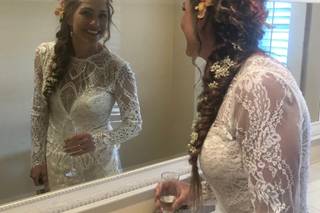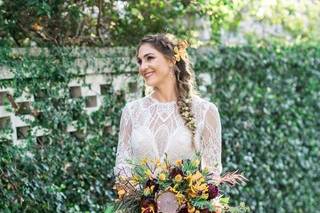 User2583710

Such a positive experience. So very skilled and took care and time to do hair and makeup. Loved that this was onsite. Difficult to find for the area and price was exactly what I was looking for. Thank you! -Ali (4/2/16)

Bombshell Brides's reply:

Thank you so much for your kind words Ali! We had such a fun time with ya'll and wish you all the best!

Melanie

Married on 08/28/2022

Amazing team

Lauren and her team were incredibly professional and talented. Many of my bridesmaids commented that this was their favorite hair and make up from any other wedding they have been in. As the bride, I have never felt more beautiful. They arrived on time, prepared, and were so kind. We had a party of 14 and they had no problem serving all of us within a 4.5 hour time frame.

Bombshell Brides's reply:

Thank you so so much for your awesome review Melanie! You and your bridal party were so fun to work with and everyone looked stunning! We hope you had the best time. Congrats again on your special day. Xo

Jessica S.

Married on 11/08/2019

I felt and looked absolutely stunning on my wedding day!!!!

I am beyond grateful for Lauren, Hanna, and Natwasha at Bombshell Brides! They made me look and feel stellar and sexy on the most important day of my life. I am so happy I did a trial run and added extensions to my thin hair- it made a world of difference and allowed me to get my dreamy bohemian look. Thank you girls, I HIGHLY reccomend them for hair and makeup! Professional, accountable, and personal- exactly what you want on your wedding day :)

Are you interested?

Send a message

Lakota

Married on 11/18/2017

These ladies helped our wedding party feel at ease by coming to a home we had rented. It allowed us to relax, eat, drink, and visit while preparing for our big day. So happy we had them on our team!

Claire

Married on 04/22/2017

Faith Watkins and her team did an amazing job- all the way from the trial runs to the morning of the wedding! Within 3 hours they made up 9 girls to include the Mother of the Bride and Groom, 6 bridesmaids and me, the bride! I was so happy with the results. Everyone looked amazing and it was a wonderful part of the day! I would absolutely recommend her services to anyone and would go back to her again in a heartbeat! Thank you again Faith!

Candice

Married on 06/17/2016

Faith and Emily did the hair and makeup for our wedding day and everyone looked amazing! I highly recommend these girls. They come to you, which is very convenient, and they were able to do our hair, makeup, and eyelashes! I wished I lived in the Wilmington area so Faith could always do my hair!

Bombshell Brides's reply:

Thank you so much Candice! You were so awesome from beginning to end and we had a blast working with you! Congratulations and best of luck with your hubby!

Elizabeth

Married on 03/25/2016

I don't even know where to start about how much I love Faith. I guess I should start by saying that I loved her so much that she now is my permanent stylist!!! What started out as just a simple trial run with a stylist that I found on Wedding Wire has turned into one of the best decisions I have ever made!!! My coordinator even loved her so much that she will be referring people to her in the future. She was profession, skilled, and so accommodating. I had 3 bridesmaids, a junior bridesmaid, and 2 mothers that all got done up and they all looked fantastic!!!! Faith and her two assistants came in and were like a hurricane of hair and make up. They were on-time and had us all done up and ready to go exactly when my coordinator asked her to!!!! She even brought extra lashes just knowing that I would change my mind and talk all my bridesmaids into getting them. Hahaha. In fact I loved her so much that I asked her to fit me in last minute to do my hair and makeup at my rehearsal and she DID!!! Oh and then she fit me in the week before to color my hair. Have I mentioned how much I love her. She has an amazing laid back style that completely fit with my go with the flow attitude. She was professional and friendly at the same time and we all felt like we were having a sleepover and getting a makeover!!! I can not recommend her enough for your wedding day, or any other day for that matter!!!! Oh and I almost forgot to mention how completely affordable she was!!!! She has the best prices in the area and I never felt like I was paying for less. She only charges 50 to stay after your ceremony and make sure that everything stayed where it should!!!

Bombshell Brides's reply:

Beth you are too kind! What an enjoyable experience it was working with you. So glad I will get to continue doing your hair and seeing your future with Hugh V.! <3

The Bombshell Studio was there from the beginning. From engagement pictures and the bachlorette party to my actual wedding day, Faith made me feel and look fabulous from day one. Faith and her team went out of their way to make me feel beautiful. Throughout the many hectic months of planning, the Bombshell team was professional and prompt in answering any and every question that I had. Faith worked around my crazy schedule to meet with me and to ensure that I was 100% happy with my hair and makeup choices. I could not have asked for a better stylist. Not only did I feel like a queen, but my bridesmaids were also stunning. The day of the wedding was absolutely perfect and I cannot thank the Bombshell team enough for their professionalism and support.

Ashley

Married on 02/06/2016

Faith and her team were very professional and extremely flexible and made all my girls and I look stunning and flawless as expected on my wedding day. I would recommend her to any bride to be without hesitation. It is important to look breathtaking on your wedding day and faith and all her girls are more then capable of exceeding your expectations. Thank you for working your magic ladies!

Sara

Married on 11/14/2015

Faith was and is fantastic. My husband and I eloped, so we had to change the date/venue once, but she was extremely easy going about it. She was flexible to my ideas, and spent a lot of time with me during my trial run and the big day. I really can't say enough good things about her-she's one of those people who you feel like you've known forever. I felt THAT comfortable around her, and it's not easy for me to let my guard down. Her makeup and hair skills are ON POINT. Everything was literally perfect. She knows exactly what she's doing.
I absolutely need to make a return trip to the Wilmington area to get my hair done by her. She's worth the two hour drive!!

Faith and her team are miracle workers! She somehow managed to please all of my bridesmaids, my mom, aunts, mother-in-law, and of course, me! She was phenomenal at helping me compromise with my Mom who has a completely different style from me! Her bubbly personality and perfect amount of sass put us in an awesome mood and made us feel beautiful despite the rain! She even stayed to touch up my makeup and change my hair for the reception! Everyone's hair and makeup looked awesome well into the night even though it was rainy and humid (this was even after taking pictures outside).
Not to mention, her honestly is unparalleled! I thought I wanted airbrush makeup. After talking with her, I knew I wouldn't be happy with airbrush makeup and my oily skin. She didn't try to up sell me on something that wouldn't work for me. That is pretty much unheard of, especially in the wedding business!
After making me feel so awesome on my big day, I couldn't go to anyone else. She's now my hairstylist and brow-threading extraordinaire!

Chelsea

Married on 09/06/2015

Faith is AMAZING! Her team and herself made my already beautiful bridesmaids look even better! Faith personally made me the beautiful bride I always hoped I would be. Not only is she talented, she was flexible and made the experience wonderful. She is sweet and funny and her prices are great! I 100% recommend Bombshell Brides to ANYONE looking for a hair/make-up person for their wedding or any other event!

Lauren

Married on 09/06/2015

I was a bridesmaid in a friend's wedding a few months ago and I cannot speak highly enough of Faith and her team the arrived when they said they would and made us all feel and look AMAZING! so much so that I have now books her for MY wedding! I cannot wait for Bombshell brides to play a very major role in my special day and make me feel like a princess!

Lauren

Married on 06/20/2015

Faith did my make up for my bridal portraits and my rehearsal dinner, and I got nothing but compliments all night. She helped me put my mind at ease throughout the whole time, engaging not only me but my mom as well. She went over and beyond both times, even helping me and my mom put my wedding dress on for pictures. She is reasonably priced and goes well beyond her call of duty to make sure that her clients are satisfied. I would definitely recommend her to anyone looking for a make-up or hair artist in the Wilmington area!

Jaclyn

Married on 05/30/2015

Faith, and her staff were amazing, and so friendly! My bridesmaids, and myself not only felt beautiful, but looked amazing in our pictures. I was worried about the humidity, for the outside ceremony & reception, but my hair & makeup remained perfect. Highly recommend Bombshell Brides!

Ashley

Married on 05/24/2015

Faith and the girls were so amazing! I was still growing my hair out from a very short bob and had no idea what I could do for an updo. I have Faith ideas on what I liked and disliked, and she gave me a stunning updo with the perfect amount of volume. She was so attentive to the bride and bridal party and made sure everyone loves their hair and makeup in the end.

Jennifer

Married on 05/24/2015

10 minutes into my hair and make up trial I knew Faith was the one! The months leading up to my wedding Faith stayed in constant contact, gave me daily beauty and hair tips and even texted me the morning of my wedding to remind me and my girls to apply moisturizer (something I totally would not have remembered to do!). Faith and her team were at my venue, set up and ready for us when we arrived. They managed to make 8 of us absolutely stunning in less than 3 hours. Faith and her team were professional and very easy to work with, they redid hair and make up until every single person was satisfied. Faith also went above and beyond and cut the grooms hair before he got dressed since he forgot to get a haircut.

Allison

Married on 05/16/2015

LOVE Faith and her entire Bombshell team! She did my hair and makeup for my bridal portraits last May (flawless!)- when my stylist bailed on me the DAY before I was leaving for Wilmington, Faith came to the rescue and colored my hair at a moments notice! As it turns out, I liked how she colored my hair 1000x more than my regular stylist. For the wedding day, the entire team transformed my 11 VERY DIFFERENT bridesmaids (ages 12-44) and 2 VERY picky moms. Everyone's individual styles were suited and amazingly ALL were pleased. Faith and her team came highly recommended by my planner, and I would in turn recommend Bombshell Brides to anyone who wants to be flawlessly gorgeous on her Big Day!

Whitney

Married on 05/02/2015

Faith and the girls at Bombshell Brides made my sisters wedding day perfect. As the maid of honor the girls made me feel so beautiful and it took all the stress of hair and makeup away so that I could just enjoy the day. Each member of the wedding party looked stunning and unique and it completed the look of the wedding perfectly. Faith and the girls are so kind and professional as well. They worked in a small space with a great pace and made sure all of us were happy with our looks and we felt beautiful. I can not recommend this company enough.

Ashley

Married on 05/02/2015

I got married last spring and Bombshell Brides made my special day easy and amazing. All of my bridesmaids looked beautiful and loved their hair and makeup. I felt pampered while getting my hair and makeup done. I would most definitely recommend Bombshell Brides to anyone getting married in the Wilmington area. Not only did they make the bridal party look perfect but they were a lovely group of ladies!! Thank you for all you did for me and making everyone, including myself, feel beautiful on my wedding day!! :)

Amazing hair! I gave her a few photos to go off of, and she pulled of a miracle with my thick hair. She incorporated all of my wants, and was more the willing to play with it and tweak it to be perfect. She was even flexible enough to come in an hour earlier when we had an issue with the high tide on the beach. I recommend her for sure!

Crista

Married on 11/26/2014

Faith is the epitome of not only the magician/artist you need on your wedding day, but also the human being you want in a room while you are preparing. Her contagious personality and professionalism is unmatched. She works miracles on my extremely thick, long hair. My hair lasts all night every time she does it-- not only for my wedding, but for numerous Marine Corps balls and other occasions. She can look at a picture and make it happen, you can describe something and she can make it happen, you can just say "make me look fabulous" and no matter what, she makes it happen. She takes the time to check with you every step of the way so that there is not a hair out of place, nor a speck of makeup somewhere you won't want it. Besides looking perfect, which you will, you will also want her to be your newest best friend because she treats you like you're already part of her family. Her team is prompt and professional. I can say with 100% certainty that you simply can not be disappointed when you work with the wonderful Bombshell Brides team.

Marisa

Married on 07/26/2014

Faith and her team are fantastic! They came to us and did hair and makeup for the bride, three bridesmaids and the mother of the bride. She gave us exactly what we wanted. The girls looked beautiful and Faith is a doll. I highly recommend her for your big day!

Erica

Married on 09/28/2013

Bombshell Brides was absolutely wonderful. They did hair and makeup for myself and my bridal party. We gave them ideas of what we wanted and they made them even better. You should definitely use these ladies for your wedding!

Megan

Married on 03/16/2013

Faith has always been my favorite hair stylist and make up artist. I was so happy when she drove 5 hours to Virginia Beach to do my hair for my wedding. I wouldn't have chosen any one. She is honestly amazing.
Are you interested?
Send a message