Bobak's Signature Events and Conference Center Reviews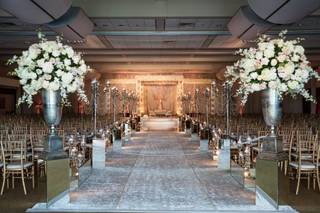 Bobak's Signature Events and Conference Center
Woodridge, IL
View more information
155 Reviews
Recommended by 99% of couples
Quality of service

4.9 out of 5 rating

Average response time

4.9 out of 5 rating

Professionalism

5 out of 5 rating

Value

4.9 out of 5 rating

Flexibility

4.9 out of 5 rating
27 User photos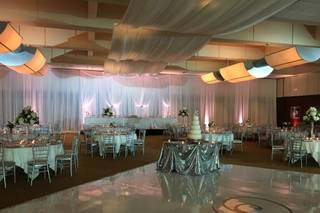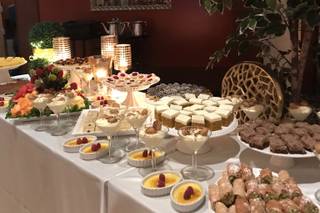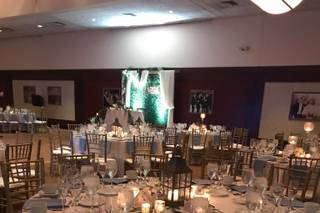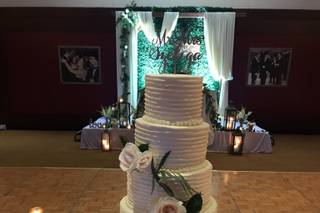 + 23

photos
Angela R.

Married on 07/18/2020

Happy Bride and Groom

We had a great experience with Bobak's Signature Events. EVERYTHING from the landscaped terrace, for our ceremony, to the food, the wedding cake, the servers, and the décor was amazing! Karen was so helpful throughout the planning. I couldn't have been happier with our Venue selection.

Raquel

Married on 11/30/2019

Taken care of from the start

We knew Bobak's was going to be our choice after meeting Karen. The center is great but she sealed the deal! From the layout of the room to the food and cake, everything we wanted was reflected in her planning. We couldn't imagine a more beautiful day without their help!

Lori

Married on 09/14/2019

One word: WOW!

My husband and I got married on September 14, 2019. For our reception, we had the beautiful terrace, the Monterey Room & Columbia Room. All I can say is one word..... WOW! Throughout this process we worked direct with Karen, Chris & Anna. My ...
husband and I had a very clear and precise vision of what we wanted our reception room to look like. Very elegant and sophisticated. The night of the wedding we received SO many compliments that I can probably fill a whole notebook up at this time. We are STILL receiving compliments from other individuals 48 hours AFTER the reception was completed. At times, my husband and I were at each other's throats...arguing over wedding stuff before we would have an appointment at Bobak's to finish some details. Karen could read us both like a book. She would sit us down, ask us what is wrong, and was able to figure out different routes to go in order to compromise and proceed with wedding plans. As a couple, we were very organized when it was time to drop off our items a couple days before the wedding. This kept Karen and additional staff in a smooth transition in order to set everything up to a T. So getting back to our wedding night...we had SO many people that were SO excited to start the reception party that approx. 25 people showed up an hour early prior to cocktail hour beginning. Here are some compliments we received: 1. Appetizers during cocktail hour - AWESOME! 2. Signature Drinks (His & Hers) - SO POPULAR! 3. Soup was piping hot, salad was crisp cold, and for dinner people said they wanted to LICK their plates clean! 4. Wedding Cake - ABSOLUTELY DELICIOUS, LIGHT & REFRESHING! Thanks Chef Francisco! :) You are the best! 5. Bartenders at Bobak's - Fantastic! Mixed drinks at a very good speed so all of the bar lines were not 5 feet deep. 6. All décor and tables were set up beautifully and to our specifications with not a single item misplaced. Thanks Karen! :) 7. Late night snack pizza was fantastic and our sweet table was a huge hit! 8. WAITER/WAITRESS SERVICE - WOW, WOW, WOW! AWESOME! On behalf of my husband and I, we wanted to thank you from the bottom of our hearts. Everything turned out amazing and we couldn't imagine our day any other way. BIG Thank you to: Karen, Chris, Anna, Chef Francisco and all of the staff at Bobak's Signature Events.

Are you interested?

Send a message

Kimberly

Married on 07/12/2019

Pure Bliss

Bobak's Signature events was ABSOLUTELY AMAZING! The value and quality of the things included definitely exceeds the price. If you are on a serious budget, Bobak's is the way to go! The venue itself is absolutely beautiful. My guest raved about how good the food was and were in awe of the beautiful patio. Karen and Chris were extremely accommodating to our needs and wants. Karen is truly a Godsend! She eliminated so much stress from my life. My wedding day was absolutely perfect, better than I could have ever envisioned it to be. I absolutely love this place!!

Katie P.

Married on 05/18/2019

Amazing!!!

Karen & Chris went above and beyond to make our day perfect!!! Sooo happy I chose this venue! Highly recommend it 😃

Paulina

Married on 04/27/2019

Wedding Day

I got married on 4-27-19 at Bobak's Signature Events and everything was perfect! From the delicious food & drinks, to the amazing staff and beautifully decorated banquet hall, which my guests cannot stop talking about! It was so easy working with Karen & Chris to plan the event. If you're looking for a beautiful place, with great food and amazing staff that won't break the bank I highly recommend that you call Karen and Chris! My husband and I look forward to many more events with bobak's in the future! ❤️

Deirdre R.

Married on 03/16/2019

Incredible venue with genuine staff - couldn't have asked for more!

When my now-husband and I were scoping out wedding venues, the most important criteria for us were ability to personalize the space, cost effectiveness, and most importantly, the efforts of the coordinators that we would be working with. Bobak's without a doubt exceeded all of our hopes for our March 16th, 2019 wedding. We had around 230 people, and working with Karen and Chris was incredibly easy. They were able to help us stay in budget while still creating the wedding of our dreams. Karen never took longer than a day to reply to emails and was incredibly flexible with changes that we made throughout the process. She was so helpful, too, in setting up some of the many decorations that we brought in, including a full size mirror and family photos to be placed on the walls. Having catering, linens, and lighting all through the same vendor made coordinating seamless, particularly as we didn't hire a wedding coordinator for the day of. As someone that works in event planning and is very detail-oriented, I was beyond impressed by Karen's attention to the little things and ability to flex as some of our needs changed. The food was great, and the service flawless from start to finish. My husband and I are forever grateful to have hosted our wedding at Bobak's - thanks for everything!

Jacek

Married on 10/27/2018

Words cannot describe this place! Purely amazing!

We just had a wedding over the weekend and it was the most amazing wedding we could ask for. Karen, our venue coordinator, was extremely helpful and listened to what we were looking for and not how to spend the most money. Karen's and Chris's help gave us the wedding we were dreaming of and more! Food, amazing. Decor, stunning. Hospitality, other venues should take notes because they help you plan the wedding like if it was their own. Want a beautiful and flawless, stress-free wedding? Come here, you won't regret it.

Alexandra

Married on 10/27/2018

Amazing Venue! Highly Recommend

Bobak's Signature Events exceeded all of my and my husband's expectations on the day of our wedding. Seeing the final result took my breath away. The room was magical. The food was very good, the main course of salmon and chicken with twice baked potato and green beans was my favorite! But most of all, the service and communication between our even coordinator and Chris and my husband and I is what made it all possible and run smoothly. I am so happy with the decision we made in choosing Bobak's as the place in which to celebrate our marriage. We were blessed with Karen as our event coordinator and had the pleasure of working alongside her and Chris in the weeks and final days leading up to the wedding. Bobak's worked with us and the budget we asked to maintain. Unlike the many venues my husband and I visited and corresponded with prior to finding Bobak's, I felt as though and we were important to them and respected. Bobak's is exceptional, and my husband and I as well as our families will be forever grateful to them for the amazing night we had. Thank You!

Olivia B.

Married on 10/20/2018

AMAZING! Like a dream.

My husband and I got married at Bobak's on October 20, 2018, and we do not have enough great things to say. The entire planning process leading up to our wedding day made you feel at ease - all thanks to the wonderful staff. Karen and Chris' expertise truly made me feel like I was going to have the wedding I've always dreamed of having since I was a young girl - and that's exactly how our wedding day was. The wedding day was flawless, picture-perfect, unimpaired. The service Bobak's provides is to the utmost quality and so accommodating, and my husband and I are so impressed with how everything turned out. The food was amazing, and many of our guests told us it was the best food they've had at a venue. I will definitely continue to recommend Bobak's to everyone. We cannot wait to have another event here in the future!

Sue K.

Married on 10/20/2018

Great Planning Experience

My daughter had her wedding reception at Bobak's on 10/20/18. Karen was our coordinator for the event. I can't say enough good things about the job she did. Karen was super organized and gave us many tips about how to make the event special. She guided us through the menu, showed us options for room décor, and had a very detailed list of items that we needed to consider. She adapted to changes and last-minute requests, and calmly supervised everything on the night of the event. The room looked spectacular, the food was great, and people loved the sweet table. Planning the reception at Bobak's was very easy and I highly recommend this venue.

Ashley H.

Married on 10/19/2018

Easy planning and great execution!

We planned our wedding from out of state, and Karen was fantastic. She communicated with me wonderfully, responding to all my MANY questions very quickly and thoroughly. They took care of all the setup, dinner and drinks at the venue and they did all they could to make it stressless for me. For dinner, the food was incredible! Instead of soup we added a mashed potato bar during cocktail hour, which was a huge hit! The steak and chicken were delicious, cooked to perfection. We designed our wedding cake, and they decorated it, and I could not believe how BEAUTIFUL it turned out! They ran my day so I had nothing to worry about, and was able to just enjoy it. Chris was great at coordinating throughout the evening. I would highly recommend Bobak's to anyone looking for a venue. What a great experience!

Jose C.

Married on 10/19/2018

Amazing service!!!

We had an amazing experience at Bobak's Signature Events! Our wedding went off without a hitch and it was all thanks to their team. Karen was an amazing coordinator and kept us focused on what we needed and also provided us with great ideas! She was very easy to work with and made the whole experience amazing.

The venue was perfect for the amount of guests that we had coming and everything was decorated really well. The food, however, is the best part. Every meal is made from scratch and is so delicious. I will recommend this place to everyone I know.

Sara

Married on 09/29/2018

Thank you for making my wedding dreams come true, Bobak's!

Nothing but a first class experience. From the food to the service to the setting, Bobak's was everything and more than I ever could have imagined. They made my wedding dreams come true from start to finish. More importantly, the planning with the Bobak's staff, including Chris, Anna, and Karen, was second to none. So very thankful to have had the opportunity to have our wedding reception at Bobak's and to have been able to work with the wonderful family and people who made my wedding visions and hopes come to life.

Marie

Married on 07/06/2018

Karen is amazing!! She helped with absolutely everything. The staff was great, it was a perfect night for us.

Maggie M.

Married on 06/23/2018

Perfection

Bobak's Signature Events was the easiest decision I made throughout my wedding planning. Anna, Chris and Karen were so kind and flexible and were willing to work with me on making everything I wanted come true. On the day of our wedding, the room was absolutely stunning. Honestly, our guests still talk about how the delicious the food was. I did not have a wedding planner, but I did not worry about a single thing during our reception because I knew it would be taken care of (and it was). I could not recommend Bobak's Signature Events enough!!!

Sireon

Married on 06/22/2018

Karen was phenomenal ! She attended to every need and want that I had and if I were to ever need another event hosted I would definitely come to her!

Michelle

Married on 06/16/2018

The only issues brought to my attention were the bar ran out of Coors Light and the bartender didn't know what Tito's Vodka was when people were ordering.

Emily

Married on 06/01/2018

Karen was amazing to work with. She made sure to inform us about everything Bobak's had to offer and helped us make our day perfect. Her patience was amazing and flexibility was key. Truly, I could not imagine our perfect day could have been as perfect if it wasn't for Karen.

Diana

Married on 11/25/2017

Bobaks is not only beautiful but the food and cake are delicious. The staff are very attentive. Karen did such a great job that it was as if we had hired a wedding planner. Karen also responds right away to questions. If we have another big party, we will for sure go back to Bobaks.

Malgorzata

Married on 11/11/2017


I enjoyed having our wedding with them they were just absolutely wonderful ! We are speechless and overwhelmed about this place. My husband and I are so amazed with the service that was provided to us. If we could do it all over again, we would. The service, stuff, and owners all I can say is that we still have people talking about the food and the excellent customer service that was provided. This event will be remembered by many of our family and friends and forever in our hearts. Thank You Bobak Signature Events you were the best making this a memorable day! We love it!!!

Richard

Married on 10/28/2017

Everything went beautifully and as planned. The food and services were top notch and we would recommend them to anyone! Karen was very attentive to every detail and we couldn't have had a better experience!

Rich and Christina

Samantha

Married on 10/14/2017

Absolutely beautiful wedding venue. I just had my wedding here about 5 days ago. Every single person that I worked with was incredible and made the process of planning a wedding for over 300 people so easy! All of my guests could not get over how delicious the food was, and how incredibly detailed the dessert display table was. They really do go above and beyond for everything. Our room looked absolutely magical - from the decor, to the martini bar, to the dessert and appetizer tables, along with mini burgers and shots of fries after midnight. An absolutely incredible night. Many thanks to the entire Signature team - especially Karen, Chris and Anna!

Becky

Married on 09/16/2017

We loved everything about this venue. From the staff, to the actual location. It's perfect. The outdoor terrace was perfect for our vision. The natural decor out there is stunning. Karen and her team went above and beyond for us! We couldn't of asked for a better experience with our venue. The food is beyond amazing. Everyone still talks about it. Normally wedding food is just ok, the food we had was so much more than just ok. We truly loved everything about our planning process with Karen and her staff. Once the big day arrived, I literally had zero worries or concerns about how the ceremony and reception would flow. My husband and myself truly loved it so much, we suggest it to everyone and await the next reason to hold an event at Bobak's.

+ 7

photos

Tara

Married on 09/09/2017

Karen was awesome and very helpful throughout the planning process. She was accomodating of personalized requests and made sure that everything went perfectly on our wedding day. The terrace for The ceremony was breathtaking and beautifully landscaped. The food and service was amazing during the reception. All in all, I don't think our day could have been any more perfect. It was the perfect venue. Highly recommend.
Are you interested?
Send a message