Reviews
5.0 out of 5 rating
Quality of service

5 out of 5 rating

Average response time

5 out of 5 rating

Professionalism

5 out of 5 rating

Value

5 out of 5 rating

Flexibility

5 out of 5 rating
100%
Recommended by couples
4 User photos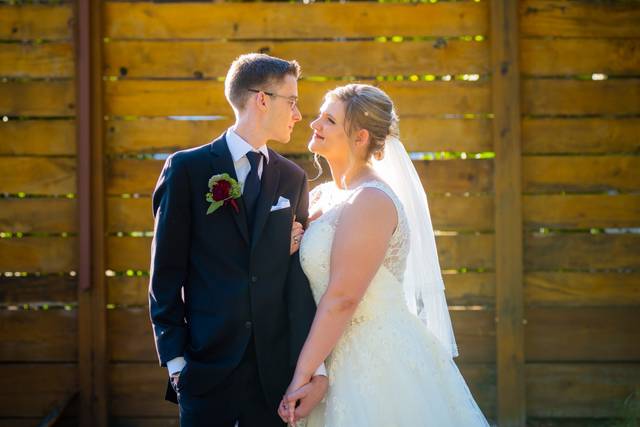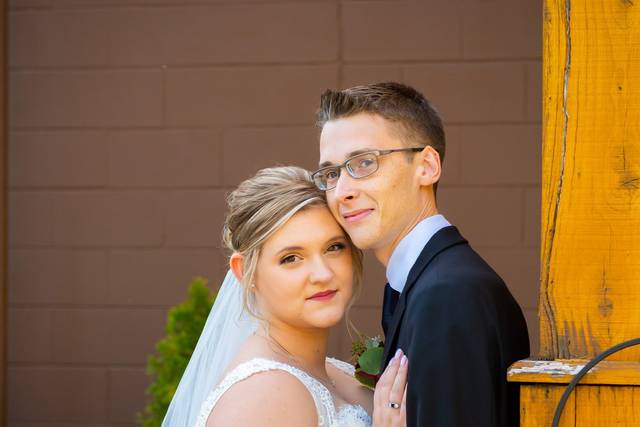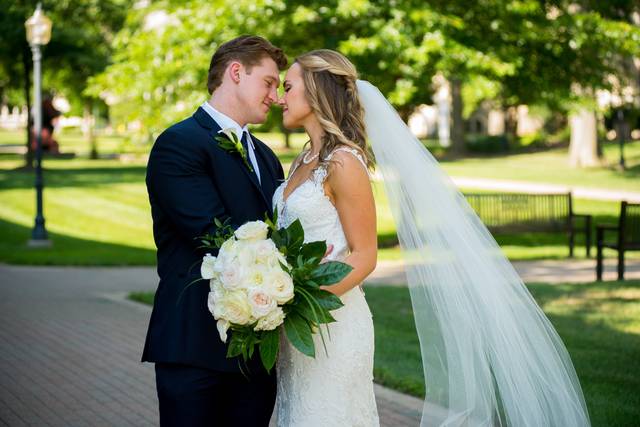 Brenda R.

Married on 06/12/2021

This is who you want to hire for your wedding photographer!

Brad did a wonderful job! The photos captured every detail of the wedding and reception. The pictures bring out the Bride and Groom's personalities. He knows what to do and does it well. Very professional. Would definitely recommend him to anyone needed a wedding photographer. You won't be disappointed. He made the day very easy.

Ashley Z.

Married on 08/15/2020

The best day ever!!

Brad has been so fun to work with. From answering many questions before and after the wedding in a timely matter to our actual wedding day. He showed up on time and was a joy to have hang with us for the day! It was the best day ever and he made sure to help keep us on track with getting the pictures we wanted for our special day. He sent us literally every shot he took and I love that we had so many awesome pictures to have forever. (Made it really hard to choose for our album he is helping design!). He even gave us a credit towards pictures we wanted printed! I highly recommend using Brad, the quality and price cannot be beat!

Emily G.

Married on 01/10/2020

Amazing Experience

Brad is awesome and our wedding photos are amazing! He's a really chill guy that was so easy to work with. He helped my husband and I pose and never stopped taking photos throughout the night.

Are you interested?

Send a message

Chelsea

Married on 09/01/2019

Friendly and very easy to work with, beautiful photos

Brad was responsive and easy to work with from day one. We're very happy with our decision to have him as our photographer. He was well-priced and the pictures turned out gorgeous. We even ended up getting stuck in the rain day-of which unfortunately affected his camera, but he had a backup and never complained once!

Thanks for everything Brad!

BLY Photography's reply:

Thank you for the kind words Chelsea! No worries about the camera. It's all part of the job and that's why I always bring plenty of backup equipment. It was worth it to get those fun photos of everyone in the rain!

Sarah J.

Married on 05/26/2019

Hire brad!

Hiring Brad was one of the best decisions my husband and I made for our wedding. He was one of the most affordable local photographers we could find, and we loved the natural, candid look of his photos. He is incredibly professional while also being very laid back and flexible. He went to 5 different locations the day of the wedding and got great shots at each one. He is experienced and can give great advice if you're needing help (e.g., where to go if your outdoor shoot gets rained out), but is also very open to your ideas (e.g., going to a place that is meaningful to you). I can't recommend Brad strongly enough!

Hannah O.

Married on 05/24/2019

Such a great guy!

Brad is not only a great photographer at a reasonable price, but such a laid back guy! We honestly enjoyed having him take our engagement photos and wedding pictures. He does a wonderful job and is super chill; never did he pressure anything. I would recommend him to anyone and everyone. Thanks Brad!

Laura

Married on 08/04/2018

Brad is exactly what his website says he is -- a great Columbus photographer at a great price. My husband and I got married on 8/4/18 in Wooster Ohio and Brad agreed to take the trip north to photograph our wedding. It was a priority for me to find vendors I could work well with and I could not have been more pleased with every interaction we had with Brad-- he is unfailingly polite, easygoing, reliable, flexible, and a clear communicator. I would recommend his great service and professional skills to anyone!

My (now) husband and I used BLY photography for our wedding a couple weeks ago and are so thrilled with the experience. Here's why:

1. While meeting with Brad for the first time, he was very professional, but also personable and kind, so he was a pleasure to work with!

2. We explained to him that both of us are very awkward, don't like being the center of attention, and feel very, very uncomfortable in front of the camera. Because of his calm, down to earth demeanor and his awesome skills, all of our pictures look great and you can't even tell how weird we feel!

3. He remained light hearted, kind, professional, and patient with us despite how freakin' weird we felt lol. Thanks for that, Brad!

4. Quality for cost! Finding a photographer with skill that won't completely rob you is hard to do in Columbus. He is a fair and genuine photographer!

5. Timeliness: He showed up on time, got all the shots in we needed on time, and all of our photos were completed and returned to us in 10 days!

6. Flexibility: I asked for a second shooter about a week before the wedding (sorry, Brad!) and though he warned me that it might not be possible just a week out, he was still able to find someone! He also showed no sign of annoyance or irritability at my late request like I probably would have and deserved lol. Also, I think he stayed an hour over our originally agreed time because it took a little longer than expected to get to the dance party, but he didn't seem bothered by it at all!

Overall, couldn't be happier. He's great!!!

Jessi

Married on 06/10/2017

When we got engaged, we knew having a good wedding photographer was one of our top priorities. When we started our photographer search, all the good ones seemed to be out of our price range. Then we found Brad! From our very first phone conversation, we knew he was going to be awesome. He seemed very professional and answered all of our questions. He even answered questions we didn't know we had. The first time we met Brad was at our engagement shoot. Brad gave us some recommended locations for our engagement pictures around the Columbus area and even said he would travel to a different location for a small fee. We ended up taking our engagement pictures at the Scioto Mile and Brad knew all the gorgeous spots to take photos. He was very relaxed and made us feel very comfortable. The engagement pictures turned out beautiful and we were so excited he'd be photographing our wedding. When the wedding day came, he arrived at our venue super early so he could scope out all the good spots. Brad has done so many weddings that he has the photography schedule down to a science. We had plenty of time to take pictures because Brad is so efficient at his job. We got all the pictures we wanted and they turned our PERFECT! Brad took tons of pictures and he said he'd have them back to us in 4-5 weeks. We ended up receiving our pictures in 3 weeks and we couldn't be happier. Brad captured every moment beautifully and we will be able to cherish our wedding day forever thanks to him and his amazing photography skills, knowledge and experience. We cannot thank him enough!

Marie

Married on 01/01/2017

We were having a hard time finding a right photographer and we found Brad a few weeks before the wedding day. We were not sure if he can take our photos in such a short notice but he was such a nice yet professional to respond to our request! He answered my very detailed emails with a long list of questions and replied with details in 24 hours. He was very cool to work with us on the day and he finished his work in a few weeks after the event too. We are very grateful to work with Brad!

Judy

Married on 10/16/2016

We hired Brad to do our engagement and wedding photos, and we couldn't be happier! We were impressed by his attention to detail and genuine passion for his work. We met with other photographers who tried to pressure us into buying packages we didn't need, but Brad isn't like that! He was so easy to work with, and always responded quickly to our e-mails when we had questions. Our photos are amazing and we will treasure them forever!

Amber

Married on 09/24/2016

Brad did an amazing job with every detail leading up to our day and produced amazing pictures from our wedding. He is professional and fun to be around. Pictures were one of the most important things to us and Brad nailed it. Our pictures came back fast and there's so many of them that I can't pick out my favorite! We highly recommend Brad! Thank you again! Dan & Amber

Jamie

Married on 08/13/2016

Brad was awesome! He was so friendly and flexible. He took all of our ideas and helped make them even better. I got my prints within two weeks and they were beautiful! He was affordable as well. I highly suggest him!

Lesley

Married on 08/12/2016

We hired Brad to photograph our wedding and it was THE BEST choice we made! Brad was responsive, professional, but very personal. Everything from booking him, meeting with him prior to the wedding, and meeting him on the day of was a breeze. Brad helped make my husband and I feel very comfortable during our big day and he caught some of the most special moments between us. He guided our first look in order to capture all of the emotions of those few minutes, and he seamlessly moved about during the ceremony and took breathtaking photos.
Brad's philosophy for providing excellent service for all couples was a breath of fresh air, especially as we were working on a budget.
He got our pictures to us within a couple of weeks, and the wedding book we received as a part of our package is stunning! If we were to do it all again, we would hire Brad for our engagement pictures as well!

Sarah

Married on 07/23/2016

Throughout the entire wedding process, Brad was professional, responsive, flexible, very easy to work with and took amazing photos (over 1400). Leading up to the wedding, he gave us back up ideas in case it rained which made me feel much calmer (it ended up not raining!). He suggested that I send him a list of the types of photos that I wanted so that on my wedding day, I could just be in the moment and not worry about organizing photos. After the ceremony, he went through the list and organized the photos with all the family which went so smoothly! We took group photos outside with a large wedding party on a very hot day in July. I assumed most of those photos would not turn out because it was so hot. I could not have been more wrong! We have beautiful photos taken in 90 degree heat and I could not be happier! During the reception, he captured many moments that I didn't even think about. There was a particular photo I wanted to take with my bridesmaids during the reception, but I had completely forgotten about it, but Brad remembered and reminded me. It is one of my favorite photos! One top of having a great experience at our wedding, we received our wedding pictures two weeks later. I highly recommend hiring Brad!

Emily

Married on 10/31/2015

Brad is AWESOME! Let me just say, I had a TON of trouble with my wedding planning (including rescheduling twice), and Brad was super accomodating and very understanding.
The photos are amazing, and he took 1,300+ - with no assistant! He's very stealthy in his photographing, people didn't even notice he was around. But he got amazing photos and captured the best moments from the wedding. He did exactly what we wanted and didn't try to push us into any photos we weren't interested in taking. He was very helpful when I asked for advice on photos to take, and he was very efficient in his photo taking so it didn't take away from our time to enjoy the wedding.
He's also EXTREMELY AFFORDABLE! I would absolutely recommend BLY Photography to anyone!!

Nicole

Married on 09/26/2015

Brad is a wonderful photographer! Brad took pictures for our engagement and wedding pictures. We are in the process of ordering one of his photo album's for our wedding pictures and cannot wait to see it. When you meet with Brad he brings some of his work with him including his beautiful photo album. I really like that his website tells you his package prices along with his availability. Brad is very responsive and talented. I highly recommend working with Brad. His pictures are beautiful and you will not be disappointed. He is a blast to work with as well!

Penny

Married on 07/11/2015

I found Brad through a friend who got married and I was incredibly grateful! When looking at photographers I was overwhelmed by the choice and also how expensive packages were. I first looked at Brad's photography because of the reasonably priced packages and all his pictures were beautiful. After talking with him on the phone, I knew he was the perfect fit! My husband and I like candid shots, in the moment, and that was Brad's style. Yes we did do posed family photos, but we have so many candid photos throughout the day! We met with Brad a few weeks before the wedding to review details, and I sent him my Pintrest page of wedding photos I liked. The day of, he was wonderful! He captured so many priceless moments perfectly. In addition, he knew poses we liked and found great places to take photos and recreate photos that I liked from Pintrest. He was also very helpful for group shots, because our wedding party numbers were a bit atypical. But he figured out great group shots that worked! One thing I would HIGHLY recommend is give you and your significant other at least 20-30 minutes with just you guys and Brad. We had such a great time and so many great shots of just us, I was so happy we built the time in to do that. Do yourself a favor and book Brad for your wedding photographer, you will not regret it!

Seth

Married on 06/06/2015

Brad was great to work with. He responded to all of our emails right away, and had all of the right answers to our questions. On the day of the wedding, he captured all of the fun moments we missed in the fun and chaos. A DVD of our pictures was waiting for us when we returned from our honeymoon. We had a great time reviewing them and were shocked at the number of pictures he took, there were so many! We were surprised at what all he captured, we had never knew he was there taking all of the pictures, he blends in and photographs all of the real moments.


Katie

Married on 10/25/2014

Brad photographed both our engagement session and wedding, and we couldn't be happier with the results! Brad is professional and flexible. I am not the most creative with ideas for pictures, which was no problem as Brad had plenty of ideas and adjusted to what we liked and didn't. We received the disks for both our engagement and wedding photos within one week of the events - which you probably know is unheard of! The photos are absolutely gorgeous!! It is so hard to pick my favorites because they are all so amazing. I highly recommend Brad to anyone looking for a photographer. His prices are affordable, some of the best in the area, but you would never guess it by the quality of the photos. If you choose Brad you will not be disappointed!

Alison

Married on 10/11/2014

We would recommend BLY Photography to anyone that is needing professional photos taken. We worked with Brad for our wedding photos and couldn't be happier with the outcome! The photos are beautiful! Brad captured the day perfectly and the photos are better than we expected. He was very professional and a pleasure to work with. On the day of the wedding he was on time and had such great photo suggestions. The quality of the photos were wonderful. We loved them so much! Brad created such great memories of our wedding day and we are thrilled with them!

Jacki

Married on 10/04/2014

We had a great experience with Bly Photography for our October wedding. We met with Brad a few months before our wedding, and he got a feel for our style and what we were looking for in both our wedding party shots and ceremony shots. He took our suggestions for locations and actually went out and scouting them on his own and sent us sample shots. We were really impressed with that. For the wedding, Brad bought in a second photographer but didn't force us to use her the whole day. She only shot the ceremony and the first few hours of the reception so that we had lots of pictures from multiple angles. That was a nice way to have that done as we got the pictures we wanted and it was more economical for us.
Our pictures ended up coming out great. Brad was professional, non-intrusive during the day's events, and knew what kind of shots would end up best. He made lots of suggestions during the wedding party photos and they all turned out well. We were most concerned with getting good candids on the dance floor, and he did a great job capturing the moments. The lighting was great despite a dark room, and we had a TON of pictures at the end of the day. We had him booked until 8 – at 8 he asked if we'd like him to stay and we did for another 2 hours. Those were some of our most memorable shots and we're so thankful he was accommodating like that. Overall, Bly was a great find and at an amazing value compared to some of the other photographers we looked at. Highly recommended!

Danielle

Married on 05/25/2014

Brad was awesome to work with. We interviewed many photographers in the Columbus area and as soon as we talked with Brad we knew he would be a perfect fit. He was responsive to emails, which was important to us as we were planning our wedding from out of state. The day of the wedding he had great ideas for pictures, was very efficient and made sure we got all our pictures done in a timely manner while still capturing all the moments we desired. We had many guests and family say he was easy to work with and also was good at staying out of the way and not being distracting to guests. He took so many pictures and they turned out so beautiful! I could not be more pleased with a vendor! We would highly recommend Brad for any of your wedding photography needs.

Morgan

Married on 05/24/2014

Brad was amazing to work with and did a beyond beautiful job capturing our wedding! I chose his mid-range priced package and I couldn't be more pleased with the value. His work is amazing, I loved every single photo he took. He was also so easy to work with. I was planning my Ohio from out of state and he was always very prompt with e-mail responses and did a great job answering all my silly questions.

I would highly recommend Brad!

Leona

Married on 05/10/2014

We booked Brad for our May 10, 2014 wedding. And I'm so glad that we did. He was phenomenal. He was very professional and courteous! He made us feel extremely comfortable and he took his time.

He was great with our guests and my parents loved him. We were very impressed with Brad! I would highly recommend him to anyone.
Are you interested?
Send a message