72 Reviews
Recommended by 99% of couples
Quality of service

5 out of 5 rating

Average response time

4.9 out of 5 rating

Professionalism

5 out of 5 rating

Value

5 out of 5 rating

Flexibility

5 out of 5 rating
4 User photos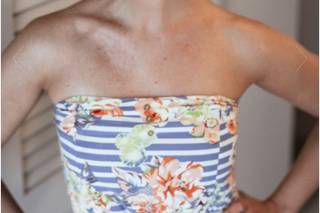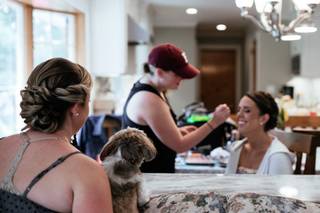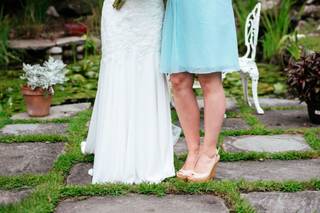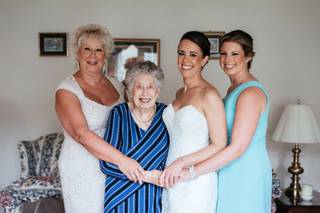 Kathryn

Married on 09/04/2021

My day would not have been complete without Alyssa there. From the first time I met her, I felt more like a friend than a client. She's personable, professional, friendly, kind, caring, and an amazing makeup artist! Worth every penny!!!

Alyssa and Paula were amazing on my wedding day, and even before that.

I went for a hair and makeup trial, I was totally blown away. I've never felt beautiful, and they managed to make me feel gorgeous.
We then had my mom and sister do hair and makeup trials. They were blown away too.

My wedding day, like most brides, was a little crazy. For us, the photographer was two hours early and was messing with my dress, pressuring me to take pictures when I wasn't ready, and was pestering me on when the flowers would arrive, when the groom would be ready to be photographed, when we'd be leaving. But Alyssa and Paula were calm, cool and collected. They actually stopped me from freaking out on the photographer. They kept me smiling and laughing.

I cannot thank them enough for helping me on my day! I have to think of other reasons for me to use their services!!!

Marissa

Married on 08/26/2018

Wonderful wedding day experience!!

You can't go wrong using blush beauty! Alyssa is so talented at what she does and makes your whole wedding day experience stress free and memorable!! She goes above and beyond with making sure you're comfortable with your wedding day look and makes sure it's exactly what you want and envisioned. She's ultra professional and very accommodating! She's the only one I trust for makeup!

Sarah

Married on 08/12/2018

The most amazing experience ever

So beyond grateful for Alyssa and her team. She made my wedding morning absolutely seamless and stress free—and my bridesmaids and I were SO happy with our makeup . I still get compliments about how we looked, even months after my wedding!! Could not have asked for a better experience.

Are you interested?

Send a message

Sally D.

Married on 08/02/2018

Wedding Dream

Alyssa and her team are UNBELIEVABLE. On your wedding day it is so important to have positive vibes and worry about NOTHING! Alyssa and her team did just that! Waking up early and being greeted by the friendliest people was amazing. The teams attitude, professionalism, fun attitude and of course BRILLIANT talent we're just what I needed. Alyssa listened to what image I had in mind and truly went above and beyond. I felt the most beautiful without looking like I had makeup on. The teams ability to make me look alike me with a little extra something was extraordinary. I cannot day enough about the team and my whole wedding day experience. Thank you for all that you did to make my wedding day PERFECT! I highly recommend Blush and will use them for EVERY event in the future!!!!

Melissa

Married on 10/21/2017

Alyssa, Paula, and their crew did a fantastic job this past weekend for my wedding! Everything came out exactly as I wanted it to and they are so pleasant to work with.

Jade

Married on 08/18/2017

Alyssa's work is amazing!! Everyone loved their make up, it looked great in the photos and stayed on through the night! You can't go wrong with Alyssa! She is also very sweet and a pleasure to work with as well as incredibly talented!

Laurie

Married on 07/15/2017

Alyssa is incredible! She had done the makeup for my sister's wedding, and as soon as I got engaged I made sure to secure her for my date. There was no one else that I could have imagined doing my makeup for the big day. She is truly an artist, and her work is absolutely stunning. I have had my makeup done for many other weddings, and no one ever really noticed or paid attention to it. However, I had multiple people compliment my bridesmaids and I on the how beautiful the makeup was throughout the evening- and it photographed incredibly! Alyssa is also completely full service and the ultimate professional. She is able to fix hair mishaps, wardrobe malfunctions, and even stuck around extra long to touch me up after my photographer got a little rowdy with the photos and champagne! There is no one else that I will even consider using for any future photo ops, or big events. My whole family loves her and I cannot recommend her enough!

Monica

Married on 09/30/2016

I highly recommend Alyssa of Blush. Not only is she the sweetest girl she is extremely hard working. She enhances what you have to create a flawless version of yourself. On the day of my wedding Alyssa drove with us to church to help put in my veil after my hair salon had already left. Alyssa is truly in a league of her own. Ive had my make up done plenty of times but There is NO ONE like her.

Paulina

Married on 12/19/2015

When I first got engaged, my new sister in law mentioned that choosing BLUSH for her own wedding was one of her best decisions. I went for a trial and immediately knew why she was so happy with them and I booked them. Alyssa, Paula and Petula did an amazing job on hair and makeup for my wedding day! Everyone looked absolutely flawless. My make up lasted all night, and even into the morning when I forgot to take it off (oops), but who could blame me? It looked so good! BLUSH was an absolute pleasure to work with and I would book them again in a second!

Ashley

Married on 09/27/2015

When a girl in my family gets married, its a no brainer who does the hair/make-up for the special day. Alyssa and the BLUSH ladies are absolutely fantastic. They are personable and do a fantastic job. Alyssa had my mind at ease during this very stressful time, and my hair/make-up looked perfect on my wedding day. Even more importantly all the girls looked their very best too! They are not only professional in their business, but Alyssa has so many accolades and degrees in make-up design. I have never been so impressed by a studio!

Kim

Married on 09/26/2015

I booked BLUSH to do the makeup for my September 2015 wedding. I was thrilled with how the make-up turned out and all my bridesmaids loved their makeup as well. From the beginning, Alyssa was very professional, accommodating, flexible and easy to work with. She also listened and took feedback on what felt comfortable to me and incorporated it into the final result. Her technique is flawless. I'm very particular with my makeup, so I would not trust just anyone with my makeup. After my trial with Alyssa, I was put at ease knowing that I did not have to worry about makeup the day of the wedding.

On the day of the wedding, the only thing that matched her skill and professionalism was how she went above and beyond to make sure my day went off without a hitch. She made it a lot easier on me and my bridesmaids by coming to the hair salon at 6am to make sure we got done as fast and efficiently as possible. Also, she came to my venue before the reception to do touch-ups, and even helped out with my hair and was on her knees bustling my dress! You could not find anyone nicer to work with. I would recommend her to any bride who wants flawless, gorgeous and beautiful makeup for their wedding day.

Kate

Married on 09/25/2015

As soon as I got engaged, I knew that I had to have Alyssa and the ladies of Blush do my makeup for my big day. Alyssa is the sweetest and most amazing makeup artist I have ever worked with. She was wonderful to work with through the process, even when we had some drama with who was getting their makeup done and who wasn't. On my wedding day, Alyssa and Denise came to my hotel room and felt like honorary members of our bridal party. They made the day fun and relaxed. Alyssa went above and beyond, not only doing makeup for our bridal party, moms, and myself, but also providing touch-ups on my hair that had started to come loose and helping me put my veil in. I just couldn't imagine my day going so well if it weren't for everyone at Blush. And the best part...my makeup looked flawless until 3am!

Reema

Married on 08/09/2015

Alyssa did my make up for my wedding and with the August heat, nothing budged! She's beyond talented and would recommend the world to her! I have people still calling me about my make up!

Blush studios were so accommodating. They came in to my house and did my hair and makeup along with the bridal party! Everyone looked AMAZING! I would highly recommend Blush!

Nicole

Married on 09/20/2014

Alyssa and her team are the absolute best!! They came to my house on the morning of my wedding and did hair and makeup for me, my bridal party, and my mom. Everyone looked absolutely stunning!

The Blush team was just amazing! I cannot say enough about how great they are! Everyone, from myself, the bridesmaids, moms, and flower girl all looked amazing. I was concerned that with my long hair, my updo would not stay, but Paula made sure my hair was perfect and would last all day. My bridesmaids have long, straight hair, and their curls lasted all day. Everyone's makeup looked great and not over done. Alyssa made sure my makeup was flawless. I was concerned about needing frequent touchups throughout the day, but I only ended up needing to touchup my lipstick. Everyone was on time, and Alyssa made sure to make a schedule so that we had enough time for hair/makeup. The prices are also very reasonable. Thank you so much to Alyssa, Paula, and the team for your amazing work!

Codi

Married on 07/19/2014

Alyssa and her blush ladies were amazing! I actually just got married yesterday but have to write this review before my honeymoon!!! Everyone's hair and make up came out fabulous. Alyssa is great to work with and helps you throughout the wedding make up/hair process. Thanks again Alyssa, Casey, Paula and Enza! You ladies are amazing and I can't wait to use your services in the future!!!

Alyssa is the absolute best! She makes you look and feel beautiful! Not only did my make up look stunning in person, my photos came beautiful as well! My entire bridal party and my mother looked incredible on my wedding day. Alyssa can give you the exact look you are going for. And she knows exactly what to say to keep a nervous bride calm on her wedding morning! :) I was so grateful to have her!!

Kaitlin

Married on 06/14/2014

Alyssa, Paula, and Carrie are fantastic. Alyssa was recommended to me by a coworker and I will continue to recommend her to anyone I meet.

I had a makeup and hair trial with Alyssa and Paula and it was flawless. Alyssa confirmed everything about a week before the wedding and made a schedule for all my bridesmaids and the mothers. The girls arrived on time at the hotel and had a perfect flow transitioning from hair to makeup for all my bridesmaids. Everyone's makeup and hair was fantastic and lasted the entire evening. The pictures look flawless. I cannot thank Alyssa enough.

Dora

Married on 04/18/2014

So thankful that Alyssa and blush were recommended to me by a friend. Everyone in the bridal party looked gorgeous and the makeup lasted all night! I've never had so many compliments..I truly was a blushing bride..thanks again for your great work and professionalism.

As I planned my wedding, I was so careful to attention to every detail, which is why I was so happy I went with Blush makeup studio & boutique. Every aspect of my look, jewelry, hair and makeup was exactly as I imagined, even if I couldn't fully explain exactly what I was looking for. Alyssa and her artists are fabulous and took care of my entire bridal party as well as my parents and grandparents. Blush makeup studio & boutique even gives you the option of gift certificates for the perfect bridesmaid gift, which my bridesmaids LOVED!!! Every girl looked absolutely stunning and felt amazing as well as comfortable the entire day and night. I had used Blush for my engagement photos, bridal shower, and my wedding day and I wouldn't hesitate for a moment to recommend everyone do the same. Absolutely perfect and I couldn't be more satisfied.

Katherine

Married on 09/21/2013

Can't stress how much I loved all hair and makeup on my wedding day. From myself (the bride) to our Jr bridesmaid and mother of the groom/bride, everyone looked AMAZING. Hair was classic and timeless. Makeup was impeccable and made everyone look so glamorous! Both hair and makeup lasted ALL night long-through all the pictures and dancing until the early hours of the morning. Hair and makeup girls were on-time and professional and made great recommendations! I would highly recommend BLUSH to any bride getting married in the NY/NJ area!

Stephanie

Married on 07/27/2013

Alyssa and her team are absolutely outstanding! Not only have I seen Alyssa work on some of the biggest celebrities in the business, she has also made every one of friends look incredible on their wedding day! She is extremely talented and the hair and makeup team that work beside her are some of the best in the industry. There is no one else I would recommend to anyone other than Alyssa and the Blush team because their work is flawless.
I had a destination wedding in Miami, FL this past July, where Alyssa was wonderful enough to fly down and make me look beautiful on my wedding day. She was with me the whole time from start to finish and I am so grateful to her for that. It was so wonderful to not only have a great friend but also the best makeup artist I know with me on one of the most important days of my life. If you're looking for the best of the best.. you've definitely found it at Blush!

Jessica

Married on 07/19/2013

Alyssa and her team did an amazing job beautifying me and my bridesmaids on my special day! Our makeup was perfection and glamorous! They did a nice job of listening to our wants and needs in order to offer a great experience! Our makeup lasted all day in the 100 degree temperatures, and all night long through pictures and dancing! Alyssa and her team were professional and personable! I would highly recommend Blush for any special occasion!

Heather

Married on 06/23/2013

There are not enough great things I can say about Blush! Alyssa, Petula, Paula and Casey are the BEST! I have been in plenty of other weddings where the hair and makeup is mediocre at best (for the bride included) so I knew I had to book Blush for my wedding if I wanted the perfect look my special day!

Each one of them is incredibly talented and truly excellent at what they do. Everything about MY look as well as my bridal party's was flawless! I would definitely recommend Blush to any bride!
Are you interested?
Send a message