63 Reviews
Recommended by 99% of couples
Quality of service

5 out of 5 rating

Average response time

4.9 out of 5 rating

Professionalism

5 out of 5 rating

Value

5 out of 5 rating

Flexibility

5 out of 5 rating
1 User photo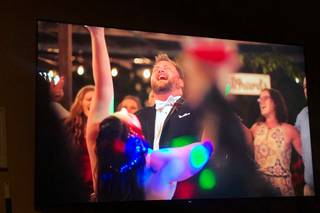 Kristie K.

Married on 11/19/2022

Blew me away!

Jeremy and his team outdid themselves on our wedding video! They captured every special moment and told our story so beautifully! It really did blow us away. The style of the video and the editing were everything I hoped they would be. Not only that, but Jeremy was so professional, friendly, and worked seamlessly with my photographer, which is SO important. They made my day run very smoothly. I had so many people compliment me on my photo and video team. I also received my video footage in the promised timeline. I really loved working with Blue Tiger Films and HIGHLY recommend them for your wedding day.

Alyssa L.

Married on 02/23/2020

Amazing! Don't hesitate!!

These brothers are one of a kind and so awesome!! They made the entire process so easy!! Book them!!

Roseanne O.

Married on 08/10/2019

Professional, quality videography service

My fiancé and I found Blue Tiger Films through a wedding open house and we are so glad we booked them!! Jeremy and his team were professional from the moment we met them—taking the time to hear what we wanted and helping us determine what would best suit us in terms of our budget. We had great communication throughout the process and they also worked really well with our photographer on the day of our wedding. Our highlight video captured all of the different emotions felt throughout the day and we can't wait to see the full dvd! If they're available for your wedding, we highly recommend booking them! You won't regret it!

Are you interested?

Send a message

Danielle

Married on 05/11/2019

Relive your special day over & over

OMG Jeremy and Brian are absolutely AMAZING!!! They were soooo good that during our wedding we actually forgot they were there (sorry guys). We never felt like we were being watched or videotaped so we got to live in that moment and they captured every one of those precious seconds. They made sure they were never in the way of the bridal party or our photographer thus why it felt like they were never there. Haha. They captured the best and special moments of our wedding and when we got our wedding video back Holy Smokes it took our breath away, we even cried. We got married in the church so we could not say our own vows (we had to use the church vows) so instead we wrote our vows to each other and read them before our ceremony. We read out loud what our vows were to each other & they were able to incorporate our vows to each other beautifully in the video. The entire video made you feel like you were right in that moment all over again and for our guests who couldn't make it to the wedding it felt like they were there the entire time. Turn around time for our video was 2 months which is amazing! I know brides who waited MONTHS so very grateful for getting back our video so quickly. I would highly highly recommend Blue Tiger Films. They were professional, on time, and truly talented. You can tell they love what they do!

Emily

Married on 05/04/2019

Blue Tiger Films is Amazing!

Jeremy and Brian of Blue Tiger Films are the best! They are so easy to work with and super responsive! The day of the wedding they blend into the background and capture the day as the events unfold; they don't try to script any footage. My husband and I just received our video and we were blown away with the results. We have watched our highlight video close to 10 times already and we cry each time. Jeremy and Brian managed to capture all of the important details and moments so we can relive them over and over (plus some details from the cocktail hour that we didn't get to experience at all during the wedding). If you are on the fence about what vendor to pick do yourself a favor and give them a call and you won't be disappointed.

Thanks Jeremy and Brian!!

Michelle B.

Married on 04/27/2019

Simply the Best

These guys are AMAZING. They made the day so comfortable, you hardly know they're there. My husband and I just watched our video on our one year anniversary and we are BLOWN AWAY. So tastefully done, so professional, so romantic. The full length video has every song that is important to us, every vow, every speech, every DANCE MOVE!! Blue Tiger could not have done any better and we are incredibly thankful!!

Kristin A.

Married on 04/20/2019

If you dont think you need a professional videographer - you are wrong!

When my wife said we needed a videographer as well as a photographer, I thought she was crazy. I was not a fan at all of hiring a videographer, but OH MY GOODNESS, I am so thrilled that we did. We enjoyed seeing pictures of our special day but having the video is priceless. The entire team made us feel totally comfortable and all of our friends could not believe how professional the video looked. Every moment we wanted captured, was captured perfectly and in so many different angles. I was shocked at how well it all turned out. I strongly suggest hiring Blue Tiger and their team to be involved in shooting your wedding. I promise you will not regret it by any means.

Brian G.

Married on 03/02/2019

Great guys, great job!

Blue Tiger were phenomenal. They're super nice guys and we didn't even notice them filming. They were very discrete which is really appreciated on such a big day. The videos were amazing too. Highly recommend!

Blake

Married on 10/12/2018

Best Videographers

Jeremy and Brian were phenomenal for our wedding! I feel as though they were able to capture every moment but were extremely polite and calm. I didn't feel like they were in the way or ruining the moment. They were flexible and super awesome about responsiveness. Not only were they there during getting ready but they captured the entire ceremony, beach footage of just Blake & I and the reception. I absolutely would recommend this videography company.

Becca

Married on 06/05/2018

Jeremy and his brother Brian from Blue Tiger Films are the best videographers ever! I wish I could give them 100 stars!

One of the best decisions we made was hiring them to film our wedding in June, 2016. They are real professionals - they covered every detail of our wedding and created the best highlight video we ever saw. I can't stop watching it - I love every second of it! It literally brings tears of joy to my eyes every time I watch it.

Jeremy is a real pleasure to work with. He went above and beyond whenever I asked for something. For example, my photographer missed a key shot, so I emailed Jeremy and asked him if he caught it on film. He emailed me back that he had, and he sent me a screen shot of it so I could have it as a hard copy as well as seeing it in the video.

(That's a real perk to hiring Jeremy - you don't have to worry if your photographer caught every picture you hoped for, because even if a picture was missed, Jeremy will have it on film for you!)

Jeremy and Brian are so friendly, patient, and easy to work with. No matter what I asked for, they were happy to do it. For example, I wanted to use a different song for the background music on my highlight video, and even though it was me who gave them the original song (that I now wanted to change,) that was no problem for Jeremy. He gladly did that for us. I wish all my vendors were as nice and caring as Jeremy and Brian are!

Another plus: I had my wedding on the Point Loma Naval Base in San Diego, and Blue Tiger Films is already vetted, so it was no problem to get Jeremy and Brian on base. They also came early and stayed late for our wedding to provide full coverage.

If you want to hire the nicest and best videographer in San Diego who truly wants to do everything possible to make you happy, hire Blue Tiger Films!

Thank you, Jeremy and Brian, for everything! From start to finish, you and your videos are awesome!


Amanda

Married on 05/26/2018

Highly Recommend Blue Tiger Films

If you are on the fence about investing in videography for your wedding – do it. My husband and I were so incredibly happy with this decision and could not recommend Blue Tiger Films enough! Their pricing is competitive and an incredible value, and both Jeremy and his brother are a pleasure to work with. They captured every moment without being obtrusive and the edited copy brought back all of the feels of our special day. Thank you Blue Tiger Films for preserving our memories. We cannot wait to watch this each anniversary!


Megan

Married on 05/05/2018

Jeremy and his brother are an incredible duo! The video that they produced for our wedding perfectly captures the joy and excitement of the day. During our wedding, they kept an incredibly low profile while capturing our footage that most of our guests didn't even realize they were there. Not only was the footage they captured absolutely amazing, but they did such a wonderful job editing our highlight video. Additionally, we really appreciated the edited video they provided of our full wedding, which we were surprised to learn was not standard for other wedding videographers. Highly recommend working with Blue Tiger!

Laura

Married on 04/15/2018

Blue Tiger Films is amazing! Jeremy and his brother did a fabulous job from beginning to end. They gave us an incredible value for our money and went over and above in every sense. From the initial meeting at their studio, to the classy way they dressed at the wedding, to their unobtrusive methods of capturing EVERYTHING, to the finished product which was AWESOME... we are 100% pleased and satisfied with Blue Tiger Films. Our only problem is that we can't stop watching the Wedding Film!

Kitrina

Married on 01/20/2018

One of the best decisions of our wedding!

Jeremy and Brian are a pleasure to work with. They are professional and have a beautiful eye for film. The result is a video that we are excited to watch, not only because it is a reminder of our special day, but because there is care and consideration put into the film. From the music to the editing these guys really know what they are doing- and at an affordable cost too.
Thanks guys for creating this memorable moment for us!

Earl

Married on 11/04/2017

I have worked with Jeremy and Brian York over the past seven years. They are always easy to work with along other vendors and their results are unbelievable. They have created a video for my company with top notch cinematography, effects, shooting angles, quality of sounds, lighting and edits in crisp-clear, high-def video! I would recommend Blue Tiger Films to every couple out there who are looking to hire an awesome videographer for their big day.

Vanessa

Married on 09/09/2017

Jeremy and Brian were so nice and unassuming during the wedding that they were able to capture many natural and authentic moments that I didn't even know they were there for. Hiring them, I really feel like I got an intangible treasure of memories that I can share for years and years.

Absolutely LOVE our wedding video! Jeremy and Brian are true creative professionals with an amazing eye for capturing every couple's story so magically. I was so thankful on our special day because they were so prompt they were able to capture some important getting ready moments that my photographer was not able to get for me. I really cannot say enough good things about them I could go on and on! The organization of the DVD is perfect - its simple to navigate and I love how they edit everything together. They are truly worth every penny!! I will continue to highly recommend them to all!

Michael

Married on 08/19/2017

Great experience, great video!

Jeremy & the Blue Tiger Films team were fantastic! Professional, super helpful, and made everything easy for my wife & I. We love the final output, and would highly recommend them.

Lisa

Married on 02/18/2017

work very well with photographer!

Nicki

Married on 10/29/2016

Blue tiger films was excellent! Cannot recommend them enough. Both Jeremy and his brother were so professional, organized, affordable and so nice. They captured so many moments that we had no idea happened. These guys knew what they were doing and did a great job.

Keara

Married on 09/30/2016

Just got our wedding highlights video back and I am in total awe! We couldn't have asked for a better video, to bring back all the feelings we had on our special day! Hiring Blue Tiger Films was definitely the BEST decision we made in our wedding planning process! My now husband didn't initially think it was necessary, but he just told me how grateful he is that we went ahead and hired Blue Tiger Films. There's no way to describe the feeling we got when watching it back for the first time (we've had it for a couple of hours and I've probably already watched it 50 times, lol). I will absolutely recommend them to ANYONE getting married. On our wedding day, they were extremely professional, kind and were never "in the way". . . We hardly knew they were there! They captured every moment, every laugh, every tear and everything we loved about that day. It's so awesome watching our video and seeing things we never would have been able to see, had we not decided on getting a videographer. So ridiculously happy right now! Thank you, Jeremy and Brian for being absolutely amazing at what you do!

Morva

Married on 07/01/2016

My husband and I got married this past July and going with Blue Tiger Film was one of the best decisions we made. These brothers are the best. They are very talented, calm, and professional. They try their best to work with you in any way they can.
Unlike what I thought, I was one of those very picky bridezila-ish girls! I was so stressed on our day that I wish I could go back and change things. I didn't even think Jeremy could make such beautiful short video for us. I didn't give him any room to work with, considering how stressed and emotional I was. I got ready with all my girl at a different place and I was worried if they couldn't capture any of my pre-wedding moments. Thank to Blue Tiger Film, they recorded every little scenery, from getting ready, time with my girls, helping me to get dressed, to the whole ceremony, our first dance, toasts, and cake cutting.
I watched our highlight reel more than thousands times and I just don't ever get tired of it, maybe that's just me and my special day, but I shared my video with my friends and family and it made so many people cry. I received so many phone calls saying how beautiful this video is and how great of a job our videographers did.
One big thing: the fact that these brothers work together is the best thing because you get 2 videographers at the same time. While we were taking our portrait shot and Jeremy was spending time with us, his brother Brian was capturing our cocktail hour and dinner table. We have no memory of cocktail hour and because of them we know what happened during that time.
They are truly the best I wish I could give more starts, as they truly deserve that. I will be their diehard fan and advertiser forever.


Kara

Married on 05/28/2016

Wow, I can't say enough about how wonderful Blue Tiger Films is. From start to finish, working with BTF was a piece of cake. They are total professionals, and I didn't even notice they were there on our wedding day.

We received our highlight reel almost 12 weeks after our wedding, but it was well worth the wait. These guys crushed it. They perfectly captured the essence of our wedding day, and I watch the highlight reel way more than I'm proud to admit!!! I've gotten so many compliments on our 4-minute video, which they choreographed perfectly to our song choice. The HD quality is amazing, and I want to do our wedding all over again, simply so Blue Tiger films can make us another mini-movie! :)

Our 1 hour, 53 minute "documentary" came by mail the following week, and it was equally as amazing as the highlight reel. I felt like I got to relive our wedding day, and little things I had forgotten (due to all the excitement and the Moscow Mules!) came back to me through the film. I am so happy we chose Blue Tiger Films.

I HIGHLY, HIGHLY recommend hiring them. Thanks so much, guys!

Christa

Married on 05/14/2016

Blue Tiger Films was great with everything! They delivered on everything, we are so happy we booked with them, they brought tears to our faces when my husband and I watched our wedding video! Amazing, thank you for everything again!

-Christa Salem

Stephanie

Married on 11/07/2015

A friend recommended Blue Tiger Films and I'm glad she did. They did an amazing job capturing our big day and making it look good on film. I love that they incorporated our vows into the highlight reel and the same day edit turned out beautiful. I cant stop watching our same day edit and highlight reel. They are talented, friendly, and easy to work with. Jeremy was very professional and answered all my emails in a timely manner. We received the finished product within the timeframe given. Overall, we had a great experience with Blue Tiger Film and I highly recommend them.
Are you interested?
Send a message