27 Reviews
Recommended by 93% of couples
Quality of service

4.6 out of 5 rating

Average response time

4.6 out of 5 rating

Professionalism

4.6 out of 5 rating

Value

4.7 out of 5 rating

Flexibility

4.7 out of 5 rating
7 User photos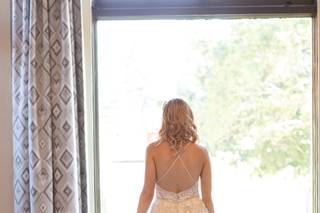 + 3

photos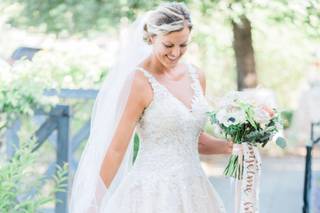 Morgan

Married on 10/10/2020

Spectacular experience

I went to 2 other Bridal bouquets before I came to Bliss Bridal and Black tie. I really wish I had started with them. They are WONDERFUL! My consultant really listened to what I wanted. (Not my mom, or Bridesmaids) I remember not being sure about the color of my gown and they looked it up with the designer to see if it could be ordered in ivory. Then COVID-19 restrictions started in March of 2020. My dress was supposed to come in June of 20 for my wedding day in October. Thankfully the staff kept me posted with what they knew and my dress came in on time. I was able to pick it up and try it on in the store (wearing facemasks and distancing the whole time). My dress was everything I dreamed it would be and I'm so thankful to Bliss Bridal!

0818F10Ddda8B7Ae210864372Defd9Fffed26Fd2

Married on 06/16/2018

Adorable Boutique & Professional Service

This boutique bridal shop has everything you need! I ordered my wedding dress from them, and more recently ordered a Bridesmaid dress for a wedding I was in. Each dress arrived on time and fit perfectly.

As a wedding planner, I work with many different local dress boutiques, but Bliss always has a vast selection and the best one-on-one service! They tell you upfront what to expect and give wonderful advice to each Bride.

Bliss Bridal has provided wedding dresses for many of my brides, and I will continue to refer them to future clients!

+ 2

photos

Haley

Married on 08/12/2017

Hillary and the whole team at Bliss were incredible. They helped me find the perfect dress (it ended up being the first dress they put me in). I wanted to sleep on it and they didn't pressure me at all. I felt comfortable and like they genuinely cared about my happiness with my dress. I ended up with a gorgeous Maggie Sottero and I felt so beautiful on our big day. Definitely visit Bliss!!

Are you interested?

Send a message

Tracy

Married on 05/20/2017

Bliss Bridal was the amazing store I needed to find the perfect wedding dress! I visited around 10 stores around San Francisco and finally went to Bliss in my hometown Petaluma to be blown away by their helpfulness, prices, quality of dresses, and just overall pleasure to work with! The team at Bliss not alone helped me find the perfect dress, but allowed me to come in multiple times after to try on the sample with numerous accessories to find the perfect look, and in the end I found one of their jewelry makers in the store which is where I got my wedding jewelry. I love Bliss and will be back for other events whenever I need :)

I bought my wedding dress at Bliss Bridal and Black Tie and it was a wonderful experience! They took great interest in helping me find the dress that I had envisioned, while also being respectful of my budget. I got an amazing deal on one of their sale dresses and couldn't be happier. The selection of dresses and customer service is wonderful and I highly recommend making Bliss Bridal one of the stops in your dress shopping process...you won't regret it.

I cannot say enough amazing things about my experience at Bliss. Sarah my consultant was so helpful, sweet, and professional. She let me lead the appointment, which another salon I had previously visited did not do. She asked me which dress I wanted to try next, she helped me into the gowns (which the other salon did not do), and was very honest and helpful when I was trying to make a tough decision. She and the adorable owner let me stay in my dress and wander around the store for 2 hours while I tried to make up my mind, they indulged every little request to try a gazillion different head pieces, and helped my mom find her mother of the bride dress while we were at it! And I said yes to the most STUNNING dress, and paid half my original budget for it (and I have very elaborate, sparkly taste...)!!
THEN, the icing on the cake was that about a week later I received a HAND WRITTEN thank you note from Sarah in the mail, offering her help should I need anything else and wishing me well on my wedding. I just couldn't believe how sweet and personal that was. I would absolutely recommend Bliss to all brides shopping in the Bay Area.

Marissa

Married on 08/13/2016

Great selection of dresses and helpful staff! Went dress shopping a lot of places and find the most I liked here, including "the one!" Loved my wedding dress!!

Katy

Married on 07/30/2016

I bought my dress at Bliss Bridal. My mom and I wondered in one day (mid-week) and even though we didn't have an appointment, the ladies were very nice and helped us. My mom found a dress I HAD to try on. Turns out, the first one was it! Every time I've gone in since then (when my dress came in, when my bridesmaids were in town etc.) the service has been excellent! They remember me each time and remember my dress without having to look it up, they recognize my mom too! I would HIGHLY recommend making a stop at Bliss Bridal!

Nikki

Married on 05/30/2015

I went into Bliss Bridal & Black tie after getting a recommendation from one of my bridesmaids to check it out. I had gone to two or three boutiques in San Francisco the week before, and Wine Country Bride in Santa Rosa (would not recommend it. Not the best customer service - they were very stand-offish and unpleasant...) I found dresses I really liked at all of the shops, but was holding out for "the one".
From the moment we walked into bliss we were pleasantly greeted by warm smiles from Hilary and another employee, which I believe was her mother. I told them what I had previously liked and didn't like so much, looked around a bit and within a few minutes she had a dressing room full of gorgeous gowns for me and a nice seating area for my guests. They were both incredibly attentive and helpful, and led me into a WTOO A-Line gown that I originally never imagined trying on, but it turned out to be the one! They were even kind enough to help my MOH try on a few bridesmaid dresses while my mom was doing the paperwork.
These ladies have an incredible eye for what will look best on a bride, what she wants, and helping guide her to find the perfect dress!

Kylee

Married on 09/27/2014

I got my bridesmaids dresses from Bliss. They have a large selection and helped with what we needed and also gave us space and let us try on any dresses we liked.

The staff is very friendly and they have gorgeous dresses that aren't too expensive.

Kathy

Married on 05/11/2014

I had to get two different dresses for two different weddings that were within just a month of each other...the women at Bliss were so helpful in getting me into the right dress for both. I would highly recommend brides and bridesmaids to visit this great shop in downtown petaluma...huge selection and very lovely staff

Genevieve

Married on 09/02/2011

I purchased my wedding dress here about a year before my wedding. It was a great price and everything was as it promised to be. The staff was very helpful and never pushy.

They also recommended I use Tere Davis for my alterations, this was the best advice I have ever received. Tere was amazing! Much more affordable than other seamstresses I had heard of, she works out of her home and from start to finish worked with me to make my dress perfect!

Joanne

Married on 09/25/2010

Bride's dress and all five bridesmaids dresses werre ordered. We were very pleased with the prices and the customer service from Wedding Wearhouse staff. They were very genuine and detail oriented.

Morgan

Married on 06/19/2010

I got my dress, my bridesmaid dresses and all tuxes here. All the staff were so helpful and friendly. I would highly recommend going here to buy all wedding dress and attire!

Linda

Married on 04/10/2010

They were great and had "my dress" at the lowest price and then gave me a discount. The seamstress they referred me to was awesome and very affordable.

Tammie

Married on 07/04/2009

I first fell in love with Wedding Wearhouse when it was Sunday my day off and I needed to start looking at wedding dresses, they seemed to be the only place open in Sonoma County on Sunday. From that moment everything was so amazing with them (Esp Carol) and never once had any problems. Tried my first dress on once and knew it was the one. Then on my way out the door ended up finding all my bridesmaids dresses. On top of my wedding, my best friend even found some dresses for her wedding in Sept like she adored. Service is really friendly and professional. Price is right!

Annie

Married on 06/07/2008

Before I was engaged, I already had a wedding dress. But the more I thought about it, the more I realized it was not "the dress of my dreams". I went to The Wedding Wearhouse with less than 5 months before my wedding. Roz and Carol took great care of me, allowing me not to feel rushed in a decision. My entire wedding party was well taken care of, from flower girls to father of the groom. Many of the bridal party lived out of town, but The Wedding Wearhouse was able to accomadate all members of my bridal party.
I received so many complements on my dress, veil, and jewelery; my bridesmaids loved their dresses and were also complemented.
I would highly recommend any bridal party in the greater Bay Area to visit The Wedding Wearhouse for a stress free, total care experience.

Bliss Bridal & Black Tie's reply:

Thank you so much, Annie. It was our pleasure to serve you and your wedding party. Thanks for the great pictures! - Carol

Crystal

Married on 07/22/2016

I was in Petaluma visiting a friend and checking out the downtown shops and decided to take a look in Bliss Bridal & Black Tie and get some ideas for wedding dresses. That weekend they were having a trunk show and to my surprise I found a dress I fell in love with that I have been told is not normally displayed. Bliss was very kind and accommodating despite being busy and they let me try the dress on without an appointment. They also let me enter in a raffle game and I ended up winning free shipping and tax on my purchase. Needless to say I purchased my dress with them and I love it!


Carissa M.

Married on 09/05/2021

Love my Dress!

I purchased my wedding dress from Bliss Bridal & Black Tie! I loved my dress and it was perfect for my wedding day! :)

I had a really fun time trying on wedding dresses and the team provided excellent service. They were very flexible in scheduling time for me to come in and try on my dress- even during COVID.

I purchased my dress in 2020 and with COVID, my wedding was postponed to 2021. They held onto my dress for a year until I was ready to pick it up for alterations before my wedding.

Tara

Married on 08/01/2011

I was very pleased with the service I received from the Wedding Wearhouse. They were even having a sale the day I bought my dress, so I got my Maggie Sottero at a discounted price! Everyone I encountered here (two shopping trips and then trying on my dress when it came in) was so friendly and helpful. I liked that I didn't need an appointment, but even on a busy weekend day they were able to accommodate me quickly. We also ordered all of the bridesmaid's dresses from here and everything came in right on time. The only hiccup along the way is that they lost my MOH's check for her dress. Not sure what happened there, but it wasn't a big deal.

Victoria

Married on 06/08/2013

The ladies at Bliss were such a pleasure to work with! I think Bliss was the third dress shop I tried, and one of the first dresses the consultant pulled for me was the dress I ended up choosing. She actually listened to what I envisioned (unlike any of the other dress shops I went to) and almost instantly found the perfect dress. We ended up getting our bridesmaid dresses as well as the tuxes through Bliss as well. There was a slight issue with the alterations of my dress (Note: the seamstress was NOT a Bliss employee but occasionally works out of their store) and one of the other women working at Bliss did a quick fix at the very last minute. I am so grateful that she was there and so willing to help! In the end, everyone looked looked lovely/sharp and we couldn't have been happier!

Brooke

Married on 06/27/2015

Bliss Bridal sold me a beautiful wedding gown at a good price. The ladies there are very sweet and helpful. I definitely recommend this bridal shop for brides here in the Sonoma County area.

Lisa-Mei

Married on 09/10/2011

These gals were really nice to work with. We got all of our Bridesmaids Dresses here, and I purchased my veil from them.

The girls were very sweet and it was a pleasure to work with them. I wouldn't say they were the cheapest around--but for the service I think it was worth it.

Kara

Married on 08/19/2016

Had a wonderful experience finding my wedding dressing here. Had such a great experience that I wanted to give them more business and have my bridesmaids purchase their dresses from Bliss too. Wrong choose... I had 10 bridesmaids and half of my girls complained of the lack of respect and rudeness they received.
Are you interested?
Send a message