Reviews
4.9 out of 5 rating
Quality of service

5 out of 5 rating

Average response time

4.9 out of 5 rating

Professionalism

4.9 out of 5 rating

Value

4.9 out of 5 rating

Flexibility

4.9 out of 5 rating
99%
Recommended by couples
64 User photos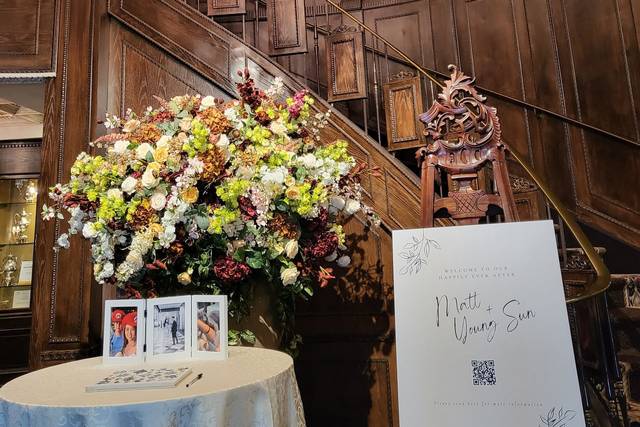 + 60

photos
Featured

Yostina F.

Married on 08/06/2022

The best venue ever

I cannot say enough positive things about Birchwood Manor. Words cannot do justice to this incredible venue, its outstanding venue coordinator (Farrell) who went above and beyond in every way possible, beautiful indoor halls and outdoor greenery, most delicious cocktail hour and reception dinner and desserts, large dance floor, spacious-ness, elegance and uniqueness, everything! My husband and I received endless compliments after our wedding toward our choice of venue and everything that came with it. Everyone had an amazing evening and Birchwood Manor was a huge part of the reason this was possible. Specially, we wanted to give the biggest shoutout to the venue coordinator, Farrell. From day one, Farrell was willing and HAPPY to work with us to make our wedding dream come true. In the year that followed, she was always quick to respond to our questions, she helped us coordinate with different vendors, she advised us regarding many aspects of wedding planning we had not thought of, she was excited with us for our big day and made it feel like she was part of our family prepping for it. On the day of the wedding, she did everything we requested and MORE. She made sure the day ran smoothly and she fixed any issues or questions that came up behind the scenes. She made our wedding as stress-free as possible and as joyful as possible. We love you, Farrell, and can't thank you enough for being a blessing in our lives! Our wedding was better than we could have ever imagined because of Birchwood Manor, and we are forever grateful we found this place

Ava

Married on 07/07/2023

Simply the best!!!

I could not have been happier with my venue choice. I traveled to several places before deciding on my wedding venue, and Birchwood Manor truly stood out for its beauty, elegance, spaciousness, and most importantly, the banquet manager Farrell. Farrell is a kind, dedicated, and experienced manager who goes out of her way to make your dream day come true!!! I know that my wedding day would not have turned out the way it did, if it had not been for Farrell. I planned my wedding for a while (about two years), and throughout the whole time, Farrell was there, helping me sort through all my questions and concerns. Even on the wedding day, Farrell stayed until the end of night, making sure the wedding goes smoothly and resolving any unexpected issues so that we can enjoy our day.

If I am to have any large events in the future, I would for sure come back to Birchwood Manor. The venue is so elegant and well-maintained, and it exudes an air of grandeur and warmth that comes from the fact that it's been family-owned for generations. You can tell that the venue is taken care of with affection. And the chandeliers! I fell in love when I first saw them. You cannot make a better decision--if you are on the fence, choose them without any hesitation. Highly, highly recommended!

Evans R.

Married on 03/12/2023

Appreciation

I had the wedding celebration i always wished for thanks so much everything went smoothly my wife and i really appreciate you guys and we will endeavor to recommend others. Thanks again.
https://phillphamarcy.com

Are you interested?

Send a message

Francisco P.

Married on 12/03/2022

Our wonderful 30th anniversary celebration!

Birchwood Manor is the pace of choice to gather for a special occasion as our 30th anniversary of marriage. We are very grateful for the details and personalized attention given by Farrel and her wonderful team.
Thank you very much and have a wonderful New Year!

Amber K.

Married on 09/03/2022

Amazing, stress free, fun

The family who own this venue is truly amazing Michael helped us through the planning and for the entire week preceding the big day both Michael and Farrell were a huge help in the execution and truly made this day stress free and helped it all run smoothly

+ 2

photos

Rosemary F.

Married on 08/06/2022

Best experience ever

Birchwood Manor was the perfect choice for my daughter's wedding. The venue was beautiful and elegant in every possible way. The outdoor grounds with all its' arches and water fountains provided amazing wedding photos opportunities and lovely outdoor seatings for our guests.
The cocktail hour with all the variety of delicious options and amazing active cooking stations received impressive compliments from all our guests. The main venue hall was just beautiful and large and had one of the largest dance floors, a great guest seating and a stage setting for the sweetheart table and back drops. But the most impressive and special highlight about Birchwood Manor was Farell (the venue coordinator). Farell is the sweetest, most accommodating and loveliest human being. My daughter and her husband cannot stop talking about Farell's kindness and accommodations to them especially that they are both from out of state and have inflexible schedules. She worked with them around their schedules and helped coordinate with all their vendors appointments. She was excited for their big day as any close member of our family. Farell made a big impact on all of us and made my daughter's wedding experience very smooth and extra special. We can't thank her enough.

Katie D.

Married on 07/30/2022

Absolutely amazing!

I can't give enough positive feedback for Birchwood! Michael and his team are AMAZING people to work with. Every request we made he was able to do for us. He went above and beyond by offering us an extended cocktail hour, an ice cream bar instead of a traditional wedding cake, and an extra vegetarian option to accommodate a few of the guests' needs. The food was wonderful and cocktail hour was very robust! The dance floor (newly redone) is HUGE and centrally located in the ballroom which was exactly what we needed for our big families to get up and dance :) This is an extremely affordable venue as well, offering the one of the lowest prices per person during the summer wedding season out of the venues we looked at! Michael was incredibly attentive to us and our guests the night of the wedding and made sure we had whatever it was that we needed (food, drinks, etc). Our families and friends had the most amazing time and it truly felt like we were welcomed guests by the most hospitable family at the Birchwood!

Ralph M.

Married on 05/22/2022

Magnificent facility, great food and wonderful staff!

Wonderful facility!!! Second only to their graciously thoughtful staff. We had our wedding there years ago and last month had our son's first Communion Celebration. It was awesome! We went to 5 different First Communion Celebrations this year to 5 different places and the Birchwood Manor was superior to them all - by a long shot. More magnificent facilities, staff was more helpful, food was better and with better choices and the prices were basically the same. They made us look like we were so much smarter in choosing the Birchwood Manor. In fact, 3 of our guests asked to be "hooked up" with the facility's management team and I've heard they all booked future events there. We were luck to find such a magnificent place with such a helpful team and wonderful food. We will book with them again and again.

Theresa B.

Married on 04/23/2022

It was a pleasure working with staff at The Birchwood.

The Birchwood Manor in Whippany provided us with a beautiful bridal shower for our daughter in April. Working with Farrell was such a pleasure. She was so knowledgeable and accommodating. Our brunch was excellent and the atmosphere of Ann Farrell's was the perfect setting.

+ 2

photos

Prakash I.

Married on 04/16/2022

A Flawless Event!!!

We had the engagement ceremony for our son here and the event was just perfect due to the efforts of the Marino family. They went above and beyond what was expected of them to help make the event a grand success.

Gianna G.

Married on 03/04/2022

Republic Convention March 4, 2022 -

I am County Committee of the Republican Party. Praising the staff of the event location, all were well mannered and right on the precision of maintaining every table(s) cleaned and cleared. (GREAT SERVICE).

Ridhima S.

Married on 11/21/2021

Birchwood Manor Venue for Hindu Wedding

The Birchwood Manor was the wedding venue of our dreams! The venue is a family owned business and the entire team there takes great pride in making couples' dreams come true. From the big programmatic plans to the small little details. Farrell Holleran, Owner, Banquet Manager and our own Maitre D', made us feel like we were old friends from the moment we met her to the end of our wedding. We had a Hindu ceremony at the Birchwood and part of the ceremony involves fresh rose petals, which our decor artist forgot to provide to us. In the rush of the day, when the families were looking for the flowers during the ceremony, Farrell stepped into action and plucked her fresh flowers from the venue's lush garden so that nothing would be amiss for our big day. We SO appreciated it.
The venue itself is ABSOLUTELY gorgeous and makes all your photo and video inspirations come to life. I could not recommend this venue more. It is everything you could dream of, with the significant bonus of the team and staff putting in that extra mile to ensure everything goes off without a hitch.

+ 6

photos

Robin N.

Married on 10/10/2021

Can't recommend more highly!

I cannot say enough wonderful things about Birchwood Manor and about Farrell, the person who helped plan and coordinate everything for our event. We were looking for an outdoor venue to have our party, and we knew right away that this would be a lovely setting because the grounds are really beautiful. It is like having your own personal garden overlooking a mansion.

Although it ended up raining during our entirely outdoor event, we had a tent set up with a beautiful fountain, plantings, and the grand entrance to Birchwood Manor as our backdrop. The setting was so beautiful that, even though it rained, it did not spoil a thing!

Everyone raved about the food, the setting, the service, and the decor. There was nothing I needed to do to decorate the tent, aside from bringing some flowers. It looked just fabulous with Birchwood Manor's table settings and the backdrop of the grounds!

Throughout the planning process, Farrell was always responsive to my requests and available to help me plan for the contingencies of a COVID party. Birchwood Manor was flexible with the minimum number of guests they required and very understanding of the unpredictability of COVID. Farrell was incredibly on top of every detail and honestly, I was entirely stress-free throughout the party knowing that she had everything covered.

I cannot recommend Birchwood Manor more highly! I can confidently say you will be in the best hands. Several of my guests are already considering booking a party with them. And I would come back again in a heartbeat! I have been told that Birchwood Manor has many repeat customers and groups that regularly host parties there. I can completely understand why! If you are able to book your event here, this is the place to do it! I am thrilled that we decided to have our party here, and we have wonderful memories of the day.


Kathy W.

Married on 09/25/2021

A True North Jersey Treasure

Not having a traditional storybook wedding on her first go-around, Kathy insisted that this one would be special, and so it was. Complete with medieval trumpet fanfare, and all the rest, the official ceremony was performed at the Pax Amicus Castle in Budd Lake NJ. That promised to be a tough act to follow, but there was still the matter of the 5-hour reception dinner party, which ultimately capped off the special event with total perfection.

Considerable time was spent searching for just the right venue somewhere within a 25 mile radius of Kenvil. After reviewing about a half dozen such places, we finally settled on The Birchwood Manner in Whippany NJ. We could not have possibly made a better choice of venue, and our guests agreed as many of them expressed positive comments in that regard throughout the evening. There was absolutely nothing lacking where quality and class are concerned.

The family-run facility was prepared to handle everything, including an open bar. The Birchwood Manor provides easy access and ample parking for several hundred guests. The property grounds are adorned with picturesque fountains and beautifully manicured statue gardens which provided excellent photo opportunities, including a couple unscheduled candid shots which I made possible. Inside the facility, elegant lighting provided a warm glow to the charming mansion style architecture. With spacious ballrooms on both levels, an ornate grand staircase leads to the second floor, but an elevator is also available for those who need it. Unlike many similar facilities, they had no problem allowing candles on the linen covered dinner tables.

Thanks to the COVID nuisance, our wedding had been postponed several times due to temporary disruptions or postponements of various services. Nevertheless, the Birchwood owner and Manager Michael Marino was very patient and extremely pleasant to work with, as he remained on standby for our event for more than a year. Sitting down with Michael in his office on several occasions always felt like we were all old friends getting together to chat. As plans for the reception progressed, we eventually left his office feeling that there was little or nothing that he would say NO to. He was also very detail oriented, and left no stone unturned during the planning of our event - from start to finish. Everything from pre-event setups to post-event takedowns was thoughtfully planned out and carefully executed.

Being a foodie of sorts, my primary interest was in their menu, and in most cases the food was to die for. The cocktail hour included a wide variety of mouth-watering morsels, many of which I couldn't even pronounce. That alone could have satisfied me for the evening, and I needed to be reminded that a 4-course dinner was to follow. If anyone left there hungry, it was their own fault, because the food just kept coming all evening.

The food was expertly prepared by well seasoned chefs. The meal was cooked to perfection and artfully plated. Everything on the menu seemed to be a fancy version of something. In advance, we picked out 3 different entrees, one each of beef, poultry, and seafood, so that our guests could place their orders right from their respective tables. A dance floor is centered in the dining area, which became necessary to burn off enough calories to make room for dessert, which eventually led to the wedding cake. Not only did they prepare a cake based on our specifications and the topper which we supplied, but they also eventually cut it and served it as well. On that note however, our guests were treated to much more than just a bite of cake. On each plate was a modest slice of wedding cake flanked by chocolate covered strawberries, butted up against a clear edible candy dish filled with ice cream that was topped with syrup. Talk about decadence! In that case you truly "could even eat the dishes", at least the ice cream bowls anyway.

Even though Michael had to leave shortly after we made our entrance, he left us in the very capable hands of his niece Farrell, who was our maitre d' for the evening. She was obviously a chip off the old block. I've been around for more than 60 years, yet I don't think I've ever met a kinder sweeter more thoughtful young woman. We were also very appreciative of how, without any prompting from us, she zeroed in on my wife's 91 year old mother and personally tended to her needs and comfort for the evening. All of the staff were very attentive to our guests needs. Even though Michael was not there at the end of the event, he still managed to get in touch with us via a call later that evening, which I thought was very classy on his part.

All in all, it was a lovely event, and by all accounts, everyone had a good time. The time went a lot quicker than we expected, and before too long it was time to bid everyone farewell, and go back home.

A few days later we returned to the Birchwood to gather things we had left behind. By the time we got there, Michael and Farrell both met us in the lobby, and had already packed our things in cartons for us. First they helped load the car for us, then we stood there chatting for about a half hour. Suddenly Michael rushed inside and came back out with a bottle of champagne which he tucked into the trunk of our car before closing it. Is that classy or what? Finally there was a round of hugs and handshakes, then off we went. Somehow I think we also made a couple new friends that day. In any event, pleasant memories were created that will last a lifetime, and should we ever again find ourselves in need of a banquet facility in this area, The Birchwood Manor gets the job! It is truly a North Jersey treasure.


Karla M.

Married on 09/18/2021

Amazing time

Our wedding was on 09/18/2021. We want to say thank you so much to Farrell and all the staff for the wonderful service. Farrell did an amazing job and she was super helpful. Our family and friends had an amazing time at Birchwood Manor and could not stop talking about how beautiful it was and the great time they had at our wedding reception. We absolutely recommend the Birchwood Manor, you will be taken care with the service provided here.

Dariany P.

Married on 08/06/2021

Dream Team Wedding Venue

My husband and I had our wedding here in the Jefferson Ballroom in August of this year. I cannot say enough great things about this venue and their service provided to us leading up to and on the day of our wedding. The food was delicious and the bartenders were awesome at both the cocktail hour and the reception. The grounds were beautifully maintained with fountains and seating and our guests really loved spending time outside during cocktail hour socializing and taking pictures. The cocktail hour room with the greenhouse attached was so elegant and we loved the classical style of our ballroom. We received so many complements following the wedding about what an amazing time our guests had.
We were blessed to have Michael and Farrell from the Birchwood throughout this process; they truly made the planning of our wedding effortless and were so accommodating during the difficult times of COVID, as we had to postpone our wedding for an entire year. We highly recommend that you consider this venue for your wedding and other events. Thank you again Michael and Farrell for making our wedding day so special!

Adam B.

Married on 07/09/2021

Wonderful and Easy Experience

My wife and I were fortunate enough to have hosted our rehearsal dinner at the Birchwood Manor. From the very beginning we knew we had made a great choice. The staff was friendly, knowledgeable, and extremely helpful throughout the party and the planning. Farrell is the banquet manager and was our point of contact. She was wonderful to work with and made the whole process so easy. Even up to the day before she was still working with us and moving tables around to accommodate our last minute cancelations. Her alone and how easy she made everything is reason enough to have it there. The staff also made sure that every drink and alcohol we wanted would be provided and gave us many choices to accommodate people with dietary restrictions. The night turned out amazing and my wife and I couldn't be happier.

Anoli P.

Married on 08/10/2020

Celebrated our 25th Anniversary at the same venue we got married!

25 years ago we got married at Birchwood Manor because it was the most beautiful venue of its time. We had 600 guests and it was one of the first Indian weddings to take place at Birchwood. So when it came time to celebrate our 25th Anniversary, it was important to relive those special memories. We brought back all our guests along with the same vendors from our wedding. It was a wonderful and magical reunion. All thanks go to the 3 generations of family ownership at Birchwood. They took magnificent care of us back then, and they did it again now!

Meaghan

Married on 12/07/2019

A Hidden Gem Lying In The Heart Of Morris County

Words cannot begin to describe just how completely wonderful this family owned establishment is to host your next event! The Birchwood Manor is a hidden gem lying within the heart of Morris County. Michel Marino III and his niece Farrell are truly exceptional treasures within the event planning industry that go above and beyond to ensure that no request or detail is too great to bring to life, holding true to the beliefs of the Birchwood Manor; that events should be legendary. Michael Marino III and his staff not only made my wedding day legendary but more importantly they made my dream of an elegant Christmas wedding come true and provided an unforgettable experience with memories that will last a lifetime. My parent's chose the Birchwood Manor thirty years ago for their wedding reception too. They loved the grand entrance and elegant touches throughout. My husband-to-be and I immediately felt that same sophistication and that's why we chose it for our own wedding. My husband and I hope that the Birchwood Manor will remain a tradition in our family and one day perhaps one of our children will also fall in love with the charm of this glorious estate! The Birchwood Manor will hold a special place in my family's heart forever.

+ 15

photos

Gina

Married on 10/13/2019

Timeless elegance at it's finest

We had the pleasure of getting married here!  There is not enough good things I could say about the space and the staff. We had an interfaith wedding in the large pergola and it was such a good choice. The pergola is a beautiful space on it's own but with the help of the staff, it was transformed into such an elegant and expansive space to fit my almost 200 guests to witness our marriage! So so lovely. And what a great backdrop for photos. If you are looking for a venue with incredible food, look no further. My guests were blown away by the expanse of delicious food with such an awesome presentation. We had the deluxe cocktail hour and they really delivered. If food is what you want to splurge on, do it here. Our reception was in the grand ballroom which is such a timeless and elegant space. Michael and Farrel did such an amazing job helping me transform the space with my decor. The thing that really blew me away was how the staff went so above and beyond to help the day beautiful and stress free as possible. They took time to do little details for me on my sweetheart table and even custom designed table numbers for me (which I forgot). They were so attentive and communicative during the reception it really made us feel special... like we were royalty! My guests were talking about the elegance of the whole day and the food for weeks after. Highly recommend this for any event but if you looking for an indoor and outdoor ceremony and reception, look no further. 

Jesus C.

Married on 08/17/2019

A Superbly Wonderful Wedding!

The folks at Birchwood manor are total professionals and made our wedding day absolutely fantastic. They're always professional, courteous, and kind. Their service is impeccable and the food is out of this world. The grounds there are stunning, be sure to explore the place a little before the big day. There's many nooks and crannies and larger areas all around to inspire great photo ideas, try take full advantage of them with your photographer. They have wonderful areas on site if you're looking to have your ceremony there as well, in case you want everything done at one venue. Their ballrooms are beautiful and are decorated with breathtakingly gorgeous chandeliers. Don't be shy if there's anything you want, just ask about it and I'm sure they'll be more than able to accommodate whatever you may need as they did for my wife and I. From custom ice sculptures to a very custom and wonderfully decorated (not to mention delicious) cake, they helped make our day that much more special. If there's anything else I can say is that when you're there as a guest at a wedding, as we were a year prior to our own, hosting there yourself, or just visiting for an appointment, they make you feel like family. We can't wait to come back to host another event, hopefully a baby shower sometime soon!

+ 5

photos

Sj Braves

Married on 07/27/2019

The Birchwood Manor, Whippany, NJ: 2 thumbs up

We could not have been happier with the results of our choice to have our daughter's wedding at the Birchwood Manor. The grounds were lovely and the Jefferson Room looked magnificent and magical. The cocktail hour was tremendous. Countless guests commented and complimented on the quality and quantity of the choices. Every detail that we expressed to Farrell, our maître d', was carried out to the letter. We were treated like family and every request was honored. I am grateful to the staff at the Birchwood Manor for making this day stress free so that we were able to enjoy this special occasion with our friends and family.

Karen B.

Married on 07/20/2019

The Birchwood Manor was fantastic!

Karen and I were simply astounded by how perfect our wedding reception evolved at the Birchwood Manor in Whippany, From the very first time we spoke with Farrell and Mike right through to the completion of our spectacular evening, they and the staff were absolutely fabulous! We were treated with great interest in our theme (we were married on the moon landing 50th anniversary) and cooperation, diligence, and patience to help create and fulfill our dream event.
We were treated like family (maybe royalty is a better description)! Prior to our big day, Mike and Farrell were always available to answer questions and provide experienced guidance. During the event, the staff did a wonderful job and were most unobtrusive. The food was magnificent with an amazing variety of choice delicacies, much to the delight of our guests. We received so many compliments on the beautifully decorated rooms, the food, and the staff! Everyone had a truly wonderful night.
We recommend this venue most highly for anyone planning a special day.
A fantastic experience –
Wonderful staff led by Mike and Farrell
Divinely delicious food with so many choices
Beautiful cocktail room and ballroom
We definitely were 'over the moon and back!'



Deepa

Married on 06/23/2019

Highly Recommend!!

I cannot express enough the wonderful experience my husband and I had at Birchwood Manor for our multicultural wedding! From the very beginning, our Maitre D' Farrell was so welcoming, patient, and professional. Our wedding was the first for both of our families, so it was extremely helpful having a calm and confident wedding coordinator to guide us through all the planning stages. Farrell brought the calming energy we needed, making the planning process very enjoyable.
The venue is beautiful! Our guests commented on the charming and elegant décor, as well as the breathtaking outdoor landscaping. We really felt like winners finding a venue that was beautiful both indoors and outdoors!
We got married on June 23, 2019. Our wedding day was absolutely PERFECT! Farrell did an amazing job keeping us on schedule. She was extremely attentive and made sure we had time for the things we planned, such as sneaking away for a brief nighttime photo session. The Birchwood staff did an excellent job transforming the event space for our ceremony and reception. All the rooms at Birchwood are gorgeous. We especially loved the Greenery, an atrium surrounded by plants, with sunlight pouring in through large windows. This was definitely a unique space for our cocktail hour. The Jefferson ballroom was the perfect room for our ceremony and reception. Our families and friends love to dance, and the spacious ballroom gave us a comfortable space—even when our entire party was out on the dance floor!
We were lucky to have beautiful weather and enjoyed taking photos outside by the fountains and archways. All the food provided by Birchwood Manor (cocktail hour, dinner, dessert and cake) was AMAZING and our guests noted that as well. It was such a pleasure working with Farrell and the entire Birchwood team! You can tell they love what they do and genuinely care about making your day unforgettable. We highly recommend them!!!

Dana G.

Married on 06/22/2019

The BEST-wood Manor

We recently had our wedding at the Birchwood Manor and couldn't have asked for a better venue! The ballrooms and grounds are absolutely gorgeous, the staff was very accommodating with all of our requests, and the food was to die for. Michael was always on top of every detail and made sure the wedding ran perfectly, leaving us stress free to enjoy our big day.
Are you interested?
Send a message