80 Reviews
Recommended by 96% of couples
Quality of service

4.8 out of 5 rating

Average response time

4.8 out of 5 rating

Professionalism

4.8 out of 5 rating

Value

4.8 out of 5 rating

Flexibility

4.8 out of 5 rating
2 User photos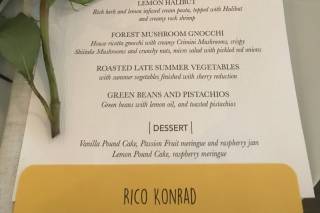 Eliana P.

Married on 07/10/2022

Unparalleled service

We cannot say enough good things about working with Birchtree for our wedding. From the beginning, we were impressed with their ratings, ethical treatment of their employees, and commitment to sustainability. But it was the service that blew us away, and really made our wedding phenomenal. Working with Spencer was one of the highlights of our year of planning -- we can't say enough good things about him, and he truly went above and beyond at every stage. His seamless day-of coordination -- not just of the catering, but really of the entire wedding (processional, music, dessert delivery, etc.) -- kept us all calm, and he even found time to dance with us during the reception. The rest of the staff was also incredible (shout out to Keenan for entertaining our nieces all day, and to the wait staff who caught, mid-cocktail hour, a previously missed allergy and proceeded to alter their entree without missing a beat). The food was fantastic -- local, fresh, delicious, and hot!! Yes, we spent more on our catering than we intended, but it was absolutely money well-spent (and the service and coordination saved us money elsewhere). Thank you to the entire Birchtree Team!!

Allison V.

Married on 06/04/2022

Couldn't imagine our wedding day with Birchtree!

Working with Birchtree was an absolute delight! From the initial inquiry email all the way through to the wedding day, every interaction was professional, friendly, and helpful. Spencer was our point of contact and I honestly do not know how I would've made it through this experience without him. In addition to guiding through the catering process, he also served as a day-of coordinator and helped with setup, linens/tables, run of show, etc etc. We had last-minute cancellations and table changes due to COVID, and Spencer ensured that everything was taken care of and not stressful for us.

All of our guests raved about how delicious the food at our wedding was! They were also very accommodating of dietary restrictions and allergies, and had a great variety of options to choose from. Their menus are seasonal, and everything was very fresh! The servers and bartenders were super friendly and knowledgeable.

Beyond the service and food, we just genuinely connected with Spencer. He acted as a host to our guests, he made sure we were fed and taken care of during the day, he advocated for us when we needed a moment to ourselves. So much so that our photographer asked at the end of the night if Spencer was a friend of ours and if we wanted a photo together.

Birchtree, thank you so much for making the wedding of our dreams come true!

Heather

Married on 04/09/2022

The team at Birchtree was absolutely amazing. We couldn't have picked a better vendor to cater our wedding. They made my wedding day flawless and I didn't have to worry about a single thing. Their team took care of everything.

The food was spectacular!! All of our guests were very impressed with the apps, plated dinners and various other snacks that were provided throughout the night. People were raving about the food for days.

The staff is very personable and accommodating. They went far beyond the expectations I had from the start. I highly recommend them.

Are you interested?

Send a message

Jasmine

Married on 10/03/2021

Great food, great people. A wonderful choice.

We had a wonderful experience working with Birchtree. COVID delayed our wedding but Birchtree was quick to help us reschedule and maintained great communication when we resumed planning. Our guests loved the food (they even brought us a plate of apps so we didn't go without!), Allegra was the perfect Day-Of Coordinator, and she and Spencer made the planning process easy. I'd recommend them to anyone getting married in the Philly area.

Suzanne M.

Married on 10/03/2020

A magical, stress-free wedding thanks to Birchtree!

Mouth-watering food, incredible organization, and record-setting response times – we couldn't have asked for more from our catering team. Spencer, Allegra, and the entire Birchtree team were the reason that our wedding was a smash hit! We had a difficult time with our wedding arrangements from the start (our first venue dropped our contract, and Birchtree helped us to find a second venue within two weeks – then the whole pandemic reschedule nightmare of 2020…). The only reason we felt comfortable that things would work out when they got difficult was the optimistic, above-and-beyond support that we received from this team. As we also had a pandemic baby before our wedding reception, we truly couldn't have done it without Spencer, who was able to help us plan all of the little details that we didn't have the brain power to think about in the new-baby haze. And I haven't even gotten to the food – I got so many compliments on the thoughtful touches, the delicious apps, the cheese board, and the dinner: the family-style dining was a huge hit, and the pumpkin gnocchi and roasted chicken were the best I've ever had. You truly cannot go wrong with this team, and I credit them with our wedding being a completely stress-free party where everyone had a fantastic time (and as the bride and groom, they ensured that we got to eat our fill!). If I could give 50 stars, this team earned them!

Stephanie

Married on 12/14/2019

Delicious Food - Wonderful Service

I could not ask for anything more from Birchtree Catering. From the first tasting we went to I knew they would be our top choice. The food was prepared amazingly and presented beautifully, the menu was created and customized with us in mind - though I would highly recommend letting chef Rasa work her magic. Everything was locally sourced, which was important to us too. They were very flexible and I appreciated everything the team did!

Emily J.

Married on 06/29/2019

Fantastic, effortless, and delicious

We had such an extraordinary experience, start to finish, with Birchtree. The planning process was made so much easier thanks to their expertise and competence - their team absolutely understood our vision and made me feel supported in all of my decisions, while simultaneously providing expert guidance which made the event so much better than I could have imagined. Communication was prompt, clear, and thorough throughout the entire planning process. On the wedding day itself, their team (shout out to Nicole!) truly went above and beyond. We had a classic Philadelphia deluge 5 minutes before the ceremony was to begin, and Nicole did a PHENOMENAL job of assuaging my anxieties, helping us to make the right game-time decisions, and making the ceremony work just as smoothly as it would have outside. The Birchtree team then worked their butts off to reset the (soaked) tables, clean off the (soaked) chairs, and generally make the outdoor reception look gorgeous and perfect and as if it hadn't just poured buckets half an hour beforehand. The food was fantastic and very beautifully presented and their servers were so kind and enthusiastic and present. I've planned larger events before and have experienced that a moment where something goes wrong and I find myself getting called in to problem solve, but not when working Birchtree; they really handled every hiccough with professionalism and grace and allowed me to enjoy the day fully - I can't imagine what it would have been like to put on a wedding without their help and support. We felt thoroughly and genuinely cared for throughout the entire event. I would absolutely choose Birchtree again and recommend their services to anyone who wants to have a fantastic, delicious, effortless wedding.

Becky F.

Married on 10/26/2018

Need a caterer? Done.

Please don't waste time looking at other caterers, Birchtree Catering and their highly talented and professional team will deliver all your wedding needs. The people were AMAZING and the food was equally AMAZING. Did I mention they also have a wedding coordinator who is so detailed and attentive, there is little worry than your day won't go perfect. Because it will. I keep telling people that in the future I will just make up events just to have them cater.

Alayna

Married on 10/12/2018

above and beyond

Birchtree was the backbone of our wedding and we really could not be more thankful for their expertise, their helpfulness, or their incredible food. It was far more than just a food vendor: Nicole, our coordinator, was so incredibly helpful, a total boss, super responsive, and though of everything that this very overwhelmed bride managed to let slip by. Her advice and recommendations were invaluable to us and we just adore her—she is the perfect person for this job.
As far as the food: my husband and I are self proclaimed foodies, whose shared passion and hobby is, literally, cooking and eating and talking about food. Birchtree's chefs are outstanding, the food was spectacular, and I've lost count of how many people told us how delicious it was during and after the wedding. THAT is the sort of food you want at a big day, and that is exactly the sort of food they deliver.
We're so thankful to Birchtree for everything and cannot thank them enough.

Debra

Married on 08/31/2018

I wanted to bring Allegra and Rasa home with me! I truly can't recommend Birchtree Catering enough after an outstanding and delicious rehearsal dinner last weekend. We selected them from out of town based on past reviews and awards; also loved the fact that they are woman-owned as well as their commitment to sustainability. After a year of planning and tweaking, our dinner was spot on. It was arranged beautifully, was plentiful and absolutely delicious. The format, set in a two-story venue, included cocktails and appetizer board on the main floor prior to dinner, then dinner buffet upstairs with bridal party and family, then dessert buffet back in original main floor space with all the additional out of town guests joining the fun after the dinner hour. It flowed perfectly and desserts were just as delicious as the rest. All rave reviews from our guests. Allegra and Rasa provided supportive and creative planning, integrated all of our ideas (which was not easy with multiple visions and dietary needs), and created a unique and amazing event for us. They were communicative and responsive from the beginning of our planning to the very end of our event. Hated for it to end. And I would (almost) love to plan another Philly wedding or other event JUST to be able to use them. Love, love, love this business!Read Less

Sophie

Married on 12/30/2017

When I found Birchtree, I was so excited to have found a women-owned, sustainable business that focused on local, seasonal food, but I was worried that it was too good to be true. My fears were dispelled completely at our tasting, where we were just wowed. Rasa was so thoughtful and responsive in helping us put together our menu. I should note that our friends and family know us as big food people, and are themselves adventurous eaters with refined palates, so I felt a lot of pressure to have excellent food at our wedding. Looking back, I would absolutely choose Birchtree again - no question. The food was memorable and so delicious.

Separate from the food, however, I'm not sure that without Nicole from Birchtree we would have had a wedding. We were totally clueless about planning a wedding, and Nicole was just straight up our rock. She anticipated every detail and posed every question conceivable. It was so incredibly comforting, especially in the last, most stressful months/ weeks of preparation, to know that Nicole wouldn't let anything fall through the cracks. In fact, when I seemed relaxed to those around me leading up to the wedding, I told them that I simply wasn't worried; I knew things were going to be fine, beautiful, and better than I could have planned/envisioned because Nicole had it under control. When we chose Birchtree, we had no idea how impactful and instrumental the coordination they provide would be. I am wary of hyperbole in writing this review because I don't want to come across as disingenuous, but I cannot imagine a better alternative to Birchtree. Finding a caterer is overwhelming, and I feel so lucky that we found Birchtree. We're honestly a little sad that we won't get to work with them anymore now that our wedding is over!


Kane

Married on 11/11/2017

My husband and I are foodies - we're big on creative dishes and top-notch service, and we spend most of our disposable income eating at some of the city's best restaurants. So, our natural reaction when we searched for wedding caterers was to get quotes from the celebrity chefs (Garces, Starr, etc.) first. Then, after we had been sufficiently sticker-shocked and underwhelmed by the proposals we received, our wedding venue, Philadelphia Distilling, referred us to Birchtree.

From the first call we had with them, we were sold. They really "got us" and understood what we wanted. They were also very transparent about what we could expect and what the pricing was - no surprises, no games, just true professionals.

Over the next few months we custom designed our menu with Chef Rasa (this is how they do it). She was a master at listening to our crazy food requests and converting them into a menu that a group of 70 picky eaters and foodies could all enjoy.

On the day of our wedding, everything went down in unimaginable perfection. They didn't skip a beat. Our guests were Instagramming the appetizers, and when they finished eating them, nobody had to wait longer than a minute to dispose of any toothpicks and napkins they were holding. To put it simply, the food and service exceeded even our own high expectations. The food became a focal point of the wedding – which is what we wanted – and our guests are still commenting on it today.

Birchtree was a fantastic partner for us. I say partner because we really felt like they were there to help us figure it out and make things easier, which is what you really need when you're planning a wedding.

I can't recommend Birchtree enough. They are the kind of caterer that can flex to accommodate any vision you have (ours just happened to include pork belly jelly donuts, but that's just our style).

The food from Birchtree Catering was amazing! Our guests raved about it, and weeks later are still saying it was the best catered meal they had ever had - and we agree. Chef Rasa is outstanding, and the on-site staff are top-notch. Highly recommend them. We were blown away by the service and attention to detail, which was as delightful as the various dishes and desserts. Hard to find true locally-sourced farm to table catering, and this group excels.

Rico

Married on 08/18/2017

Chef Raza and Nicole are the best team you can want for your wedding. My now husband and I got married on 8/19/2017 and the process to prepare the meal, tasting open bar, decoration as well the coordination of the entire event was literally flawless. Chef Raza took all the time to tweak the menu till we were 100% happy. Nicole was born to be an event coordinator and kept us on track before as well as during our wedding. She made sure we as couple and all our guests had everything you can possibly imagine. Nicole took time to ensure we as couple don't go crazy on our special day by constantly guiding her staff. Raza's food made our guests and us speechless and if I could I marry again just to experience it again. Preparing food for many people is difficult, but Chef Raza's food was so individualized you never know it was prepared for a wedding party. It was more than we hoped for and we could not be more thankful.

Jean

Married on 07/03/2017

I cannot say enough great things about Birchtree. They catered my wedding and I would use them again for any event I am having. Lets start from the beginning! Our tasting with Chef Rasa was amazing. She listened to what we wanted and was able to change some dishes based on our preferences. Then Nicole, the wedding manager, is absolutely amazing. Since we are not from Pennsylvania our main form of conversation was by phone or e-mail. She was so responsive and would spend the time with us on the phone until we felt comfortable. I'm going to be honest; I didn't know all the ins and outs of a wedding. But Nicole was there to guide my husband and me. She made my husband feel and me comfortable.

Leading up to the wedding, we had some confusion with our venue (not Birchtree's faults at all!). But Nicole was amazing and she took control and got things figured out. She seriously wins wedding planner of the year.

On the day of everything was absolutely perfect. Birchtree put out my centerpieces and decorations. They did a great job. The Birchtree staff was amazing. While we were doing our photographs, they came out with drinks and food while also serving our guests at a different location. The waiting staff was very professional and friendly. Now lets talk about the food… it is probably hands down the best food I have had! Everything was cooked on site. Which is something they always do! This is one of the first catering experiences where they cook on site. It really makes a difference. The food was fresh and warm. Birchtree was such an important part in making my day so special.


Alice

Married on 09/04/2016

We loved loved LOVED working with Birchtree. You know you have a great caterer when on the day of your wedding you know you don't have to worry about a single detail. They really were that kind of caterer.

FOOD:
The food was incredible. We are big foodies, and we didn't want the regular "chicken or steak" options. Chef Rasa is so talented and creative, we were able to pick out our perfect menu. And they were completely open to customizing things based on our tastes. Our guests raved about the food (we devoured our entrees) and we heard that the kids ate up all of their pizza (yes, they have great kid-friendly options as well). An added bonus - after we recessed from the ceremony, they have a sampling of all the passed appetizers for us so that we could get a bite to eat alone with each other. Just a small yet important detail.

EVENT COORDINATOR:
We started off with a coordinator who eventually left the company, and eventually transferred to Nicole. The transition was completely seamless. Nicole put me at complete ease during our final walkthrough, and gave me total confidence that she and Birchtree had everything under control. She is SO mindful of everything that you are going through, and she really does take every step to make things easier for you. I remember feeling so thankful that anytime I needed her (I can't find my bouquet! Why is my family not here yet for portraits?), Nicole always seemed to be right behind me already on her way to fix/fetch anything I needed. She is an absolute pro and I am indebted to her for ensuring our wedding ran smoothly.

WEDDING DAY SET-UP:
Bircthree did an amazing job setting up our ceremony, cocktail hour, and reception. I had specific instructions about where I wanted certain things, and everything was in its right place. I couldn't help but beam when I would enter a room that I had been imaging for months and it was exactly how I pictured it.

Thank you Birchtree!

Danielle

Married on 05/14/2016

Birchtree was wonderful to work with at every stage of the process. The tasting was fantastic and Rasa was super helpful in designing a menu that fit our foodie personalities, while still being a crowd-pleaser. Our coordinator was great - we did multiple walkthroughs at the venue to hammer out every detail, including many I hadn't even thought about it, that insured that on our wedding day both my husband and I had an awesome time and weren't worried at all about any logistics. Birchtree was particularly great when it came to handling questions from my mother-in-law who is very detail-oriented and worrisome. We are super happy with how everything came out and definitely feel like we got a good value. Also, it was a huge bonus to support a woman- and locally-owned business. Highly recommend using Birchtree!

Erin

Married on 04/29/2016

Working with Birchtree Catering for our April 29th wedding at Power Plant Productions was amazing. They offered a cocktail style reception, which is exactly what I envisioned for our reception (more eat and mingle versus sit-down dinner and dancing) At first, I was nervous that our guests would leave from the event still hungry, but after our tasting, from which we departed absolutely stuffed, I realized there was nothing to worry about. The food was delicious and plentiful, and they worked with us to make our menu exactly what we wanted (our desserts especially). Finally, our day-of coordinator, Annie, was great. During both of our walk-throughs, she guided us and asked questions that made us think about aspects of our ceremony and reception we would never have considered (What will we use to cut the cake? How do we want to display the cake? What did we want to drink after our recessional?). She was extremely detail-oriented, which made everything the day of go off without a hitch. I'd use Birchtree again to cater an event in a heartbeat.

Bob

Married on 11/14/2015

Birchtree catered our wedding last weekend and they were wonderful! The food was great, everyone loved it. The staff who worked our event was very helpful and friendly. Birchtree did a great job helping us organize the event, making suggestions and helping us make decisions. Their followup was excellent, and they delivered on everything they promised. Our liaison, Annie, was great to work with, full of helpful suggestions. We highly recommend them!

We had a wonderful experience with Birchtree. They went above and beyond our expectations. Our guest list included vegetarian, gluten free and kosher guests - the food was delicious, plentiful, interesting and beautifully presented. Birchtree not only did our catering but served as a coordinator and scheduler for all the other vendors during the entire process. We could not have done it without them!

Heather

Married on 09/19/2015

Where to even begin about Birchtree. They are just above and beyond a wedding caterer on so many levels--from the initial time and care they took with putting together our menu, to the tasting, to the execution of the food and special cocktails. Our guests--some who are snobby New York foodies--raved about the menu and the drinks and variety of flavors and textures they were served under a tent in South Jersey this September.

But beyond the food, Birchtree provided crucial coordination and planning services that I had no idea would be so very key when we signed up with them. They thought of things we never would have considered to anticipate--like what to do with leftover flowers or when will all the deliveries be made and who will tip them. For an unusual wedding--ours was at a private estate where we had to bring in all the vendors ourselves--this made the difference between a flawless event and total disaster--which it might well have been without their assistance! I never felt hammered over the head, just gently prodded in the right direction.

Their day of catering staff were friendly and competent, they are women owned and use local produce, even the paper goods were compostable. And you can't beat them for value. This is a catering service you can feel good and secure about on so many levels.

Kathleen

Married on 09/05/2015

Consider yourself lucky if you hire Birchtree as your caterers. They got Best of Philly 2015 for a reason! Birchtree just catered our outdoor wedding of 185 guest and it was seamless and people are still raving about the food. They are passionate about what they do and it shows in their food and everything they do. Chef Rasa has such a calm demeanor which is so helpful in the crazy wedding planning process and her team are so efficient and on top of everything. I had so much confidence in them. Birchtree will work with you to customize a menu to your liking and will guide you through the process. They really do it all and will even work with your other vendors and provide a timeline for the day and be your day of coordinators which was very helpful for the flow of the day. They use a lot of locally sourced and seasonal ingredients. We talked to a lot of caterers before making our decision and Birchtree was so far above their competition. I cannot recommend them enough. We are already trying to figure out how we can use them in the future.

Birchtree did an amazing job catering our wedding. The food was absolutely delicious. Our guests raved about the cocktail hour apps and dinner selections. A lot of care and thoughtfulness went into all the details big and small - from ceremony and the welcome table to table centerpieces to sneaking us food and drink throughout the day :) Chef Rasa, Allegra, Jamie, Annie, and the entire team were wonderful to work with and radiated excitement and positivity throughout our time with them. Special thanks to Annie for being extremely organized and an amazing day-of coordinator and all the service staff for their help! We felt very supported on the big day and all the days, weeks, and months of planning leading up to it. Our wedding day was everything we had dreamed of and more, thanks to Birchtree's above-and-beyond execution of our vision. Thank you thank you thank you!

My wife and I wanted a caterer that was local to Philadelphia and one who used fresh, seasonal ingredients in a simple, but elegant way. After doing some research online, we found Birchtree and never second guessed our decision. Allegra and Rasa were such an amazing team to work with. From making our initial menu selections, to our tasting, and to the execution of our reception, they made for such a special night. They truly listened to our requests and did not disregard even the smallest details of the night.

Our reception was flawless, everything was timed exactly the way we wanted it, and we had so many great compliments on the taste and styling of the food. We highly recommend the Birchtree crew. They make some delicious food and are really the sweetest group of gals.

After talking with several other caterers and receiving what felt like canned proposals, we finally found exactly what we had been searching for in Birchtree Catering.

From our very first contact, Rasa took the time to learn about us and engage in our story and in response crafted an incredible menu inspired by the foods and ingredients that we've shared in our relationship. They aced the tasting and then executed perfectly at the wedding. The beautifully presented family style dishes elicited loads of compliments and even more clean plates. Every element, from the signature cocktails down to the bar snacks, were coordinated to create an experience that was uniquely "us".

Birchtree's design services allowed us the freedom to DIY when we wanted to and delegate when we didn't. Jenna created a proposal that captured the mood and style we were looking for and organized all of the little details to make it perfect. She arranged antique furniture pieces and decor that we provided to create beautiful tablescapes and an intimate outdoor patio, and created custom signage for every component of the event styled to match the save-the-dates and invitations that we had created ourselves. She beautifully organized our homemade marmalade favors, and even provided all of the bouquets and boutonnieres for the bridal party!

In the weeks leading up to the event, the Birchtree team accommodated last minute requests and made sure everything was organized and coordinated so that we felt confident and relaxed on our wedding day. Our day of coordinator Alexandra made sure that our other vendors were organized and took charge of the timing of the ceremony in support of our first-time officiant. She even made sure we had some food and drinks set up in the back room that we briefly retreated to immediately after the ceremony.

The folks at Birchtree are creative and professional, and inspired confidence at every step along the way!
Are you interested?
Send a message