Reviews
4.8 out of 5 rating
Quality of service

4.8 out of 5 rating

Average response time

4.8 out of 5 rating

Professionalism

4.9 out of 5 rating

Value

4.9 out of 5 rating

Flexibility

4.8 out of 5 rating
97%
Recommended by couples
84 User photos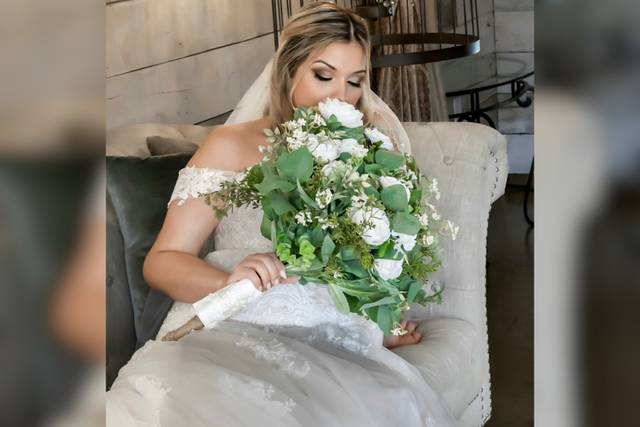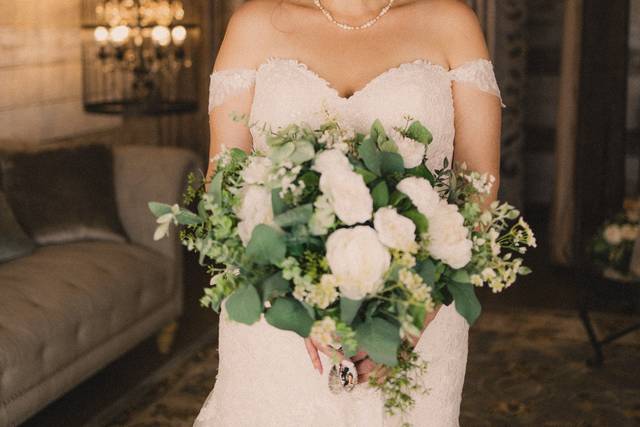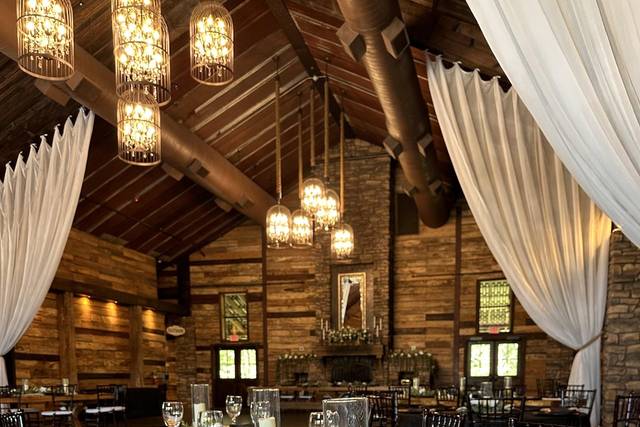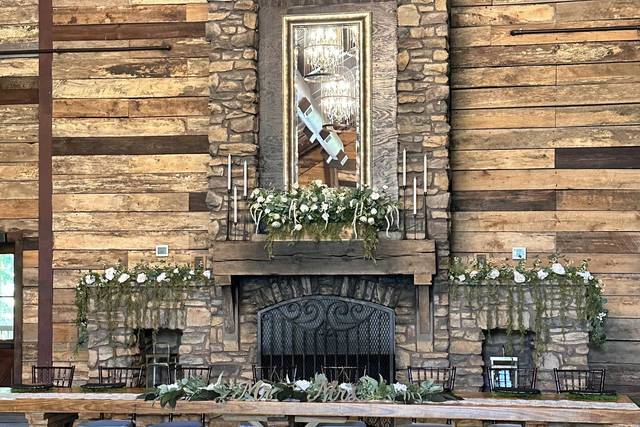 + 80

photos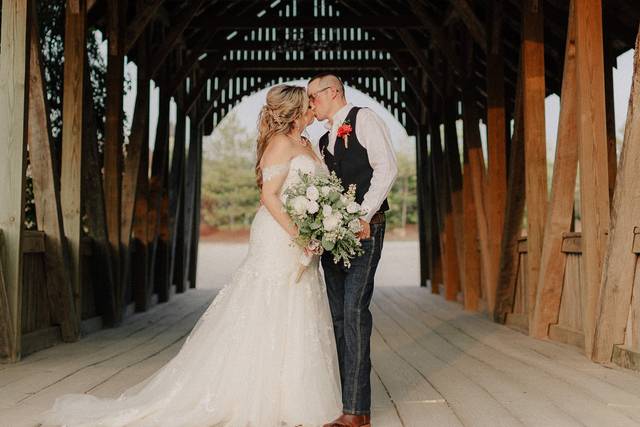 Featured

Shandricka B.

Married on 09/16/2023

Best Coordinator Ever!

This venue is beyond beautiful! My fiance and I booked Big Sky as our first and only choice. We honestly didn't waste time looking and researching different venues and so happy we didnt. Future Brides and Grooms if you are planning a rustic wedding please book Big Sky Barn! The venue has so much character that you can do very little wedding decorations and still have a beautiful wedding. If you plan to book at Big Sky Barn I urge you to request Olivia as your coordinator. You will not be disappointed! I am a pretty organized person, but wedding planning is not for the weak. We were paired with Olivia as our day-of-coordinator and we instantly connected with her. Olivia is an amazing coordinator. Every time I reached out to her with a question she was quick to respond. She always kept us up to date with new enhancements that were up and coming with the venue. Her personality, professionalism, positivity and knowledge made every step of wedding planning that much more fun and enjoyable. She also made helpful recommendations that saved us money while planning. Thank you Olivia for being everything we needed in a coordinator and always placing your clients interest above all!

Briana H.

Getting married on 04/05/2025

Great staff

I got married November 3rd and I just wanted to say that Cheryl and Sam seriously were THE BEST! My wedding day ran so smoothly because of these ladies! They went over and beyond on everything ensuring things were perfect.

Big Sky Barn by Walters Wedding Estates's reply:

Hello, Briana! Thank you for taking the time to write such a kind review! We are so happy to hear that you had such an exceptional experience working with our staff. Thank you for letting us be a part of your special day! Sending you our very best wishes!

Hannah S.

Getting married on 12/22/2023

Easy, smooth planning process!

Big Sky Barn is a beautiful venue! The chapel serves as a sweet and intimate place and the cocktail hour space is so fun! The planning process with the team was such a smooth and stress free time.

Are you interested?

Send a message

Nikki M.

Married on 11/09/2023

Stunning venue with amazing staff!

Big Sky Barn was the perfect venue! I spent months looking for a classy/upscale barn for our wedding, and this was exactly what I was looking for, so we decided to make it a semi-destination wedding (5 hours.) Even better, the venue is located in the middle of a forest which made for beautiful photos (including the gazebo, bridge, and outdoor staircase.) The whole team was great - from our coordinator Beverly, to our DJ Alfredo, and also our bartender (I'm so sorry I forgot your name, but that means the drinks were amazing!) The food and drinks were delicious and the staff were all so welcoming and kept us on our timeline so we didn't miss anything important. We were even able to keep our pups with us all day, which made the day that much better.

Xenia Z.

Married on 09/09/2023

Everything was so amazing

All was so amazing the service the coordinators thank you so much.

Amanda

Married on 08/31/2023

Anna- the real MVP

We got married on 8.31.23 and I must say I couldn't have done this without Anna. She not only made everything run smoothly the day of, the planning, ideas and complete execution was just on point. We had a snag with the DJ (outside vendor) running late and issues with the contract and designated area, but Anna reassured me and had back up after back up plans ready to go. Ceremony went flawlessly and had an amazing time with the reception and timeline. The venue is absolutely beautiful if you want the rustic chic look. It was very clean and well put together.

+ 3

photos

Hp Soundcraft

Married on 08/26/2023

Fantastic in every way

They where amazing, the place is beautiful, we might even get married again just to have some of that chicken Asiago meal they provided.

Jessica C.

Married on 08/18/2023

Great Service + wonderful venue

They helped us so much with the planning process and the venue is amazing!!

Jeanette P.

Married on 05/13/2023

Great Staff! Stress Free Day!

We were able to give our daughter the wedding of her dreams at Big Sky Barn with the superior assistance we received from our Wedding Planner , Valerie! Valerie helped us throughout our year of planning with every little detail that made the event so memorable! The staff that worked our event was top notch and I highly recommend the venue and Valerie!!!

Breanne H.

Married on 04/01/2023

Amazing, gorgeous, dreams came true, unbeatable price

I cannot say enough about the venue and our venue coordinator Olivia! She catered to me and hubby like royalty, from the first meeting to the end of the wedding. She kept me informed and even provided her cell number and was available after hours! All of our needs and wants were met through Olivia and the venue. I had my dream wedding here and l am eternally grateful!

Kate

Married on 03/13/2023

Day of Coordination

Cheryl and Xander were at my venue day off. I know there have been some conflicting reviews but Cheryl was truly amazing. She bounced around from the grooms suite, bridal suite, ceremony space, and reception area making sure everyone had what they needed while we were getting ready for the wedding. She made sure that we were let in to the venue on time (actually a little earlier than our reservation), made sure my husband and I were fully waited on at the reception, and was able to get together last minute supplies my mother needed for an unfinished DIY project morning of the wedding. The day of my wedding was truly magical and I have absolutely no complaints. I was also skeptical on the food, but it turned out delicious - we had the exceptional buffet with Chicken and waffles, Cesar salad, steak, chicken Marsala, mashed potatoes, and broccolini with garlic butter.

Joey T.

Married on 03/04/2023

Big Sky Barn… Perfection!

Where to start!

Cheryl White! If you're looking for a wedding coordinator and a person who has the widest spectrum of knowledge when it comes to your BIG day, she is IT!

From the planning stages to the stroll down the aisle, she was available and proactive on making every moment perfect!

Our particular event wasn't without snags though, however she handled everything thrown at her with the utmost professionalism. Our DJ which we had hired through a third party didn't arrive on time and was nowhere to be seen via communication means. Her actions to rectify this mishap were nothing short of spectacular, she had TWO DJs arrive just in time to fill the gap and keep the ball moving forward!

Just speaking about her performance on our wedding day isn't enough. She is without a doubt an amazing person, her personality and kindness was evident in everything she did. We recommend her highly as your wedding coordinator and even more as a person to befriend!

Good job Cheryl! Thank you again for everything you did for us! We will never forget it!

- Joey and Ashley

Dianne P.

Married on 02/23/2023

We had our best coordinators in town!

Our wedding was talked about and everyone complimented it as beautiful and well done. The details from beginning to end was amazing! From ceremony to reception, we would describe it as a dream come true! We couldn't make it without the help of Cheryl and Hunter. Big Sky Barn was also very flexible with all the adjustments especially with our finances. We're grateful that we chose the right place! All our families and friends had a great time!

Michael P.

Married on 02/23/2023

A great place to marry the love of your life!

We couldn't be more grateful and blessed to have such a supportive team! Cheryl and Hunter went above and beyond to give us the best wedding experience! I admire their patience and dedication. Their job/position fits them well. Thank you Big sky barn for being part of our special day! More blessings for y'all!

Jessica M.

Married on 02/19/2023

Best Day Ever!!

Everyone from day one to wedding day were wonderful! Communication was quick and the vendors associated with the packages exceeded my expectations! We had the best day!

Lynn C.

Married on 02/11/2023

Gorgeous venue

This venue is stunning. We chose to use the cross in our back drop and it was stunning. I can't say enough about how gorgeous this place is. From the bridal suite to the reception area this place is a ten all around.

+ 5

photos

Stephanie I.

Married on 12/22/2022

If had to do it all over again I'm going to Big Sky Barn!

The venue is absolutely beautiful with a rustic theme to it. The coordinator I spoke with the entirety was Phoebe and helped answer any questions comments and concerns I had. My day of coordinating team was Cheryl and Hunter. These two are so sweet and amazing! They made sure everything ran smoothly and made it just perfect.

Sally S.

Married on 11/18/2022

Wonderful venue!

Our daughter got married at Big Sky Barn in November, and we are so happy to have chosen this venue. Aside from being a beautiful place and having the chapel, cocktail hour area, and reception area all in one place (no need for guests to drive from ceremony to reception), the staff was wonderful to work with. Everyone was personable and professional.

I had so many questions during the weeks leading up to the wedding, and Phoebe and the Big Sky Barn staff answered them quickly. Phoebe was knowledgeable, and during the final details meeting, she and Cheryl put our minds at ease for the wedding day.

Cheryl handled the rehearsal and day of coordination. She quickly answered all of my questions (I had a lot!), and she was very reassuring. She was always accessible and willing to help in any way. She and Sam were so helpful during the rehearsal. They informed us (the wedding party and parents) with what we were supposed to do during the cermony and were willing to repeat everything until we were all comfortable with it. They also explained what to expect before and after the ceremony.

On the wedding day, Cheryl, Sam, Valerie, and the rest of the staff, kept the day's events flowing smoothly. Sam and Cheryl worked with the vendors and periodically checked with me throughout the day to make sure everything was going well so that I could relax and enjoy the wedding. They really cared about making our daughter's wedding day magical.

Many guests commented on how beautiful the venue was and how delicious the food was. The caterers were able to accommodate our seven vegetarian/vegan guests, which worked out well. It was nice that they had the fireplace going during the reception. It created such a nice ambiance, as well as provided some warmth.

What a top notch venue with an incredible staff! We highly recommend Big Sky Barn!

Danielle G.

Married on 10/29/2022

Big Sky Barn

Cheryl and her staff made our wedding day perfect! I would recommend them to anyone who loves the venue! They made sure the day went by smoothly and did not stress me (the bride) with minor details that were solved quickly! Great team and staff.

Big Sky Barn by Walters Wedding Estates's reply:

Hi Danielle! Thank you so much for taking the time to write us such a kind and positive review! We are so happy to hear that your wedding day was everything you wished it to be. Thank you for allowing us to be a part of your special day. We send you our very best wishes!

Alexis

Married on 10/28/2022

Dream southern wedding

Big sky barn was a dream! From the getting ready room, to the ceremony, and to the reception was amazing! I had a great experience getting married here and would highly recommend checking this place out! I worked with Laura and she was so helpful. She would respond to all my questions quickly and made sure my special day was everything I wanted it to be.

Jill M.

Married on 10/13/2022

Outstanding venue & staff!

Gorgeous venue. Magical rustic barn venue in the beautiful trees. We had the most fantastic wedding celebration on this property. Love the fact you can have ceremony in the chapel and a full service reception a few steps away. The staff is very friendly and detailed. Highly recommend for any celebration. So many lovely photo shoot opportunities as well. Thrilled with our event.

Big Sky Barn by Walters Wedding Estates's reply:

Hi Jill! Thank you so much for taking the time to write us such a positive review! We love that we were able to be a part of your wedding day. We wish you the very best in all the things life brings your way! Thank you again!

Kristin A.

Married on 10/02/2022

Beautiful venue with great staff

Beautiful venue with amazing views. Staff was well trained and everything went off without a hitch. I got married 10-02-2022. Nicole was our planning representative and she was AMAZING. She prepared us with all the information we needed leading up to our wedding. She answered all my questions and was their to make sure my in house coordinator had all the information she needed. I absolutely loved working with her. She made me feel at home and confident. Cheryl was our in house coordinator and GM for Big Sky Barn. She made sure everything the day of was set up perfectly and exactly how I wanted it. She let us do the rehersal until I was completely comfortable and at ease. Cheryl did a phenomenal job. They made a wonderful team and I am so happy I chose Big Sky Barn.

Big Sky Barn by Walters Wedding Estates's reply:

Thank you so so much for your kind and positive review, Kristin! We are so happy to have been a part of your special day! Thank you for trusting us to help your wedding dreams come to life. We send you our very best wishes and hope to see you again in the future!

Melissa F.

Married on 08/27/2022

Wedding Day

Our day could not have been better!!! Cheryl and Shannon did an AMAZING job with making the day so easy and making sure we were taken care of all day. They felt like part of the family! Not to mention security, Shane, kicking kids out during our private dance to ensure it was truly private (absolutely hilarious).

Big Sky Barn by Walters Wedding Estates's reply:

Hi Melissa, thank you so much for your kind review! We are so happy the your wedding day was everything you dreamt it to be! Thank you for letting all of us at Big Sky Barn be a part of your special day. Sending you our best wishes!

Melissa P.

Married on 08/06/2022

Made my dream wedding a breeze!

I wish I could give 10 stars! Thanks to Cheryl she made my dream wedding come true! Every detail went off without a hitch, I didn't have to worry about a single thing!!! The entire process and day/evening was flawless and seamless. Cheryl fit right in with our family and felt like we had know her for years from the moment we met her! Definitely will be recommending her and Big Sky Barn to every bride I know!!! Thank you!

+ 6

photos

Big Sky Barn by Walters Wedding Estates's reply:

Melissa, thank you so so much for such a kind and positive review! We are so happy that we could be apart of your wedding day. We're so glad that you loved Cheryl just as much as we do. You were a fabulous bride to work with! We send you our very best wishes!

Kyli H.

Married on 07/09/2022

Stunning venue & Nice Staff!

Loved the entire day and the days up to the wedding! Stunning venue, great food and drinks, and such a nice staff!

Big Sky Barn by Walters Wedding Estates's reply:

Thank you so much for your kind review, Kyli! we are so glad that you enjoyed your experience at Big Sky Barn! Sending your our best wishes!
Are you interested?
Send a message