149 Reviews
Recommended by 100% of couples
Quality of service

5 out of 5 rating

Average response time

5 out of 5 rating

Professionalism

5 out of 5 rating

Value

5 out of 5 rating

Flexibility

5 out of 5 rating
29 User photos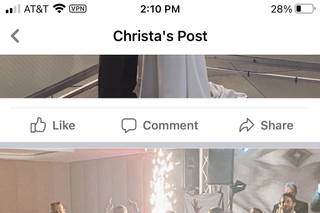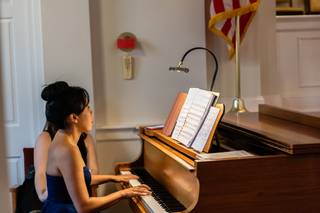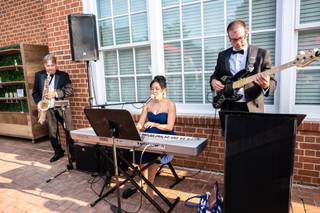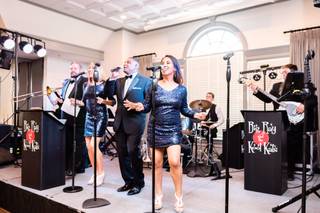 + 25

photos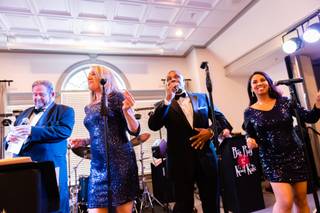 Featured

Judy

Married on 12/03/2022

Best Band Ever

Big Ray
When our wedding planner asked us if we wanted a DJ or a band, we said we weren't sure. Long story short we hired Big Ray. Ray was everywhere that day. He handled all our sound needs for the ceremony making sure our officiant was miked as well as our readers. He played his trumpet for the ceremony with a piano accompaniement which added so much to the day. During the reception, Ray and his band serenaded our guests while they ate. After dinner, our guests really rocked out to their incredible music. Everyone was asking us how we found them. They really
added to our celebration.


Big Ray & the Kool Kats's reply:

What a fun and very elegant event! It was our honor to share the evening with both families. And thanks for noticing my trumpet work during the ceremony. It's a challenging piece and always at such an important moment as your daughter comes down the aisle. Thanks again. Ray

Richard B.

Married on 11/19/2022

"Best Band Ever" - quote from many of our guests

Ray did a great job as the emcee and the band was awesome. We received so many compliments on Big Ray and Kool Kats and were told by numerous people that it was the best reception and band ever. People were saying "how did you find this band?". I can't say enough about their performance and how much we enjoyed them. It is not too often that people are chanting "one more song" at the end of a reception. I would highly recommend them for any event. My daughter (bride) and us are thrilled with their performance!!!!

Big Ray & the Kool Kats's reply:

What a great party and it was so nice to see everyone dance all night, ESPECIALLY the bride! Anytime, anywhere for your family. Ray

Nate E.

Married on 10/16/2022

The Ideal Band for Your Wedding!

Big Ray and the Kool Kats did an amazing performance at our wedding outside of Charlotte, N.C. in October 2022. My wife selected them after loving their performance at another wedding. They are phenomenal, and we received lots of positive feedback from our guests about how much they enjoyed the music. Very strong vocal and instrumental talent. They have a great repertoire of older and newer covers; guests of all ages had something that they recognized and enjoyed! They did a great job with their sound design as they were sufficiently loud enough, but guests could still have conversations on the side. Ray was a pleasure to work with and an excellent emcee. The band members were not only incredibly talented but very friendly and pleasant. We would highly recommend. We are thankful for Big Ray and the Kool Kats for helping to make our wedding an even more fun and special event!

Big Ray & the Kool Kats's reply:

What a charming venue and even more charming couple! We certainly enjoyed celebrating with you. Ray

Are you interested?

Send a message

Nicole L.

Married on 09/24/2022

Big Ray was the best part of our wedding!!

Big Ray was an actual hero in our wedding planning journey, and needless to say I couldn't recommend his band enough!!! Just one month away from our wedding date our previous band fell through, and that's when we came across Ray. He was incredibly supportive, responsive and beyond kind and accommodating. We trusted him from the minute we met him, and knew his band would be the perfect fit for our big day. The dance floor was packed all night long and they kept the party alive!!! We hope to be able to have a future event to hire Big Ray and his band again. Hire him and you will not be disappointed!!!

Harry B.

Married on 06/10/2022

The Very Best

We used Big Ray and the Kool Kats for our wedding and could not have been happier! They had the best sound of any of the dozens of bands we listened to online, there fee was reasonable, and Ray was an absolute pleasure to work with. He masterfully MC'ed our event, rolling with some considerable punches, and the band even learned my favorite song as a surprise.

Of the roughly 12 vendors we worked with for our wedding, BRKK was by far the best and most fun to work with. I could not have asked for a better wedding band and cannot recommend them highly enough.

Meredith S.

Married on 05/27/2022

Our guests are still talking about Big Ray!

We were led to Big Ray based on a recommendation from our wedding planner, and it was such a great decision. We worked with Big Ray leading up to our wedding reception on the type of music we liked (and didn't like) and he was so great. We made it clear to him that we wanted our wedding reception to be a party, not a wedding in terms of music, and he delivered. So professional and so much fun. And such a hit. We've received so many compliments from our guests about how great the band was! We had so much fun because our guests had so much fun. We have Big Ray to thank for that.

Big Ray & the Kool Kats's reply:

Thanks Meredith! What a fun, elegant party at Dumbarton House. And special thanks to Maya at Honey & Lavender Events for recommending us. She's always a pleasure to work with.

Maria G.

Married on 04/30/2022

Book them for an amazing dance floor

One of our wedding "non-negotiables" was an awesome band to keep the dance floor packed. If that's what you're looking for -- Big Ray is it. They are SO fun and keep the party going. They also played great instrumental music for our ceremony and background music for cocktails and dinner. Can't recommend them enough, it was so much fun.

Big Ray & the Kool Kats's reply:

What a fun event with some unique choices for music both at the ceremony and the reception. More fun than usual for the band!
It's always nice being at Castle Hill Cidery

Sue

Married on 04/30/2022

Big Ray and the Kool Kats are the Best!

We just used Big Ray and the Kool Kats for our daughter's wedding, and they were great! From the ceremony music, to the happy hour music, to the reception music, they did an awesome job! I would highly recommend Big Ray and the Kool Kats! You will not be disappointed, and your guests will come up to you and say "this band is the best!"

Chelsea B.

Married on 03/26/2022

Great experience with Big Ray and the Kool Kats!

Big Ray and the Kool Kats made our wedding spectacular! They kept the dance floor full all night long as well as learned our specific songs for the first dance, mother son, and father daughter. To top it off, they were great MCs too. It was a wonderful night all around and we are so glad we chose Big Ray and the Kool Kats to bring the heat for our wedding! :)

Mollie M.

Married on 03/19/2022

Hire Big Ray & the Kool Kats!

Big Ray and the Kool Kats were the first vendor we hired since we knew music would make the party! Our high expectations were exceeded as Ray was so easy to work with and down-to-earth, in fact, it felt like he was part of the family!! He made the process so easy and SO MUCH FUN!! Our guests sang and danced all night long. The band made it very easy for the groom to fulfill a lifelong dream of playing the guitar on stage with a top shelf band in front of our loved ones. Hire Big Ray and the Kool Kats if you truly want to host the best party your guests will ever attend!!!!

Big Ray & the Kool Kats's reply:

Thanks so much. WHAT A GREAT PARTY, and we were just a part of it. Your families and guests were ready that day at Heritage Hunt and Golf Club in Gainesville, Virginia. I'm so glad you enjoyed yourselves (I know your husband and his brother who also played with Big Ray and the Kool Kats that evening sure did.) Ray

Andrew S.

Married on 11/20/2021

Excellent band + experience

Big Ray and the Kool Kats were INCREDIBLE! A great MC and performer and we received compliments from everyone

Jenny B.

Married on 11/13/2021

Big Ray and the Kool Kats is the best!!

Big Ray and the Kool Kats played at our daughter's wedding reception and they were absolutely wonderful. They could play any genre and Ray was also a fantastic MC. We all had a fabulous time and the dance floor was filled the entire time they played. I've had so many people tell me how much the enjoyed the band and the events coordinator at our club will be recommending BRKK for other functions. Our whole experience from beginning to end was everything we had hoped for and more.

Big Ray & the Kool Kats's reply:

Thanks so much, and what a beautiful event. We're honored you chose us! We hadn't been to Knoxville in a long time and i hope we see you again.

Ray

Nancy A.

Married on 08/28/2021

Great music great dancing

Big Ray and his musicians are just a blast. Fun, energetic, entertaining and they bring the party! I promised our daughter she'd love the band and she was thrilled! Ray even played the Redskin's fight song so our daughter and her WRC - cheerleaders could do their dance! It was a big hit. 10 out of 10.

Richard P.

Married on 08/03/2021

Upbeat Band and Lots of Fun

We had Big Ray and the Kook Kats at a banquet for our doctor association's annual meeting. They were absolutely fantastic. Everybody had a wonderful time, and I even observed one of our members break dancing with another member's 5-year old son. Now that's a sight to remember! Ray is a terrific band leader, the musicians are great and the singers are wonderful. I highly recommend the Kool Kats!!!

Oskar R.

Married on 07/31/2021

Top Notch!

The only complaint we heard about our 7/31 wedding in Wytheville, Virginia was that the dance floor wasn't big enough! Once these guys got started, people streamed on to the dance floor and never returned to their seats. Over and above the talent and professionalism, Ray was incredibly thoughtful... the grandmother of the bride told him a story about a another band twenty years ago who had played a couple of songs on the piano post show, and he had one of his guys do the same thing.... It was a great wedding and the Kool Kats was a key part of making it great.

Jemma P.

Married on 04/24/2021

Love love love

Ray was such a pleasure to work with! He was so attentive to every detail and made sure that we were happy throughout the planning process. Ray went above and beyond to ensure that the band knew all of the music we wanted. All of our wedding guests said the band was amazing (we agree too). I want to do it all again just so we can dance the night away. I can't recommend Big Ray & the Kool Kats enough. We love this band!

Jackie

Married on 02/10/2021

Big Ray and the Kool Kats

We have had Big Ray and his KK's for two weddings....without hesitation we give him our highest endorsement...Big Ray is engaging , attentive, and responsive. He listens to the preferences, sets the appropriate feeling, delivers beyond every expectation on presentation, and will make your event the most memorable you could ever imagine. Don't miss an opportunity to allow Big Ray and his team to join you for your special event.

Beth E.

Married on 01/21/2021

Big Ray and the Kool Kats are simply the best.

It's a shame I can't give 10 stars for each category above because I would. From first meeting Ray to the end of the event it was pure professionalism. Our wedding was a Jewish/Hindu event. The band played a beautiful Hora that had everyone up and dancing. Then Ray arranged to have his band learn and then play spectacularly a Hindu rock song that we had requested in advance - and the singer sang part of it in Hindi! (The Indian guests were in awe and thought the song sounded amazing!). The band can plan anything and did - Hard rock, Sinatra, Motown, beach music, Country and Western. Ray is incredibly nice - polite to everyone. He's an excellent MC - keeps the party going - he also had to learn some hard names to pronounce and got them all correct. He offered to have part of his group play during the cocktail hour and they were super. Ray arranged the sound system for the ceremony. Included in his price was the lighting for the stage that the band performed on which was a very nice touch and saved us a lot of money. His band had, I believe, 5 different vocalists (all excellent!) which gave a beautiful mix to the song presentations. The volume was perfect. Loud enough to excite and get people in the dance mood, but nobody complained that it was too loud. So many of my friends came up to me and said excitingly "Where did you get these guys? Amazing band!"
Ray was incredibly personable. - we called him on his cell phone many times during the planning process and he was kind and helpful - never rushed or bothered - he sincerely likes to talk to his clients and do what's best for them and the event.
My take - flowers, food, clothing, drinks, all add to an event but without a good band it's not going to happen. The band makes it happen, and you've got to go with Big Ray and the Kool Kats - you will not be disappointed! We thought they were the best of the best!

Big Ray & the Kool Kats's reply:

Thanks so much. It was our honor to be a part of so many special moments for both your families. Such a beautiful event, and your touch was all over it!

Jordan

Married on 11/01/2020

Truly incredible!!!

Big Ray and the Kool Kats are INCREDIBLE!!!! As a wedding planner myself, I have heard and worked with a lot of different bands, and Big Ray and the Kool Kats top them all! They had the dance floor packed all night long and our guests have been raving about them since our wedding in January. Ray is fantastic to work with both leading up to your wedding day and then at the actual wedding. He continuously checked in on myself and my husband, as well as our parents. My parents were worried about a band being too loud, and Ray heard that concern before the wedding and honored it. No one's ears were ringing the next day and no one was trying to escape loud music! Their playlist is extensive and their ability to put together sets is fantastic. Our outdoor send-off was impossible due to a giant thunderstorm and I was amazed watching Big Ray and the Kool Kats sing and dance our guests into a big tunnel of love for an indoor send-off. We cannot thank the band enough for making our reception entertainment dreams come true!!

Carolyn P.

Married on 10/24/2020

Truly the best wedding band out there (and we aren't biased, our guests agreed!)

Big Ray is simply the best in the business.

Throughout our entire planning process Ray was more than happy to hop on calls and zooms with me and my husband. We chatted MANY times throughout the course of two years, and Ray was such a pleasure to work with. He played an integral role in the planning of our wedding and was so reassuring throughout the entire process.

Day of our wedding we were simply blown away. The music was beyond what we could have imagined. The dance floor was full the entire night! Ray truly went above and beyond and even played several songs (that were near to my heart) despite never having played them before (you wouldn't have known). Everyone in the band is extremely talented and truly made our wedding the best night of our lives.

We had so many guests come up to us to tell us that this was the best wedding band they have ever heard - We weren't surprised to hear that because we fully agreed!

Do yourself a favor and hire Big Ray and the Kool Kats. They are the absolute best!!!

Meredith

Married on 10/17/2020

Literally the most amazing!

10/10 Big Ray and the Kool Kats were the best part of our wedding. He made our day. He was respectful, professional, creative, accommodating and down right fantastic.

By in large made our night. Not a single person sat once the band got going. We received SO many compliments. Five stars across the board!

Big Ray & the Kool Kats's reply:

I'm so glad you had a great time...we did too! Best wishes and I hope to see you again at a friends wedding maybe :)

Christina

Married on 09/19/2020

10/10 and then some!

Big Ray and the Kool Kats made our wedding day unforgettable. Hands down one of the best decisions we made for our wedding. Ray took the time out to really get to know us as a couple before the wedding and was just a joy to work with. They are so professional and talented. 10/10 would recommend. We love Big Ray and the Kool Kats!

Sasha F.

Married on 06/10/2020

Could not have been better

Big Ray and the Kool Kats were amazing- we had so many compliments throughout the night! They were super easy to work with, had extremely talented performers, and kept people dancing all night! True professionals!

Caitlin S.

Married on 03/10/2020

Absolutely Amazing

We could not have asked for a better band than Big Ray and the Kool Kats for our wedding. After a extremely tough year of planning through a pandemic my husband and I made the tough choice to host a micro-wedding this year and postpone our larger party. When we were deciding on the essentials for our smaller event we could not imagine doing it without the band- happy to say we made an excellent call there. Not only was the music amazing but Big Ray went above and beyond to be supportive and professional throughout the process. We switched to an outdoor setting in light of the pandemic and discovered day-of that that it wasn't equipped to connect to Bluetooth speakers for our dinner playlist. Big Ray heard about this and offered to have the band play through dinner- we could not have appreciated his kindness and adaptability more. It made a huge difference to have such an incredibly supportive vendor during these exceptional times. Great news is we get to have Big Ray and the Kool Kats again for our larger post-pandemic event and we could not be more excited!

Alex S.

Married on 02/09/2020

If you can book Big Ray - You book Big Ray! They are The Best!

Big Ray and the Kool Kats rocked our wedding! Every guest commented on how great the band was - they brought energy, entertainment and fun.

Bottom line: if you have a chance to book Big Ray and the Kool Kats - do it and don't look back. You have just made one of the best decisions about your wedding!
Are you interested?
Send a message