60 Reviews
Recommended by 89% of couples
Quality of service

4.5 out of 5 rating

Average response time

4.5 out of 5 rating

Professionalism

4.4 out of 5 rating

Value

4.6 out of 5 rating

Flexibility

4.2 out of 5 rating
Awards
20 User photos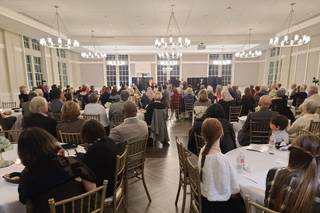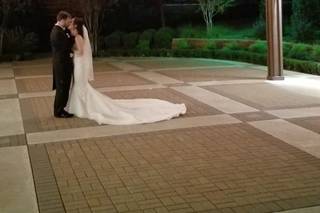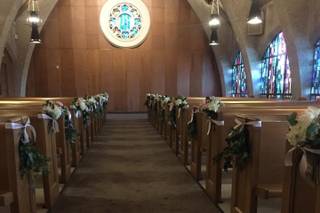 + 16

photos
Leeanne C.

Married on 09/24/2022

We used the great hall for a Timeless Concerts venue

After losing the museum of art as our venue due to reconfiguration, we were relieved to find that the great hall was a good fit for our audience, and had good acoustics for our acoustic instruments! Everyone I worked with was cheerful and knowledgeable, and helpful with the many details we need for preparation, from piano delivery to working with changing audience numbers, rehearsal and performance. I heard others comment that it is nice to be able to use your own vendor, and since we provide wine and snacks, that is a plus since we are a non-profit organization and must be wise with spending. We too, are thankful that our rent helps the mission of ACH! Thank you Jody and all the staff for helping to put me at ease at concert times!

Joel D.

Married on 08/06/2022

Awesome Facility and Staff

The venue is beautiful and the staff are super friendly and make the event a piece of cake! Plus their charity organization is a great cause. The neighborhood that it's located in is a bit sketchy, but the grounds of Bell Tower is amazing!

Abby E.

Married on 07/08/2022

Gorgeous venue and amazing staff!

We got married at Belltower Chapel about 3 months ago and not only is the venue absolutely gorgeous but the staff is AMAZING! They are quick to respond to emails and do everything they can to make sure your day goes smoothly. We chose their all inclusive wedding package so they pretty much planned our entire wedding and did so perfectly! They pay attention to every detail and don't miss a thing. I highly recommend getting married or hosting any other event at Belltower Chapel and Garden!!

Are you interested?

Send a message

Charli M.

Married on 06/18/2020

The perfect venue!

Planning a last minute wedding with them was worth it! I spent extra for the day of coordinator and it was the best money I ever spent! The venue was gorgeous and everyone had a great time!

Micheon G.

Married on 10/12/2019

Blown away

This venue is beautiful. Words cannot describe this hidden gem, the grounds are amazing. Every area is a picture opportunity just waiting to happen, not to mention there's an actual bell you get to ring.

Judith

Married on 07/21/2019

Beautiful place

Such a beautiful place. Very nice people work here

Meghan

Married on 03/24/2018

As an Event Coordinator we work with a lot of venues and a lot of venue staff, Belltower Chapel was TOP NOTCH! You would be lucky to have Jody and Crystal on your team on your wedding day. They know their stuff and don't miss a single detail. Not to mention that the venue is beautiful with multiple spaces that can be utilized. They also have excellent gated parking. We cannot recommend them enough!

+ 4

photos

Vanessa

Married on 07/07/2016

I am giving Bell Tower a full 5 stars because they were the only venue that we actually communicated with. The chapel is beautiful and they allow you to take photos anywhere on the grounds. You have full access to the chapel, reception area, and outdoors with your one fee. You can provide your own decorations or rent theirs. We provided our own and rented our linens to get the color we wanted to compliment the stained glass windows. The true reason we rented this venue was because they donate all of their proceeds to ACH childrens center which they share the lot with. The downfall is that you are extremely limited on time unless you pay the added $300 per additional hour. You nor your vendors can arrive earlier than your start time without penalty. It is difficult to invision what the venue will look like or how much space you will truly have because they do not set up the tables and chairs until immediately before your start time. They include tables and chairs for up to 200 guests I believe as well as tables for your cake, gifts, sweet heart table, and DJ if needed at no added cost. They only have 2 bathrooms in the chapel which was perfectly fine for our 80 guests. They do allow open vendor policy as long as your vendor has liability insurance which each of ours did already. They also allow alcohol as long as you have an off duty officer which they take care of but it is an added cost. These are all probably standard for all venues but I think they are important to consider for your big day.

Vivian

Married on 06/24/2016

We were completely pleased with both the beautiful venue, and the excellent service from our Belltower wedding planner (Bridget) who did an AMAZING job on decor and planning. Belltower also provides a day-of coordinator at no extra cost, who keeps things organized for rehearsal, ceremony, and reception. I cannot speak highly enough of venue and staff at Belltower!

Alexandra A.

Married on 08/09/2014

The Belltower chapel is beautiful and exceeded the expectations for our wedding day. We worked with Cindy and she was fabulous. She helped us set up our day of time line and made sure it was executed flawlessly. She was always happy to email/talk if I needed to ask a question. Fabulous experience! The chapel also has a list of preferred vendors. We used this list and we were happy with everything! Thanks for the fabulous experience!

Julie

Married on 07/19/2014

We cannot even begin to express how pleased we were with our entire experience with Bell Tower Chapel & Gardens! It is a beautiful place with such great meaning and purpose. We used Bridget Pouges as our wedding planner and event coordinator. She was absolutely incredible! This was a destination wedding for all of us since everyone lives at least 4 hours away. Bridget's planning and expertise made our event such a pleasant experience. Bridget and her staff handled everything! The day of the event seemed flawless, or as far as we know. If there was a snag or a problem, Bridget handled it! She is amazing!! Bridget not only provided a service to us, but became a cherished friend in the process. That is priceless! We highly recommend Bell Tower Chapel and Gardens and Bridget Pouges, a first class facility, service and staff.

Tiffany

Married on 07/19/2014

We couldn't have picked a better venue for our July 2014 wedding! We knew this was the place for our wedding after our first visit to the chapel and meeting with Bridget. The venue was beautiful and provided everything we were looking for in our wedding venue. And the icing on the cake was that the proceeds from our wedding would benefit others!

I was planning our wedding from Houston with the help of my mom in Oklahoma, so we were looking to hire a wedding planner to help streamline the process. The ability to hire one of the event planners from Belltower was perfect for our situation, so we opted for the package that included the full wedding planning services of Bridget. This was the best decision we ever made!!! Needless to say, Bridget became my best friend over the following months and was an absolute angel throughout the entire process. She recommended vendors, set up all the vendor appointments, kept me on track with everything and was very accessible. Our two favorite moments from our wedding day were moments suggested by Bridget! She really understood our vision for the big day and made it come to life! My husband and I were able to enjoy our wedding day without worrying about any of the details. Our big day went off without a hitch (or at least as far as we knew.) Bridget and her staff took care of EVERYTHING!!

I could write a book on our wonderful experience with Bridget and the Belltower. I highly recommend this venue to anyone looking for a venue in the Ft. Worth area. You will NOT be disappointed if you choose this venue; especially, if you hire Bridget as your wedding planner!

Michelle

Married on 06/21/2014

Amazing place to have a wedding. Great service and even better people! Would highly recommend to anyone looking to get married!

Anthony A.

Married on 05/24/2014

What a great find for a venue!!!! So many options that they can provide for you and the Bridal Mall on their website was the best find out of all the venues we looked at. They were flexible up until the final minutes as we had to move our wedding from outdoors to indoors as a storm blew in. Thank you so much to the staff their and we were so grateful for our coordinator!

Loved the venue. Our coordinator, Martha, was so sweet and made sure our day was perfect!

Donna

Married on 07/05/2013

Beautiful Wedding Venue! Fabulous Facility! Stunning stained glass adorns this gorgeous chapel. Everyone at the Belltower are warm, friendly, courteous, professional and truly want to help make every moment of your wedding day flawless and perfect. They are a great team and wonderful to work with! What is extraordinary is that all fees benefit ACH Child and Family Services. Our experience working with this wonderful venue was exceptional and I highly recommend them 100%!

This is a beautiful place to get married at. The stained glass windows throughout the chapel and reception area are gorgeous. The staff is just wonderful. You get a day- of coordinator which I loved! Our coordinator, Erika, did a wonderful job. She was a huge help to us. She took care of everything and made me feel much more at ease. What makes Belltower really awesome is that all the fees go towards the non-profit organization ACH Child and Family Services. It is reasonably priced which was hard to find when looking at other venues. I would definitely recommend Belltower to any future couples getting married.

Cristal

Married on 06/15/2013

I knew I wanted to get married at the Belltower Chapel before I even saw it in person! It is absolutely stunning and there is no other place like it! It really did make my wedding a dream wedding! You get a day-of coordinator when you book here and that was so great! Jody was my coordinator and she made me feel so excited and at ease about everything. Jody was just the cherry on top of having my wedding here! Blake and I recommend the Belltower to everyone we know. You can bring in your own vendors (amazing!) which saved us a lot of money and I didn't feel like I was forced to get a cake from a certain place, etc.. Thank you, Belltower Chapel, for making my wedding a dream come true!

I really love this venue. Not only is it ABSOLUTELY beautiful (trust me, you'll get amazing photos) but the money goes to charity! My DOC, Erika, was funny and really helpful. Unfortunately, I planned a larger party with reception outdoors and it totally poured rain with severe thunderstorms the day of my wedding. We had to go with the indoor rainplan which I was bummed would be too small...but there was way more room than I thought and the lights cast by the stained glass were AMAZING. They do not have a full catering kitchen, which freaked me out. However, I brought in a variety of food trucks (also a potential nighmare with rain) and everything was delicious and great. Their sound system is awesome. Keep in mind that there are only 2 bathroom stalls, so I did see a line of guests waiting, but it wasn't that bad. Loved this venue and would recommend to EVERYONE.

Kristin

Married on 03/23/2013

Perfect wedding venue! Great to work with & rental fee goes 100% to the owning non-profit, ACH child & family services. Perfect for Texas weather because equally beautiful receptions can be planned indoors our out. We'd really wanted an outdoor reception but spring skipped our Saturday and at the last minute we moved it indoors - a seamless transition. Our day-of coordinator, Tamesha, was THE BEST. She brought it all together, from our pianist to our DJ to our caterer to corralling family members for photos. Ask for her and you will NOT be disappointed. Definitely recommend renting a 12x12 dance floor and using accent-color overlays (we used Tiffany blue) over white table linens - the color transformed the room. A beautiful wedding venue that I can't recommend enough.

Dominic

Married on 10/07/2012

Love this venue! It was soo beautiful and perfect for my vintage themed wedding. The space is very warm and cozy, and the stained glass provided just a bit of drama to add the most beautiful splash of colors as a backdrop! I keep getting compliments on the space from my guests! They loved it! The staff was all top notch and professional, and the property was kept clean and tidy at all times. Julie Brown, my day of coordinator, could not have been a more perfect match for me and my team. She was prompt in all inquiries that I made to her via email and on the phone, and very professional. Loved her! Any vintage bride will fall in love with this venue! Absolutely a must see before making a venue choice in the dfw area! Thank you Belltower!



Cayla

Married on 06/02/2012

Everything was perfect! The staff is very friendly and helpful.

Kelly

Married on 05/05/2012

The Belltower Chapel and Garden - Fort Worth, TX

The venue is BEAUTIFUL and the staff is WONDERFUL!
Everything about our event was just PERFECT!

I recommend this venue over all others. We had searched and searched for the perfect wedding/reception location. My husband wanted to get married in a chapel, I wanted something outdoors. At The Belltower Chapel and Garden, we both got exactly what we wanted! The chapel is one of the prettiest things I've ever seen. Our families loved the stain glass and all the detail. We got so many compliments on how beautiful our wedding was! The great part about it all was that we hardly had to have any decorations, because the venue itself is beautiful!

The staff at The Belltower is so professional and kind. They truly strive to give you everything you've always wanted.

My husband and I's favorite part about this venue was the fact that every single penny you pay, goes directly to a non-profit organization. As we all know, weddings are very expensive, but booking with the venue, you feel good about spending money, because it goes to a GREAT cause!

Laura

Married on 03/24/2012

Amaaaaaaaaazing! We couldn't have been happier with the Belltower. The space is gorgeous and all very reasonably priced when you look at comparable wedding venues in the DFW area. I researched like crazy! We loved that it involves such a great cause, which adds a little special touch to your wedding day. We decided to go with day of coordination and officiant services as well. Again, we couldn't have been happier. Bryan Bellamy and Jody Massey were an absolute pleasure to work with. Bryan did a great job with the ceremony and is just a genuinely nice, kind person. Finding an officiant was a bit of a headache for us (we got stood up by one at our first meeting!), but Bryan eased my fears completely. He routinely emailed or called me to check in and see how things were coming along. Jody was another highlight of the day. I hate that I've forgotten her assistant's name, but she was also very nice and helpful through the entire event! Jody met with us beforehand and helped us finalize our timeline for our vendors. She was so nice and reassuring about things, then everything just went smoothly from there on out! The day of was amazing and I didn't have a thing to worry about. If something went wrong, I had no idea!! Thank you for making our wedding so much more than we could ever have imagined!

Carmel

Married on 10/01/2011

I was so pleased with Belltower Chapel! They were attentive through all the process and the day of went extremely smoothly. The venue is GORGEOUS and perfectly sized if you are expecting around 100 people. If you are looking for a church without necessarily the religious aspect, I highly recommend Belltower. They are GREAT!!!
Are you interested?
Send a message