119 Reviews
Recommended by 100% of couples
Quality of service

5 out of 5 rating

Average response time

5 out of 5 rating

Professionalism

5 out of 5 rating

Value

5 out of 5 rating

Flexibility

5 out of 5 rating
2 User photos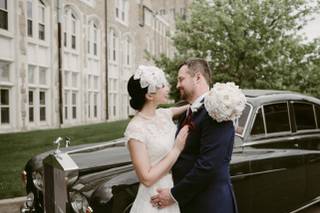 Megan

Married on 07/30/2022

Phil was amazing and I would recommend him to everyone I know!

Phil was amazing to work with! He helped us with creating a timeline for the wedding day to make the day run smoothly. He was with us all day and fit right in with everyone. Phil made us feel so comfortable and barely even felt like there was a camera around. He even was able to get us our short film back within a few days of our wedding and the short film was absolutely incredible! We were on the fence about a videographer but we have no regrets about hiring Phil he was the best and I would recommend him to everyone I know!

Emily

Married on 07/09/2022

Amazing Videographer

Phil was so great to work with! His constant communication and professionalism made our day flawless. His video captured so many amazing memories we will cherish forever!

Kelsey S.

Married on 07/03/2022

A wonderful experience and even better final product!

Phil was absolutely wonderful to work with. Very professional and delivered amazing work! Day of wedding, he is extremely laid back and you barely recognize he's there which creates some of the best footage moments! I'd recommend him for your wedding.

Are you interested?

Send a message

Liz M.

Married on 06/25/2022

Great videographer!

Phil was excellent throughout the whole wedding planning process. He provided a document of "tips and tricks" for the best videography which was very helpful for the day! He was prepared with the proper equipment and definitely captured all the important moments of our wedding. He provided our short film much earlier than we expected and it is beautiful! Affordable price and very great value for service! Highly recommend.

Megan A.

Married on 06/18/2022

Amazing Videographer!!!

We were absolutely blown away by the beautiful work produced by Bella Star Productions. We had a wonderful experience with Phil, who immediately put us at ease while he filmed. He was so easy to work with, and went above and beyond as he captured our big day. We couldn't recommend Bella Star Productions enough!!!

Caitlin

Married on 06/11/2022

True Professional

Phil was a joy to work with from the start! He made sure he understood the timeline for the day and where he should be/when in order to get the best shot. We adore the highlight film Phil made for us and I've watched it probably 50 times already. His work will be cherished by my friends and family for decades to come. If you're on the fence about hiring, do it! (If he's still available 😉)

Tia A.

Married on 06/04/2022

Patient professional & delivered!

Phil from bellastar was amazing to work with! He worked with my mom to surprise her gift of a videographer with me! During the wedding, We had a big bridal party and a rowdy group at that! He was patient and even helped to organize getting ready,corralling and angles /positioning. Most importantly, his services/final product delivered. He was always in contact pre event and detail oriented (double checked our song choices and preferences along the way). The final video was everything we wanted and our guests still talk about his presence and our video is a huge hit- couldn't recommend enough :)

Rachel

Married on 10/02/2021

Absolute joy!!!

Phil was an absolute joy to work with! He made us feel so comfortable and was always willing to answer any questions we had, at almost any time of day. We had a timing conflict and he made it work for us. Day of was a breeze and he was with us all night long! We already received our highlight video and we are so excited for the rest of our video. We HIGHLY recommend Phil!

Haylee M.

Married on 09/04/2021

Excellent!

Phil was INCREDIBLE! He captured our special day so beautifully. He is excellent at what he does. Our wedding video & highlight video came out so gorgeous. If you need a videographer for your event, look no further, Bella Star is IT.

Lisa M.

Married on 09/04/2021

Perfection

Phil was absolutely outstanding. He worked harmonious with our Photographer, didn't miss a thing and we barely knew he was there. His work is pristine, worth every penny. We were truly blessed to have him do our Daughter's wedding. He was extremely professional and actually wonderful, a very polite man. Praise God for choosing him for us! Highly recommend his service. I cannot thank him enough for his talent.

Ali P.

Married on 07/31/2021

Phil is amazing, memories to last a lifetime

I was going back and forth about having a videographer to be honest but I am so so glad I did. Everyone says it but the day flies by and is such a blur and as the bride you don't get to see a lot of the day happen! Phil was so responsive and available throughout our planning process and took the time to get to know us as a couple prior to the wedding. We are ecstatic at our short film and are so excited to see the full length film soon! The quality of the video is amazing and is easily one of the best values for videography! I would highly recommend Bella Star to couples in Buffalo and you can't beat Phil's experience in the wedding industry! You won't meet a nicer guy either! Does everything with a smile on his face and ha a calming presence throughout the day!

Kira S.

Married on 07/24/2021

Simply amazing

We had found out about Bella Star productions through a friends wedding, since their video was so beautiful we just had to reach out. From the time we booked with Phil to our wedding day it has been the absolute best choice. Phil meets with you and discusses how you want your day to go and makes suggestions to make your wedding go so smoothly. The day of our wedding was such a breeze to have him capture all of our special moments. He gave us our short film so quick, only a week and half after our wedding. Definitely recommend Bella Star for your wedding videography needs!

Brittany L.

Married on 06/20/2021

Great videographer

We really enjoyed working with Phil form Bella star. We had two phone conversations, multiple emails and a pandemic. He made the process easy, we just received the highlight fill and it is absolutely perfect! I couldn't be happier.

I didn't want to get a videographer, but my friend convinced me and I am so glad I did !

Mary D.

Married on 06/11/2021

Amazing Videographer

Bella Star was amazing to work with. We decided to postpone our wedding because of COVID, and Phil was extremely understanding and did not ask for more money from us. As we got closer to our wedding, he took the time to call us, email us, and helped us figure out our day of wedding schedule. He was extremely helpful, professional, and gave us great suggestions. He was truly a pleasure to work with and I would highly recommend him to anyone looking for a videographer in the area. He gave us our highlight video a few short weeks after our wedding and we are absolutely in love with it! Look no further than Bella Star. Amazing quality!!

Eric

Married on 06/05/2021

Absolutely amazing

Phil was amazing from the start. He was always keeping us up to date and quick with responses! On our wedding day he stayed the entire day, all the way through the night! He had our highlight film ready for us very fast and the film was amazing! We would recommend Bella Star to everyone getting married!

Caitlyn

Married on 04/10/2021

Bella Star for a STAR production

Working with Phil was a dream. He was very responsive and flexible with us during our 2 postponements, due to COVID. Phil worked with us and the photographer to create a time schedule that worked best for all parties. On the day of the wedding he worked seamlessly with with photographer and the bridal party to capture our big day. We are so happy with the final production of our video. We would recommend Phil to everyone and if you're on the fence, totally spend the extra money on the videographer! As a bride, and watching our film, you realize how much of the day you actually miss! We couldn't be more pleased with Phil's service, production, and packages!

Kyle B.

Married on 10/02/2020

Perfect capture of our special day

Everything was outstanding from start to finish. Extremely attentive to detail and very punctual, he made the perfect video to capture our special day.

Angela P.

Married on 10/02/2020

Bella Star is professional, talented, and amazing! I'm so happy with our video!

Phil with Bella Star is amazing!!! I absolutely love our highlight film. He did such a great job capturing the best day of our life! I'm so happy I chose him for the job and I would highly recommend him to everyone!

Hannah F.

Married on 09/26/2020

COVID Wedding 2021

I was given an amazing review from a coworker about Phil. I watched her video and new I had to hire him! I initially didn't want a videographer but so glad I did! We spoke with Phil prior to Covid and he was always keeping in contact with us and provided a very thorough response as to what services he provided. Once Covid hit, it seemed like a bad dream where dates were changing, our initial reception hall not working out and most importantly, realizing that we might not be able to have our loved ones by our side. Luckily, Phil was the constant we needed during that time of uncertainty. His commitment to our contract and compassion for our situation was unwavering. Thank you, Phil for being by our side during the crazy rollercoaster that was COVID wedding planning!

Kristy M.

Married on 08/28/2020

Phil was amazing!

Planning a wedding during a global pandemic is NOT something brides dream of, and it's uncharted territory for both couples and vendors alike. I was not sure I wanted to spend extra money on videography, but since we had to scale everything back so much and reduce our guest list so drastically - I wanted to make sure every moment of our night was captured for our family and friends to see afterwards (Selfishly, after seeing my highlight video, I would be so sad not to have it for myself) . From the very beginning, Phil was professional, flexible and truly had our best interests in mind. I was confident that Phil would leave us with memories to last a lifetime , and he did NOT DISAPPOINT!!! The evening flew by in the blink of an eye, and we are so happy we have all of this video footage to go back and watch anytime we want. We are so happy with our decision to hire Phil and cannot recommend him and his work enough.... all I can promise you is that it's worth every last penny. Thank you Phil for everything you did to make our day so special!!!

Jennifer B.

Married on 08/01/2020

our 2020 covid wedding

Phil was very organized, personable, flexible! Would recommend to any bride and groom! You won't be disappointed! Such an amazing video! Thank you for making our covid wedding so special!

Megan A.

Married on 06/20/2020

Phil is incredible

One thing that I knew was non-negotiable was having a videographer on our big day and I cannot explain how lucky we were to have Phil with us. He stuck with us through all the date changes and he was supportive along the way. He even helped plan out the whole agenda for the day, which was beyond helpful. From the minute he arrived that morning until the end of the night, he was right by our sides capturing all the amazing moments of our day. His calming presence really made me feel comfortable and his humor carried us through the day. When he sent us our short film I was blown away by the quality and the heart behind it. He was such a big part of our day and that showed in the film, he captured every little moment and that is why I was so glad we hired him! I cannot wait to see the entire film because I know it will take us right back to the day. If you are having a wedding in the Central NY region, you will be so happy you hired Phil!! I know we will remember him forever and have such fond memories every time we watch our wedding video!!

Jessica N.

Married on 03/21/2020

Can't say enough good things!!

I booked Phil at the semi-last minute and he was absolutely wonderful to work with from start to finish. He responded to my inquiry in a timely manner and his prices were among the best I've seen! I checked out his portfolio before booking and was blown away with his eye for detail. Planning a wedding from out of town, we could not meet until our wedding day, but we had multiple phone calls to discuss our vision and he made sure to keep me informed every step of the way. Upon meeting him, he was super friendly, very professional, and down-to-business! I did not stress one bit about if he would capture specific moments as he seemed very comfortable doing his thing, and I was very happy to not have to worry about anything just knowing he was there. When he sent our teaser video not even two weeks later, I cried all the way through it as it was so perfectly beautiful. I absolutely cannot wait to see what he comes up with for our full video, but I am certain that it's going to be amazing! I would recommend working with Phil to anyone looking for a wedding videographer who will be not only professional, but personable on your special day!

Katie

Married on 10/05/2019

Great wedding videographer!

I couldn't have asked for a better wedding video...Phil was very responsive & easy to work with. He sent us our "preview" within 2 weeks & the full video shortly thereafter. He was the videographer for both my wedding & my sister's; I would highly recommend him!

Mary

Married on 08/03/2019

Experienced & Professional with an Eye for the Special Details!

If you are looking for an experienced videographer with an eye for the details, look no further, because Phil is your man! Phil is so knowledgeable and easy to work with, and he truly loves weddings. He kept in contact with us in the months leading up to our wedding, and even helped us put together a timeline for the day. He worked seamlessly with our photographer, often times working with her to set up beautiful shots. He gave my husband and I pointers from time to time to ensure things videoed well, and though he stayed out of the way, we know he was there to capture all of our beautiful moments from our wedding day. He helped us stay relaxed and focused on each other, not on the video, and we are so grateful to him for helping our day run so smoothly! Our film was returned in a timely manner and turned out completely perfect! We love it so much! Thanks Phil!
Are you interested?
Send a message