Reviews
5.0 out of 5 rating
Quality of service

5 out of 5 rating

Average response time

5 out of 5 rating

Professionalism

5 out of 5 rating

Value

5 out of 5 rating

Flexibility

5 out of 5 rating
100%
Recommended by couples
81 User photos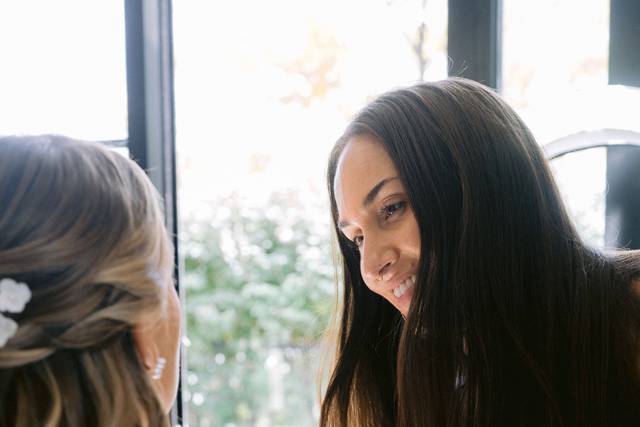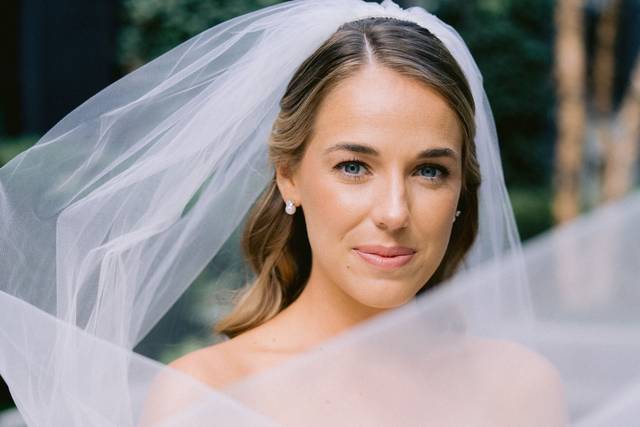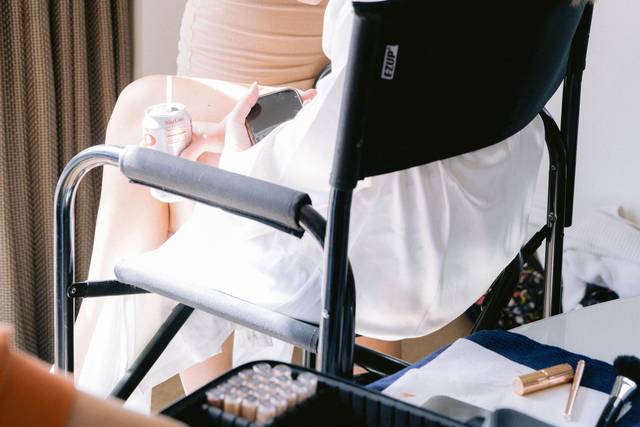 + 77

photos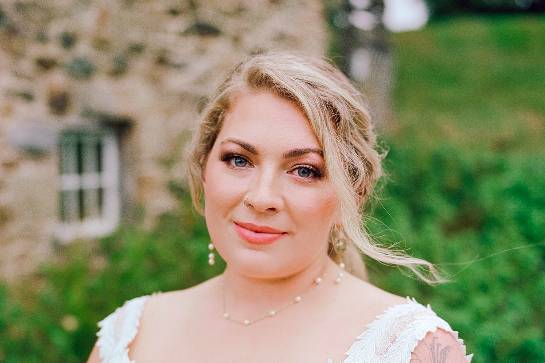 B Cond

Married on 10/08/2022

Best. Makeup. Artist. Ever.

BEST. MAKEUP. ARTIST. EVER. I could not have asked for a better makeup artist to be there on my big day. Every single woman who has seen my photos asks me how I got my makeup to look so natural but perfect at the same time. Jacs has mastered allowing you to look like yourself and so natural on your wedding day but also glammed up and feeling extra beautiful. She was so good at listening to what I wanted and she nailed it! She is also the most calming presence and made the day even more fun!! Her and her team also did my bridesmaids and our moms and they loved their makeup as well. They are truly the best!

Kirsten L.

Married on 10/01/2022

Best Professional Makeup Experience

Jacs is literally the BEST! Jacs reached out to me about doing my wedding make up. Her work is AMAZING. She is a professional who makes you look flawless. I went to her home for a trial and I was so amazed! I did not want to remove my makeup. She hit the mark after sending all my inspiration pictures. I felt fully confident in her for my wedding day. A week before my wedding my cat scratched my chest and I freaked OUT! I quickly contacted Jacs and let her know and she gave me the advice to keep it moisturized. Day of the wedding, she made the residual scratch DISAPPEAR! You would have no idea that I had a 4 inch long scratch on my chest. Jacs and her assistant were so professional, a calm presence, and created a positive vibe in the makeup space we had at the venue. They made my bridal party look AMAZING! My bridesmaids still talk about how it was the best professional makeup they've ever had! I HIGHLY recommend Jacs and her assistant for your wedding day or event!

Shannon

Married on 09/23/2022

Wedding 9-23-2022

Beauty by Jacs was an absolute pleasure to work with! She was prompt with answering any questions that I had leading up to my wedding day. She was so flexible and very detail oriented with her guidance and responses. Her and her teammate did an amazing job with all of our makeup, and left time for touch ups for everyone at the end. We are so excited to get our photos back to relive the day!

I would recommend Jacs to anyone who is looking for a reliable makeup artist for their wedding day!

Are you interested?

Send a message

Nicole K.

Married on 09/17/2022

The BEST makeup artist in Maryland!

Jacs was the perfect choice for our wedding and I will recommend her to everyone! I LOVED my makeup and received so many compliments on it. Not only was my makeup beautiful, but she was extremely professional, punctual kind and fun! I truly can say she was one of the best vendors we worked with for our entire wedding.

Hayley D.

Married on 08/06/2022

Magnificent Work and the BEST Energy

Finding a makeup artist for one of the biggest days of your life (and easily the most photographed day of your life) is simply overwhelming. I get it! But if you're reading this, there's no need to continue your search — you've found the best of the best. Jacs is utterly amazing. From the moment I met her during our trial session (which ended up being the makeup for my engagement pic session) I knew she was the right person. At the trial she looked at my inspiration pictures and listened to my concerns about my skin and made me look and feel amazing.

She was so responsive to all of my pre-wedding questions and arrived the day-of right on time. Jacs did an incredible job on my makeup as well as all of my friends and mom. I got married in the thick heat of August, but the makeup stayed just as perfect as when she did it earlier in the day. I truly felt like the best version of myself with the help of her meticulous work.

Aside from her magnificent makeup talent, Jacs has the most beautiful, calm energy. On a morning filled with chaos and so many moving parts, one of the most relaxing times was getting to sit in Jac's chair and chat with her. Having a vendor like Jacs was such an invaluable gift to start out my wedding day. I cannot emphasize how much the energy of your crew matters — and Jacs' is 100000% perfection. She is such a joy to be around and will help make your day magical.

I will absolutely be looking for excuses to visit her again for her amazing work! You can check off make-up artist on your to-do list and know that you are in the absolute best hands.

[Pics by Kate Fine Art Photography]

Remi M.

Married on 06/11/2022

Highly recommend!

Can't recommend Jacs and her team enough! Not only are they incredibly talented makeup artists, they are a joy and a pleasure to talk to, easily calming any nerves on wedding day. Jacs and her teammate did makeup for my 6 bridesmaids and the 2 mothers, they all looked STUNNING while also still looking like themselves, their natural beauty enhanced. No one had to fix anything and the looks lasted ALL night. They took everyone's inspiration photos and created exactly the looks they were going for. Their products and brushes are top notch and always the newest and best performing. She helped us out big time at the last minute a month before the wedding when another company became unavailable. They were on time upon arriving on wedding day, set up quick and brought all their own gear (nothing that I needed to provide at the hotel) and were incredibly responsive/communicative in the weeks and days leading up to the wedding. If you're still reading this, hire Beauty by Jacs, you will NOT be disappointed!

Lara S.

Married on 05/14/2022

Incredible makeup artist!

If you are reading this review, go book with Jacs right now!!! Jacs is truly an artist and she will make you feel so beautiful for your wedding! She was so friendly and easy to work with. I ended up wanting a different look than my original trial and she make it so simple to do a second trial so I could feel more comfortable. She absolutely nailed it again on the day of the wedding. She brought along a second person to help who also did an amazing job. Every single person in my bridal party was so happy with their makeup - even the pickier moms! By the end of the night - even after literally getting rained on, laughing, crying, etc - my makeup still looked flawless!

Amanda

Married on 04/22/2022

The best Wedding Party make up

I got my make up done by Jacs originally for my friends wedding in 2019. At that time I wasn't engaged or planning a wedding yet, but I knew whenever the day happened I was using her services for my make up. Whether you are the bride or bridesmaid or in wedding party she makes you feel like the most important person especially while doing your make up. She is so positive and light hearted.
Fast forward to 2022.. When it was my time to get married I messaged her right away and she was happy to reserve my date for me. I am probably the most awkward person when I am getting my make up done but she makes you feel so relaxed and calm. I felt like I was just hanging out with my friends on the morning of my wedding. Her energy radiates over to everyone. She's extremely knowledgeable on how to help you look and feel your best and so easy to speak your opinion to. She genuinely is happy to create the look you. She creates magic. Book her!!!! You will not regret it!!!!!

Molly C.

Married on 09/25/2021

The BEST presence on your wedding day

I feel so lucky to have had Jacs and her team as a part of my wedding day. She was so awesome, very professional and flexible, and really was just a great presence to have around on the day of. I went for a more natural makeup look and she absolutely nailed it. She genuinely brings out the best in you both in makeup but also in spirit. Highly recommend to anyone! Thank you so much, Jacs, for everything.

Casey W.

Married on 09/10/2021

The most beautiful I have ever felt

I wish I could give Jacs 10/10 stars!! She is so talented and made me feel like a queen on my special day! She can really do it all! If you want a more natural look, more bold look or anything in between - she will nail it and leave you feeling so beautiful. Her make up collection is high quality and she has such a wide variety of shades! Your foundation will match perfectly, look flawless and stay flawless all night long!! I danced so much on my wedding day, cried so many happy tears and my make up looked incredible at the end of the night! She is super creative, professional, personable, kind and an amazing hype girl! Both Jacs and her second make up artist, Katie, made us all feel so beautiful and confident!! I highly recommend her!!

Taina C.

Married on 08/20/2021

Best MUA around!

Jacs is amazing! Before my trial I had never gotten my makeup done professionally before so I was a little unsure of what to expect. I quickly found out that she is super sweet and very professional. She knows her stuff so I felt very comfortable trusting her. I knew I wanted a natural look, because I hate when people look like they've got too much makeup on or that 'caked/chalky' look. After seeing her portfolio on IG with lots of examples showing before and after, I could see the high quality of her work. She did my engagement shoot and day of the wedding makeup and I couldn't have been happier with the results. I would tell her what I was going for and that I wanted to try out different looks and she was totally game. I had a beach wedding and we wanted that dewy, natural glam but with a playful feel. I also had a bit of a 'pearl' them going with my attire with a pearl veil and thin pearl belt but I still wanted a little more so I asked her if she thought putting on pearl gems as part of the makeup would be too much. She said we could always try it and just leave a little extra time incase we didn't like it to take it off. She really came through though and was able to incorporate the pearls into my, my mother's and my MOH's makeup. We all loved it! It totally fit the theme and was visible but subtle and not over powering at the same time. I was happy I chose her because I could see how happy my crew was after their makeovers.

At this point Jacs has done my make up 4 times within the past year and every single time I get down from her chair I feel so beautiful! She's got magic hands and knows just what will make someone's best features stand out. Not only that, but the makeup lasts all night long with no smudges or tear trails! She did recommend to get a lip gloss for touch ups after the kissing pictures, but with all the craziness of the day I forgot to do those touchups.

I already know I want to book her again for my next big event, a birthday milestone coming up in 2022!
Hire Jacs, you will not be disappointed!

+ 17

photos

Randi J.

Married on 06/05/2021

Amazing experience!

After my original make up artist had to back out, I was very nervous about having to find someone else. However, I could not be happier with the outcome! Jacs was so easy to work with, is a true professional, and has an amazing talent for making you look your best. I highly recommend her to help you look your best for your big day!

Christine M.

Married on 10/10/2020

So Talented!

This girl knows what she is doing!

With high quality products that last, she enhances your beauty to make you feel your best. You can show her beauty inspiration and she'll make it happen! Jacs is super sweet, so fun, and professional! Highly recommend!!

Emma C.

Married on 08/14/2020

Made me feel so beautiful

Jacs made my wedding makeup dream come to life! I felt extremely beautiful and my makeup lasted the entire day. She truly made my wedding day / getting ready experience so blissful and stress free. I would hire Jacs again in a heart beat and wish she could glam me every single day. THANK YOU SO MUCH!

Sally D.

Married on 02/22/2020

Amazing! Highly recommend

Jacs did the make up for me and all my girls at my wedding this February. She was UNREAL! AMAZING! Seriously, I wish I could afford to hire her to do my makeup every day. I was having some serious redness issues with my face (that I now know is bad rosacea) and she made me feel so beautiful - you couldn't tell at all! My mom and my bridesmaids also told me they've never had their makeup done so well. Everyone felt so beautiful. Also Jacs is just really freaking cool. A good, calming vibe and exactly what you need on your wedding day in every way!

Sara R.

Married on 01/11/2020

Couldn't have asked for a better experience!

Jacs did make up for my wedding on January 11. From coordinating the trial to the day of, she made me so comfortable with the process, was super responsive, really flexible with me, and just generally so great to work with. Then her actual work - the make up she did for myself and my bridal party - SO FREAKING AMAZING! Everyone loved how their look turned out, especially me. She made me feel so beautiful on my wedding day. I can't say enough good things - please do yourself a favor and make the easiest decision of your wedding day. Work with Beauty by Jacs!

Nora C.

Married on 11/16/2019

A stunning job!

My wedding was November 16th, 2019. Jacs was the ultimate professional- kind, knowledgeable, and fun! Not only did she make me feel like the most beautiful girl on what was the happiest day of my life, she made my bridesmaids and the MOB and MOG feel stunning as well. I can't thank her enough for all of the time and energy she put into my day, and I can't wait to recommend her to everyone I know!

Kelsey W.

Married on 10/26/2019

Do you want to look nothing short than amazing on big day? Look no further!

My wedding day was nothing short of amazing and Jacs had a huge part in that! Jacs and Katie kept us all so calm and there were no worries if the makeup would turn out ok bc they seriously made everyone look stunning! The amount of compliments I got saying how beautiful/stunning/gorgeous I looked was amazing...I wish I could have Jacs in my pocket everyday to do my makeup bc my confidence was out the roof on my big day! My husbands sister in law had only met me the day before Bc they live so far away and apparently she's not the Crying emotional type... well my now husband told me when she stopped in the wedding suite to see me and when she came out she was crying and My husband was like what's wrong Sam are you ok? And she says while sobbing "I don't even know Kelsey that well but she is soooo beautiful." That was just one of many who glanced at me and began crying that day but Even with my tears in response to others the makeup stayed in tack! All the ladies and moms looked their very best- each makeup style was perfect, not too much but just right! Thank you so so much for all you guys did. Not to mention their background jam music was amazing and added extra happiness in the room :)

I certainly will be choosing Jacs for all the special events in the future. I highly recommend you do too! You will NOT be disappointed. ❤️

Alyssa V.

Married on 08/09/2019

Absolutely Amazing!

Jacs was so awesome to work with for my wedding day! She knew exactly what I was looking for even when I could not explain it. She made me feel like the most beautiful bride! I highly recommend Jacs for any of your make-up needs!

Veronica

Married on 08/03/2019

Highly recommend!

Jacs is a dream to work with! She nails the natural glam look and can work with a variety of ages and skin tones — she's extremely adept at bringing out everyone's personal beauty and truly making them the best versions of themselves. I was extremely impressed how well my makeup stayed on the whole night, all the way through the after party! I also appreciated Jacs' responsiveness and feedback on my initial getting ready timeline to ensure we would be able to finish on time.

Heather

Married on 07/20/2019

I can not get enough of this girl

I found Jac when she did my makeup as a bridesmaid in a wedding back in June, she was so relaxed and funny and down to earth! I loved my makeup so much I knew I HAD to have her for my wedding and spoil all my girls with their make up too! She's so talented and has helped me really make my vision a reality! plus She's got some awesome pups I got to meet at my trial (always a plus)!

Courtney

Married on 06/22/2019

Simply the best!

Jacs is incredibly talented! She is extremely down to earth, professional, and listens to exactly what type of makeup and look you want for your special day. She made me feel so beautiful and I loved my makeup so much. Also, it lasted the entire day and night! She was wonderful to work with in the planning process and was accessible to quickly answer any questions that I had about the trial, the day of planning and scheduling. I would absolutely recommend Jacs to anyone that I know that is looking for makeup for their big day.

Allison

Married on 06/15/2019

Stunning work!

Jacs is one of the most talented make up artists out there! I was married on 6/15/19 and had a large bridal party. Jacs accommodated all of us (a party of 9, the mother of the bride, the mother of the groom, the bride, AND a grandmother) and made us all look are absolute best. She took her time and had every one done in plenty of time before the ceremony. She made a schedule for us to follow, one less thing for the bride to stress over, which made things run so smoothly. Everyone looked so beautiful and it was all thanks to her!

Lindsey

Married on 06/01/2019

Didn't even have to consider anyone else!

I used Jacs for my wedding day and she is literally hands down a rock star at what she does. Her team did make up for myself, my girls, and my mom. Her works does not even compare to anyone else I've seen. I searched around a bit here and there but I refused to consider anyone else's services after seeing how amazing and professional the make up turns out. She jokes that I booked her almost 2 years in advance- but it was because I was so sure on her services! On the wedding day, my girls and I all felt like complete superstars! I am the first to say that I am incredibly particular at how my make up is done and how it looks, which is why I was so set on limiting my consideration to anyone else. Jacs uses top of the line products and comes with some serious equipment on wedding day (I thought she was the camera crew with all her lighting gadgets ya'll!). She also does a great job of keeping her packages affordable and in line with the top line service and product she offers. One thing that sold me is looking at her before-after photos on sites and her Instagram (super helpful when you're deciding on a vendor like that). Beauty by Jacs will for sure be my go-to for any future make-up needs!!

Jodi

Married on 05/17/2019

Such a talent!

Jacs is the best! I could not have been happier with how my make-up turned out. She transforms you into the best version of yourself with her amazing talent. I felt super comfortable throughout my whole wedding day and my makeup held up great through hours of dancing and lots of photos! Jacs is very personable and so easy to work with. She listens to exactly what you want and what she delivers exceeds all expectations. Above all, she is super fun to hang out with! I am so happy that I chose Jacs to be a part of our big day and I look forward to using her for again for future events!
Are you interested?
Send a message