17 Reviews
Recommended by 99% of couples
Quality of service

5 out of 5 rating

Average response time

4.9 out of 5 rating

Professionalism

5 out of 5 rating

Value

4.8 out of 5 rating

Flexibility

4.9 out of 5 rating
11 User photos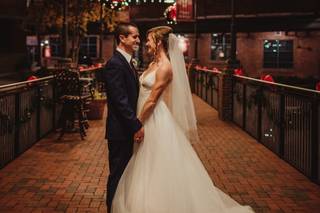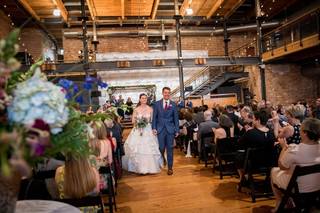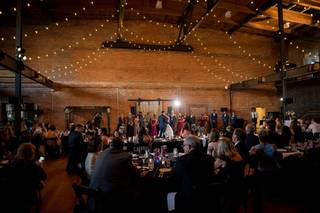 + 7

photos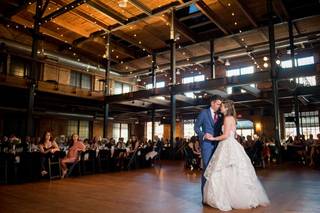 Caroline C.

Married on 10/29/2022

Loved having my wedding at Bay 7

Wow. I got married here this year and I cannot even say how amazing everything was. The venue was perfect and beautiful. The food was incredible. So much was included already, the whole process was so painless. Faith, our wedding coordinator, was so easy to work with and great at getting back to us. Would recommend for any bride!

Kendall S.

Married on 11/22/2019

Beautiful space, amazing food, outstanding people

My husband and I were sure of this wedding venue eventually being ours even before we were engaged...no joke. We walked by and saw another wedding one night and in that moment knew this was the place. The venue and area surrounding it is beautiful and unique. The space inside is so cool just as it is that you don't have to waste a ton on decorations to dress it up. The 2 floors, industrial components, market lights, etc. give the it such a warm, intimate and special feel. The packages are easy to chose from and the staff is AMAZING to work with. They are so professional and responsive. The food from Angus Barn...best I've ever had at a wedding. This is not your typical reception food, people could not stop talking about it after our day. We knew right away this was the place and we were blown away by the service.

Marla G.

Married on 07/13/2019

Beautiful Venue, Perfect Vibe, Outstanding Service

Bay 7 was the perfect wedding venue for us! We had both the ceremony and the reception there and we couldn't have made a better choice. After a few hiccups getting an initial proposal, Kelly stepped in and took care of us. She got everything set up and worked us for the first few months, then Sarah took over when she returned from maternity leave. We were a bit nervous about how the handoff would go, but it was seamless. They were both so helpful making vendor suggestions and answering all our questions. Bay 7 is such a well-known, well-respected venue. It made hiring all our outside vendors so easy. On the day, everything went off without a hitch. They were so organized and all the staff was out of this world. All the servers kept checking in and making sure not only we as the bride and groom had everything but taking care of every single one of our guests. The venue is beautiful, the food was delicious, and the people were wonderful to work with. What more can you ask for?


Are you interested?

Send a message

Matthew

Married on 07/21/2018

So thrilled that we chose Bay 7 for our son's wedding! There was just 2.5 months between the engagement and wedding so I seriously considered the need for an additional wedding coordinator. Thankfully, my son put together detailed logistics which were shared with the Bay 7 event coordinator, Sarah, who is great at responding to questions, giving advice, coordinating with vendors and executing the event. I cannot say enough good things about Sarah and the Bay 7 staff who provided excellent service and warmth beyond our expectations. Sarah was so hands-on---at one point I saw her picking up building toys that the ring boy had unceremoniously dumped on the dance floor seconds before the bridal party was to be announced. Thank you, Sarah!

Our guests raved about the quality of the food and how fun the wedding was. I would wholeheartedly recommend Bay 7 to anyone looking for a rustic and spacious wedding venue, excellent service and delicious food!

Carolyn

Married on 11/04/2017

We had a wonderful experience at Bay 7 - the planning process was long and at times overwhelming (especially since I didn't have a wedding planner), but once I dropped everything off with our Bay 7 coordinator Angel the week of the wedding, I had no worries left - and everything turned out perfectly! There were a few issues here and there on the wedding day, but they were completely taken care of behind the scenes. The venue was beautifully set up, it looked exactly like I had pictured it, and the food and service was amazing. Every single guest I talked to commented on how good the food was! Every single staff member I talked to that night congratulated me on my marriage and went above and beyond to make sure I had a great time! It was a dream come true to have my reception at Bay 7, and I would highly recommend Angel and her staff to anyone.

Emily

Married on 05/06/2017

Bay 7 provided very high-quality service and professionalism for our event. The wedding coordinators for Bay 7 were extremely responsive and accommodating, and helped to plan and execute our event. I felt like everything was going to run smoothly in their hands, and of course, everything went perfectly. They were very flexible in terms of revising our menu based on guest count, and the food by Angus Barn was absolutely outstanding. All of our guests raved about the food and left totally stuffed. The wine and beer selection was also great, and they made some really delicious cocktails for our guests. The Bay 7 staff at the event just know how to carry out a perfectly timed, coordinated event. As the bride and groom, they responded to our needs before we even knew what we needed - they brought us a plate of appetizers and drinks in the bridal suite when we arrived at the venue, brought us plates of food from the buffet, and ensured we always had a drink in hand. Their service is on point. Although the cost is high at Bay 7, it is well worth the money. You won't be disappointed!

Cathy

Married on 04/01/2017

I could never adequately describe how happy I am with our choice to book our daughter's wedding and reception at Bay 7, American Tobacco Campus. (Exclusively catered by Angus Barn) My guests were blown away by the food, the service and the beauty. I was blown away with every aspect of working with the staff on every level. Sarah and Angel were my coordinators. They are so knowledgeable and put me and my daughter at ease. I am very detail oriented and had a million questions and wanted to visit the venue so many times. The response to every question and request was quick and clear and I never felt like I was being a bother. The food was OUTSTANDING! So many of our guests said it was the best food they had ever had. We had a plated meal and the service for 170 guests was impeccable. We had a problems with a video we planned to show and the tech person (JP Tate) assured me that that he would have it all worked out- and he did! My husband and I had so much fun at the reception because that was all we had to do. We didn't have to think about one thing! I added a fair amount of lighting, flowers and other decorations that enhanced the natural beauty of Bay 7. However, the charm of the stripped down space paired with the outstanding service and the iconic Angus Barn food would result in a WOW-worthy event without the enhancements. No, it isn't cheap but I have helped with weddings at other venues and I can tell you that what you get for your money at Bay 7 is worth it. They did ALL the wedding day work. None of my friends or family members were worn out from decorating. I dropped things off early in the week and the staff executed my (VERY DETAILED AND ELABORATE) plans perfectly. My family and friends are so use to working before/ after a wedding that they had a hard time believing that when they asked what could they do to help that the answer was "Nothing". I could not be happier. Things could not have gone more smoothly. True professionals delivered perfection!

Jen

Married on 02/25/2017

Wow. Just Wow! I originally wanted to get married at the Pavilion, but when my husband and I saw Bay 7... we fell in love! The market lights, the hardwood floors, the rustic brick walls. I could tell this was going to be a great venue for our wedding! And the people, well they are awesome. Everyone that we interacted was fantastic. We worked with Kelly from day 1 and she was great! So knowledgeable and you could tell she really wanted to help us make it our best day ever. She was super responsive to emails and really helped pull everything together! Kelly worked with all of our vendors to make sure they were where they needed to be, when they needed to be there. She and the rest of the Angus Barn staff were simply incredible. Our wedding day was nothing short of AMAZING!! And the best part, I didn't have to worry about a thing! Our guests had nothing but compliments about the venue, food, service, etc! I would definitely recommend Bay 7 and the Angus Barn to anyone looking for a wonderful venue with incredible staff! They were a pleasure to work with and could have asked for more! Thanks!

Mary K.

Married on 04/16/2016

I wish it were possible to give Bay 7 more than 5 stars. We worked with Sarah and Caitlin for 16 months to plan our wedding and they were amazing. As an anxious and somewhat obsessive bride, I sent those two lovely ladies LOTS of emails with LOTS of questions - they were always responsive, polite and fun to work with. We had numerous consultations on-site, they were always reachable by email or phone, and really put us at ease throughout every step of planning. Our guests keep telling us that our wedding was the best wedding they had ever been to (the best food, staff, drinks, venue). Our wedding was more than we could ever had dreamed of, thanks to Sarah, Caitlin, Bay 7 and the Angus Barn team. There will never be enough words to describe how grateful we are. If you are looking for a venue where you and your guests will have first-class food, service, drinks and planning - look no further! Thank you from the bottom of our hearts for an AMAZING wedding.

Bay 7 was absolutely top notch. From the moment we made the decision to book to the end of the evening itself, every aspect was perfect. The coordinator/planner Kelly Joslin went above and beyond expectations, and helped with getting everything we needed in place and running smoothly (decorations, musicians, people, props and rentals) besides just what the venue was providing. The food was Angus Barn delicious...people are still raving about it as being a top restaurant quality meal rather than an expected catered reception. And the staff was so friendly, courteous and professional.
The venue is gorgeous...and has the most wonderful urban rustic feel while being warm at the same time.
I cannot say enough about how happy we were with Bay 7!
Susan K.

Alexa

Married on 03/06/2015

Can't say enough good things about Bay 7 & the Angus barn staff. I thought the price was a great value especially given they offer Friday discounts, plus a discount for having it within the first ten weeks of the year. PLUS, you get a day of coordinator which went above and beyond for me. Bay 7 was a must for me, as I always envisioned getting married there, and I am so glad I did. Worth every penny.

Erin

Married on 11/15/2014

I can not say enough amazing things about Bay 7. Honestly, if you are thinking about having your wedding here, just go ahead and book it! The decor, the food, the service, the attention to detail from your coordinator (mine was Ashley), EVERYTHING was amazing on my most special day. Thanks to Bay 7/Angus Barn, it truly was the best day ever! All of my guests couldn't believe how amazing this venue was and that they will tell all of their friends and companies to have their wedding/event there. Even my out of town guests want to come back to Durham and have their own event/wedding there. Trust me, this venue is amazing.

Whitney

Married on 10/24/2015

Sarah was our planner with Bay 7 and we had a fantastic experience. Not only was the food absolutely amazing being that it is Angus Barn (our guests were SO impressed and thought it was the best they've had!), but Sarah was responsive and easy to work with. She emailed me back within the day for every question I had and was always helpful. The waitors and bartenders were so great, too. Always polite, refilling drinks and responsive to guests. The night was absolutely perfect. I didn't worry about a thing. Oh, and their tasting was the best food I've ever had!

It's expensive, but Angus Barn, the venue and it's people make it worth it!

Lizzie

Married on 10/03/2015

I can't say enough about how gorgeous Bay 7 is! We were looking for a venue that was modern and unique and Bay 7 definitely delivers. Between the draped lighting, the wood floors, and the brick walls, everything is gorgeous. Also, Kelly was our coordinator with the Angus Barn and she was great in helping our dream wedding come together. The venue, the Angus Barn catering, the staff, everything was perfect and I would recommend Bay 7 to anyone!

Elizabeth

Married on 07/26/2014

We had my daughter's wedding reception at Bay 7. It is a beautiful event space, and the Angus Barn provided great service and wonderful food. Kelly Joslin was the event coordinator, and I couldn't have asked for a more cooperative and helpful person to work with. I would definitely recommend Bay 7 for anyone who wants an event space that is different from the traditional country club space.

Catharine

Married on 07/22/2017

Bay 7 was the perfect backdrop to the perfect day. The venue itself is absolutely beautiful. We did our ceremony, cocktail hour, and reception all in Bay 7, and the evening flowed incredibly well. The food was out of this world delicious, and they were incredibly accommodating about food allergies. We hired a band, and they sounded wonderful in the space.
Our main concern prior to booking Bay 7 was that we couldn't find a lot of photos of ceremonies in the space. Bay 7 didn't have any to show us, which I thought was extremely odd, and google searches weren't very effective either. In my opinion, a venue should have photos on hand of different types of events so that potential clients can envision their own event in the space. Ultimately, we booked it despite those concerns, hoping that the vision we had in our heads would translate well into the space, and it definitely did! I hope the photos I'm including can help someone else picture the space better. It really was our dream venue and over a year later, my friends and family still rave about the space and the food!

Mary

Married on 06/16/2018

Angel was absolutely wonderful to work with, and it was clear that Bay 7 and Angus Barn are VERY experienced and know exactly what they're doing when it comes to throwing weddings! The space looked absolutely beautiful when it was dressed up, and my guests commented on how unique and wonderful it was to be in such a different and interesting space! The acoustics for our band were phenomenal.

Regarding food and drink, I can't say enough good things about the steak, lobster, and grits seated dinner that Bay 7 served our guests. Multiple guests commented on how it was the best meal they had ever eaten at a wedding. Further, they served dinner in under an hour to 235 guests, which was very impressive! It let us get right to dancing. Bartenders, also, did phenomenally! There were no lines, and they REALLY made sure our guests had a blast (thank you!)

The only feedback I would give Bay 7 is that I wish their tasting had been better. I didn't get to actually taste the food until the day of the wedding, and the tasting itself wasn't terribly impressive. I definitely would forgive this as the day-of food was SO hands-down delicious. But, I wish I knew this beforehand so I could have looked forward to it! I also wish they could have been a bit more flexible when it comes to menu pricing and options - but when we finally reached a menu and pricing, I do think we got to a reasonable compromise on food mix and pricing, it just took a while!

Overall, I would do my wedding at Bay 7 100 times over if I could. They were great.
Are you interested?
Send a message