27 Reviews
Recommended by 99% of couples
Quality of service

4.9 out of 5 rating

Average response time

5 out of 5 rating

Professionalism

5 out of 5 rating

Value

5 out of 5 rating

Flexibility

5 out of 5 rating
4 User photos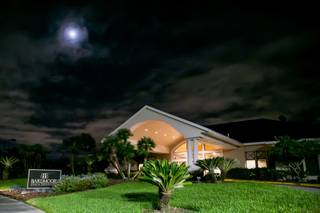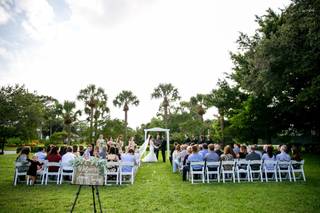 Autumn

Married on 11/02/2019

They made the night amazing

I had the privilege of having Liz, Jesse, and Katherine all help me with my wedding day. Those ladies made the night absolutely perfect! I couldn't have done it without them! And the whole staff! They were amazing and so much fun and easy going! Thank you Bardmoor!!!

Kyle

Married on 01/05/2019

January Wedding!

The Bardmoor was where we had our wedding ceremony and reception! It was by far the BEST decision we made throughout the entire wedding planning process! Liz, the wedding coordinator at the Bardmoor was phenomenal! Everything was perfect. We could recommend this venue to anyone who wants to have an amazing wedding! We couldn't have done it without Liz and the team at the Bardmoor!

Kimberley W.

Married on 11/09/2018

Liz and Bardmoor is Amazing!

My wedding was amazing! Liz made my wedding day (and all the days leading up to this day) very smooth. I was able to contact her with any and all questions at anytime, and she answered them promptly and made me feel confident everything would work out perfectly. Everything worked out so perfectly that if I could do it all over again, I definitely would! I couldn't have asked for a better person to work with than Liz. Thank you for everything you did Liz!

Are you interested?

Send a message

Nichole

Married on 09/16/2018

wonderful!!

My husband and I had been searching for a while before we found the Bardmoor golf and tennis club. I'm so glad we did. As a bride life can be stressful with planning and all. It's even more so when you are your own planner. Liz was amazing at helping me with any question I had from how to decorate to the final day and beyond. The service staff was on point and the food was so good!! Everyone had an amazing time and told us how perfect and beautiful if was here. The wedding photos we did one sight came our so beautiful with the golf course and landscaping. They helped two families become one. There's no way to describe that happy moment in your life. I was so happy for them to be apart of that day!

Sabina

Married on 04/07/2018

Sep Wedding

Wonderful experience. Liz went above and beyond, and was SO flexible. When it came to the menu, external vendors, decorations, literally everything. I am SO happy we chose to get married at Bardmoor. It was an amazing experience, and everyone loved it. She texted me updated throughout the day and made sure everything was running smoothly. My husband and I can't say enough great things about our experience! We definitely recommend Bardmoor to anyone looking for a venue.

Kim

Married on 03/17/2018

I can't say enough wonderful things about my experience working with the Bardmoor as my venue for my rehearsal dinner and wedding. Liz is amazing to work with. She goes above and beyond to ensure your day will be perfect. The service was amazing as was the food and the staff. My wedding day went off without a hitch. I couldn't have asked for anything better.

Ashley

Married on 01/13/2018

I absolutely recommend this place for a rehearsal dinner, ceremony and reception. My wedding went absolutely flawless. They are very organized, friendly, and helpful. Liz was a huge help, and was with us every step of the way. Also, very helpful when it came to our budget. My wedding day will always be remembered as perfection. The food was excellent, and the decor was stunning! We went to several places to look for a venue, but we knew right away this was the place for us, and wasn't disappointed.

Danielle

Married on 09/16/2017

Throughout the year and a half that I planned our wedding, I have had trouble with vendors. When I found out that The previous Coordinator was leaving the venue, I was worried. But Liz stepped in and did amazing. She went above and beyond for us and to make sure that we had everything needed. She picked up right where things were left off and knew everything that we wanted and worked with anything we wanted changed. I loved the venue and I loved having Liz help us through the planning process. The food was delicious, we had so many compliments from our guests and I cannot thank them enough for all they did for us on our big day.

Mary B.

Married on 08/19/2017

We just had our daughter's wedding ceremony and reception at Bardmoor CC last weekend and we were very happy with the evening. Lucy guided us throughout the planning process and made thoughtful suggestions. She always responded to my emails quickly and gathered whatever information I needed. The club personnel and the wait staff that evening was attentive to our guests needs and worked hard for the evening to go smoothly. . The food was very good, special for the salmon. We had a warm candlelight setting and made great memories.

Jorge

Married on 06/25/2017

Lucy Ritter and her staff went above and beyond in support of the Association of the United States Army Suncoast Chapter Membership Appreciation Social on 20 April 2017
Jorge E. Rodriguez
COL. USA (ret)
President

Selina

Married on 05/13/2017

I am so glad we decided to have our party at Bardmoor Golf and Tennis Club. Staff were very professional and so incredibly helpful. I've never had to do anything like this before and Lucy was wonderful to work with. If I ever need to rent a venue again, I will definitely go back to Bardmoor Golf and Tennis Club. Everything was clean and the price was reasonable.

Vince

Married on 01/25/2017

We had a business meeting awards dinner for two of our Regions in the MAR and GLR.

Great folks to work with. Daryl and Lucy made our meeting a great success. The Golfers had a nice day, and the flexibility of the staff to accommodate our special needs for half our group who went fishing and came back to the Brodmore was phenomenal.
Barbque worked well for meeting. Overall very Pleased, We will be back the next time we go to Clearwater / Tampa.

Paula

Married on 12/21/2016

Everyone was very nice, pricing was great and really like the venue.

Great venue. Very affordable and great staff that are flexible and easy to work with.

The staff beginning with Lucy the banquet and event coordinator for Bardmoor Country Club, and the wait staff who took care of us was incredible. Our event was a company xmas party, with two guests which required a special menu, one being a veggitarian and one being a gluten free. The food for those two guests was specially prepared by the chef, and delivered on time along with the other buffet food. The food which we chose from the incredible food menu was delicious and plenty of it. Everything was done as requested.
If you are considering this venue for your event, it comes with a "6" out of 5 from us.
Ron
Paws Inn Paradise Pet Resort

David

Married on 12/02/2016

Bardmoor is an exceptional facility and great mid-county location. The staff is very professional and the ability to have an indoor/outdoor event is one of the best qualities this facility offers. We used Bardmoor to host our annual employee Holiday Party and the feedback I received from my employees was how nice of an evening they had at Bardmoor.

Darla

Event on: 11/10/2016

Lucy Ritter was very responsive, flexible and professional in every way. The event staff were amazing and the food delicious. There were no issues - everything was perfect. We're already looking forward to next year's event at this beautiful location.

Gloryl

Married on 10/15/2016

OMG!! Lucy and the staff were amazing. Lucy helping us have everything set for the reception and making sure we had everything we needed to make sure the day went without any hiccups. Constant communication and planning was involved. Excellent service and a lot of attention to detail. I loved everything about our special day and they made us feel like home. So grateful for everything they did for us!!!!

Catherine

Married on 10/01/2016

We had our wedding ceremony and reception at Bardmoor Golf and Tennis Club on 10/01. It is a beautiful location and we loved that we were able to stay in the same spot for both. They included a set-up for the ceremony was exactly what I was looking for - simple but beautiful. They encouraged us to take photographs on the golf course which turned out awesome! We were also able to access the outdoor patio from the reception hall which was really nice. The reception hall itself was decorated beautifully by the staff for a reasonable cost. The food was tasty and the bar was stocked. :) The coordinator, Lucy, was especially amazing. She helped me with all the details from start to finish, including things I never would have thought of on my own! I really couldn't have asked for more!!!

Elizabeth

Married on 05/15/2016

We utilized the services of Bardmoor Golf and Tennis club for a surprise birthday party for my husband. I literally threw a party together in two weeks when I realized both of my children would be home and be able to attend. Jessica was prompt, courteous and helped me meet my goal in approximately one hours time. She described how the room would be set up, how to specialize the menu for a brunch and explained both linens and centerpieces.

The food was delicious, the room was set up to my expectations and the staff was attentive to our needs.

I will consider using this venue again in the future as a need arises.

We used this facility for a baby shower. It was set up wonderfully and the staff was extremely helpful and accommodating.

Jessica Sheets and the entire staff at Bardmoor were fantastic. Everyone was so attentive and accommodating and the food was absolutely delicious. The ceremony area and the ballroom looked amazing. I had so many guests tell me how great the food was and how beautiful my wedding was. Jessica coordinated with all of my vendors to be sure everything went smoothly so I could just enjoy the day and not worry about a thing. Throughout the planning process, Jessica always responded to any emails or phone calls I had immediately. She would remember little details that I would ask her about and she followed up on anything and everything. She made me feel so confident that the day would go perfectly and IT DID! I also want to mention that I looked at a lot of other venues that were 2 and 3 times the price. Let me just tell you, you don't have to pay a lot to get excellence. Thank you Jessica and the entire Bardmoor staff for everything you did to make my dream wedding come true!

Tammy

Married on 03/26/2016

We booked my Daughter in Laws Baby Shower with Jessica Sheets. It turned out amazing. Jessica is a gem for any event. She helped with suggestions and different options available. I think it was extra special . The food was great!!! I will send event referrals to Jessica

Cheryl

Married on 11/08/2014

For anyone looking to have the perfect Party place they should book the Bardmoor Country Club. We had a party for my mother's 80th birthday with about 65 people. Lucy the event planner made this a smooth and flawless party, she was wonderful! Huge help in planning the food and décor. We had cocktail hour with hot appetizers served in the bar area, then went into the ballroom area for dinner. Everyone raved about the food and service. We will be booking more social events here, from baby showers to 60th birthday party. Perfect Place for all!

Raquel

Married on 05/13/2017

Our was a Sweet Sixteen. This location was easy to work with food was great lots of parking.

Are you interested?
Send a message