Reviews
5.0 out of 5 rating
Quality of service

5 out of 5 rating

Average response time

5 out of 5 rating

Professionalism

5 out of 5 rating

Value

5 out of 5 rating

Flexibility

5 out of 5 rating
100%
Recommended by couples
18 User photos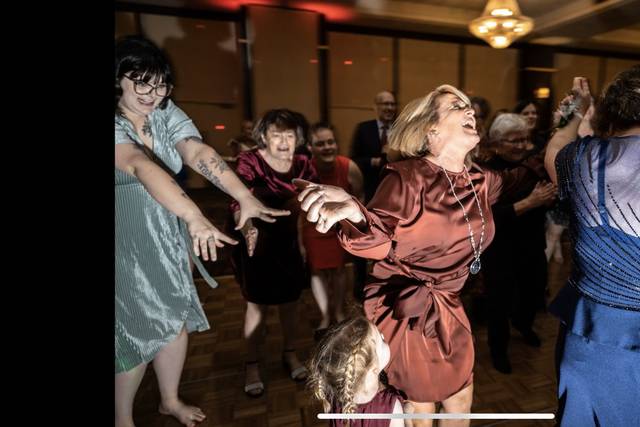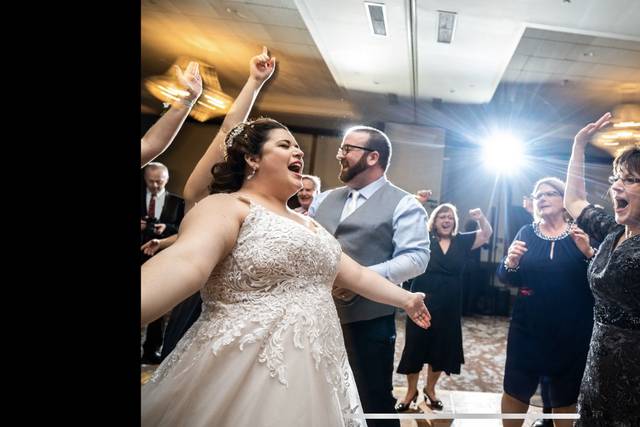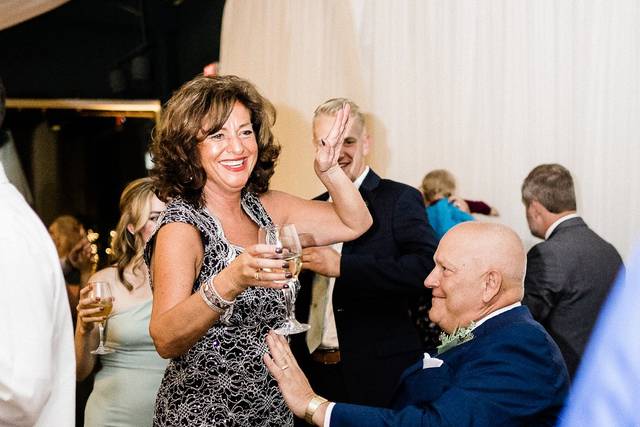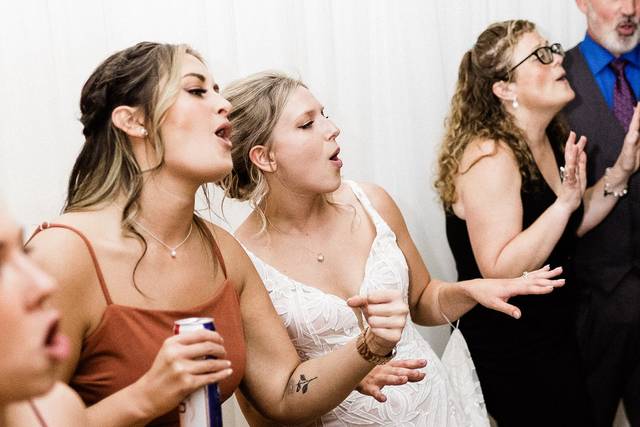 + 14

photos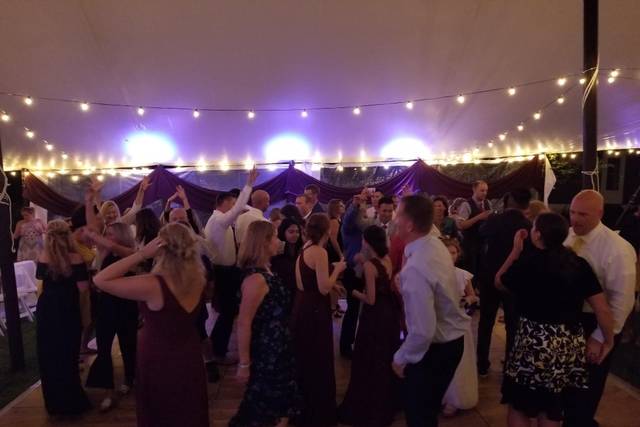 Featured

Stacy S.

Married on 08/26/2023

Amazing DJ


I actually hired Barb because I saw her at a wedding I attended a few years ago, and loved her. And wow! I'm glad I did, because she really helped to ground me when I was getting nervous or frustrated. I first called her and she talked to me about what to look for in a DJ, etc, and what she had to offer. I was having a rustic barn wedding, so she was bringing two sound systems -- one for the inside reception and a smaller one for the outdoor ceremony. It's funny, because I called her after having seen her from the side of being a guest at a wedding, and seeing how much fun it was...but then, as a bride, I felt so comfortable because she walked me through everything. It was kind of like having a wedding coordinator as my DJ! I did have a few obscure requests, which she and JoJo still managed to fit in, plus they played music for everyone, which was awesome! Our guests were dancing all night long, and honestly, I think that's what made my husband and myself the happiest -- watching your friends and family have a great time! Anyway, if you are looking for a DJ that really cares about you and your wedding, you have to call Barb -- she's the absolute best! Thank you, Barb (and JoJo!)

Barb Fox's DJ Entertainment's reply:

Stacy -- wow! What kind words, thank you so much! And I think they all danced all night because they were crazy fun people! Seriously, though -- you guys were easy to work with because you just wanted everyone to have a good time, so we just went with their vibe. Thank you again for having us, best of luck to you both, and I'm honored by your kind words.

Ashley L.

Married on 10/21/2023

Amazing!

Barb was such a fantastic DJ from our first phone call to the night of the wedding. I knew right away from our first conversation Barb was going to be the DJ for my wedding. She was so professional, helpful and sweet! She offered advice on what to play for music throughout the ceremony and sent numerous suggestions to listen to before our big day. She went above and beyond on our day as well to help coordinate when things were to happen and help guide us to make for a smooth and fun night for all of our guests and us. 10 out of 10 would recommend to anyone!!!

Barb Fox's DJ Entertainment's reply:

Ashley, thank you so much! You two were so easy to work with, you made it easy. And your guests were so much fun! I swear, they danced every single minute! Best of luck to you both, and thank you again for having me!

Devin

Married on 10/07/2023

Terrific night all around

Barb is wonderful and so so so fun! Had an absolute blast and it was all thanks to her.

Are you interested?

Send a message

Ryan W.

Married on 10/07/2023

Barb is amazing!

Barb is an amazing DJ and was super accommodating for my weird family traditions. She's worth every penny!

Barb Fox's DJ Entertainment's reply:

Ryan,
There is no weird! You guys were awesome, and I never, NEVER have had someone request "9-5" for the groom, and had the groom sing along to every word!! Love you guys!!!

Amy A.

Married on 07/29/2023

Helpful knowledgeable great paying attention to details

They were great to work with. They helped us to stay to our timeline. Their music was of great quality, great sounding, and what we had asked for. We had a great time and experience with them, they were very professional. We would high recommend them.

Barb Fox's DJ Entertainment's reply:

Thanks, Amy -- you and Craig were a pleasure to work with (and I should mention Mackenzie, as well -- she was a great planner!). And of course, you picked the perfect venue! Thanks for having me, and best of luck to you both!

Julie W.

Married on 07/17/2023

Barb and her side kick were fantastic!! Barb is flexible, and really strived to make our day perfect.

Barb and her side kick were excellent. We spoke to Barb many times before the wedding and she was always available and very professional. She advised us when we had questions and It was obvious she has a great deal of experience. Barb was also extremely flexible and honest. It was like talking to a friend when working out the details of the day.
Barb got the party going really quick. She definitely knows her music and how to get people on the dance floor.



Barb Fox's DJ Entertainment's reply:

Julie, thank you for the kind words -- you guys were a blast! (And I loved seeing the castle, just an added "plus" for me!). But seriously, I knew ever since our first phone call that we would get along famously -- loved meeting you both! Best wishes to you guys!

Sue J.

Married on 11/20/2022

Highly recommend this vendor!

Barb was WONDERFUL! She has a vast musical library and there was music for everyone. She excelled at watching which music got the guests up and dancing. She also acted as an excellent emcee as we requested. She is lively and full of fun. We had three separate areas… cocktail hour, dinner and then dancing. She was asked to play music in each of the three rooms and she did, playing appropriate music for each. She motivated the crowd to party. I have to say it was an excellent time!
Barb was super easy to work with and listened to us. Her pricing was excellent…..Big Bang for the buck! She was set up and ready to roll when we got there. She was extremely knowledgable and she delivered beyond our expectations. Highly recommend!

Barb Fox's DJ Entertainment's reply:

Sue, you are such a sweetie! I so appreciate you having me! The venue was simply gorgeous and your friends and family were fun, fun, fun! Thank you for the kind words -- I love my job, and I try to really follow the vision of each bride and groom, so it's always good to hear back. Thanks again! :)


Angie H.

Married on 11/12/2022

Barb made the night!

Barb was so professional and easy to work with. She kept the night running smoothly and did a wonderful job of reading the room and keeping people partying on the dancefloor. We had a blast and we're so grateful to Barb! We 1,000% recommend her for your wedding or special event!

Barb Fox's DJ Entertainment's reply:

Angie, what a beautiful wedding! (not to mention your dress!! Just jaw-dropping!) It was totally my pleasure to DJ for you guys -- I'm so glad you thought of me! I wish you and Paul the very best, and maybe someday, when you guys are visiting my part of the world -- you'll come to my Quingo game some Thursday night! :)

Ian H.

Married on 11/05/2022

Barb Fox is the Best, Hands Down No Question About it.

My now wife and I were looking for a DJ for our wedding a few months ago and found Barb Fox on wedding wire. I had forgotten over the years that Barb had actually DJ'd a relative's wedding years ago and she was an old family friend and we quickly got in contact with her to see if she would be willing to DJ our wedding. Barb was very responsive and excited to talk with us and answered all of our questions about the process of hiring a DJ for our wedding and what she could offer.

A few weeks before the wedding we met with Barb and had a great experience going over our wedding playlist and first dance songs. Barb assured us that she would keep the dance floor full and the party going from start to finish and boy did she deliver on that promise. Barb used our suggested songs and made them special moments throughout our reception. She was extremely helpful keeping things moving along for us all evening and gave us great advice throughout the night as she guided us through our memorable reception. She kept the dance floor full all night and our friends and family have since told us that they haven't had that much fun at a wedding in a long time.

Barb is an absolute pro's pro and can handle any question or request with ease on the evening of your reception. If you're looking for an affordable DJ who will bring the fun and bring the party and make your night as memorable as possible, Go with Barb Fox, you won't be disappointed, I promise you.

Barb Fox's DJ Entertainment's reply:

Ohmigosh, Ian -- your wedding was SO...MUCH...FUN!!!!! Such a dancing crowd -- and you guys were so easy to work with, you made my job a breeze. Just so you know, I was at my gym a couple days later, and one of the coaches was saying that she was wondering what was going on at the Doubletree Saturday night (she was across the street at a restaurant), because people were in and out, looking like they were having so much fun! And wow, wow, wow -- your bagpipe band is amazing!!! Thank you for having me -- my best to you and Maggie. May your days be filled with joy and laughter and love.

Tara O.

Married on 10/08/2022

Look no further- seriously!!

Barb was the best DJ we could have hoped for! We wanted a folk/acoustic vibe for our cocktail hour and dinner, which Barb absolutely nailed. When the dance floor opened, hits from every decade made an inclusive variety so anyone could feel comfortable dancing. Barb is an expert at reading the room and adjusting the music to the energy of the folks on the dance floor. Towards the end of the night, we were even doing impromptu karaoke to 2000's hits (it was wildly entertaining). Our guests LOVED the selection of music Barb was playing. I'm still getting compliments a month later of friends expressing that they have NEVER seen a dance floor packed from start to finish at a wedding, except ours. Barb was extremely open to suggestions, responsive to our inquiries, and friendly. Also, Barb has a talent for making announcements and being a fabulous emcee. We've been to a few weddings in the past year when the emcees made cringe jokes and messed up the wedding party entrances. We didn't worry AT ALL about that with Barb. She is amazing. If you are looking for a DJ for your wedding, you should definitely give her a call. You will not regret it. She even got me a plate of appetizers when I was running around, which I would not have been able to try without her noticing me trying to shove cheese and crackers in my mouth while on the go. Huge thank you to Barb for making our wedding AMAZING!

Barb Fox's DJ Entertainment's reply:

Tara, you guys were AWESOME! JoJo (my assistant) and I couldn't stop talking about it the whole trip home -- I think we had just as much fun as your guests did! Thank you so much for having us -- it was totally our pleasure -- and I feel honored to have been part of your day! :)


Joseph D.

Married on 08/20/2022

Barb Fox Rocked!

Was looking through different DJs in the area and kept seeing Barbs name pop up. The reviews looked great so I gave her a call. Super personable and was very accommodating. I was super picky about my songs and had the playlist pretty much picked out and Barb delivered and added a lot of fun and energy and engaged with the guests. She was very regimented and organized throughout the night events and kept everything moving so we could play all of the songs on my list. 10/10 recommend Barb! We had a great experience.

Brittanie C.

Married on 08/06/2022

Wedding DJ

Barb walked us through every step of the way, and was sure to accommodate every request and last minute changes.
She definitely knows how to keep the party going, the dance floor was full the entire evening.
She is extremely experienced and brings a lot to the table when it comes to events!

Barb Fox's DJ Entertainment's reply:

Brittanie and NIcole,
Ohmigosh -- what a great crowd! The dancing never stopped and everyone was so nice -- I don't think I've ever had as many people come over and thank me at the end of the reception as at yours! (and I kept thinking, "what are they thanking ME for? They're the life of the party!) Thanks so much for having me -- you guys were awesome!!!

Cheri W.

Married on 07/02/2022

Love her! Amazing DJ

Barb was an amazing DJ and more. She kept the reception going, knew how to read the crowd and had everyone dancing. She is amazing. I had numerous comments after the wedding on what a great DJ she was. She even got out there and lead a conga line! Love, love, love her!

Barb Fox's DJ Entertainment's reply:

Cheri,
Ohmigosh, you guys were awesome! Once they started dancing, there was no stopping them! And everyone was so nice, they couldn't have made my job easier. Thank you SO much for having me!💖💗

Barb


Ryan S.

Married on 06/18/2022

Best vendor decision of our wedding!

DJ Barb kept the dance floor absolutely bumping for almost 5 hours straight, right up to the end of the reception. We had an outdoor wedding in a beautiful location with lots of places to wander and explore, so we were worried about people dispersing too much to keep the dance party going. Instead, DJ Barb lit a fire under the party and the dance floor was without question the center of the night. She worked hard to figure out and match our tastes, and to work within those tastes to adjust to the crowd and moment to keep everyone hollering "YES!!!" every time a new song started. She also dealt with playing a tribute song for a recently passed family member, and then getting the dancing going again after without it feeling awkward or uncouth. DJ Barb is seriously worth every penny, and was by far the best of a group of excellent vendor decisions we made.

Barb Fox's DJ Entertainment's reply:

Ryan, you told me you were a dancer, and you weren't kidding -- what fun it was! And all your friends and family -- I was SO excited to keep them going! How I get so lucky to find such fabulous brides and grooms, I don't know...but thank you for having me -- you both are sweethearts, and I wish you only the best!

Nicole D.

Married on 05/21/2022

Such a great experience

Barb was easy to work with and very helpful. I only requested a handful of songs to be played at our wedding and then I let Barb chose the rest of the music and she did any amazing job. She is the DJ you want If you want a Stress free night and someone who is approachable and easy to work with

Barb Fox's DJ Entertainment's reply:

Nicole, you and Chris were (and are) so sweet! And ohmigosh, you two singing Queen and others .... was hysterical! Not sure if I can attach a video, but, if I can, I will -- it was great! Thank you so much for having me -- how am I so lucky to always get such fabulous brides and grooms???!!!! :)

Savannah H.

Married on 10/09/2021

Just Hire Her Seriously!

All of my guests including my husband and myself were on the dance floor the entire night!! It was hit after hit and was so much fun. Barb was quick to respond to my questions and so helpful! She had free time the Friday before the wedding and went above and beyond and came to the rehearsal to help organize my large wedding party. I got a ton of compliments at the wedding and after about the music and how much fun everyone had. She has phenomenal awareness of timeline and what works best for your guests to keep the party going. I had family members that never dance on the dance floor the entire time. I cannot recommend her enough!!! Book DJ Barb Fox!!

Barb Fox's DJ Entertainment's reply:

Savannah, it was just as much fun for me-- I LOVED seeing everyone dance so much! They were all just awesome -- I would've stayed longer, but I think I was pushing my luck with the venue with 5 encores!🤣🤣🤣 But seriously, thank you for having me-- you and Ryan were so easy to work with, and fun, fun, fun!!!!💖

Kaitlyn G.

Married on 09/18/2021

All You Could Ask for in a DJ/Emcee...And More!

Barb Fox is the epitome of an experienced professional. You will never feel like just another number with Barb, you can tell how much she truly cares about your event, and YOU! She works tirelessly to make sure not a single detail goes overlooked, and rolls with the punches to ensure everything goes off without a hitch, and on schedule!

I couldn't imagine having anyone else work our wedding, she adjusted accordingly when our catering was running a bit behind, and made sure we still fit everything into the evening that we told her we wanted! Not to mention she will keep your dance floor packed ALL NIGHT LONG! No one wanted the dancing to end, and she obliged us with numerous encores:)!

An industry expert through and through you will not find a sweeter, more caring, professional DJ/Emcee anywhere. You will never regret booking Barb Fox for your event, you can stop your searching now - you won't find better than her!!

Barb Fox's DJ Entertainment's reply:

Kaitlyn, Kaitlyn, Kaitlyn.....omg, what an exhilarating experience! I absolutely LOVED doing your wedding! All the little extras that you wanted were just icing on the cake (no pun intended) to a perfect day, so there was no way I wasn't going to fit them in! Love you both, your friends and family were another crazy bunch--but those are thr guests that I love to work with! 😊😊💕💗

Benson K.

Married on 09/05/2021

Awesome DJ!

Not only did Barb do great as a DJ, she was also an awesome MC. She guided us through our wedding with ques and gently correcting where needed. She worked well with the other vendors throughout the day. She was flexible with our song choices and did a great job reading the crowd choosing great music to feed the vibe. Thanks Barb!!! Ben and Carin

Barb Fox's DJ Entertainment's reply:

Ben and Carin -- we absolutely loved doing your wedding! You guys were easy to work with -- I really liked brainstorming with you both over details at our final meeting. And I fell in love with the venue -- wow! But best of all was meeting you both -- what a great couple you are (and great dancers, too!) Best to you (and maybe I'll run into you sometime in Puerto Rico!) ~ Barb

Matthew C.

Married on 08/21/2021

Pure Perfection!

From the 1st email to the phone calls and meeting Barb was amazing! Her enthusiasm and excitement is contagious. She is truly a part of your special day! We had an eclectic music list specific for many parts of our day and Barb was able to execute each of them flawlessly! She was in tune with the day and engaging throughout. She kept the party going! We could not recommend Barb more for your special day.

Barb Fox's DJ Entertainment's reply:

Matt,
You and Christina are so adorable! I loved working with you guys--it was such a pleasure! As for your eclectic taste --I totally got it! (Trust me, as a DJ, my personal taste is extremely eclectic! 🤣🤣🤣)

My very best wishes to you both -- I love your story, you both are an inspiration!💗💕

Hannah E.

Married on 08/14/2021

Amazing DJ!

We could not be happier with our decision to use Barb for our wedding. Right from the start she was extremely responsive to our emails and really took the time to get to know us to play the right music for our crowd. She even took the time to double check she had the right versions of important songs for our ceremony and reception. Not only did she keep the party going with her choice in music, but she was an amazing master of ceremonies. She was also extremely accommodating when we had to postpone our initial wedding due to COVID and definitely helped make the wait worth it!

Barb Fox's DJ Entertainment's reply:

Hannah -- holy cats! You guys were amazing to work with...and what a fun and crazy group of guests! They were SO much fun -- my assistant and I were laughing and talking about it for days! Thank you so much for having me -- it is always my pleasure to work for people as wonderful as you. :)

Eileen M.

Married on 07/10/2021

Dynamic Entertainer

Barb Fox is a dynamic entertainer, not just a DJ. My fiancé and I were thrilled that she was willing to travel for our destination wedding in Maine. She met with us do discuss more than just the genres of music that we liked, she let us share our playlists and helped us orchestrate our reception. She is funny, personable, and keeps the party rolling in a way only she could have! We would hire her again in a heart.

Barb Fox's DJ Entertainment's reply:

Eileen, ohmigosh, I LOVED doing your wedding! Everyone was so fun and easy to engage with -- they really got me going! My very best wishes to you and Tim... and thank you SO much for having me!!!😊😊😊

Ashley P.

Married on 07/03/2021

Excellent DJ!

We are so happy that we hired Barb as our DJ for our wedding! She was great at keeping the party going and choosing music that went perfectly with our crowd!
She not only kept the after party going, she also helped with planning and made sure that everything was on time and ran smoothly the day of our wedding! I would highly recommend her to anyone throwing a celebration!

Barb Fox's DJ Entertainment's reply:

Thanks so much, Ashley! It was a blast -- I LOVED watching you and your friends with the country line dancing -- I would NEVER be able to keep up with you guys! You and Scott were fabulous! And I have to mention that I will always remember that you called me because your dad remembered me from the father/daughter dances when you were in elementary school -- that just makes me so happy! Best of luck to you guys! :)

Barb

Taylor

Married on 05/08/2021

Couldn't have been more amazing!!!

Barb Fox is the absolute BEST dj I've had the pleasure of coming across. A family friend that lives in New York recommended her to to me for my wedding in Virginia and I was not disappointed what so ever! She was more than willing to travel for me which was amazing!! We didn't have a wedding planner and our wedding was fairly small so she offered to come early to the rehearsal and help direct our entire ceremony and reception entrance as she has done so many weddings in the past that she's basically an expert in how weddings are organized!
Her entire planning process is extremely smooth and simple. She calls a few weeks before the wedding to get a feel for the type of music you like and then plans out all the little details. As for the actual wedding day, she couldn't have been better! She knows exactly how to read a crowd and get their attention when they start drifting away from the dance floor. She even provided us with up lights and brought some super fun glowing wrist bands that everyone loved (especially the kids).
Overall, Barb Fox was the absolute perfect choice for our wedding and I'm so happy we found her!!

Barb Fox's DJ Entertainment's reply:

Taylor,

It was so much fun! You guys were so easy to work with, and your friends ate amazing-- they were cracking me up! Thanks so much for having me!!!😊😊😊

Torey B.

Married on 05/01/2021

Wonderful to work with!

Barb worked our Quinceanera and made the party a huge success. She has vast knowledge of how to work with music to make the party flow seamlessly. She edited songs to make them shorter when needed and gave. wonderful advice. We met a couple of times and kept in touch throughout the planning process. She listened to us and gave us exactly what we wanted.

+ 4

photos

Barb Fox's DJ Entertainment's reply:

Thanks so much, Torey! It was fun for me, too, and absolutely loved meeting you and your family! I haven't ever seen 15-year-olds dance to "Rock Lobster" -- especially a choreographed dance-- that was definitely a highlight of the day! Thank you for having me!!!😊😊😊

Kelley M.

Married on 04/16/2021

She makes a great party!

We hired Barb Fox for our wedding reception. She was fantastic to work with, provided spot-on music for dinner and dancing, and really knows how to read the room. It was a blast all evening as she knew how to get people moving and singing. There are a lot of little details that go into putting on a wedding reception which are more than just the music and Barb Fox clearing has experience keeping everything running smoothly. Thank you Barb!
Are you interested?
Send a message