107 Reviews
Recommended by 98% of couples
Quality of service

4.9 out of 5 rating

Average response time

4.9 out of 5 rating

Professionalism

4.9 out of 5 rating

Value

5 out of 5 rating

Flexibility

4.9 out of 5 rating
11 User photos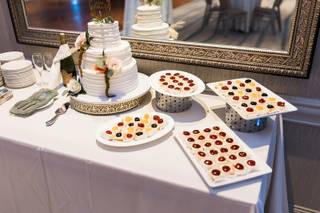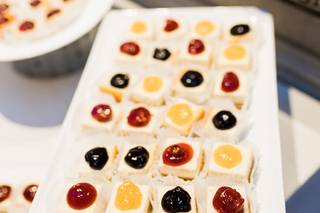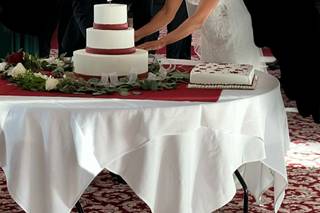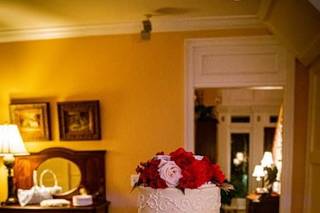 + 7

photos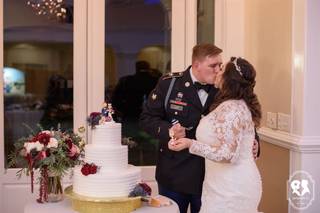 Katrina B.

Married on 10/23/2022

Delicious desserts!

We ordered mini cheesecakes with a variety of fruit toppings to enhance our desserts for our October wedding. We ordered in April had no issues with ordering process, the price was very fair and the cheesecakes were delivered without any hiccups to our venue and tasted amazing! My only complaint is that we live 16 hours away and can only get our hands on them when in town!

Molly D.

Married on 04/09/2022

Best in Savannah

You can never go wrong with Baker's Pride! My wedding cake was perfect and so delicious. We did four tiers with four different flavors - It came out exactly like the inspo picture that I showed them. Highly recommend!

Sheldonia S.

Married on 01/22/2022

Good Value Great Service

Cake tasting: cupcakes with icing in the different available flavors. Above and beyond what I was expecting.

Colors and decoration: matched my colors from a ribbon I sent in and added snowflakes to the "Grooms cake"... no extra charge.

Flavors: every tier was a different flavor and every tier was double- layered. No extra charge.

They don't deliver out of the Savannah area, but the cakes were well-boxed and there was no issue transporting the cakes over an hour to the venue.


Are you interested?

Send a message

Terry

Married on 10/10/2020

Beautiful & tasty cake!

My fiancé and I were set on having a larger cake than we really needed for the wedding. We wanted a 4 tiered cake with columns in between and flowers covering the spaces. We love stopping by Baker's Pride every time we come into town. Their cake did not disappoint. Our guests loved the cake and we gladly took the extra cake home as well as saved the top tier for our anniversary. Hummingbird cake was our favorite! There's our cake after the first tier was taken off

Bakers Pride Bakery's reply:

Thanks so much for the review. It was a pleasure doing your cake for your special day. Hopefully you can come back into town and visit us for your free anniversary cake. Have an awesome adventure together and hope to see you both soon.

Sarah

Married on 02/22/2020

Still dreaming about my cake!!!

Everyone of my guests LOVED the cake! The bakery is amazing in itself and the wedding cake amazing ! I had strawberry, vanilla, and chocolate Bc I just couldn't chose one and my wedding planner put some away for me so we were eating that cake on the honeymoon still ! Super friendly staff and pleasure to work with.

Bakers Pride Bakery's reply:

Thanks so much for the kind words. We are so glad that you loved it. It was a pleasure being part of y 'all's day. Congratulations!!!

Bernadette G.

Married on 11/23/2019

Delicious!

My husband and I are not cake people, so we decided to have wedding pies instead. Baker's Pride delivered a delicious selection of pies for a great price. Our guests loved them all!

Amanda

Married on 03/23/2019

Loved our cake! Would recommend.

Bakers Pride Bakery's reply:

Thanks for the great review!!! Appreciate you letting us join in on your special day. Hope you both all the joy in your days to come.

Melinda

Married on 08/11/2018

Beautiful and delicious cake!

Our wedding cake was gorgeous and tasted amazing! We did a four tier cake with strawberry, chocolate, and lemon x 2 with buttercream frosting. The cake was very moist and just the right amount of sweetness. Baker's Pride gives you a gift certificate for a free cake on your anniversary so you don't have to freeze yours! They were great to work with and their cake tasting samples were very generous. Highly recommended!

Bakers Pride Bakery's reply:

Thanks so much for the Awesome Review. We so appreciate it and you!! Thanks again for letting us participate in your special day.

Megan

Married on 03/03/2018

The best cake in Savannah! Our wedding guests repeatedly complimented our cake and went back for seconds. Baker's Pride was easy to work with and provided a beautiful, delicious cake, for a great value!

Bakers Pride Bakery's reply:

Thanks so much for the awesome review. We are so thankful to you for picking us to do your cake on your special day.

Tara

Married on 12/09/2017

I selected the three tier cake for my destination wedding in Savannah. We had the almond, strawberry, and hummingbird for flavors. They were wonderful to deal with and they prepared a beautiful cake that was moist and delicious. I definitely recommend them.

Amanda

Married on 10/28/2017

We were traveling in from Dallas to have our small wedding (80) in Savannah. Not knowing the area, we took our planners advice and hired Bakers Pride. We showed up one day without a reservations to try some pastries/cakes and to our surprised they gave us two boxes of goodies to test out. We ended up getting the filled donut holes, brownies and a two-tiered cake and had more than enough. The lemon cake was definitely my favorite! the brownies were super fudge and a fan favorite too!

Rachel

Married on 09/23/2017

We chose Baker's Pride after doing a cake tasting in which we got to try (and take home leftovers) 12 cupcakes! They have many flavors and two icing choices. Our wedding cake, however, tasted even better than the tasting we tried! It was super moist and delicious, not to mention beautifully decorated! They were flexible with my payment during Hurricane Irma and answered my questions very quickly. They are also one of the only affordable bakers I found here- so it's a double win with price and quality!

Samantha

Married on 07/09/2017

Elegant and delicious wedding cake! You were so professional and easy to work with. Everything was perfect and ready in plenty of time!

Megan

Married on 05/20/2017

I could not be happier with my DELICIOUS and beautiful wedding cake!! I love this family owned bakery; they are always so incredibly nice when I go there, and the same was true for their handling of my wedding cake. My guests raved about how delicious it was!

Katherine

Married on 04/01/2017

We not only frequent this bakery on a normal day but they surpassed our already high expectations on our Big Day! The cake was beautiful and simple. The line to the cake was unreal when people found out it was from Bakers Pride. The Grooms "Cake" was a tower of the famous BP donuts. Groom only got ONE! Taste testing was simple, efficient and no one pushed anything we didn't want. We even got some extra treats and yummies because, well, Bakers Pride. Duh.

Emily

Married on 03/11/2017

We used Baker's Pride for the dessert at our wedding and it was a hit! Instead of a traditional wedding cake we had a small cutting cake and then a bunch of donuts and mini desserts. I think we ordered 3 donuts/desserts per guest and that almost wasn't enough--they were getting gobbled up! Baker's Pride is one of the best bakeries in Savannah, and the reason why is simple--their desserts are DELICIOUS! I highly recommend using them for any occasion!

Lauren

Married on 03/05/2017

You cannot beat Baker's Pride for taste or value. For a fraction of the price I was quoted for wedding cakes, they presented me with a three-tier cakes and a full dessert table. The cake was three different flavors - hummingbird and strawberry with cream cheese is the way to go! It was beautiful, and the cannolis, bourbon bars, lemon bars and cookies went fast as well. They were really accommodating about allowing me to tweak the order the week before the wedding as the guest count changed, and it just felt very laid back and reassuring whenever I spoke with them - especially since I was planning the wedding from a few states away. From the initial tasting to the night of, I've been super glad this is the bakery I went with. The cake was delicious and I love that they give you a certificate for a fresh cake on your anniversary. I would highly recommend using Baker's Pride for weddings, and would definitely use them for other events in the future.

Ocean

Married on 09/30/2016

Yummy, Yummy, Yummy.

Bakers Pride made our cake for our wedding in Savanna. We live in CA and chose this bakery bz of how knowledgeable they were over the phone and all the great reviews. This was the -right- choice.

They have so --many-- of options of cake types, we were feeling overwhelmed.

Decided to go with the lemon pudding cake w/ buttercream esk frosting it was a HIT and their pricing -very- reasonable.
If you want a classic cake that tastes moist and delicious this is a great bakery.

The only sad part is we live so far away we are unable to use Bakers Pride more often.

Crystal

Married on 07/30/2016

WOW! What an AMAZING cake!!! I cannot even count how many times my guests told me the cake was awesome and where did I get it from. I wish I was able to taste all three layers we had but only a small portion of the last level was remaining after my guest were served. That's how delicious this cake was.

Jennie

Married on 07/09/2016

Baker's Pride did a great job with my wedding cake and the groomsman's cake! They looked even better than what we had in mind, plus they were delicious!!! Both cakes were delivered to our reception space exactly when they were supposed to be! Would definitely use them again!

Weatherly

Married on 06/04/2016

Y'all - Chocolate. Pudding. Cake. It's amazing. They are very popular, so commit early. They are worth it!

Bakers Pride Bakery's reply:

Thanks so very much!!

Jessica

Married on 05/21/2016

Everything about Bakers Pride exceeded my expectations! I was looking for a local bakery that had delicious cake at a good price. Not only was my cake delicious and moist but the pricing is great compared to other cake shops. They also give you a gift card for a free 8 inch round cake on your anniversary so you can serve your top tier to your guest and save more money that way. They also don't try to charge you extra for detailed piping work or different flavors at the different tiers.

When we came in for a tasting we didn't have to pay a deposit or fee, the cake tastings are free. If you decide to go with them you just pay a 50 dollar deposit after the cake tasting. You get to try 12 different cup cakes and keep the ones you don't eat. Every cupcake was delicious! The icing wasn't too sweet and the flavors of the cake were noticeable but not overwhelming. We could tell that they really take pride I their product. The person we had at our cake tasting wwas very passionate about the product they produce.

We had a three tier cake and the medium sized sheet cake for the grooms cake. They are really good at not overselling and talked us into a smaller cake and we still had some cake left over.

I can't wait to come back for our anniversary cake and I'm already planning on coming in for some delicious goodies inbetween.


Bakers Pride Bakery's reply:

Thanks so much for all the kind words!!!

Kim

Married on 04/23/2016

Baker's Pride was by far the best choice for us. 5 minutes into our tasting we knew they were the obvious winners. They provided a full dozen cupcakes for us to try and take home - and they were DELICIOUS. The flavor options were great and they were super moist. Their decorator was very easy to work with, and our final cake came out perfect. They also provide an anniversary cake so we don't have to eat 1 year old frozen cake. Would HIGHLY recommend!

Our cake was phenomenal!
We ordered a three tier naked cake and it was gorgeous. We decorated the cake with extra blooms from the florist. People ate it up!!!!

Jessica

Married on 04/08/2016

We went for a dessert bar and a small wedding cake for our wedding. We had pies, mini eclairs, lemon bars, cupcakes, and doughnuts. My groom also had a unique 10" chocolate glazed doughnut instead of the traditional groom's cake. Everyone raved about the quality, flavor, and freshness of all the desserts. We had a small two tiered wedding cake and the buttercream and moistness of the cake itself was fantastic! My husband can't wait to go back to Savannah to get more sweets!
Are you interested?
Send a message