62 Reviews
Recommended by 100% of couples
Quality of service

5 out of 5 rating

Average response time

5 out of 5 rating

Professionalism

5 out of 5 rating

Value

5 out of 5 rating

Flexibility

5 out of 5 rating
115 User photos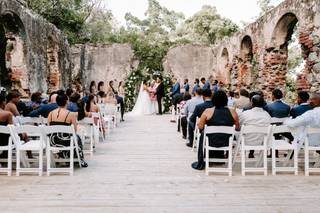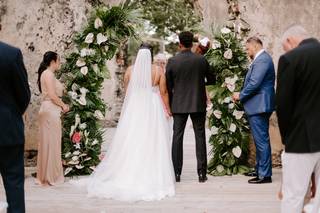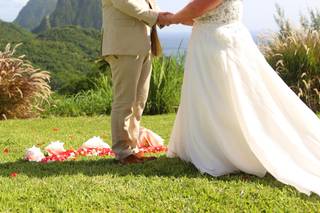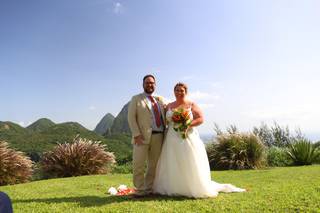 + 111

photos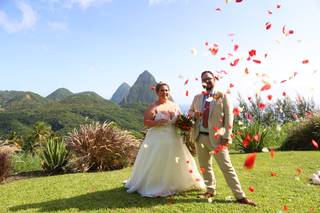 Stephanie E.

Married on 10/22/2022

Best Decision!

The best decision I made while looking for a wedding planner in Saint Lucia was finding ACW. The second I got engaged I knew I wanted to get married in the Historical Ruins at Pigeon Island. I can't thank Michele enough for making my dream wedding ceremony become a reality. 16 months of planning and after numerous emails about likes and dislikes Michele was able to figure out just what I was looking for; simple but elegant. Planning a wedding can be stressful but not once did I feel like I wasn't in good hands. Michele went above and beyond and her professionalism was just amazing. Her responses were quick and I loved that she always had options for all my questions. I would 10/10 recommended anyone planning a destination wedding or any event in Saint Lucia to go with ACW you will not be disappointed!

I also would love to add that Michele is the sweetest person I have ever met!! having her by my side planning my wedding was like having a best friend planning it. She wanted nothing but the best for us. She genuinely loves what she does and I couldn't be happier with the result.

Awesome Caribbean Weddings's reply:

Thank you so much Stephanie, what lovely kind words. I, too, feel like I made a great friend and I miss our emails!!! I wish you and Neil much love and happiness in your married life together.
Michele xxx

Elliot L.

Married on 08/19/2022

Perfect wedding!

My wife and I got married earlier this year in St. Lucia and had the most unforgettable experience ever! Many thanks to Fenella and the team who held our hands at every step of the way and made the whole experience extremely seamless. We are both over the moon with how everything turned out and could not recommend them and their services enough!!

Laura W.

Married on 07/26/2022

Amazing!!!!

From the beginning Awesome Caribbean Weddings, especially Fenella were wonderful. every detail was taken care of. any question asked was answered, they were very relaxed and every ran like clockwork on the day. We had the best day and all our guest just kept say how truly awesome it all was. Thank you Fenella.

Awesome Caribbean Weddings's reply:

It was my absolute pleasure assisting you with your special day. I'm very happy that you and your guests had a lovely day. I wish you both the very best! xoxo Fenella

Are you interested?

Send a message

Jacqueline R.

Married on 06/21/2022

Absolutely amazing!

Michele and her team were absolutely amazing! From start to finish our wedding day was flawless, The Awesome Caribbean Weddings team truly brought our wedding vision to life. Our ceremony and reception were at two different locations, Michele and Fenella both did an wonderful job setting up both venues. The vendors ACW work with are great, we did not have to worry about finding any of our vendors because all the ones Michele recommended were top notch! We were a bit nervous with planning a destination wedding while there were still COVID restrictions but Michele made the whole process stress free! She always kept us to date with any new changes related to COVID restrictions. We highly recommend Awesome Caribbean Weddings and all the vendors they work with.

+ 6

photos

Awesome Caribbean Weddings's reply:

Hi Jackie and Corey,
Thank you so much for your very kind words, it makes me very happy to read this :-) We loved working with you on your wedding plans and we wish you all the very best for the future.
Michele xxx

Lissa L.

Married on 06/04/2022

Best Wedding planner ever

To put it in a few words: Michele and her team are simply the best. Clément and I happily trusted Awesome Caribbean Weddings for the organization of our wedding on June 4th. It's hard for us to describe how grateful we are for everything they've done. Despite the distance, as we live in Martinique, the communication with Michele was always smooth. She paid attention to every detail, every demand we had. We were able to rely entirely on her and - gosh, it was an epic challenge. We were a little less than 100 guests, we had our wedding ceremony in the ruins on Pigeon Island, the cocktail hour on the cliffside, and dinner on the lawns. Yet, everything worked out extremely well: the set up, the timings, the catering, the steel pan band, the violinist, the transport ... We just enjoyed our wedding day without even being aware of any little inconvenience that might have happened.

We're also very thankful for her remarkable team & vendors : special thanks for Hannah the make-up artist, and Flora the hairdresser, who are the sweetest. They understood the assignment perfectly, my bridesmaids and I have never been so gorgeous. Daniel, the photographer and the whole Eyekast videography team were absolutely perfect too. And what to say about Chef Richardson, my guests are still commenting on how great the dinner was.



And that's just for the people we met ; but we know there is a whole staff and a million other stuff that we don't even know about. Michele just makes it happen, she's pure magic.



So, if you're still hesitating about contracting her or not, JUST DO IT. It will be (one of) the best day(s) of your life and also, you'll make a friend.



Lissa & Clément ANIN :)

Awesome Caribbean Weddings's reply:

Awwww, thank you Lissa and Clement! Such lovely, kind words and so typical of the wonderful souls that you are. It was my honour to be involved with your wedding and a day I will never forget. I wish you nothing but a bright, happy future.
Your friend,
Michele xx

Thomas S.

Married on 04/22/2022

Just awsome

What can I say its all in the title Awesome couldn't be more apt. Michele made use feel special from the beginning, cannot imagine anyone else going as above and beyond to make our wedding the most special occasion. We were a small party of 10 but this didn't mean any less emails, texts or calls for the team to deal with. At every turn they made both of us feel like their only clients. Having never visited St Lucia before we relied heavily on ACW to help us arrange it all from accommodation to our wedding breakfast. Michele helped us achieve our dream wedding within our budget giving us affordable options throughout. The photographer and videographers recommended couldn't have captured our wedding better (literally dream team). If you not sure who to go with you have now found your wedding planners as I cannot imagine a better team and their locations cannot be beaten true tropical paradise.

Awesome Caribbean Weddings's reply:

Hi Laura and Tom, thank you for your kind words. It was such a pleasure being a part of your special day and I wish you all the happiness in the world xxx Michele

Olivia B.

Married on 03/14/2022

Wedding Perfection

Fenella and the whole team at ACW made the wedding planning process stress-free and easy. They accommodated our last minute changes to the guest list with changing COVID restrictions and kept us updated every step of the way.

As for our actual wedding day, it was perfect!! Every small detail was taken care of and the food and decor was even better than I could have imagined. It was raining on the day of our wedding and Fenella had a back up plan for everything so I didn't need to stress about it.

I would 100% recommend ACW to anyone planning a wedding in St Lucia!

Awesome Caribbean Weddings's reply:

Thank you so much. It was so wonderful meeting you and your family and friends. It was indeed a lovely day. The rain did nothing at all to deter it... Fenella

Danielle

Married on 02/02/2022

Above and beyond!!

Awesome Carribean Weddings went above and beyond to make our dream wedding come true! Michele was our amazing wedding planner but really more like a fairy godmother. We had countless emails/texts/calls and she was always so helpful and pleasant. We had 50 guests, so we wanted to set up events other than the wedding for people to socialize and she was more than happy to help. We had only visited St. Lucia once, so we weren't sure about the best caterers, locations, or even catamaran companies. Everything Michele recommend (and helped plan) turned out better than expected! We had a tight budget, but Michele had tricks on how to save. I had a very specific vision for what the reception would look like and she blew me away with what her team put together. The photographer and videographer Michele recommended were reasonably priced and did an outstanding job. We will cherish those memories forever. My husband and I are so grateful for all the hard work Michele and her team put in to make our wedding week magical.

+ 3

photos

Awesome Caribbean Weddings's reply:

Hi Danielle and Stuart,
Thank you so much for your very kind words! I will so miss chatting with you guys, I wish you nothing but happiness in your future.
Michele xxx

Rich A.

Married on 01/25/2022

Awesome wedding!

We can't thank Fenella and her team enough for making our ceremony so beautiful.

Not knowing Fennel and planning our ceremony remotely made us a little nervous but after we met her the day before our ceremony we knew we were in good hands. She had everything done exactly like we planed and even stopped the rain an hour before our ceremony giving us a picture perfect day. Even the car d so he sent was perfect and the drive couldn't have been more accommodating.

The beach venue was exactly like we had hoped and the gazebo and ruins where an extra fabulous bonus.

The photographer, Daniel, did a outstanding job. Everyone who sees the photos comments on how beautiful they are, he is truly a master at his craft.

And last but not least is Lulu. It was such a blessing to have her officiate our services, she made everything seemed so personal and gave us the feeling that we were the most important service she had ever officiated, although we know she has done hundreds.

Thank you Fenella, and your team, together you not only gave us a beautiful ceremony but most importantly you gave us a memory that we will cherish the rest of our lives. And thanks to Daniel's fabulous photos we can share the day with all our family and friends.

+ 3

photos

Cyril D.

Married on 01/01/2022

wedding on 25/01/2020

"Thank you Fenella and her team as well as the awesome caribbean wedding partners for our wonderful wedding. Despite a short delay, Fenella knew how to be reactive and supported us until D-day. She knew how to understand what we wanted so that we could have a ceremony that resembles us: simple and authentic. Thanks to her, we had a ceremony in our language with a lovely french officer. Pigeon Island was a wonderful choice.
As for the photos, a big thank you to Daniel and his assistant. we really found them very beautiful and full of emotion. We are overjoyed. Another big thank you to everyone. Thanks to you, this day will forever be etched in our hearts."

Fatima H.

Married on 12/07/2021

Simply the best!!

We had a lovely experience getting married through Awesome Caribbean Weddings in St. Lucia. It was stress-free and totally personalized to match what my husband and I wanted for our special day. Fenella was our coordinator and she is just wonderful. Great attention to detail and communication.

Awesome Caribbean Weddings's reply:

Hi Fatima and Cory,
Thank you so much. I was honored to be part of your wedding experience. Happy I was able to make it as stress free as possible. I wish you a lifetime of love and happiness.
Fenella xx

Miranda P.

Married on 11/11/2021

Best Wedding Experience EVER!

This truly was the most incredible experience I could have ever dreamed, even during a global pandemic! Ever detail was addressed and Michele helped us in a way I could never put into words. So professional and helpful, truly led to the wedding of my dreams. I could NOT recommend them more!

Awesome Caribbean Weddings's reply:

Hi Miranda and Michael,
Thank you so much for your kind words! I absolutely loved planning your wedding, even with all the issues the pandemic created! I am so am happy to have been a part of your dream wedding day and I wish you much love and happiness in your future lives together.
Michele xx

Amy L.

Married on 10/14/2021

Incredible service

Thank you to Fenella and the team. We contacted them really last minute about a really small wedding, just the two of us. Fenella was so responsive and managed to help us organise in just a few weeks. Her communication was excellent and she answered the tonnes of questions we had. She met us at our resort and talked us through the process and (rightly) suggested that we move our ceremony to a different day due to bad weather.
She met us on the day and everything went really smoothly. We're so grateful for the help in making our teeny tiny wedding so special. We're over the moon and it was exactly how we wanted it to be.
Thank you so much!

Awesome Caribbean Weddings's reply:

Hi Amy and David,
So happy to hear that your day turned out the way you wanted. You guys were such a lovely couple and it was a pleasure meeting you. I wish you both all the very best.
Fenella xx

Meaghan T.

Married on 07/31/2021

Truly Awesome

Wedding planning is stressful enough, let alone in the midst of a pandemic! Michele helped us through every hoop and over every hurdle as we planned...and delayed...and planned...and adapted our wedding in response to COVID. Her calm demeanor, responsiveness, and informative insights were incredibly helpful. Beyond COVID, Michele listened to what we wanted, picked up on our personalities, and planned and communicated with us accordingly. The result was a beautiful and fun ceremony at Pigeon Island that was all we hoped for. (She even helped us coordinate a pirate scavenger hunt for the kids the day before the wedding.) She had great suggestions and her knowledge of the island and connections with local vendors were invaluable. We cannot recommend her highly enough!

Awesome Caribbean Weddings's reply:

Hi Meaghan and Steve,
Thank you! I loved working with you guys and I am so happy that everything worked out how you wanted it to... COVID sure did give us the runaround! Planting the clues and watching the kids find the 'buried' treasure was so much fun!
I wish you nothing but love, happiness and even more fun in your married life together.
Michele xx

Kayla R.

Married on 06/26/2021

Amazing experience

If you are on the fence with booking through this company, just do it! I 10/10 recommend them. Fenella helped with every single detail, including the reception dinner following the ceremony. Our wedding was originally scheduled for 06/25/2021 in Saint Lucia. The day before the wedding, the weather forecast called for heavy rain and storms. We were able to reschedule for the 26th and Fenella made sure every detail was exactly as we planned for the day before. Fenella was AMAZING throughout the entire process and very patient with the million questions I had. The private beach on Pigeon Island was beautiful and the food at Jacques Waterfront Dining was delicious. We purchased the photography and videography package and it was well worth it. This company is exceptional!

+ 6

photos

Awesome Caribbean Weddings's reply:

Hi Kayla and Jason,
It was simply a pleasure meeting you guys. I'm very happy I was able to assist you with the plans for your wedding day. I wish you both continued love and happiness.
Fenella xx

Alexander H.

Married on 05/21/2021

Wedding May 21, 2021

Words cannot describe how thankful we were to have Michele in our corner to navigate planing our wedding. Michele managed to make our DREAMS become a reality. She was responsive and professional throughout the whole planning process, providing updated programmes along the way detailing our special day.
In addition to our vision, Michele's vendor recommendations were nothing short of superb. So rest assured her recommendations will not disappoint.
Thank you so much Michele and team for such an amazing week, we cannot wait to come back to your beautiful island to visit again!

Awesome Caribbean Weddings's reply:

Hi Alex and Emily,
Thank you so much! It was absolutely my please, I loved working with you guys to create your wedding day vision, and what a beautiful vision it was. I feel honoured to have been a part of your wedding and look forward to seeing you again under non-covid restrictions!
I wish you much love and happiness in your life together, you deserve only the best life has to offer.
Michele xxx

Emily C.

Married on 05/21/2021

A Dream Come True

If you're remotely thinking about working with Michele and using Awesome Caribbean Weddings - DO IT! She was the best advocate to have on our side during the beginning of the pandemic. She is so kind, trustworthy, considerate, respectable and just so AMAZING at what she does! She went above and beyond for us to make our wedding dream come true. She even went so far as to personally call multiple officials across St. Lucia to allow us to have our dream wedding despite many mandates and curfews. Michele's timely communication is top-notch. She is so very organized and remembered all the details even I (the bride) had forgotten! She made our wedding dreams become a reality from the florals to the venues and the musicians to the transportation. She even planned our pre-wedding and post-wedding excursions!

Do not hesitate. Our wedding was straight out of a dream all thanks to Michele. She is a blessing to this earth!

+ 3

photos

Awesome Caribbean Weddings's reply:

Hi Emily,
Thank you so much! What a fabulous review, makes me feel very humble but also so happy that you were able to have the wedding of your dreams :-)
We wish you and your lovely husband all the very best for the future.
Best regards,
Michele xxx

Sarah C.

Married on 04/03/2021

Exceeding expectations

Planning a destination wedding during a global pandemic; what could possibly go wrong? Everything… which is how the worst thing ever quickly turned into the best thing ever. Having to change our destination, sent us looking for help. This is when I found ACW, and the historical ruins quickly became the venue I just had to have! From our emails, video chats, shipping decor, to meeting in person just days before our wedding, I felt like Michele had known me my entire life with how she understood what I wanted better than even I understood! Michele and her team blew it out of the water when it came to organizing and putting everything together for the most magical day. She found all the right people for every job needed. I could not have dreamt our wedding, let alone our stay, could have been as magical if it weren't for her professionalism, expertise and knowledge. Everything, and I mean everything was beyond perfect. She brought my vision to life, she placed amazing people into our lives, and she worked her magic with every bump in the road that had been thrown our way. Even with an erupting volcano on a neighboring island, our wedding day was nothing short of perfection. Look no further, because you've found your guiding light with ACW. You won't be disappointed, I promise!

+ 8

photos

Awesome Caribbean Weddings's reply:

Hi Sarah and John, I am so very happy that we were able to give you the wedding of your dreams. It was such a pleasure getting to know you, your family and friends and I think all the challenges everyone had to go through to be a part of your special day speaks volumes about the two of you. I wish you both a lifetime of love and happiness, Michele xx

Jared A.

Married on 12/13/2020

Dream Wedding: An ACW Production

Michele, the ACW staff and vendors made our wedding a dream come true from the first planning phone call to the last guest leaving the dance floor. Michele's calming voice and demeanor during the planning and on the big day really helped us manage the whirlwind of emotions that comes with planning a wedding. Michele listened intently to our wants and needs and gave us suggestions where needed. We originally wanted our wedding on the Amalfi Coast, but the Covid outbreak forced us to pivot our wedding vision. The vision we had in mind for the wedding ceremony involved a backdrop consisting of rolling hills and the Petit and Gros Pitons sloping into the sea. Michele took our vision and made it reality with a venue that possessed exactly what we were looking for with sweeping views that will stay with us and our wedding guests forever.

We began planning the wedding in June of 2019 with a wedding date set for August 2020. As Covid took more and more control away from us with the wedding planning, Michele was there every step of the way offering suggestions and keeping us informed of developments in St. Lucia that would affect wedding outcomes. When our wedding venue was put in jeopardy of not being able to host ceremonies, Michele worked tirelessly contacting whomever to acquire information about the venue's status to host and finding alternate venues just in case…we were so happy we got to keep the original venue. Ultimately, we pushed the wedding date back to Dec. 2020 and Michele made all the necessary arrangements with her vendors with no added stress to us.

ACW's network of vendors — drivers, make-up, violinist, photographers, cake designer, chefs, caterers, DJs, etc — are consummate professionals that provide exemplary services. We were so amazed at how it all came together under Michele's leadership. Daniel, the photographer, took beautiful pictures of the ceremony, guests, and reception. We opted for a photoshoot at the waterfalls which was truly magical. Michele and the ACW staff created such a beautiful table for the dinner that was set on a terrace with perfect sunset views over the water and the pitons towering in the back. Our wedding guest could not stop talking about the three-course meal for the reception. The plating of each course showed the attention to detail coming from the kitchen. Each plate was phenomenal! The DJ Romanus kept the party going with a great selection of music from beginning to the end.

We could not have asked for a more perfect wedding…well maybe we could have done without the Covid onslaught. But Michele, the ACW staff, and the associated vendors made our wedding day so special during a year that was really heavy on everyone's spirit. There is no amount of thanks that can express our gratitude to Michele…but one more won't hurt. Thank you, Michele!

Forever Grateful,
Jared and Demia

+ 4

photos

Awesome Caribbean Weddings's reply:

Hi Demia and Jared,
I miss you guys! I miss our emails and our phone chats and our working on multiple scenarios "just in case"!!! It has been fabulous to be able to do any weddings at all during these awful covid times, but to be a part of your wedding has been extra special and it is a wedding, and you are a couple, that I will never forget. I wish you love, peach, health and happiness all your days.
Michele xx

Sydney P.

Married on 05/03/2020

Absolutely Perfect - A dream come true.

We worked with Michele from Awesome Caribbean weddings and she was absolutely fantastic! She went above and beyond on everything we needed.  when the pandemic hit, she helped us transition easily to a postponed wedding date. She was very transparent in next steps and options as well as risks during St. Lucia's strict COVID regulations and laws.  It was a very stressful time trying to coordinate our travel changes for my husband, myself and our guests. In every interaction both via email and phone she was so professional, kind and positive. Her suggestions were so creative and well thought through for our specific requests and needs. In the weeks leading up to the wedding Michele and I spoke multiple times a day and she was always so sweet to take my calls.  

I had a very specific vision in mind for our wedding style and color theme and Michele listened and provided amazing options and choices on everything. It's a hard pill to swallow when you have to trust a stranger to plan your wedding and trust that their vendors are good quality. The team of vendors AWC provided were so incredibly talented from the hair and makeup (Ann and Hannah) to the DJ (DJ Romanus) to the Catamaran crew! We could not have been more impressed. Everything turned out as a dream come true and I couldn't have asked for a more beautiful wedding! We would highly recommend her for any type of wedding. 

Thank you Michele for your hard work and for making our dream wedding come true!  I am so happy to now call you my friend!

Awesome Caribbean Weddings's reply:

Hi Sydney and David,
Thank you so much for your lovely review, we really do appreciate it! COVID certainly made it challenging for us all, but the end result was worth all the stress and tears that I know you went through having to change plans so many times. Your wedding day was beautiful and fun, perfectly suited to such a lovely couple as you two are. We will certainly hook up when we are able to travel to NY again!
Much love,
Michele xxx

Stevie F.

Married on 03/16/2020

Wow! Absolutely amazing!

I began my journey by finding Villa Susanna (an absolutely beautiful villa in St Lucia whose owner, Sandro, is one of the most pleasant people I have ever encountered) from there the villa's preferred wedding planner was Awesome Carribean Weddings, I didnt even reach out yet and they had sent me a plan for my entire day! From the getting ready to the dancing at the end of the reception and the possibly details in between! From there, Fenella our planner, has been extremely responsive, so friendly, and has been all over every detail! I am extremely impressed and have not felt any stress since hiring them. I just know everything will be taken care of and I can not wait for the end results! ♡

Awesome Caribbean Weddings's reply:

Awwww. Thanks so much Stevie for those lovely words. This is the first time I've had a review before the actual wedding took place, so this was very unexpected. I am so looking forward to working with you and assisting you in planning your special day.
Fenella xxx

Whitney J.

Married on 02/05/2020

Best day ever

We cannot say enough good things about Awesome Caribbean Weddings! After having a difficult time booking our wedding with sandals, Fanella made all of my wedding dreams come true! We stayed at the sandals resort and saw many weddings. None of them came close to what she set up for us. The flowers were beautiful and she was able to capture exactly what I wanted in a wedding from just a few photos. Everything was perfectly arranged for us and I had zero stress the day of. The ceremony was perfect and she really payed attention to all the details going out of her to way to make sure we had everything we wanted. I am so happy we chose Awesome Caribbean Weddings to plan our special day!

Shana L.

Married on 12/10/2019

An Awesome Ceremony!

The word awesome in 'awesomecaribbeanweddings' describes the way I felt on my wedding as the ceremony unfolded. I got married in December of 2019 at the Historic Ruins location. Every detail of the décor was perfected creating a fairly tale ambience. The ceremony was staged and orchestrated beautifully and professionally – there was no room for errors. My planner, Fenella, was kind, detailed oriented and made the process from the first email inquiry all the way to the actual day, as stress free as possible. She was prompt and questions were never too many. I probably appreciated the most how much she made herself available on the day of the wedding, she guided my husband & myself every step of the way and never left our sides. It was a worry-free ceremony! I chose one of their photography packages and I am in still in awe of the photos and I think I will forever be. The photographer Dani was high energy and captured our day beautifully. The pictures look magazine worthy!
Thank you AwesomeCaribbeanWeddings for making our day incredibly awesome!


Misha A.

Married on 12/04/2019

The perfect day, perfectly planned

Choosing 'Awesome Caribbean Weddings' for our special day was the best decision we made. We are from the UK and got married in April 2019 on Pigeon Island Private Beach organised by Michele. From the first email, it was clear that Michele could cater for our visions and dreams - our wedding was 2 years in the making, and 187 emails! I had previously met Michele on a visit to the island but all wedding planning was done via email. No request at any time was too big or too small and Michele put us at ease from the very beginning. Myself and my husband are very busy people and Michele was able to execute our dream day beyond our expectations, allowing us to enjoy the process without worry. Michele has amazing hookups on the island meaning a Pinterest photo or a small idea could be transformed into something really special.

A quick mention to Joanna who did the makeup perfectly, everyone looked beautiful and I felt incredible. Our photographer was Daniel (Belle Portwe) who captured stunning shots and our videographer (and drone) was Wyndell and his team. Our wedding video is like a movie and has surpassed anything we have ever seen! I would recommend each of these for anyone else stuck with who to choose from Michele's extensive list of services. We had a face to face meeting with our photographer/videographer to discuss the day too.

Before the big day Michele organised a rehearsal and ran through the ceremony which relaxed everyone in preparation for the real thing. Our whole wedding was customised from the beach set up, the serving of fresh cocounts, steel drum band, flowers, music selection, DJ, food, drinks, refreshments, cake, a catamaran, hotel rooms and the set up to allow one of our guests to perform during the ceremony. The legal side of the wedding was all managed by Michele too. We even had an extra suitcase load of items for the reception which Michele and her team took away to organise. We didn't have to lift a finger! Our wedding had 80 guests (originally planned for up to 100) with the majority travelling from the UK and America.

Michele accommodated extremely last minute requests (to suddenly add canapes to our package) and she put a contingency plan in place if it were to rain during our ceremony. Reading some of the emails back, Michele really did go above and beyond, giving suggestions when we were overwhelmed and just didn't know, keeping on top of our rubbish responses when we had only answered part of the question and making sure all deadlines and everything was sorted on time.

Michele, THANK YOU from the bottom of our hearts. And apologies this review is so late!
And to anyone reading this, look no further, your wedding planner is right here!

All our love

Misha and Nav x


+ 4

photos

Awesome Caribbean Weddings's reply:

Thank you so much Misha and Nav! When I was looking through your photos earlier in the week I was reminded of just how beautiful your wedding was and also just how much fun you all had! It was absolutely my pleasure to be able to be a part of your special day and I wish you many, many more years of happiness together xxx

Jennifer N.

Married on 11/09/2019

They really are awesome!

My now husband and I were engaged for well over a year before we finally decided on St Lucia and Awesome Caribbean Weddings as our choice for the big day. He's from the West Coast of the US, I'm from the East… we knew we wanted someplace really special and beautiful; the Piton View location did not disappoint.

We started planning in July for a November wedding. Michele let us know we had a lot to do in a short amount of time, but guided us through everything in a way that made it seem easy and not overwhelming. She helped us arrange everything for the wedding day as well as a sunset cruise "rehearsal." She also gave us great recommendations for other things during the week and advised us on things (like tipping) when we had questions. After so much correspondence, when I met Michele a few days before the wedding to sign paperwork, it felt like I was meeting a friend.

At the beginning of planning, Abram and I talked about our goals for the big day. Some of his were to have a special location and have things be easy and seamless. Mine were to feel beautiful, have awesome photos, and have good food. Michele and ACW made sure all of these things happened. She held our hand from start to finish: from initial planning until photo and marriage license delivery. The location was so spectacular that students of mine asked if the photos were taken in front of a backdrop! Their arrangement of the hair and makeup artist for me ensured that I felt stunning. We chose Daniel as our photographer and also decided last minute to add on a video package. The whole team was fantastic! All of the guests kept remarking how fun they were, and how they put everyone at ease; most importantly, the pictures are spectacular!

Throughout the process, Michele's ability to ask questions and provide information made sure we had the wedding WE wanted. I never felt pressured into anything or like I had to explain myself. It was almost like she helped us find our vision for the day and then turned it into reality. She is a fantastic organizer and lovely person. If anything went wrong that day, I certainly have no idea what it was.

People thought we were crazy when they found out we planned our wedding a place we had never visited before, but we are adventurers and wanted to try someplace new. We based all of the choices for the week off other traveler reviews. Those reviews, coupled with Michele and ACW, made sure we had the wedding of our dreams. In case you're reading this review, trying to decide if these are the right people to help you plan your wedding, have no fear, they will make sure it is indeed awesome!
Are you interested?
Send a message