Reviews
4.8 out of 5 rating
Quality of service

4.7 out of 5 rating

Average response time

4.8 out of 5 rating

Professionalism

4.8 out of 5 rating

Value

4.8 out of 5 rating

Flexibility

4.9 out of 5 rating
96%
Recommended by couples
3 User photos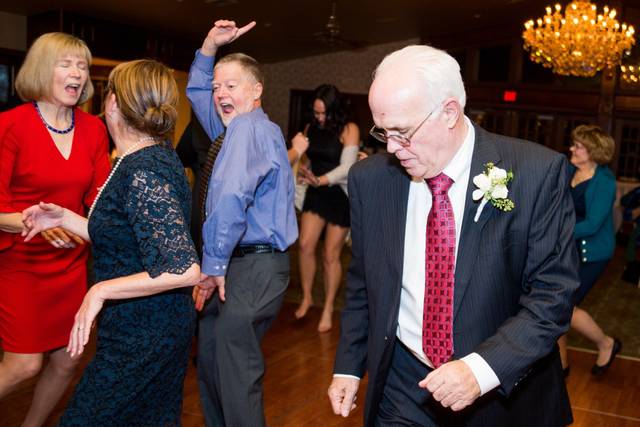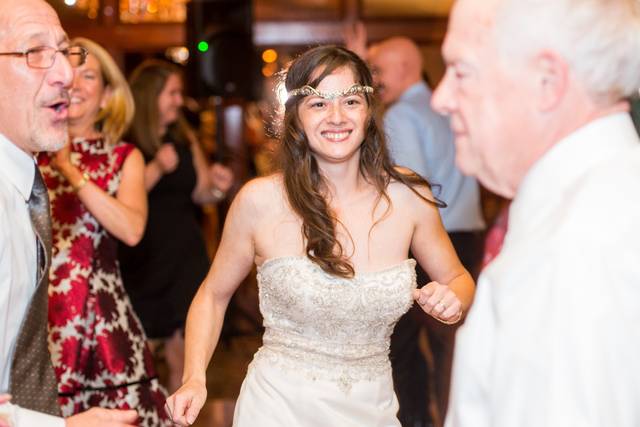 Lauren

Married on 12/02/2018

A Magical Evening of Fun!

My husband and I, met Erv when we hired A.C.E Events for our Dec. 2nd, 2018 wedding. Our first official face to face time with him, was a just before Halloween and was in preparation for our big day, All we can say is a truly fun guy to work with and to discuss all things movie/tv with in general too! He was extremely accommodating when it came to our limited budget vs our needs, and we were so honored to have him personally DJ the entirety of our wedding ceremony and reception. Our guests have been sending us a consistent stream of compliments on the playlist (which he worked with our song list like a wizard!), and his ability to get EVERYONE in attendance up and dancing at least once! Even my mother danced for several songs, and in 32 almost 33, years I do not think I've seen her willing dance more than once, LOL! We would highly recommend ACE Events and Erv, to anyone who is look for "The Best of the Best, With Honors - Sir!" (Fun M.I.B. quote ;) ) Thanks so much ACE Events and Erv for helping us make our wedding, absolutely magical!

Kathy

Married on 10/07/2018

Atlantic coast entertainment review

Atlantic coast entertainment was wonderful! I can not recommend them highly enough. Erv was so easy to work with and he made the entire evening run smoothly. We had some quirky requests (musician parents wanted to play a set) and Atlantic coast entertainment was so flexible and accomodating. And Our guests raved about the music! We would recommend them to anyone.

Tyler H.

Married on 09/22/2018

Would highly recommend!

We had the pleasure of working with Erv and his staff from Atlantic Coast Entertainment for our wedding in September of 2018. ACE did our engagement pictures as well as photography, videography, and DJing for our wedding. Erv made it clear from the start that his goal was to make our vision come true. We met a handful of times and Erv would make sure he understood completely what we wanted, often running past his work hours to make sure we all left on the same page. From the start, we had his full dedication and we truly felt that he was making our wedding his highest priority.
​We had the chance to meet his photographer, Ramile, at our engagement pictures. We were very impressed with the professionalism and care that Ramile took in perfecting every photo. We could tell that he had a deep passion for photography and he was really fun to work with! The pictures came out beautiful and we got them back in a very reasonable time.
​Leading up to the wedding, Erv continued to keep in contact with us and was there to pick up the phone every time we reached out. Erv was our DJ and he did a fantastic job with the introductions, coordinating everything with the caterer, and most importantly, kept everyone on the dance floor. We have had several people reach out to us to find out who the DJ was because they had such a great time! Erv had also assigned several photographers to our wedding and once again, they did not disappoint. We received over 1,000 pictures that captured everything from Hope getting ready to the reception.
We sat down last night to watch our wedding video and we were so pleased! Erv had asked many of our guests to say some remarks to the camera for us to look back on and that was very special for us. We couldn't believe how they managed to capture everything from so many different angles and how clear and audible everything was. Everything from opening pictures to the final credits was perfect! Between the photography and videography, we were able to completely relive our big day and from start to finish.
​I would like to thank Erv, Ramile, and the rest of his staff at ACE for going above and beyond to deliver on our wedding day. I would (and have already) definitely recommend ACE for anyone who is looking for a DJ, photography, or videography, for a very reasonable price!

Are you interested?

Send a message

Dennis

Married on 09/09/2017

Atlantic Coast Entertainment (A.C.E.) did an outstanding job at our recent wedding! First, Erv is a very experienced, personable and helpful guy. One meeting with him and we knew A.C.E. was the right choice. He gave us so many great ideas for our reception that truly helped make our wedding so much more enjoyable for everyone. Bobby was our DJ and Ramil our photographer. Bobby was right on with our song requests. He took charge right away for the entrance of the wedding party and continued to play all of the music that we wanted, at exactly the right times. As an older couple, we selected music from our "era" and Bobby was very knowledgeable of the songs and performers that we requested. Everyone remarked that the music was terrific and that they were so happy that Bobby played songs they could actually dance to!! Ramil is the most enthusiastic photographer I've ever met. He LOVES his job and was so creative in setting up the poses and locations for the photographs. He moved about quite stealthily during the ceremony and reception, capturing many wonderful photographs. It will be a difficult task for us to pick out the photos to enlarge and to include in a wedding album because there are so many beautiful ones to choose from. We are so happy that we chose Erv and A.C.E. for our wedding and recommend them without reservation!

Nicole

Married on 10/02/2016

We absolutely loved working with Atlantic Coast Entertainment. Esp Erv and Remil who were our photographers, our pictures came out absolutely beautiful and they were so much fun to work with, they had us laughing all night. If you want great people, great prices and great work you won't be disappointed in going with them!

Jacqueline

Married on 08/06/2016

DJ Erv was absolutely the best for our wedding! Thank you!!

Bob

Married on 07/02/2016

For a wedding, they are going to ask for a lot of detail. For example: what specific music for the special dances? Which genres/artists/songs you'd like played during various phases of your reception. And songs you DON'T want played (I.e., a favorite song a deceased spouse love). You'll also need to provide a sequence of events list, along with names for introductions, etc. But once you've done all of this - be ready to have a good time, because ACE really delivered for us!

Kimberly

Married on 12/19/2015

They were WONDERFUL!! They were professional, fun to work with, and made sure they delivered exactly what we wanted. Plus they added a few personal touches to make our day even more special

Joni

Married on 12/05/2015

The Atlantic Coast staff were pros with every aspect of our wedding. They went above and beyond our expectations! We highly recommend them to anyone looking for a seasoned dj service or photography!

Susan

Married on 11/28/2015

I am so glad that we chose A.C.E. for our wedding. We told Erv what we wanted for uplighting and I was totally blown away. He even surprised us with a monogram that just made the room look even more amazing! We were not sure about having a photo booth at first, but it was a huge hit with our family and friends. Overall we cannot say enough about everyone who worked at our wedding, but the dj's really kept the party going until the very end.

Monty

Married on 10/04/2015

Erv and the entire staff at A.C.E. were an absolute blast to work with and they treated us just like friends and family. Most importantly, they took care of my bride and that really made me happy. They are a class act and conducted themselves professionally throughout the entire experience. A.C.E. really help you craft your event and to personalize it in ways you never thought of. In my opinion, they went above and beyond. I genuinely and wholeheartedly recommend them with flying colors.

Nicole

Married on 09/26/2015

Great job! Michael and I were happy with your service. I would defiantly recommend you.
Thank you!

Christopher

Married on 09/19/2015

Excellent!!!! Definitely go with ACE!

Kate

Married on 09/19/2015

Erv and his team were awesome, from helping us plan specifically what we wanted to delivering! Everything went so smoothly and we had so much fun working with everyone...our pictures came out beautiful too!

Nadine

Married on 07/24/2015

After talking with a few different DJ services, I choose Atlantic Coast for their Quality of Service and Flexibility. Being my wedding was on a Friday night, which I know is kind of unusual - they were an amazing company to work with. There was no stress and I even was able to speak with my DJ that was going to be there. Showed up so professional, wearing a tux and had kept my guests up on the dance floor...Can't say enough positive stuff about them!! Definitely a 5* rating in my book.

Chip

Married on 06/28/2015

Erv Schmidt told us he would meet with us as many times as we needed prior to the wedding, as long as we didn't call on him during the height of his season. He's a man of his word. We had 3 evening meetings with him over the winter and it all paid off in June. He added many personal features we wanted and gave us time to understand our deadlines and meet them without panic! His services at the event were flawless and his playbook kept the dance floor packed from the first call.
Phortographer, Erin Reemsnyder did a fantastic job behind the camera. She was everywhere at the right time, always with a smile. She really enjoys her work and is a pleasure to be around.

Dene

Married on 06/13/2015

Erv from Atlantic Coast is AMAZING! So professional yet personable. Made us feel so at ease and went above and beyond to make everything perfect!!

Megan

Married on 05/16/2015

I hired ACE entertainment for both videography and DJ services. Erv was fabulous to work with. He was extremely helpful the week prior to the event making sure everything was set to go so that our day would run smoothly. He played all the songs I asked for and did a wonderful job keeping the guests happy and dancing. The videography crew took so many pictures and videos and I can't wait to see how it turned out. My favorite part about the videography is called a "video memory." They took short videos of wedding guests saying something special about my husband and I. Overall, I was so impressed and would definitely recommend to anyone over and over again!

Erv and his staff were more then perfesonal! They made our wedding go off without a hitch. Our music, photography, and photo booth were all things that I did not have to worry about one bit thanks to Erv.

Erin

Married on 09/13/2014

AMAZING!!!!

We had countless people from our wedding comment about how amazing our DJ's were… not only did they play great music(including our must play list) but they also coordinated everything throughout the ceremony and reception. It was such a relief when I realized I didn't have to be the one to order people around on my wedding day! I was nervous our wedding party would be confused at certain times but they took control and things went very smoothly. Plus, Erv took a few pictures throughout the evening that we really like as well!

I have to also include that from the beginning we were pretty clueless when it came to deciding songs and that sort of thing but Erv did an excellent job giving us options and helping us decide. On the day of the wedding they were on time, professional, and most of all seemed to really have a great time themselves. There's nothing better than that!!!

Andrea

Married on 09/06/2014

We hired A.C.E. for our wedding on September 6, 2014. It was by far the most humid day of the year! That being said we had ACE provide the DJ and Photography for our special day. Leading up to the day we met with Erv, who was always very professional, personable and knowledgeable. He always made me feel at ease and gave me the confidence that these services would be provided with the utmost professionalism. When planning the music selections, when we were stumped on a song, or a selection he was great with providing selections to choose from. The time he spent with us to ensure that our wedding was what we had envisioned was quite extensive and it turned out to be just as we had wanted. Laura was our photographer, she was incredible. Her flexibility, understanding, and personal approach to get photos which we wanted as well as some ideas she had was excellent. With our wedding having impending thunderstorms, extreme heat and humidity, we were battling elements that I'm sure could make photography quite challenging, but Laura made it look easy. She didn't appear phased by the elements and her perfectionist approach was quite apparent. We received many compliments on the music selection throughout the night. Erv did a great job getting everyone up and dancing, it was a great party! Thank you so much! Can't wait to see the photos!

Aja

Married on 08/21/2014

Erv Schmidt of Atlantic Coast Entertainment provided all the lighting and DJ services for my wedding on 8/21/14. He is incredibly knowledgable, professional, with meticulous attention to detail. Above all, he is easy to work with and refreshingly down to earth. I would highly recommend ACE for any special event especially if you're looking to impress your guests. A perfect 10!

Kathleen

Event on: 08/16/2014

We booked Atlantic Coast for our class reunion. They had a huge selection of music to choose from and helped us pick the right music from our school days ! The highest quality of service and professionalism and they went the extra mile to ensure my event was a success -
I highly recommend Atlantic Coast Entertainment !

Heidi

Married on 08/15/2014

I cannot even begin to say how happy Paul and I are with the services provided by ACE Entertainment. Providing music, videography, and photography with one company made the process that much easier. Erv did an amazing job with the music and our guests never left the dance floor. Laura did an amazing job with the photos, and even was able to keep the 9 groomsman under control! ;) Down to the monogram on the dance floor, everything was perfect. I would reccomend ACE enterainment to anyone looking!!! We cannot wait to see the final product! :)

Christine

Married on 08/03/2014

We met twice with Erv before our wedding and he was great! He was very friendly and knowledgeable. And he was always willing to suggest songs when we were stuck for songs for specific parts of our reception. In fact, he suggested the song for our groom/mother dance and it was perfect! He also helped us understand what we needed as far as sound systems and microphones for our outdoor ceremony. He was a pleasure to work with!
Are you interested?
Send a message