31 Reviews
Recommended by 100% of couples
Quality of service

5 out of 5 rating

Average response time

5 out of 5 rating

Professionalism

5 out of 5 rating

Value

5 out of 5 rating

Flexibility

5 out of 5 rating
5 User photos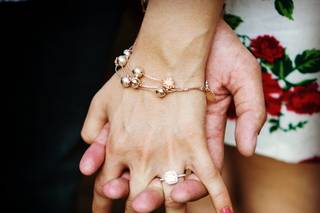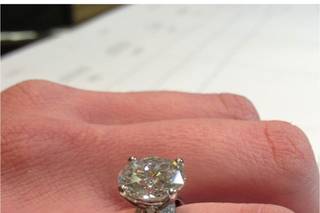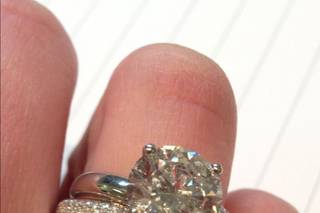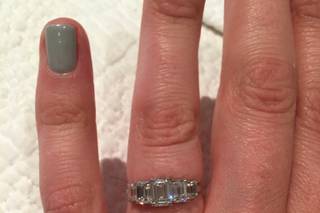 Matthew F.

Married on 07/09/2021

Ascot Diamonds is AMAZING

Maurice was so helpful from the very beginning. He really had me and my fiancé's best interest at heart and worked with us every step of the way. I got the ring during the corona lockdowns and his word of the ring's elegance proved to be nothing short of true. It was exactly as I described I wanted and he continued to work with us with no problem after we needed resizing. Come here for your wedding ring!

Carolyn M.

Married on 11/21/2020

A Dream of a Ring Shopping Experience

My fiancé and I went ring shopping together and everyone at Ascot Diamonds was wonderful to work with and flexible with meeting times. They were so welcoming and really helped put us at ease about the whole ring-buying process. They are a place you can trust wholeheartedly! Maurice taught us a lot and helped us make sure we chose a good quality diamond that was the perfect fit for my style. It was also so easy to get my ring adjusted to fit a bit better. Maurice is full of great stories and you can tell he really loves what he does. Highly recommend!

Ascot Diamonds Dallas's reply:

Carolyn, Thank you for your kind words. We are grateful you chose to work with Ascot and to have you as one of our clients. Enjoy your gorgeous ring!
Best,
Maurice

Mandi F.

Married on 10/27/2020

Amazing experience!

We had the most amazing and positive experience shopping for my engagement ring with Ascot Diamonds Dallas (which turned out to be everything I imagined and more). It was without question that we would return to them for our wedding bands. As expected, we could not have asked for it to have gone any better. Maurice and Wyona were patient and kind when it came to helping us find exactly what we were looking for within our budgets. They provided us with different design, stone and metal options and made sure all of our questions were adequately answered. In the midst of trying to plan a wedding while facing a pandemic, they really made this process simple and stress free. Their outstanding and prompt customer service, while providing us with 3 beautiful rings never went unnoticed. We highly recommend them for any of your jewelry needs.

Ascot Diamonds Dallas's reply:

Thank you so much Mandi for your kind words and review.
Wyona and I thank you for your trust put on Ascot Diamonds Dallas during this important purchase. Congratulations!

Best,
Maurice

Are you interested?

Send a message

Amit G.

Married on 05/09/2020

Maurice - Quality, Precision, Clarity,

Astounding, Maurice is an artist, he was recommended by a family member who had worked with Maurice with Ascot Diamonds Dallas in the recent years. I came to him not knowing a clue about engagement rings and diamonds.

Although Maurice was the first person I met with to get a sense of idea on what to expect, I immediately noticed his genuine nature and the meticulous level of pride he takes in his work. Quite honestly, I didn't bother with inquiring with anyone else.

Maurice explains things very thoroughly and sets realistic expectations, and best of all there were no surprises. When I finalized the diamond and the design Maurice personally kept me updated. Matter of Fact the was the ONLY person I communicated with (which is a huge deal for me).

Maurice has an exceptional level of professionalism and will take your experience to the next level. When the ring was ready, the first look at it was "WOW"...the quality, precision, clarity, was incredible - even better than what I was expecting when we discussed the design early this year.

If you're looking for personalized service, genuine character, precision artwork, and anything else, Maurice is your guy! That's something I can promise you.

Kim

Married on 10/26/2019

Amazing experience, perfect rings!

My fiancé and I got our wedding bands from Maurice at Ascot Diamonds and he was amazing to work with. The rings are exquisite and mine looks stunning with my engagement ring. Maurice knew exactly what I was looking for when I described it and the process was smooth and easy! Would absolutely recommend to anyone!

Ascot Diamonds Dallas's reply:

Kim, Thank you for kind words. We are grateful for the opportunity to work with you during this memorable time in your lives.
congratulations,
Best,
Maurice.

William

Married on 08/17/2019

Best in the Business

Ascot Diamonds is the best in the business. Though they deal in the rarest and most beautifully customized minerals in the world, it's their strict adherence to the Golden Rule which is most precious of all. Maurice is one of those professionals you meet but a few times in your life who, throughout your entire experience, remind you what true, excellent and expert service is all about. I will most certainly be working with them again.

Ascot Diamonds Dallas's reply:

William, thank you for the kind words.
It was a pleasure to work with you and look forward to working with you in the future

Coral W.

Married on 05/18/2019

Man and ring of my dreams!

Finding the love of your life and be married is what every girl wants. The ring a forever symbol of the love. After meeting with Maurice he knew just want I wanted and was able to then have selections for my soon to be husband and I was still surprised and could not have believe that he knew what I wanted without seeing the actual ring. Do not waste your time being a number at a Jareds or even Robbins Brothers. Go to Ascot Diamonds and have the individual private experience of an expert jeweler and you can not go wrong.

Ascot Diamonds Dallas's reply:

Coral, Thank you! Working with you and creating you gorgeous diamond ring was fantastic. I really happy for you guys.
Thank you for your trust on us.
Kind regards,
Maurice

Amanda G.

Married on 12/15/2018

Great experience

Ascot diamonds did a wonderful job resizing my engagement ring and creating a perfectly matched wedding band. I would definitely recommend them.

Carl

Married on 11/13/2018

Great Products & Excellent Experience

The staff at Ascot are very professional, far exceeding our expectations with products and pricing!!!

Ascot Diamonds Dallas's reply:

Thank you Carl for your review. We are glad to hear we exceeded your expectations. Thank you again!
Maurice

Devlin T.

Married on 09/15/2018

Great Experience; HIGHLY Recommend

We were originally looking at purchasing our rings from an online store, but decided to look at a local shop before making the purchase.
We are both very happy that we did.
Maurice and Wyona helped us pick out the perfect engagement ring and we went back to get our wedding band from them as well.
Their knowledge and their willingness to educate us blew us away.
Before you buy a ring from anywhere, do yourself a favor and come visit Ascot Diamonds.


Ascot Diamonds Dallas's reply:

Thank you for your kind words Devlin. We appreciate you as our clients. We really enjoyed working with you both.
Kind regards,
Maurice.

Codey S.

Married on 06/04/2018

Simply the BEST!

They really cared that I got what I wanted and made the entire process easy and enjoyable. They are friendly, professional and reliable, great with communication and are willing to go the extra mile! I highly recommend Ascot Diamonds Dallas!

Ascot Diamonds Dallas's reply:

I truly enjoyed working with you guys. We are happy for you and your ring is gorgeous!
Thank you!


Diana

Married on 02/24/2018

Such a pleasure to work with!

Maurice was so wonderful to work with. After I picked out a stone I liked, my now husband worked with Maurice to design a custom engagement ring that was a total surprise to me in the end. The process was easy and seamless. He was able to take my husbands thoughts and make them into a beautiful ring.

Sara E.

Married on 01/15/2018

Perfect Personalized Experience

Ascot Diamonds designed my engagement ring, and I couldn't be happier with the entire experience. The service was spectacular, the knowledge of the staff was excellent and the final product makes me smile daily. I would recommend Ascot to anyone that wants a personalized experience for any jewelry purchase.

Ascot Diamonds Dallas's reply:

Thank you Sara! I am happy for you and the your design on your engagement ring is truly stunning! Congratulations!
Regards,
Maurice

Proshad N.

Married on 09/16/2017

Excellent service!!

Custom made engagement ring and wedding band, exactly as I envisioned them! Communication was excellent, very professional services, and resized the rings more than once for me. Can't say enough good things about Ascot Diamonds!

Ascot Diamonds Dallas's reply:

Thank you Proshad. I enjoyed working with you. Your rings came out gorgeous! I am happy for you guys.
Congratulations!
Maurice

After going through a miserable experience with Gabs, Etc. Jewelry in Missouri (stay far far away from this group!!), we found Ascot Diamonds who helped create the perfect engagement ring and wedding band. The provided us with blue prints for our review prior to building the rings and even offered a wax mold. They delivered exactly what we requested and were professional and very easy to work with.

Richard L.

Married on 09/29/2012

Exceptional Customer Experience

Shopped all over Atlanta and from the moment I walked into Ascot Diamonds I could feel the experience was going to be different from any other jeweler. The private setting and design assistance to create the one of a kind piece we were hoping for, could not have better. Checked all over town as well as online and their prices were totally competitive. Junior is genuinely talented and helped us not only with design ideas but provided awesome sketches and solid guidance. What I enjoyed most was no rush or pressure to buy and the quality of the ring we received was absolutely amazing! Cathy gets compliments all the time and loves every minute of it! A great experience … do yourself a favor visit Ascot Diamonds in Atlanta and ask for Junior… he is the best!

Nicole

Married on 05/10/2012

Maurice was so helpful in assisting Doug get the perfect ring for me. It was more beautiful than I could have imagined and I get compliments on it daily. He always was informative and answered all the questions we had through the whole process of buying the engagement ring and our wedding bands. I would definitely recommend him to anyone that was looking for a jeweler and would return to him without a doubt for all our future needs.

Joni

Married on 10/22/2011

Several types of diamonds

My husband and I have purchased several types of jewelry from Ascot diamonds including my engagement ring, our wedding bands, earrings, and a necklace. All have been exceptional in quality while working within our budget. Highly recommend!

Ascot Diamonds Dallas's reply:

Thank you Joni! Loved working with you every time. Your diamond jewelry is gorgeous.
Thanks!
Maurice

Ta'shana

Married on 06/22/2011

Please Read!! The best decision you will ever make is going to Maurice and purchasing from Ascot Diamonds!! It took me some time to post this review from wanting to express the "one of a kind", life changing experience I encountered with Maurice in the search of my Engagement ring. Forgive me for my long review but my experience is worth stating! I have a whole new outlook on diamonds and a certain appreciation from making my purchase with Maurice!
First I would like to say, it's hard to compare to the other reviews as they are right on key!!
I was taught from a very early age to research any investment. This quality created a very analytic person within me. When I say, I research, I mean with a toothpick. I searched jewelers through out Louisiana and Texas area. I always read reviews before even choosing to spend time speaking with a company. I came across "Ascot Diamonds". The reviews impressed me and I had to see for myself if this jewelry company would be the "ONE" to be apart of a very special and long lasting memory.
From the first phone call I could feel an inviting environment from Maurice. I finally became excited to find my ring! Maurice on the spot made accommodations to fit us since we live 8 hours away. As, I sat down during our first meeting, I felt very comfortable from the caring approach Maurice took. This was a fresh breath of air compared to feeling on the defense with other company's. He was very engaging in all my ideas of the perfect ring. He took the time to educate me and my fiancé on buying a diamond. His integrity was very apparent through his wide-range knowledge. For once, I understood the deciding factors in making my final purchase instead of attacked with uneducated, pushy sales people from other company's.
As my fiancé and I created my custom engagement ring, we communicated through email due to the distance. Maurice answered each and every question/concern in detail. Maurice loves what he does and it clearly shows through the patience he obtains. There is not one question he does not have the answer to. He viewed pictures I had that I thought would be the perfect ring and created something way beyond what I could imagine. I get to view this inspiration and reminder of the in depth love from my soul mate every time I look at my engagement ring. He captured every word, tone, gesture I made about descriptions and detailed information we discussed and learned my taste so well, that he was able to provide a breath taking engagement ring that I could have not found anywhere else! I completely fell in love with it the first time I seen it. You will get images of your style and can see an example of the setting through there site. Let me inform you that the quality of the diamonds and actual structure of the ring was 10x more brilliant on my finger!!
Some may say it's just a ring, but it is more than that. It states the unity of 2 people becoming one with the symbolism of the engagement ring in your unique style. This is the one piece of jewelry that you will make many memories with. Such a special investment should be of outstanding quality, integrity and an exceptional experience that you know you will get each time you invest with the company you choose. Maurice takes the time out to get to know you, your needs, and has become a life long friend to my fiancé and me. I will not do business anywhere else.
The biggest factor for my fiancé was that he did not feel hassled, pushed or feel mislead as he did before with other jewelers. Life is full of demanding-difficult choices and picking out my engagement ring is the one time my fiancé wanted to enjoy learning of his investment, knowing this would be a company we would grow with for years to come and for many other occasions.

No one else has my ring and everyone has given me so many compliments. It is a reassurance each time that we made the best choice in going with Maurice at "ASCOT DIAMONDS" in Dallas, TX.


Lauren

Married on 04/27/2011

Maurice and Ascot Diamonds provided exceptional service and were truly a pleasure to work with! We stumbled upon the website while searching for engagement rings and very quickly fell in love with their unique style. Maurice worked with us to create the perfect rings by taking the time to listen and get to know us. We could not be happier and highly recommend them. Thanks again, Maurice... we'll be back soon

Brian

Married on 04/16/2011

Maurice is a true professional and clearly loves his work. My wife (fiance at the time) went to Ascot to find a diamond and create a custom engagement ring which came out perfectly. She couldn't have been any happier, but the best part of working with Maurice is the service. He's very prompt in getting things done, rushed getting the ring resized for us after the fact, and cleaned the ring several times in the lead up to the wedding. Can't say enough good things about him!

Brian

Will

Married on 02/01/2011

Maurice and his team provided an unmatched service during my engagement ring search! He represents a few values that are very hard to come by in his line of business: integrity, patience, and knowledge. There was never any pressure to select anything and everything was tailored just for what was important to me, not his profits and what he wanted. I literally had no idea as to what I was doing and he provided a full education and gave me the attention that represented a true service minded approach. His team provides a classy, insightful, and relationship based approach that makes you feel at ease when making an important decision such as buying a diamond! I would highly recommend Maurice and his team to anyone looking to buy jewelry from a private jeweler and will continue to buy from him in the future.

Additionally, his product is pretty close to unmatched. He has access to some of the finest diamonds in the world and my fiancée ring has received praise and complements from every single person that has seen it!

Will Hayes, Dallas, TX

Lauren

Married on 01/01/2011

After looking at a few of the well known jewelry stores in Dallas and receiving poor customer service with outrageous prices we decided to look elsewhere. I found Ascot Diamonds on a google search and was incredibly pleased during our first meeting with Maurice. He is extremely knowledgeable, straight forward and fair. He knows what he is talking about and does everything he can to make you comfortable and happy. After our first meeting with him he worked with my fiance and I couldn't be happier with my beautiful engagement ring. Maurice made what can be a stressful experience a relaxing enjoyable experience and I would recommend him to anyone who is looking for an engagement ring or any beautiful piece of jewelry.

Christine

Married on 11/22/2010

When I was transferred overseas with my job at the end of 2010, my boyfriend and I didn't hesitate in getting engaged and commiting to each other. But between consolidating 2 houses and moving to Australia over a furious 2 month period we were up to our ears in work load and responsibility. We didn't have a lot of time to shop around for rings but only quality, service, and excellence would do in terms of finding the perfect one and I was prepared to wait and shop from overseas for up to a year in order to find the right, timeless, show stopping ring which would light me up for the next 50 years. Stumbling upon Maurice at Ascot Diamonds was a God send. Superior customer service doesn't begin to describe his professionalism. He quickly got a feel for what we liked and went the extra mile to show us what suited our tastes, on our schedule, and without pressure. Almost instantly we found "THE RING"...the Catherine Ryder line is truely stunning. I've now been wearing it for about 45 days and routinely get stopped by complete strangers to admire it. This ring will definatley out live me and be something to pass down thru our family. Ascot will likely be the first and only place you'll need to shop.

Lisa

Married on 08/16/2010

They custom designed and made a ring exactly as I envisioned it. I feel fortunate to have been introduced to them as many other skilled jewelers that I spoke with were unable to make the design.
Are you interested?
Send a message