304 Reviews
Recommended by 99% of couples
Quality of service

5 out of 5 rating

Average response time

4.9 out of 5 rating

Professionalism

5 out of 5 rating

Value

4.9 out of 5 rating

Flexibility

5 out of 5 rating
13 User photos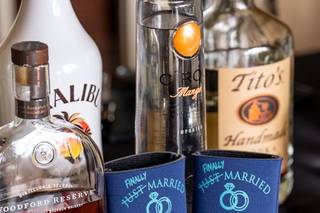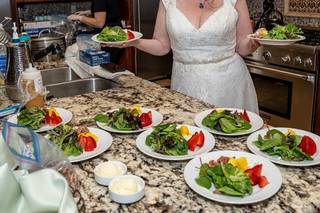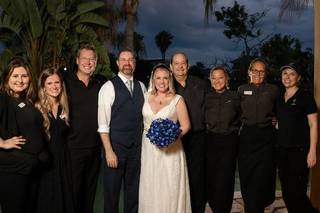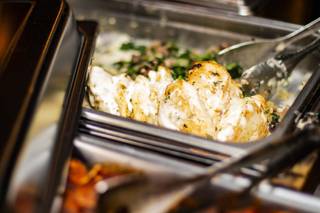 + 9

photos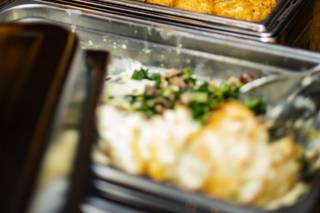 Madison G.

Getting married on 07/01/2023

Great Experience and Amazing Food

They were so easy to work with. The food quality was excellent and the service was even better. They were so on top of everything and it all ran so smoothly. They were extremely flexible with the menu options and had so many amazing items to choose from. They are definitely worth the extra cost to get the superior quality that they provide.

Nikolas P.

Married on 01/27/2023

Unbelievable!!

When I tell you this was the best wedding food and service me and my guests ever experienced, I'm not joking. The professionalism is on another level as well as their service and food quality. Our guest simply couldn't get enough of the food and flaming donuts. People were begging for any leftovers. Typically wedding food can be meh, bland but not Arthur's. This completely transformed our wedding! I also want to give a special shout out to George who show a level of service I never imagined! He had water ready for me and my wife after the ceremony and asked for our bar drinks, followed us around while we took photos and made sure we ate and drank and always kept checking in. He really made us feel special, VIP and cared for. He went ABOVE AND BEYOND for us and honestly could not be happier. If you need catering look no further than Arthur's. P.S get the flaming donuts and ask for George.

Valeria A.

Married on 12/17/2022

The catering was the number one thing our guests RAVED about our wedding.

The number one thing people RAVED about at my wedding, was the food. I loved being able to enjoy myself after seeing my guests glowing from that delicious dinner. The team offered top notch service and made my guests feel very well taken care of. They were so friendly and efficient! And it only makes sense after the experience I had at my tasting. The level of care and detail that Katie put into my wedding from day one, mirrored the outcome on our wedding day. Excellent food and superb team!

Are you interested?

Send a message

Allison A.

Married on 10/31/2022

Excellent food!

Very easy to work with. Amazing food quality. Able to accommodate a variety of dietary requests with ease. The tastings were fabulous and our food tasted amazing. Our guests loved the food. We definitely recommend the flaming donuts. They were a huge hit!!

Jaime

Married on 05/18/2022

Fantastic food! Phenomenal team!

Where do I begin? Arthur's Catering Team was fantastic. George Taylor was the Captain and truly went above and beyond with every single thing. Cassie was our Chef and was even able to provide us with an item that is not usually on their menu (korean bbq cauliflower)! Chastity and Erica were our two servers/bartenders and made sure we had drinks in our hands all evening and no one ended the evening hungry. The food was wonderful, but the team - truly incredible. I am a Catering Executive in another state, so the food and service were probably the most important aspect of my wedding day. Arthur's didn't just meet my expectations, they far exceeded them - from the tables, chairs, and linens, to the quality of food, to allowing me to get a couple of fun photos with them as well. It was as if they were part of our family at our small intimate wedding. Thank you Arthur's Catering! Thank you especially to Cassie, Chastity, Erica, and most of all George!!

Andrea D.

Married on 04/23/2022

Delicious. Accommodating. Outstanding service.

Arthurs' was a pleasure to work with. Katie was a such a calming presence during hectic wedding planning. The answer always seemed to be, of course we can do that! On the day of, we received so many compliments on the food. The Caribbean salad was especially a big hit. I loved that they set aside some hors d'oeuvres and a drink for us at cocktail hour, and even made a plate with everything on it from the buffet for us for dinner. We felt very taken care of, and were so glad that we were able to eat on our wedding night (we kept being warned that we would forget to eat!). We highly recommend Arthur's food and services.

Morgan W.

Married on 04/09/2022

Wedding guests are still talking about how good the food was!

We hired Arthurs for our wedding last month and it was the best decision ever!! People are still talking about the food! Everything was absolutely delicious, we could not have asked for anything from. From start to finish Hailey was attentive, professional and helped us put together the best buffet menu. Everything was well worth the invest, even the left overs a week later tasted amazing! I highly recommend Arthurs for ANY of your catering needs.

Kaile B.

Married on 04/09/2022

Best caterer in Central Florida

When starting to plan my now-husband and I's wedding, Arthur's came so highly recommended to me and from start to finish of working with them for over a year, I can see why! Our event designer, Hayli, was responsive and attentive and answered all of our questions and helped us plan the best menu for our event and pick the best china, linens and flatware. The day-of execution was flawless and not only did everything look incredible, it tasted incredible. Our wedding guests raved about everything from the apps to the flaming doughnut dessert. We are so thankful we chose Arthur's!

Cathlene K.

Married on 03/26/2022

Best food ever

Arthur's came with our venue and I honestly am so happy it did. My husband and I are foodies and we knew the food had to be delicious. They delivered and our guests are still talking about how it was the best food they've ever had at a wedding. It's expensive but you get what you pay for. Totally worth it.

Annalisa D.

Married on 03/19/2022

Lovely catering!!

Arthur's catering was a joy for our wedding! The food was absolutely delicious and we've had many of our guests tell us it was some of the best food they've ever had. As the bride, the service was incredible and my husband and I were constantly taken care of. The bar was beautifully set up and had more than enough options for our guests. However, we did opt to bring in some of our own seltzers as our guests love a variety of hard seltzers. However, my favorite part may have been the hors d'oeuvres! They were so unique and fun, not to mention delicious! Arthur's and the Howey Mansion are truly a dynamic duo!

Patty

Married on 03/03/2022

So much yum!

People don't typically walk out of a wedding talking about the delicious food or about the wonderful staff... unless you've got Arthur's Catering on your team ;)

My family [ and they're a picky bunch!] couldn't stop talking about how much they loved the food and service at our wedding. Both myself and the groom always had someone checking in on us to make sure we were good. Our guests also talked about how wonderful the bartender was and how friendly the staff was. So grateful for this team in making our day extra special!



Adrianna

Married on 02/26/2022

Amazing food, service and office coordinating staff

We only have wonderful things to say about Arthur's. From the beginning we met Hayli whos assistance with coordination of food selections, tastings and pricing was so quick and easy. Her and the Arthur's team truly made the process painless and fun. Then on our wedding day we were truly amazed by their service staff. Jacki went above and beyond and stayed close to us to make sure we always had what we needed-water, champagne, food etc. Food and service was amazing. Even the selection of plates and silverware that were included were beautiful! Thanks Arthur's!

Brittany F.

Married on 02/25/2022

The best of the best!

These are the PROFESSIONALS!!! Everything was amazing! The food was DELICIOUS! We had the filet and shrimp for our main course and the meat was cooked PERFECTLY! The mash potatoes are TO DIE FOR! All of their appetizers are so delicious too! AMAZING SERVICE! We had a served dinner instead of a buffet, which I highly recommend because it allowed us to visit with all of our guests because they were seated and waiting for their dinner instead of standing in a buffet line. The servers made sure we (the bride and groom) got plenty of food and drinks throughout the entire evening, and they took great care of all of our guests! They did not miss a beat! They even packed up a bunch of to go boxes of each thing we ordered for us to take home! We really enjoyed that. We also went to both a public tasting event and a private tasting event, which was so fun and we got to try everything they offer. This is GOLD STAR CATERING! HIGHLY RECOMMENDED!

Jessiann B.

Married on 02/13/2022

Great Service

We had them for our bar and ice cream station and they were great. Lori helped coordinate before the date of the wedding and Fran helped on the day off. All the guests were very happy with the bar service and loved the ice cream bar. I definitely recommend it if you love ice cream because they have some great topping options.

Carlin D.

Married on 01/21/2022

Orlando's best!

Arthur's isn't just a caterer, they are wedding gurus. We had so much fun planning with Sarah. Our tasting was a blast and we couldn't believe how good the food was. Everyone told us Arthurs food is the best in Orlando and it truly is! We were able to have some of our favorite foods at our wedding. We love food and our guests could tell how special our menu was. We opted for the avocado bar to have some healthy options to energize our guests at cocktail hour. My dad had 5 servings of the avocado bar… everyone loved it. The pulled pork tamale pancake… to die for! Our buffet was perfect for everyone's taste.

Molly N.

Married on 10/03/2021

Wonderful food and service

We're so glad that we booked Arthur's Catering for our recent wedding at the Orlando Science Center. The Arthur's staff was so attentive and nice, and many of our guests commented that the food was the best they had ever had at a wedding. We had a great experience with our tasting prior to the wedding, and although we wondered if we would enjoy the food as much at the wedding, we're happy to say it was just as amazing as we remembered from the tasting. Our event designer, Brittany, always answered our many questions promptly, and helped us with so many important little details, like figuring out a menu that worked for us, our vision of the event, and various guest dietary restrictions. Because we provided our own alcohol, Brittany also helped us determine which mixers and garnishes Arthur's includes and which we should supply. Also, we greatly appreciated Arthur's flexibility in working with us on changes leading up to the wedding when our guest count changed late in the game.

The Arthur's staff checked in with us throughout the event, and personally brought us anything we needed, including hors d'oeuvres, water, and drinks. Arthur's makes a point to hire great people and to treat them well--it's clear that the entire team worked cohesively because there were no issues throughout the night. Our guests had great interactions with all of the staff, and the bartender was such a hit that our guests continued to talk about him at the after party. We would highly recommend Arthur's for anyone's catering needs--the food was great, and they were extremely professional and easy to work with!

Anelis R.

Married on 05/29/2021

Amazing!

Katie was the best!! She went above and beyond making sure that we had everything we wanted and needed. The food was amazing just like at the tasting, the decor set up was spectacular everyone was talking about how beautiful everything looked and the entire staff was so friendly!! Highly recommended!!

Darlene C.

Married on 05/13/2021

Exceptional food

What a great team and the food far exceeded our expectations! Their catering menu options were endless. The appetizers and meals were delicious, the presentation was picture perfect. Not sure what was my favorite....grilled shrimp, grilled cheese, sliders, fish, salad, you can't go wrong.

Chloe B.

Married on 05/08/2021

Best of the best!

Our wedding was truly a magical experience. Of course, we recognize that a BIG contributor of what made it so for us was you all and the now-extended Dream Team! I say extended because we met many wonderful staff from Arthurs that day and unfortunately, I don't recall their names.

It all begins with Hayli. To the fullest extent of the words ABSOLUTE PLEASURE, that was what it was like working with her from day one! She made herself available for any inquiries we had, be it by phone, by email, or to meet in person. She accommodated our requests. If we threw an idea at her or a request for a possible change, she was only too happy to make it happen. The fact that she remembered we had a guest with food allergies and made it a point to come speak to her just to give her a comfort level/peace of mind, that says EVERYTHING about what a fantastic person she is and how wonderful Arthurs is.

We've heard from several guests on how everyone loved the food. Of course I knew they would, but it's still gratifying to hear it! Some of the commentary/feedback we've heard included comments about how at ordinary weddings, you still see plenty of plate once your food is served, at our wedding, guests couldn't see their plates because of the amount of food they received; I had expected that a guest would choose either the chicken or the meat and then come back for seconds if they could. When I got to the buffet line, I was so pleasantly surprised to see that guests were actually served both (unless they specifically requested only one item); I find that an uncommon wonderful touch. Then of course everyone talked about how good the food was. Later in the dining room, the whole experience of the flaming donuts just about blew their minds. I felt like one of those cartoon characters that gets lifted in the air and begins to float towards a scent the moment I stepped into the dining room because of the intoxicating aroma of those donuts. Also, my uncle, who was in the restaurant business, and a couple we invited are known to be quite critical, well it turns out they loved the food and the wine. My uncle had only positive comments on the food – not one negative thought and the couple loved the wine so much that several days later, they asked us what it was because they wanted to buy it…I did tell them it was a house wine and thought to myself YES! Arthur's managed to impress these guys! One other touch that blew my mind was that the staff actually came out during the first part of the cocktail hour to bring drinks and hors oeuvres to our entire family, who were left back to take family pictures. I had assumed that they would all have their appetizers and drinks midway through the hour, once they entered the ballroom. That extra gesture was so impressive and appreciated.

To sum it up, we LOVE Arthur's, we are impressed with everything about it, from the quality of the food and beverage (and quantity too!), to the caliber of the staff it employs and especially – in our humble opinion – Arthur's best employee EVER, Hayli Westhelle!!!

Megan D.

Married on 04/03/2021

One word: YUM

When you think of the best food to serve at your wedding, review Arthurs menu and by line two your mouth is drooling. Their food is delicious and their staff is truly the kindest, most respectful, and professional team to work with. Especially during these difficult times with COVID-19, Arthurs assured the best safety precautions for not only our guests but for their own staff. We worked directly with Patty Sturgeon and she went above and beyond to always email us our details, change our menu options around to determine costs, and updated us on their own changes with how they were respectfully handling COVID-19. We were able to hand pick with the place settings and table cloths. Their china and glassware options are what made our reception stand out. We greatly appreciate everything they did.

Rachel B.

Married on 03/02/2021

Fantastic Caterer For Any Event!

Arthur's Catering has so many delicious menu options for your special event! The quality of their food is fantastic and you will be sure to have compliments throughout the night on the dinner served. Their staff is professional, so kind and go above and beyond to provide exceptional service! Our team of planners truly enjoy working with them.

Abbie M.

Married on 02/13/2021

The absolute best!

We had the absolute best experience with Arthur's and their team! Brittany was absolutely amazing from the moment we met her at our first tasting. She and chef went above and beyond to make sure our menu was perfect for us. Everything turned out so amazing on wedding day, family and guests still talk about how great all of the food was. Brittany really took care of us the whole day, she was so attentive, and helped everything to go so smoothly. Not only did she make sure the reception ran smoothly, but she made sure we had everything we needed all day/night. She was like a magical caterer/venue contact/coordinator all in one, and we are so grateful she was part of our big day. George and the bartenders were so amazing as well, they really helped give our friends and family a fun, memorable experience. The team truly exceeded all of our expectations, we cannot recommend Arthur's, Brittany, George, and the team enough!

Jackie L.

Married on 11/20/2020

So delicious!

Katie Weller is just fantastic. She helped so much with the uncertainty of the pandemic and Arthur's was flexible to my guest count. Our tasting was pre-COVID, and was a wonderful experience. Katie even helped me pull off some surprise cupcakes for my mother and MIL's birthdays. I got rave reviews on my food! Everything was incredible, but you HAVE to try the flaming donuts!

Jaime P.

Married on 11/08/2020

Incredible

Arthurs was the best!!! Our guests raved about the food at our wedding. Their customer service is top notch. All the serving staff was very friendly and helpful. Price wise they were pretty reasonable. Highly recommend!.

Andreana F.

Married on 11/07/2020

Arthur's Catering can't be beat!

Food was at the top of our priority list when we started planning our wedding. It was absolutely necessary that we hire a catering company with exquisite food, presentation, and service. We knew after our first meeting with Arthur's that we had to have them cater our wedding! The pictures were stunning and when we got to taste Arthur's food at an event hosted by them, we knew we had made the right choice. Our buffet dinner did not taste like a standard wedding buffet dinner—everything was layered with flavor and cooked to perfection. The pumpkin ravioli was to die for and guests kept going up for seconds. Even the chicken was juicy and extremely flavorful. The way Arthur's was ahead in creating safety protocols during Covid made us SO thankful that we had chosen them to serve our guests. Everyone felt safe and was able to enjoy themselves. The staff was so fun and delightful throughout the whole night. We are so impressed by and satisfied with Arthur's we would recommend them to anyone and plan to choose them for any of our future catered events!
Are you interested?
Send a message