Reviews
4.2 out of 5 rating
Quality of service

4.3 out of 5 rating

Average response time

4.5 out of 5 rating

Professionalism

4.1 out of 5 rating

Value

4.3 out of 5 rating

Flexibility

4 out of 5 rating
85%
Recommended by couples
Awards
15 User photos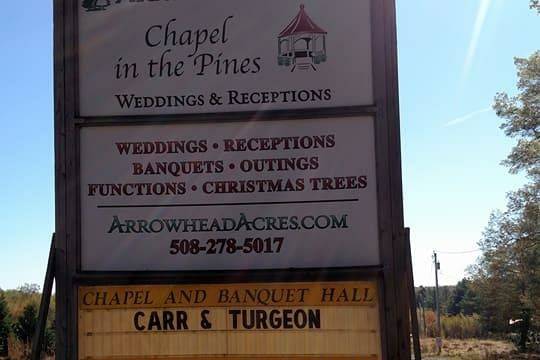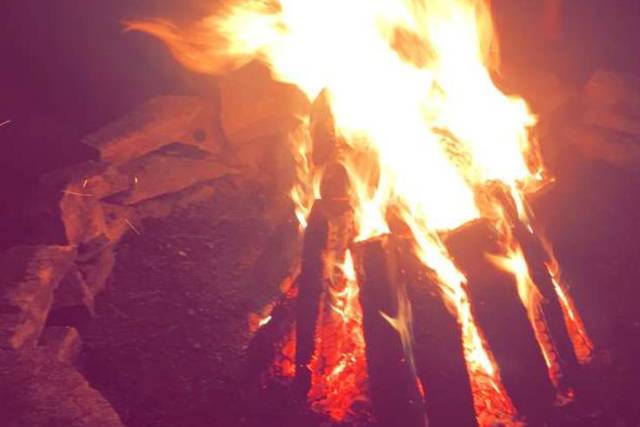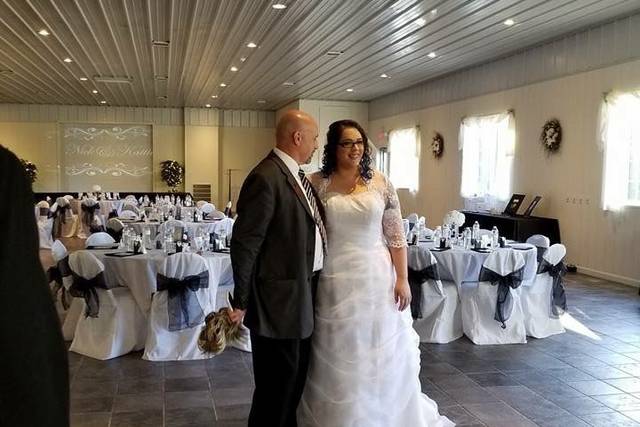 + 11

photos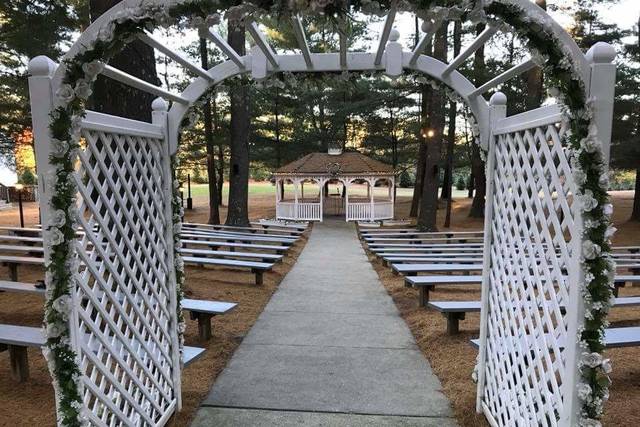 Tiffany

Married on 10/05/2019

Arrowhead Acres, a wonderful place

Amazing, from beginning to end! Vicky and Dave were perfect and catered to our every need on our wedding day. It made us so happy to know that all of our guests loved the chapel in the pines and the banquet hall. All of our guests were incredibly impressed with how organized and attentive Dave and Vicky were and how much they cared for all of the weddings that are held on the property. Also, Dave was extremely attentive in answering all my emails, which honestly were a lot, being a bride, I wanted to make sure my day was perfect and I felt that Dave listened to all of my requests and made all of them happen smoothly. It filled our hearts with joy to see some of our guests thanking Dave and Vicky for organizing such a beautiful wedding and inquiring them on events they would like to have of their own. If your looking for a place to really make your wedding day special, book Arrowhead Acres; you deserve a perfect wedding, and they will make it happen.

Sydney

Married on 05/26/2019

Awesome Beautiful Venue

Dave and Vicki and Shawn were so wonderful during our entire process. They were super flexible and gave us all kinds of connections to great vendors we ended up hiring. I would 100% recommend them to anyone!

Arrowhead Acres's reply:

Thank you Sydney. We appreciate the kind words and congratulate you and your husband. Your wedding and reception were beautiful.

Ashley

Married on 04/14/2019

Awesome services!

Super happy with Arrowhead acres. The venue is beautiful and they really took their time to clean and make sure everything was perfect for our wedding day. Dave was very quick to respond if I had any questions or concerns. Everything turned out great and I'd choose them all over again!

Arrowhead Acres's reply:

Congratulations and thank you for the 5 star review. It was a pleasure serving you, your family, and friends.

Are you interested?

Send a message

Terri

Married on 10/28/2017

I really enjoyed working with dave at arrowhead. super helpful and walks you through everything! would highly recommend!

Kattie

Married on 10/20/2017

We booked with Arrowhead Acres for our 10/20/17 wedding & worked with Dave, Vicki & their daughter Shawn. All three of them were wonderful from start to finish. They always answered any questions we had quickly & gave us all the information we needed. Their price is more than fair & the venue is beautiful even without adding much to the decor on site (we had a black and white theme and their venue has a lot of white there already with flowers, curtains and the lighting within and outside of the venue areas). Any restrictions they have -they are clear about in the contract, and I felt they were fair and reasonable. All of the information on what they offer on their website is accurate. DIY brides will love this venue, especially those on a budget but I would HIGHLY recommend this venue for any bride!

+ 3

photos

Emily

Married on 10/15/2017

I just can't say enough good things about Arrowhead! Vicki and Dave are so nice and accommodating! They gave my new husband and I the beautiful wedding we dreamed of and Vicki even officiated the ceremony. Everything was perfect. You really must take a tour of their chapel and banquet hall. So perfect.

+ 6

photos

Very accommodating in the booking and planning process.

Toni

Married on 10/10/2014

Our ceremony and reception were both held here and it was perfect. My husband and I were treated respectfully and found the owners to be very pleasant to coordinate and work with, this includes the rehearsal where we misunderstood the time and were an hour late and they had no issue staying and helping us through. They ask that the decorations they had provided be left in place and we found it more than a success to decorate however else we wanted to to create a beautiful atmosphere. The grounds are gorgeous and well-maintained, they even filled in some of the larger bumps in the driveway when they learned we would be transporting our cake ourselves (Thank you so much!!). Overall we would highly recommend Arrowhead Acres to anyone looking to be married among the trees!

Kayleigh

Married on 07/05/2014

Vicki and Dave were soon incredibly accommodating and helpful. We had a vintage themed wedding and everything was perfect, they kept everything flowing just right. Best place to have a wedding!!

We found that Arrowhead Acres was a beautiful secret of a gem and was still reasonably priced. We are completely satisfied with the memories of our special day at this amazing venue!

I also wanted to share from the mouth of the groom's grandmother (don't mind the caps, that is how she wrote it):
IF ANYONE IS GETTING MARRIED SOON ARROWHEAD ACRES IS THE PLACE TO DO IT. THE CEREMONY WAS VERY NICE, THE GROUNDS ARE AWESOME AND THE INSIDE RECEPTION WAS FANTASTIC. THE NICEST PLACE FOR A WEDDING I HAVE EVER BEEN TO.

Amanda

Married on 10/10/2010

Dave and his team at Arrowhead Acres were great. Everything looked perfect for the rehearsal and the wedding. Dave and his wife helped us out a lot during the rehearsal and were incredibly accommodating during the reception. Dave always answers e-mails really quickly and helps with any question you might have. They made everything easy, and I loved the chapel in the pines. Really great location for the price.

Michelle

Married on 09/06/2008

This place is great! If you are looking for simple elegance this is it! They have a "chapel" outside with a gazeebo which is amazing (I wish we were able to use it but it was down pouring!!) Dave Morin is an awesome guy. Always answered calls or returned them very quickly. The inside is huge with a beautiful fireplace. Every aspect of this place could not have been better!

Jennifer

Married on 08/06/2005

Arrowhead Acres is the ideal place to have an incredible, outdoor wedding on a budget! The Chapel-in-the-Pines is gorgeous and I received many compliments on how beautiful and different it was. The staff is great and accomodate any needs or special requests you might have. You can even have a hayride and campfire!

Marissa

Married on 10/03/2014

Arrowhead Acres was wonderful and absolutely perfect for our wedding! Dave and Vickie ran things extremely smoothly. Great value, excellent rustic feel, outdoor ceremony area with gazebo is adorable and well kept. They even let us bring a hotdog stand to the fire! You can use any vendor for everything but the alcohol, they make you use the Bartending Services of New England - this was not a pleasant experience for us (one of the bartenders did not show up until halfway through the reception!) However in the grand scheme of things Arrowhead Acres was worth the hassle of the Bartending service. Everything that Dave and Vickie could have controlled was excellent, the only issue was the bartending, which was unfortunately out of their control.

Alisa I.

Married on 04/16/2021

Flexible and Fair, Great choice!

I will be honest, I was nervous after reading some of these reviews after booking. I should NOT have been. The venue was wonderful, we hit bad weather and they went above and beyond to work with us to move inside, any questions that we had were answered quickly through e-mail, and the rehearsal went smoothly. The reason it wasn't 5/5 was once the ceremony was over we couldn't find the owners anywhere or anyone to talk to. We had a fire that was supposed to happen, we ended up not being able to and we also were unable to use an extra hour since all of our guests had left. This was fine, but I only found the person to talk to twice concerning even having the fire and that was a bit difficult. They also need to practice a bit with cuing the correct music, but I understand completely they are not DJ's. We had a beautiful ceremony, would gladly go back and buy a Christmas tree, and are so happy with our choice!!!

Arrowhead Acres's reply:

Thank you for the excellent review. Sorry for the minor hicups - The April snowstorm and the last minute switch to the indoor facility must have thrown us a curve. We look forward to seeing you at Christmas.

Excellent facility, nice people to work with. Only issue is that they have exclusive deal with bartender service which allows no flexibility.

Kimberly

Married on 06/16/2012

We had our wedding at Arrowhead Acres Saturday, June 16th. The owners Dave and Vikki were wonderful through out the entire process. My husband and I work very strange schedules and they took the time to show us the venue on Memorial Day last year before they left on vacation. The venue is beautiful and was perfect for our laid back wedding. They were just in the price range for our low budget wedding without being "run down" like most venues we check in for the price. There was no hidden fee's so we didn't have to worry about paying extra on our wedding day. Every time I had a question I would email them and get a response within the day. The only flexibility issue was the rehearsal could not be on Friday night at the venue for our Saturday wedding, which is completely understandable since there are Friday night weddings and we worked around it. The day of the wedding Dave helped us navigate the guests into the ceremony and brought the processional down to walk down the aisle. Other than the beginning we did not see them although they were accessible if needed. Overall it was a fantastic experience and I highly recommend the venue for any bride looking for a very pretty venue at a great price.

Suzanna

Married on 04/24/2010

An affordable place to host the ceremony and reception. The hard parts were only having one bartending server to choose from. You were able to bring your own liquor only if it was something like the label having the wedding date on it. It does help narrow down that choice though...If food was to be served, it needed to come from and be served by a licensed caterer.
Talking and scheduling with the couple that owns the place was both professional and friendly. I was very impressed with all the safety policies they follow, since it started business soon after the Rhode Island club fires so the chance of a fire starting there is slim to none. The place is gorgeous especially with all the pines and geens around. The outdoor chapel was perfect and amazing for us. Highly reccomened it as well because the dining hall is right next to the pines. If you like being outside and don't have a craving for a ritzy wedding, this is a place to highly consider.

Sharon

Married on 10/14/2007

Having our wedding at Arrowhead was perfect. We wanted something a bit rustic, but still comfortable for our guests. We had the ceremony at sunset in the outdoor pine grove, followed immediately by the reception in the banquet hall just a few yards away. This set-up allowed us to have the woodsy feel we wanted, but still a comfortable, indoor atmosphere for an evening wedding. This place is NOT fancy, but it is clean and comfortable and easy to dress up. Dave helped us with the planning, seating arrangements, and rehearsal. He did our ceremony music for us, and was available during the reception (including to mop up a spilled cocktail on the floor!). He was extremely responsive in answering all of our questions, and flexible about pretty much everything. Highly recommended!

Donna

Married on 06/03/2017

We were married on 3June17 @ arrowhead.
We had a great experience with Dave & Vicki.
We saw that Chapel in the Pines and the campfire my husband and I were both like- let's book it now!
The Banquet hall was perfect - we didn't want anything stuffy and we needed a LARGE floor to dance as we have many friends that like to Country Line Dance. There was no place that could match the chapel, dance floor and campfire to allow everyone to wind down,

We wanted a comfortable place for friends and family to come celebrate our special day with us and they delivered.

You will need to hire a wedding planner or be on your game here. Arrowhead offers some great vendors to work with but you are on your own to pull all the details together. I didn't mind this as it let us create a customized day vs a package deal at other venues.
Dave answered all my questions quickly and offered some suggestions when we needed.

Vendors from their recommendation we used
Liberty Farm (horse & carriage), B&M Catering (Yummy!!), Mendon Greenhouse (Gorgeous flowers and attention to detail)

We had our own 5 Star DJ & Photographer that aren't on their list but I would also recommend for any occasion
DJ Joe Lupica & Jeanette Fuller Photograhpy



Very beautiful grounds, rustic pavilion could use some updating on the sides that enclose in rain or cold. The contract makes no mention of a fee to decorate the night before. If you are able to do it the morning of there isn't a fee. Who has that kind of time on their wedding day? Dave was quick to respond to emails, gazebo area was clean and had flowers, fire was a nice way to end our night. The only complaint was the night of the rehearsal when Dave asked me in front of wedding party and officiant how I was planning on paying him in cash or credit card because he wouldn't take a check at that point. I had mailed it but he didn't receive it till the following day. I was embarrassed and wished he would've pulled me aside.

Amber

Married on 06/26/2021

Awesome place

Beautifully kept, wonderfully decorated for Christmas. Super sweet staff. Having my wedding in June of 2022

It was a okay place to have the wedding, a few things what I didn't like about it, but overall it was a good wedding there. A few things why I gave it 4 stars instead of 5 was because, 1) the bathrooms are terrible. I know it's petty but people were complaining to me about it during the wedding, the light was out in the handicap/bride bathroom so my wife had to use the regular one and she had no room, plus we were told it smelled terrible. 2) Also, another reason is because after pictures were done my bride and I went into the hall and instantly were sweating and hot. So we had asked them to turn on the AC. The wife response was " oh you're hot? I'm freezing right now" so she had the heat on, not a big deal cause then they had turn the air on for us afterwards. 3) one other thing that made me rethink about this place was after we had signed the contract to have our wedding there. I had contacted them asking about what if we had 4 kids there that under 3 and another that was just 6 months old if we have to pay full price since it is a pay by person venue, and we were told yes, if they sit in a seat they have to be considered an adult, I was really flabbergasted by that remark since 2 only stayed for the ceremony and and was only (1) 2.5 year old and a 6 month old that we had to pay a full price for. But they were a lot of good about this place as well. 1) there was NO wedding on the day of, before us, so they allowed us in at 9am to start setting up which was awesome because it made everything easier. 2) everything was super clean in the chapel in the pines, all benchs were cleaned, the beehive that was in the chapel was removed after I had noticed it, and the morning of we were setting up, they literally had an army of people making sure everything was clean. But eventually did

Arrowhead Acres's reply:

The bathrooms are cleaned just before every event - When we allow bridal parties to come in 9 hours before their event, it is with the understanding that our "setup and cleaning army" will be working around them. If any of the lights had not been turned on yet, our employees would have been happy to turn them on as well as the automatic air fresheners.

Our heating/air conditioning system is set to 70F until the bride arrives. The bride is told that she is "Queen For The Day" and she decides what we set the temperatures at. If she wants it warmer or colder the system is powerful enough to make the desired adjustments within minutes.

Our banquet hall has a minimum fee but children under 2 years old are never counted or charged for. We also provide high chairs and booster seats at no charge.

Beehives and bird nests are routinely removed from the Chapel Gazebo as part of the cleaning process.

Most of these concerns would not have existed if the bridal party had arrived at a normal time rather than 9 hours early.

Christine

Married on 06/20/2015

The ceremony area is beautiful. That is what sold us on using this venue. They also have a great sound system set up in the ceremony area so you can play any songs you choose and everyone can here the ceremony.
The reception hall is nice but a bit plain. They have a lot of plain white decorations up that you have to leave in place and work around.
The cost was pretty high but they do completely list the price of everything on their website which is nice. Overall I am very glad that we chose this venue for our wedding. It was a beautiful day.

Holly

Married on 02/24/2007

This reception is the most beautiful among the dozens I looked at in the area. Though it was a little more than I had budgeted, the hall is beautiful, there's a dance floor, a huge fireplace for photos, an outdoor deck, an outdoor chapel, a large area in the back for caterers to work with, a seperate cubby for drinks if you have them, and very spacious and beautiful. They provide you with centerpieces if you ask, are open to you coming in and decorating as long as they don't have any events right before; will set up all of the tables with the layout you ask them for, and are very quick to respond. The only draw back is that there is no catering on site, but for the beauty and the flexibility, it's worth it.
Are you interested?
Send a message