Reviews
5.0 out of 5 rating
Quality of service

5 out of 5 rating

Average response time

5 out of 5 rating

Professionalism

5 out of 5 rating

Value

5 out of 5 rating

Flexibility

5 out of 5 rating
100%
Recommended by couples
50 User photos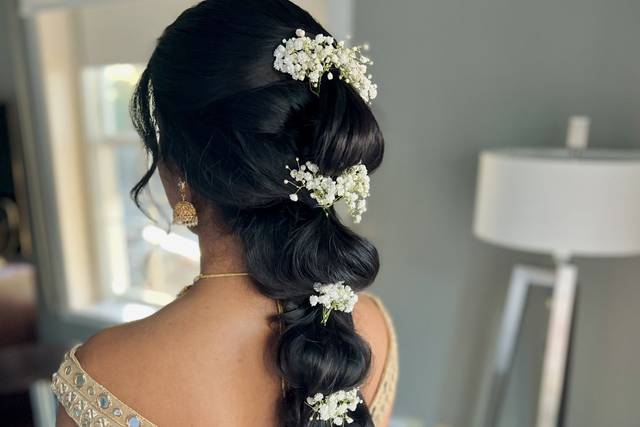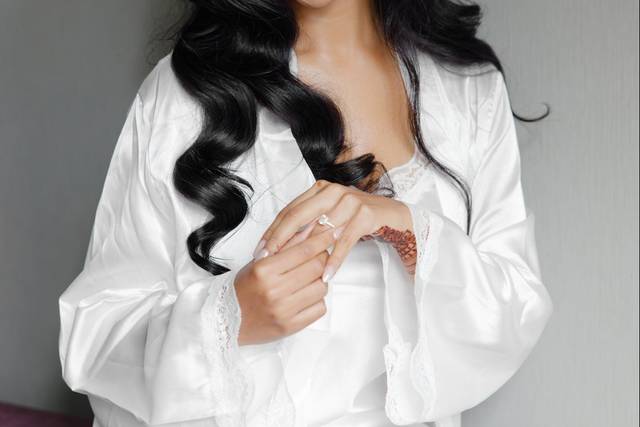 + 46

photos
Shona

Married on 11/17/2023

Talented and professional, Arfana is the best!!

Arfana made me the most beautiful bride!!! She made me feel like myself, which was very important for me. She listened to my likes and dislikes and what I wanted. At the same time, she offered her suggestions & thoughts based on her expertise in the makeup/hair industry! I had broken my nose a month before my wedding, ended up with a scar and black eye on my wedding day. But, Arfana covered it all up with her talent & without making me look cakey. She did a soft, natural, elevated glam for me, which was absolute perfection!!! I felt like the most beautiful person, which is what every bride should feel on their wedding day!
Arfana also did my hair! I can't be more happy with how my hair turned out. She was so patient and took her time to perfect both hair and makeup! She was professional, respectful, and timely. Thank you, Arfana for everything!!

Payal K.

Married on 10/28/2023

Natural, elevated look!

Arfana is an excellent make up artist. For each event, I felt like I looked like an elevated version of myself, which was very important to me. I did not want to be overdone, and Arfana took time to understand my vision and executed though we didnt have a trial. She is thorough, organized and professional!

Before the actual day, Arfana collected photos in different categories, took time to understand my preferences, my vision and my comfort. It was more than I expected.

At the actual event, she executed an incredible look for each of my events, and I received so many compliments on how beautiful I looked, and that I looked life myself (which doesn't always happen with wedding makeup)! She also took time to teach me about my ways I can enhance certain features in my day to day. I truly enjoyed my experience with Arfana, and would highly recommend her.

Rachna S.

Married on 07/09/2023

Arfana is the best HMUA around!

1000000/10 would recommend Arfana for any and all of your wedding event hair, makeup, and draping. She is incredibly clear, concise, and thorough.

Early in the process, she will take the time to thoroughly understand your vision, outfits, jewelry, draping, and whole look. She will make non-pushy recommendations on what she thinks would look great, but ultimately will always go with what you want. She will go through your skin care routine to make personalized adjustments if needed.

For the bridal hair and makeup trial, she works out all kinks so that the actual day of runs incredibly smoothly. She has a hilarious personality and will keep stress out of the situation and make sure you're laughing the entire time.

A month before my wedding, I got my blouses back from the designers I ordered them from, and three of them were much shorter than I expected. I emailed Arfana to update her. Instead of her just saying okay to my haphazard solutions to cover it up, she comes to my house a week later (an hour away from her) and carefully figured out a drape that would not only look great with each of the outfits, but addressed all issues that I had with the blouses.

Of note, the weather at my wedding was not ideal and was extremely humid with rain. Arfana did not let me give up on the look that we had planned all year just because of the weather. Instead, she came to my wedding venue hours after finishing my hair and makeup in the morning to fix me up before walking down the aisle.

Her team of hair and makeup artists for the bridal party did an incredible job on my family. My family had very specific requests that they handled with grace. Their looks looked amazing in person and in photos!

Arfana is the type of person who will sit and have lunch with your parents or do a hair and makeup look for you on her own wedding anniversary. I have now worked with Arfana for a bridal trial and 5 separate hair and makeup looks on top of that. Each look was different, natural, and exactly what I wanted.

Book her for your events. I would do it time and time again!

+ 2

photos

Are you interested?

Send a message

Radhika S.

Married on 06/17/2023

Arfana is the BEST!!!!

I am so glad that I booked Arfana as my hair and makeup artist for my wedding weekend. Working with her was an absolute DREAM! From our very first phone call, to our trial several months later, to her help and tips as we got closer to the wedding and finally during the actual weekend, she was so helpful, easy to work with, and truly a master at her art. I had an allergic reaction on my face 2 months before the wedding and Arfana was extremely kind and helpful during that stressful experience. I got so many compliments on all my looks at my wedding and she truly killed them all. Best part is she is so easy to talk to and has a truly calming presence that every bride needs during such a hectic time. I would 10/10 recommend her for any bride!!!!

Pranita

Married on 04/02/2023

Arfana hmua

Arfana is an extremely talented artist! I had such a seamless experience having her as my bridal hair and makeup artist. Not only did she execute on the exact vision I wanted for my events but she was always willing to work with me to ensure I was happy and feeling beautiful for my big day. Additionally, her team did an wonderful job with my bridesmaids and family. I would absolutely recommend her to any bride that is looking for a memorable experience :)

Nisha P.

Married on 11/05/2022

Arfana is the best!!

Arfana was honestly such a valuable addition to my wedding weekend. From our very first call, she assured me that she was 100% dedicated to making sure my vision was executed and I was going to be relaxed and comfortable. I couldn't stop talking and laughing during our trial because we found so much in common and it was a great way to connect before the big day. She gave me great tips for skin care leading up to the wedding and prepared me with a very detailed checklist (which my type A personality was very grateful for!!). She was super flexible and patient during the wedding even though I could barely communicate because I lost my voice! I trusted her expert opinion on a lot of my looks and she absolutely killed my nauvari saree drape. I couldn't have asked for a better bridal artist, thank you Arfana!!

+ 2

photos

Janet J.

Married on 10/01/2022

One of the best decisions I made for my wedding

As a bride who knew little to nothing about makeup and rarely wears it, Arfana was exactly the hair and makeup artist I needed for my wedding. From the very beginning, she was thorough and detailed, and she asked a lot of questions to get to know me and create a very personalized bridal look. I absolutely fell in love with her work after my trial and booked her the same day. It was the first time in my life that I was 100% satisfied after getting my hair and makeup done. Moreover, she is exactly the type of company you need if you're stressed out at 4am on your wedding day, running on little to no sleep, and have to sit in a makeup chair for 3-4 hours. Arfana foresaw that I would be burnt out and turned my bridal suite into a safe, quiet space for me to get away from the chaos outside, let me squeeze in a power nap while she did my hair, and kept me laughing throughout the process. My main request to Arfana with my bridal look was to make me look as much like myself as possible, and she truly delivered a classy, timeless look. I've never felt as beautiful as I did on my wedding day, and I felt completely comfortable in my own skin. She was heaven-sent, and I look forward to having her as a hair and makeup artist again in the future. Thank you for making my wedding day so special, Arfana!

Shivani P.

Married on 09/03/2022

Stop your MUA search and book Arfana!

Arfana made a person insecure about her looks feel confident, beautiful, and most importantly HERSELF! I had the most amazing working relationship with Arfana where she listened to what I wanted and the vibes I was going for and executed FLAWLESSLY!

From my first phone call with Arfana, I knew she was the one! Prior to talking to Arfana, I had reached out to over 65 hair and makeup artists for my wedding. Arfana's demeanor, professionalism, and passion for her art is truly amazing and inspirational. I booked her within days of talking to her!

Throughout the wedding planning process, Arfana was very responsive and always willing to jump on a call and talk. She gave me the feedback and honesty I needed throughout the process.

After my makeup trial, the confidence that I had in Arfana grew 10 fold. It grew so much that i just sent her a picture of my reception outfit and said - HAVE FUN I trust you.

During my wedding week in the midst of all the chaos, Arfana's presence was very calming. I was ready EARLY for each event. Also Arfana had a little touch up kit ready for me just in case I needed to reapply any of my makeup (its truly the little things like this that matter).

Not only was I OBSESSED with every hair/makeup look, but ALL of my guests from kids to parents loved each look. The amount of texts and calls I received after my wedding about my hair and makeup was unreal.

Arfana is not only an AMAZING artist but also an AMAZING person! I would recommend her to anyone and everyone that is looking for hair and makeup! Like the title says - Stop your MUA search and book Arfana!

Anavi S.

Married on 07/02/2022

The BEST artist

Arfana was absolutely amazing my entire wedding weekend! Not only did she make me feel beautiful for each event, but she was accommodating with schedules and most importantly made me feel at ease during the entire getting ready process. Her energy was so calming, which is something every bride needs during her big day!! I would recommend her to every bride to be!

Harnisha P.

Married on 06/05/2022

Best mua!

I can't describe into words how beautiful Arfana made me look for each of my event. My most favorite part about her is she made sure I was comfortable with each of my look and more than anything it represented the true me. She is absolutely the best and I can trust her with her perfection techniques. I would hire her over and over again for magical results. She is the best vendor I have worked with when it came to communications and professionalism. She was always on time for each event. I can honestly look back and reimagine how unique each look was that she created for me. From draping to hair to makeup everything you can possibly imagine to complete the look was done in detail with perfection. She is the best when it comes to her knowledge and skills. I feel so lucky have you Arfana on my big day and thank you very very much for making me look so beautiful!!!

Dharti S.

Married on 06/01/2022

10000/10 would recommend! Best Experience!

Working with Arfana is every Brides dream! She is super professional, detail orientated, organized and overall an amazing person! I met Arfana in person during our trial, and she was so welcoming. I was honest with her from the start that I knew nothing about makeup and had not really put a lot of thought into my looks. She was so helpful in guiding me on what would work and what might not, without making me feel intimidated. She provided 3 amazing looks for my wedding and was so patient with me. During my time in her chair, she made me feel like her attention was solely on me and made me feel important on my special day. I appreciated Arfana's guidance throughout my wedding journey and am so grateful to have met her and work with her. She is so talented when it comes to HMU but she also pays attention to your skin! Arfana pays attention to that level of details and gave me instructions for how to take care of my skin during my wedding and even after. It is because of her that I have a skin care routine and am working on getting my skin to the healthiest it has been and inspired me to dabble a little in makeup as well. I recommend Arfana to any bride because she is simply the best at what she does but she's also an amazing person! Any bride would be so lucky to work with her!!

Hemali R.

Married on 04/22/2022

4/22/22 wedding and reception

Arfana is an absolute dream to work with!!! Despite living out of state and being unable to do a makeup trial before booking, everything went flawlessly. Additionally, her team did my bridesmaids makeup and hair incredibly!! From the moment I booked her up until my wedding day- she has been extremely responsive and attentive. On top of all of that, she is a genuine, sweet and hardworking person. She truly wants to deliver the look that her bride envisions herself having. I can't thank her enough for how beautiful she made me feel and look at both my wedding and reception!! She is passionate about the art she creates and she will never deliver anything short of brilliance and excellence- guaranteed.

Shruthi R.

Married on 12/13/2021

The most amazing makeup artist!

I am not even exaggerating when I say she is the most amazing MUA out there!! Arfana was the first makeup artist I reached out to because I was so in love with her work that she posted on Instagram and on her website. I reached out to her and luckily she was available on my wedding date. Right from day one, her goal was to make me feel comfortable in my own skin. One week before the wedding, we discussed in detail what exactly I wanted my hair and makeup to look like on my wedding day. She gives you a checklist of things to do/items to bring for the makeup session. That makes everything so easy (given that the bride is so stressed at the last minute) and overall she is so energetic, loving and absolutely sweet to talk to. Arfana's SAREE DRAPING skills are absolutely mind blowing. Being a plus size bride, I have always had nightmares on how will I look on my wedding day wearing a heavy Kanchipuram saree. But the way she draped the saree on me, I was mind-blown. She pre-pleated both my muhurtham sarees one day before the event so it wasn't a last minute hassle. Between the wedding ceremony, Arfana did the second saree change in less than 15 minutes and that shows how experienced she is.
Overall, my Bridal Hair & Makeup was on point, I totally loved working with Arfana and I would highly recommend her to other brides. She is absolutely sweet and fun to talk to and I love how professional and organized she is.

Jaison S.

Married on 09/04/2021

Wedding Hair and Makeup

Arfana was attentive and committed to making my wedding and hair makeup dreams come true!!

Darshi P.

Married on 08/21/2021

Overjoyed and amazed

I am still in awe of Arfana's wonderful skills

Akash P.

Married on 08/07/2021

Absolute BEST!!!

I would HIGHLY recommend Arfana as your bridal artist. After talking to her over the phone that first time, I knew I wanted her to be a part of my big day! When I reached out to her, I was going through a process of switching out my venues and she was super understanding of everything which made the situation a lot less stressful for me. She is super talented and gives you honest advice about everything from your skincare to things to look out for when you're shopping for your dresses/jewelry to things to do and not to do before your wedding day/events and literally everything you can possibly imagine! You can tell after talking to her and working with her that she really loves her job and is very passionate about her work.
I didn't have any specific looks I wanted for my wedding events and all I told her was how I wanted to do something different than the usual and go out of my comfort zone from what I usually do at other weddings. She really delivered and KILLED all the looks for my 3 events. For someone who does not put on much makeup, she made sure I looked like my natural self but also made sure I had that bridal look. She made me feel absolutely AMAZING and I got so many compliments from everyone not only at the event but also from others who saw me on friends/families social media platforms. It was a pleasure working with her and I hope after reading this review, you feel the same way! THANK YOU ARFANA!!!

+ 3

photos

Rima C.

Married on 07/24/2021

AMAZING! Not enough words to express how much I appreciate Arfana!

Where should I start?! Arfana is such an amazing, experienced, and TALENTED artist! I am so lucky that I was able to book Arfana for my wedding and pre-wedding events! She worked with me diligently and accomplished the perfect look for each of my events! She took the time to understand what look I wanted for each event and was very detailed to make sure my vision came true! She understood my style right away and knew what I would like before I even knew what I wanted! For my wedding ceremony look, she took the time to perfect my lip color shade she made her own blends until she reached the color I was looking for! I thoroughly enjoyed being in Arfana's chair she made me feel so calm and peaceful prior to each event and was even a shoulder to cry on! I can't express enough how much I appreciate Arfana and her dedication as an artist! She truly made my experience so fun and not stressful at all! Not to mention she is an amazing human being so easy to talk to! I felt like I knew her for years! I'm eagerly waiting for another opportunity to jump into her chair again! :)

Arfana Jasar - Bridal Artist's reply:

Thank you for your kind words Rima! I had the best time ever working with you and creating your dream bridal makeover. You are a wonderful human being and I wish you and Ricki all the very best with everything! I will miss you!

Riddhi

Married on 07/17/2021

Hair, makeup, draping - Nothing short of perfection!

There are not enough positive words to describe my experience with Arfana. Arfana made my entire hair/makeup/draping process seamless. I appreciated how thorough she was in her emails as this helped TREMENDOUSLY for day of execution. I knew that she was one vendor I did not have to worry about because all the small kinks and details were ironed out prior to my wedding day. I had all of my ducks in a row and packed everything I needed/she requested a week before my wedding. And the most important part throughout this process was that she listened to each request and executed it to perfection! She is a professional that has truly mastered her craft. More importantly, she is really just such a genuine, kind and down to earth person - the qualities that matter most to me. I recommend her 100x over!

Sachi P.

Married on 06/13/2021

Must have MUA for brides

Working with Arfana for my Sangeet and Bridal look leaves me with just one thought - I got super duper lucky! I wanted to go for a natural look for both my events and Arfana did an amazing job listening to my vision and adding subtle touches that made me shine when I needed to. I really appreciated her professionalism and care during my time with her. She is an absolute gem of a human being making sure I was well hydrated and fed during long hours of our make up sessions. On the wedding day, there were couple of times when I had to go back to her to fix my bridal look of because of minor accidents (like losing my bindi during first-look, getting my hair string pulled after a hug) and she was there to help me out, calming me down and making sure I wasn't panicking about my look. I would highly recommend Arfana to any bride looking for an MUA as it is hard to find someone who has a natural talent for what they do and truly cares about making brides feel extra special for their big events! So if you are able to book her, you are in luck!

Arfana Jasar - Bridal Artist's reply:

Thank you for your kind words Sachi! I appreciate you!! I had a wonderful time working with you and I am glad you felt your most beautiful on your wedding day. It is what I deeply care about and I am grateful to have had the opportunity! Please stay in touch and I wish you all the best with everything!

Amita S.

Married on 10/18/2020

Would highly recommend Arfana!!

I had the pleasure of working with Arfana Jasar for my wedding this year. Although we could not do an in-person trial, Arfana took the time out to meet with me virtually to understand my personality and vision for my big day. We instantly hit it off with our love retro timeless looks of actors from old movies and were on the same wavelength from the get-go! I was struggling to find a bindhi like the one I wanted in stores and Arfana took the trouble to look for it on her own! Arfana was extremely punctual and professional. She got me ready in time. She pre-pleated my saree beforehand and draped my saree to perfection! Arfana also brought my dream hairstyle to reality! I cannot recommend Arfana enough to other South Indian brides who are looking for a very talented makeup and hair artist who can pleat a saree so beautifully! She was such a pleasure to work with and I will never forget her!

Jimika M.

Married on 10/11/2020

Micro Wedding Experience

Arfana was accommodating and made sure to take all preventative measures during this time for my wedding. She was not only responsive and a great help to all my pre-wedding questions but went the extra mile to help answer any of my other wedding concerns to what would complete my look. I would 100% refer Arfana to anyone as her work speaks volume and she did an impeccable job.

Ernest C.

Married on 09/26/2020

Professional, Compassionate, Talented Bridal Artist!!

Having Arfana as my hair, makeup, and draping stylist was one of the best decisions about my big day! She did an amazing job on all my bridal looks. I truly appreciate Arfana's meticulous attention to detail; not single pleat or hair curl was out of place and my winged liner was so sharp, it could kill. I have naturally curly hair and Arfana was not only okay with me wearing my hair curly, she was excited about it! She allowed me to feel like myself and that is something I will always cherish. Not to mention, she created the PERFECT curly bun for my ceremony. There were challenges on my wedding day and Arfana was able to adapt to meet them - 1. My hair required a little more TLC compared to our trial due to the rough hotel pillow cases which frizzed up curls; 2. My skin developed a (brief) rash due to an interaction of the jewelry and skin serum; 3. I was unsure whether to drape 2 dupattas or just 1, this was a game time decision and she was so understanding and assisted me in coming up with a plan so we could handle either. Everything ended up working out well and on time. Arfana remained calm the entire time.

Arfana also went above and beyond the duties of a traditional hair and makeup artist. Arfana was kind enough to advise me on jewelry for my ceremony outfit because I was conflicted. She also advised on skin care, providing a consultation months before the wedding so that a proper skin care routine could be established for healthy skin on the wedding day.

One of the things I appreciated most about Arfana was her professionalism. She responded to all emails within 24-48 hours. She is thorough in her planning and there was no confusion regarding my expectations from her and her expectations from me. I cannot emphasize how important this level of thoroughness and timeliness is when working with a vendor (we learned the hard way from some of our other vendors who did not share these characteristics!).

Throughout our interactions leading up to the wedding day, Arfana became a friend instead of just being my bridal stylist. I cherished having the opportunity to work with her and I would highly recommend her to anyone looking for a professional, compassionate, and talented bridal stylist!

Payal P.

Married on 07/25/2020

Arfana MUA review

Arfana is incredibly talented at what she does and if you are looking for someone that has the ability to make you feel beautiful she has a magic wand she is your artist. She knows how to work with each person's unique features and when she is done you will feel so much more confident in your skin. Her work doesn't change you as a person but emphasizing the beauty you already have. I have how natural, timeless and full coverage my look turned out. I love her gentle and empathic she was towards me. She took her time when she worked through my makeup, hair and draping but still managed to get me ready on time. my expectations were not just met but exceeded. I will never go to another makeup artist. I am so please with her service and I highly recommend her.

Thank you Arfana for making me feel so beautiful on my special day and thank you for being so patient with me.



Janki B.

Married on 06/13/2020

Great experience

I had a great experience working with Arfana for my engagement hair and make up this past summer. She was very accommodating with all the mishaps that occurred on the day of my event and she was extremely easy to talk to. It was very obvious that she was very experienced and knew what she was doing. She created the perfect look for me and I received compliments from just about everyone that night. I am very happy to have worked with Arfana for my special day and I would definitely recommend her to anyone looking for hair and make up services!

Anishka G.

Married on 06/10/2020

Book her stat

My only regret is not booking with Arfana sooner! Arfana is as professional as they come - she will make it a point to understand your skin better than you do. As someone who formerly worked in the service industry, I know Arfana is the gold standard in providing professional, meticulous and friendly service. I came to Arfana as an extremely stressed out bride on 2 occasions and in both she was successful in making me look and feel refreshed. It was really important to me to have an artist who can work with various skin tones besides my own (as my wedding party was multicultural). Arfana was able to do just that - she is truly skilled and knowledgeable in every aspect of her craft. She exceeded my expectations and went above the call of duty. I wish I had another event that necessitates professional hair and make-up so that I could book with Arfana again!!
Are you interested?
Send a message