21 Reviews
Recommended by 98% of couples
Quality of service

5 out of 5 rating

Average response time

5 out of 5 rating

Professionalism

5 out of 5 rating

Value

4.8 out of 5 rating

Flexibility

4.8 out of 5 rating
6 User photos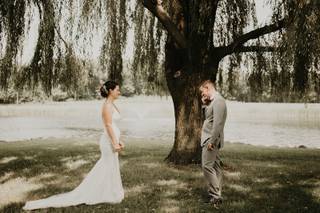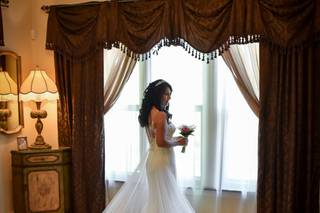 + 2

photos
Megan B.

Married on 08/07/2021

Found my perfect dress

It took me 5 salons to find my perfect dress, and I'm definitely glad I waited! We were actually about to leave and head to my 6th salon, and Vida went out on a limb and had me try this beautiful Enzoani gown on. I fell in love! She measured me, the dress showed up 6ish months later, and honestly, I could've gotten away with 0 alterations (my bridesmaid said to have the butt area tailored in a little bit to show it off). They also had the most perfect cathedral veil to match!

The only thing I found a little strange was no pictures when trying the dresses on, while other salons encourage it.

Antonio's Bridal's reply:

Megan, thank you for your kind and sweet words & thank you for letting us to be part of your wedding preparations.
Lots of love,
Vida

Isidra C.

Married on 06/05/2021

My wedding dress was perfect, my husband loves it. They help with everything, I felt very comfortable with Vida. Vida is 💕.

My wedding dress was perfect, my husband loves it. They help with everything, I felt very comfortable with Vida. Vida is 💕.

Kim

Married on 06/17/2017

Antonio's salon has an amazing selection of beautiful gowns. Vida offers individual appointments and gives each bride-to-be her utmost attention. My daughter, the bride, went in with a particular style of dress in mind. However, she wasn't thrilled with how that style looked when she tried them on. Vida pulled ONE dress that she thought would fit beautifully. Of course, this was THE dress and it was stunning! Vida went above and beyond with suggestions of undergarments, veil, accessories, etc. creating a whole look - which took the groom's breath away. I can't thank Vida enough for her expertise and care in making my daughter feel beautiful on one of the most important days of her life. Also, her seamstress is brilliant and did a superb job with alterations for that perfect fit. Look no further if you enjoy personalized service and exceptional quality.

Are you interested?

Send a message

Emily

Married on 06/10/2017

Purchasing my wedding gown from Antonio's was one of the best decisions we made while planning our wedding. I loved how I was the only client in the studio when I was first trying on dresses, and for most of my fittings. They are able to completely focus on you and your needs. Vida and her staff could not be more professional or sweet. Vida was unable to be at my second fitting because she was on vacation. She texted me that evening to ensure that everything went well, even though she was out of town! They have a great selection of dresses in a wide range of prices. I think what sets this shop apart is the ability to customize most of the dresses as they do all of their alterations and tailoring in house. Vida and her staff customized my dress so it was truly one of a kind and I received so many compliments throughout the night. I also purchased a veil, hair piece and earrings from the shop. If you are looking for a one of a kind wedding dress with service that is top notch look no further than Antonio's! Thank you Vida for making all of my wedding dress dreams come true.

Megan

Married on 10/29/2016

I cannot say enough good things about Antonio's Bridal. I had looked for my wedding dress in several dress shops in NYC where I live/got married and each time was disappointed in the results. I visited Vida's shop with my mother and sister on Christmas Eve while home for the holidays. I was immediately struck by how warm, intuitive and comprehensive Vida was. She listened to my concerns about other dresses and my likes/dislikes and showed me several dresses in line with my preferences. Then she pulled out a completely different dress than what I had described and asked me to humor her by trying it on-- lo and behold, the dress I never thought to ask for was the perfect dress. In the subsequent fittings, her incredible team (especially Van!) helped fit the bodice of the dress perfectly and help refit the lace so it laid perfectly. I could not have been happier with my dress or the experience. I highly, highly recommend them.
-Megan A

Andrea

Married on 09/24/2016

My mom and I went to every single dress store in Metro Detroit and even a few in Chicago and I knew that I wanted a customized, extremely detailed royal princess type gown. After going to Antonio's, I knew that this was the right place with the right people to make that happen. Vida is absolutely wonderful and Van is extraordinarily talented. I found the dress I was looking for but the dress was strapless (I wanted sleeves), and the style of the dress was long waisted I wanted a dress where the skirt sat right at the hip line. Vida told me they would customize the dress to the fit and style that I wanted and they truly, truly did to perfection. Vida worked with the designer to have the waistline raised and the train extended but the rest of the details like the top sheer beaded bodice/sleeves that were added was all done through working with Vida and Van. They brought it all to life and Van executed everything to perfection. They will bring your vision to life with every last intricate detail to fit your exact taste and dream vision. Talk about a custom "dream" dress shop. They were not happy unless I was happy with everything and perfected everything from beginning to end. My dress was the talk of the wedding. I honestly cannot express in words how grateful I am to Antonio's who made me feel so beautiful and special on my wedding day. I would tell every bride to go here for their wedding dress, they truly care and are so dedicated to making sure you are in the dress of your dreams whether you want anything custom added or not. Their quality of dresses and exceptional custom work is incredible. They created the dress of my dreams and I could never imagine going anywhere else!!

Cloryssa

Married on 08/27/2016

I cannot rave about this bridal shop enough!!! My bridal gown was perfection!!! Vita was so accommodating and was very helpful in showing me the things that she could do to make my dress perfect for me (which was pretty much anything if given enough time). These ladies are so talented! This bridal shop is like a hidden gem! Vita made my dress with a custom lace bodice that they designed themselves and added a beautiful tulle skirt! I felt and looked like a princess on my wedding day!! My cathedral veil with the matching lace that we added was everything! Added so much to pictures and made the whole gown look even more elegant! Vita knows what she is doing and will work with you! They strive to make their brides happy! Make an appointment today! You will not be disappointed!

Rachel

Married on 10/24/2015

Loved coming here. They are so professional and have a nice selection of dresses for being a smaller shop. Friendly staff and they love military weddings! :)

Stephanie

Married on 06/20/2015

Vida was amazing from the start! She ensured my dress was barely touched during all my fittings. She made it perfect! I could not have been happier with my dress and her and her staff made it fit beautifully! Vida was great with letting me come in a little later due to my work schedule for fittings. They were great!

Chelsea

Married on 05/30/2015

I had been to a few bridal shops prior to my appointment at Antonio's. The experiences there had been incredibly overwhelming because of the number of other brides in the boutique, not to mention the lack of attention I had on me due to how busy they were. Vida immediately greeted me by name at the door, and I was the only bride there for my entire appointment. She was absolutely amazing with the way she figures out exactly what you are looking for in a dress, she really knows what she is doing, with all attention on you as the bride. Every accessory you can dream of is in store as well, making it easy to visualize what is perfect with your dream dress. By the end of the appointment, my mom, future mother-in-law, and I were all crying with tears of joy when we found my dream dress. I highly recommend going to Antonio's first!

I purchased my wedding dress and veil from this store. They were both PERFECT! I never dreamed I would be able to afford such a gorgeous wedding dress. This store was full of so many beautiful dresses that I actually had a hard time choosing just one! The women in the store were a joy to work with. They made sure that the dress was perfect and that I was 100% satisfied with my purchase. I would highly recommend Antonio's Bridal to any bride! You won't be disappointed!

Amanda

Married on 06/07/2014

I had the most amazing experience getting my bridal gown at Antonio's bridal shop and would recommend the shop to any other bride in a heartbeat! They have the most beautiful selection of dresses for any bride and give you so much attention from the second you walk in the shop so that you truly feel special. I have heard horror stories from brides of alterations gone wrong, but the alterations done at Antonios are flawless. They took my dress from a v-neck with straps and made it into a sweetheart strapless dress, and you would have thought it was made that way! Seriously go here if you are looking for the best experience in getting a wedding gown!

Dominique

Married on 11/10/2013

Vida you were amazing!! Very attentive, wanted to please me and make sure everything was perfect for my day , they were very understanding when I had to reschedule.. Alteratiins were amazing , couldnt have asked for a better fit. Vida took care of my dress as it were her own!!

Kristina

Married on 10/12/2013

This was the first bridal shop I went to. Found my dress then and there and didn't look back. They included a belt free of charge which I actually didn't even wear but that was really nice of them. I suppose if you're spending all that money on a dress, including a belt doesn't matter but oh well! Place was clean and the lady working there was really nice. Also, after I purchased the dress, she gave me the phone number to a ball room dancing place in Birmingham for I think 2 free lessons? I'm not sure how many it was since we didn't use it (we don't live in MI), but if you live there, it's really nice to get those free lessons.

I had the most amazing experience at Antonio's Bridal. The owner, Vida, went above and beyond to help me find the dress of my dreams. The staff were super professional and friendly. They made me feel very comfortable. I went to some other shops nearby to look around, and the stuff were very stuck up and unwilling to help me out, so I was very happy with how I was treated at Antonio's Bridal. The work Vida and her staff did on my dress was amazing. Their dresses are also very high in quality but still very reasonable in prices. I was so happy with my purchase!

Courtney

Married on 11/10/2012

After going to 3 or 4 bridal salons I was worried that the wedding dress experience you see on TV is all made up, until I walked into Antonio's Bridal. The shop is small and personal and the attention you receive from the staff is the best I have ever seen. From trying on the dresses, to styling, to the fittings we had the best experience. Even my sister said that when its her time to get married the only bridal shop she will be going to is Antonio's. I found my perfect dress and had the best time doing it at this salon!

Fantastic experience! The store itself is beautiful inside and Vida and her assistant, Von, are wonderful. I went in with a certain silhouette in mind and, after trying on several dresses I had selected, I still hadn't found "the" dress yet. Vida pulled two I hadn't noticed and suggested I try them. Both were in line with the silhouette I liked, but each looked entirely unique and were very different overall styles (Enzoani Eva and Enzoani Gloria). Both were amazing! I ultimately chose the Eva and loved it. :) Alterations were incredible and the dress fit like it was made specifically for me. Any concerns I had, they addressed immediately. I had heard horror stories about bustles breaking at the reception...not mine! My dress looked so pretty in the back and my bustle held up perfectly through all the pictures downtown and dancing for hours. Thank you Vida and Von for the best (and most stress-free) experience I could have hoped for! :)

Cristina

Married on 07/08/2012

Vida was the best. I found the dress of my dreams there.

Katie

Married on 06/02/2012

I was so impressed with Antonio's Bridal and the owner Vida since the moment that I walked into her store. I initially did not have an appointment, and I called just before coming and she welcomed me with open arms. When I got there, I worked with the owner directly which was so refreshing. I brought her a picture, and she was immediately able to find the actual dress that I had a picture of. It was easy and stress-free which was so important. This was unlike some of the other wedding dress vendors that I had gone to prior to her beautiful store. She also was very good with my budget, and she even switched one of the belts for another belt without too much more additional cost to me (it was within the same designer).

My dress came in approximately 5 months after I ordered it, and about 6 months prior to the wedding. She kept it in the store until I was ready for my first fitting which was about 3 months prior to the wedding. All of my fittings were a great experience. She did a tremendous job. She is an excellent seamstress and she even designs her own wedding dresses. I was quite impressed with all of her work. My mom even had her dress altered there (even though she bought it at another store) and my mom was very impressed with the alterations as well. I ended up buying my veil, tiara, and necklace from the store. A week before the wedding, I tried on the necklace that I was going to wear (a gorgeous Swarovski necklace), and she gave me (as well as one of my bridesmaids - she thought it was too big too) her honest opinion that it was too big. I know that the jewelry usually needs to be ordered in advance, with just a week left before the wedding, she sold me a necklace (for a great price) right off the display so I didn't have to worry about the expedited shipping issues. She was very good and was always honest with me.

I also received a fantastic deal on my alterations which was so nice. Alterations, done well, can be quite pricey, but it was well worth the cost - and I was impressed that it didn't cost as much as other professional seamstresses. I added a sweetheart neckline which turned out beautifully, and the other alternations turned out beautiful too - I had quite a intricately draped dress. I know it took her days to alter, but I was so happy with the end result and all of the time she put into my dress.

I also loved the French bustle that she put on my dress, and it was super easy for the bridesmaids to do the day of the wedding. She does strings with numbers, and anyone can do it. There were a couple of times that I had to change the time of my appointment, and she was very flexible.

I am just thrilled with the service that I received, and I would not hesitate to recommend Vida and her store to my friends that are looking for a beautiful wedding gown. She even said that I could get the ribbon on my bridal belt changed so that I could wear it with another dress. I am definitely going to have that done so that I can wear it with another formal gown. Beautiful boutique! You should definitely stop in and see what you are missing! Gorgeous selection.

Brittnee

Married on 07/14/2018

Beautiful selection of dresses

Though Antonio's is a little pricey, they have a beautiful selection of dresses and put a lot of care into making each of the dresses. Vida was funny and great to work with. Showroom was very cute in downtown Birmingham.

Janelle

Married on 07/31/2010

My dress was BEAUTIFUL. The alterations were WONDERFUL.

BUT... I bought a designer dress and was told that I would receive a deal on my alterations...

alterations ended up being over $600!!!!! I asked other brides what they paid for alterations and it was around $150. I could have bought a second dress for that price!
Are you interested?
Send a message