Reviews
4.9 out of 5 rating
Quality of service

5 out of 5 rating

Average response time

4.8 out of 5 rating

Professionalism

5 out of 5 rating

Value

4.9 out of 5 rating

Flexibility

5 out of 5 rating
99%
Recommended by couples
Awards
7 User photos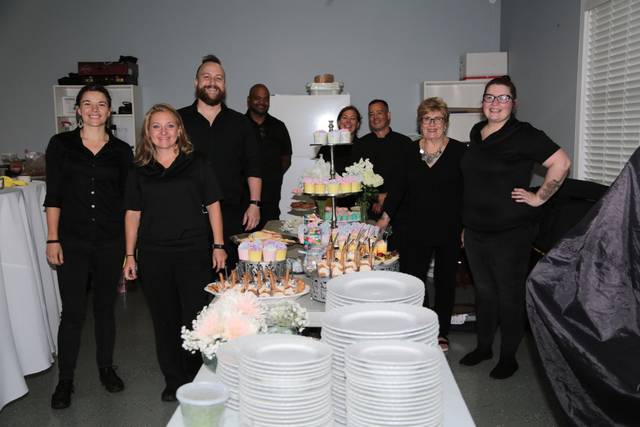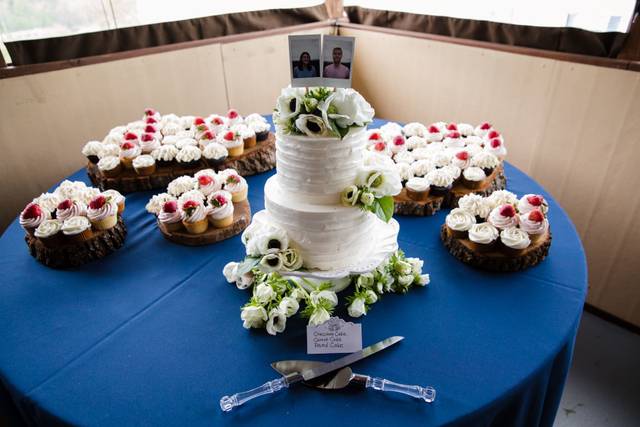 + 3

photos
Beverly S.

Married on 11/22/2021

Amazing brunch

Jan, Joseph, And Maureen all walked me through every step of my son and daughter-in-law's rehearsal brunch. Jan answered all my questions and made the whole process easy. Everyone was very professional and I can't say enough about the great service they provided. The food choices and servings were plentiful, everything was fresh and tasty, particularly the chicken. The pastry option was a great choice to add as well as a fresh salad with an amazing apple, pumpkin dressing. I would highly recommend Anne's for any function. Thank you Anne's staff for a successful brunch!

Sherry H.

Married on 06/29/2019

Mother of the bride

Anne and her staff catered two weddings for me within 14 months. I could not have pulled it off without her. She pays great attention to detail in making sure you get what you want.

Anne's Custom Catering's reply:

Thank you so much for allowing us to be a part of both weddings as well as the referrals you have sent. Also, Thank you so much for your review.


Alli A.

Married on 01/09/2019

Super responsive and amazing food!

Anne's catered food for a welcome drinks event at our wedding. All of the food was absolutely delectable and beautifully arranged. Pat was extremely great to work with- very reachable by phone and email, flexible, and super reliable. Our event was 1.5 hrs out of Asheville. Pat did a walk through of our venue, brought everything for setup, took down at the end of the night and took care of everything in between. He made the event so easy and carefree for us, which allowed us to enjoy the night with our guests. Anne's had great vegetarian, vegan, and gluten free options which accommodated the dietary restrictions of our guests. Everyone raved about the food, especially the bacon-wrapped dates! We definitely recommend hiring Anne's to cater your event! Thanks Pat and your team for everything!!

Are you interested?

Send a message

Jamie G.

Married on 09/29/2018

Best-ever wedding meal! And a dream to work with!

Anne brought an extraordinary level of vision, skill, flexibility, and creativity to our wedding menu, both for the reception and the next-day brunch. We had a pretty large and complex range of food dreams, restrictions, and preferences - with quite a few foodies on the guest list - and Anne executed it flawlessly from beginning to end! Weeks after our wedding, we are still (unsolicited!) hearing from friends and family about how spectacular the food was!

Patricia

Married on 09/29/2018

I was truly blessed to have chosen Anne Forman for our catering. We were planning a destination family wedding. Anne and Pat were both so responsive, accommodating and very helpful. I met with Pat prior to the event and I was in need of breakfast foods for the morning after the wedding. No problem! He brought the food with him and I heated it for breakfast.
The dinner meal was amazing. We are a "foodie" family and everyone is still talking about our meal. The food was amazing!!
If you are looking for a caterer for your wedding or any special event you definitely need to choose Anne's Custom Catering! You will not be disappointed.

Jessica

Married on 08/11/2018

We had Chef Anne and her team cater our family vacation. Our request was probably a bit unusual- we have young kids so going out to eat is not relaxing but we love good food. Pat did a great job understanding what we were looking for and surpassing our expectations. The food was phenomenal and there were lots of special extras. It was absolutely a highlight of our week! We hope to use this service again on our next trip to the area and would highly recommend.

Anthony

Married on 08/04/2018

Anne and Pat (the coordinator we did most of the lead up work with) were fantastic. We met almost 10 months before the wedding for a tasting, and we probably traded 75 emails and phone calls during that time refining the menu/discussing ideas. While the food, presentation and professionalism of the servers was outstanding, the best take away was the crew (especially Pat) going above and beyond to help us before during and after the wedding. We can't say enough good things about using them and I am happy I relied on the reviews I read a year ago when I chose Anne's Custom Catering!

Anne's Custom Catering's reply:

Thank you so much for your review. We are very grateful to be a part of your Big day.

Amanda

Married on 07/04/2018

Our company just had a Team building event and we utilized Anne's Custom Catering for our event. We were all very pleased with the Sandwiches and sides. The sandwiches were very eloquent and spread with homemade condiments. (not traditional mayonnaise, mustard, etc.) We have had many sandwiches for our company lunches and events with other catering companies, but we will most definitely be using Anne's for these events in the future. The sides were delicious and the homemade desserts were out of this world. Everything was delivered on time and they were very professional. Thank you Anne's Custom Catering for taking such good care of us and our appetites.

Anne's Custom Catering's reply:

Thank you for your kind review, as well as allowing us the opportunity to serve you.

Patty

Married on 05/05/2018

We couldn't have picked a better caterer! Anne and Pat were wonderful and very easy to work with. I, the mother of the bride, received many compliments on the food from the guests. I especially liked the appetizers. The bride and groom got exactly what they wanted with their meal,cake and cupcakes. My husband and I would definitely recommend Anne and her staff for your next big event!

Anne's Custom Catering's reply:

Beautiful Wedding,
Thank you so much for the review, we are very Grateful to be a part of it.


Terry

Married on 10/28/2017

Very easy to work with. Could reach them anytime via phone or text and their response time was very quick. The food was amazing! Kudos to Anne, Pat & Staff!

Anne's Custom Catering's reply:

Thank you for your kind review, as well as allowing us to serve you. Beautiful Wedding

Lauren

Married on 09/23/2017

Loved our experience with Ann's Custom Catering! Our food was beyond delicious and very reasonably priced! Ann's team was easy to work with, very accommodating, and provided top-notch service the day of our wedding. They even packed up the leftovers for us to take home (which we ate in the hotel the next day and froze the rest). Ann had a great selection of options to choose from and was very flexible to meet our needs. Her food is fresh, local and some she even grows in her own garden. We were very pleased with our experience using Anns Custom Catering and would recommend her team to anyone!

Kathryn

Married on 05/06/2017

Anne & her team are exceptional. They are talented, professional, and make DELICIOUS food! Anne & Glenn were wonderful during our whole process of wedding planning and created a menu from scratch just for us. They were professional, friendly, attentive, communicative, and just great overall. It was obvious that they enjoy what they do, and they create edible masterpieces. I cannot recommend them more emphatically!

Rachel

Married on 12/10/2016

You haven't had real southern food until you've had Anne's custom catering or had lunch/dinner at her storefront Moments. I can't tell you how many people commented about how delicious the food was at our wedding. She brings a new and innovative approach to typical southern food. From the biscuit bar with her homemade, delicious jams to the grits and mac and cheese bar - literally my mouth is watering just writing this review. In addition she brought kale salad shooters, soup shots, and the perfect size sandwiches to the bridal suite for the bridal party to have something prior to the wedding. If you are having ANY type of event in Asheville you need to have Anne cater your event.

Mia

Married on 11/05/2016

We wanted to have a different type of reception, they were very accommodating and worked with us on our budget. The food was great and Glen and Anne were awesome to work with.

Krista

Married on 08/08/2015

Exceptional! Our guests actually gushed over how delicious and beautiful the food was at our daughters wedding reception at Hidden River Events! Anne of Anne's Custom Catering and her team are artists when it comes to display and flavor. Our passed appetizers including a sweet potato ginger crystal biscuit with peach jalapeño jam were unusual and savory! Our cheese table offered all from a variety of decadent cheeses to figs and champagne grapes The main course consisted of local pasta with an array of colorful vegetables including purple carrots, haricot verts, orange peppers with lemon basil sauce along with a choice of lemon sautéed chicken or the most delicious smoked salmon we had ever tasted! (5 of our guests are making a trip to Anne's Custom Catering/Moments Cafe to buy smoked salmon on their next trip to Asheville later this month!) And then there were Anne's cakes!! Heavenly!! Our 4 tier floating cakes included - an almond cake with fresh strawberries folded in and buttercream icing, as well as a creme brûlée cake with bourbon cream icing and an Italian Cream cake!!! Truly, Anne can rival any Asheville restaurant.
Easy to work with, kind and gracious - we highly recommend Anne's Custom Catering in Swannanoa, NC.

Betsy

Married on 05/31/2014

Anne provided catering included in our Hidden River wedding package. We met with Anne and Grace (the planner from Hidden River) and had a delightful conversation about our reception dinner and cocktail hors d'oeuvres. Anne is very flexible and responsive, and the food was DELICIOUS. We love local food, herbs, and edible flowers, and it came through in her menu for us. Loved every bite, and our guests couldn't stop raving about the food.

Sonya

Married on 04/21/2012

We couldn't have been more pleased - everything looked great, tasted great and it was all cooked to perfection and served graciously.

Valerie

Married on 07/04/2017

Look no further than Courage & Co!

We were so pleased to have Anne's catering on several family occasions. Everything went beautifully from beginning to end. Pat made our experience so effortless with many helpful recommendations!

Anne's Custom Catering's reply:

Thank you so much for your kind review.
We look forward to serving you and your family anytime.

Anne did an amazing job catering our wedding. Her prices are very reasonable and her food is outstanding! All of the feedback we received from guests was positive when it came to food, which was very important to us. One of the great things about Anne is her willingness to try new things. In addition to the food and cake, we requested cake pops to use in a memorial table. She far exceeded our expectations by creating three different flavors that were beyond exceptional. Even though these aren't on her standard menu (at least, they weren't at the time of our wedding) I highly recommend requesting these. She also did a fantastic job with her cake decorations. We sent her a couple pictures of styles we liked and she combined two styles into an elegant and charming cake. I highly recommend choosing Anne for your catering needs.

Robert L.

Married on 06/08/2019

Top Tier Food & Complete, Attentive Service

I would like to graciously thank all the good folks at Anne's Custom Catering. Everyone involved were kind, attentive, and professional. The celebration lasted about 6+ hours, the food was exceptional, hot, and very unique. Ms. Anne, created some off-menu items to suit the request of my Bride. That's right, a One-Off meal just for her. And the selections for the guests, where 5 star. (Actually, it was the tastiest food I've had in quite a while, and the most tender choice cuts.) This was no regular buffet, wedding catering company. It seems Ms Anne has the missing ingredient of many other services.... CARE mixed with Attention to Detail. I knew, as soon as I spoke with Mr. Chamberlain, this was the right choice. Mr. Chamberlain was the director of services at my event. His creativity, patience, "adjustability" and friendship gained Anne's Custom Catering the TRUST with which I felt like I could "leave the details to them" - not only a real friendship that will last beyond just this past event... but, any in the future. Mr. Chamberlains three visits to our home (2+ hours drive, each way) made the difference; this was truly the "Custom" in Anne's Custom Catering. Mr. Chamberlain and his crew of many waiters served us with class and elegance. I had many compliments and questions of about the excellent service we received that grand day. I could tell from the first phone call that they had it down to a science... a nice, elegant, engaging, science.

To all the WeddingWire members... I give this catering company, Anne's Custom Catering my 'all in all' trust, approval, and recommendations for YOUR OWN event.

- Sincerely,

R & A Long.

Brittany

Married on 06/13/2015

Anne was amazing, and refreshing! The first caterer we met with was not a fan of our desire to have heavy appetizers in lieu of a traditional buffet. Anne, by contrast, was excited to get creative with our menu. We went with a mix of comfort and seasonal fare. Anne created a baked mac 'n cheese, bbq and bacon cheeseburger sliders, and a caprese salad to die for - and with ingredients fresh from her garden! And our cake, WOW. It was actually good and not super dry and bland like other cakes I've had. It was moist, and the strawberry favor popped! The rehearsal dinner of large rustic-tarts (like pizza) and salad was perfect for our laid back, outdoor venue. So many of our guests told us the food was the best they had ever had. I highly, highly recommend Anne.

Rebecca

Married on 04/18/2015

Anne's food was absolutely delicious. Many of our guests raved about the food at our wedding, and I know that everyone got what they needed. Anne did our buffet dinner as well as appetizers and our cake. We also ordered a platter of breakfast pastries for our Sunday morning farewell breakfast Everything was perfect. Anne offers a wide menu of options and also did some custom dishes by our request.
Our cake was both beautiful and delicious - decorated tastefully and just the way I wanted it to be.
Thank you for everything!

Megan

Married on 12/03/2016

My husband and I hired Anne's Custom Catering to cater our wedding and farewell brunch at Hidden River Events in Swannanoa, NC. She helped plan the menu with us leading up to our big day and made seasonal adjustments and local fresh ingredients which was definitely what we were going for. She was occasionally tough to catch via email for planning but that was the only negative in my book. The food was simply amazing. Everything we chose was delicious from start to finish with extra little touches of surprise flavors that led to a quite sophisticated, excellent meal. Our wedding cake was stunning and tasted delicious! I can't WAIT to thaw and eat our anniversary tier--it was that good! We had many compliments on the food and would definitely choose her again if we could do it again! (The cost I listed was all in for the catering of reception, cake, and brunch) Thanks Anne! :)

Emilie

Married on 05/23/2015

Anne and her a team did a wonderful job at our wedding. They arrived a little late to set up (which made me very nervous), but many guests raved about how good the food was. They provided appetizers, a buffet dinner and cake. They did a great job efficiently serving all guests at dinner, and cleaned up without us even noticing. They were very flexible to our needs and met with us multiple times to adjust the menu. I know both Anne and her husband Joseph are a hard working duo and have the bride & groom's best interests in mind.
Are you interested?
Send a message