76 Reviews
Recommended by 95% of couples
Quality of service

4.8 out of 5 rating

Average response time

4.7 out of 5 rating

Professionalism

4.7 out of 5 rating

Value

4.8 out of 5 rating

Flexibility

4.7 out of 5 rating
9 User photos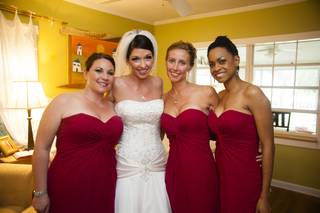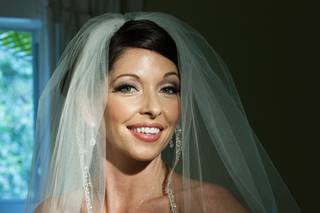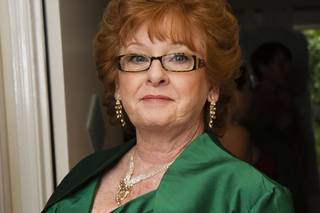 + 5

photos
Ana R.

Married on 11/17/2019

Super helpful

They were very nice and helpful. They have so many dresses and will find you the right dress based on your budget.

Shelly

Married on 11/09/2019

Go here first...breathe..see Rhonda. I was lost and had no idea what kind of dress to wear. I am half the size I use to be and honestly well... not sure what would look good on me. So I pit it in Rhondas hands. She pulled dresses from almost every rack - including clearance, my final 2 choices came down to 1 from clearance and 1 not....I ended up going with not- and it was a mermaid type dress which blows my mind.

Amanda S.

Married on 05/26/2019

An unexpected win!

While on a working vacation with our daughter in South Florida, we had a free day that wasn't exactly beach weather so we decided to find a bridal store and begin the process of finding a wedding dress for her. She had given it very little thought prior to this so we knew we were basically starting from scratch. We were warmly greeted by Rhonda when we entered the store and it was fun and laid back for the next two hours. We ended up purchasing a dress that she can't quit talking about and we stayed right on budget. Rhonda was superb and our entire experience was very special, ending with the ringing of the bell and a moscato toast.

Are you interested?

Send a message

Brittney

Married on 03/23/2019

OMG Where do I start... I drove all the way from Lakeland Florida to Pompano Florida which is a 3 hour drive to find my wedding dress. When My family and I arrived, we were greeted by the Lovely David ! David is Ah-May-Zing! He's very professional, Very Caring , & A Ball Of Fun Fun Fun. Me & My Girls Laughed From Beginning To End. I needed someone to give me honest opinions & advice and that's just what I received. David is a wedding coordinator so he pretty much knew what and what not would work for me. The shop is a great size filled with different styles & sizes . Very clean and organized. Rhonda was wonderful as well . She's a very beautiful friendly lady . If you are looking for the absolute best dresses & service, this is the place for you. I would change NOTHING about experience with Angelus Bridal!

Marylou

Married on 01/19/2019

Love love love this place!!! Super friendly, knowledgeable, and super helpful. She asked me what I liked what I didn't like and made sure she kept me in my price range. The consultant put me in a dress I never would have picked and I loved it. So always keep an open mind it never hurts to just try it on. She made me feel like family and not just a sale. Thanks to her I found my dress and my veil!!!! I would definitely recommend this shop.

Kitsia

Married on 12/01/2018

The service and kindness I received from Rhonda and Hal Alexander was incredible. They take their time to understand and really listen to what you are looking for. Hal Alexander's knowledge of fabrics and fashion was super valuable. If you think you are too overwhelmed and worried to the point of stressing out - like I was, I highly recommend you look for Rhonda and Hal Alexander they are amazing people!

Kercy

Married on 06/10/2018

Rhônda was amazing!!! Very accommodating!! Not at all pushy like other people and she is very straight forward!!

Nicole

Married on 06/09/2018

Rhonda was amazing! She made me feel beautiful in every dress I tried on! She was very knowledgeable. I had been to several places and tried on multiple dresses and Rhonda helped me find the one!

Martina

Married on 10/07/2017

Rhonda is my adopted mother ! Love her to pieces . Extremely the best customer service provided since I stepped foot into the store !

Jacqueline

Married on 03/11/2017

Rhonda is seriously the best advice to give....look her up at this store she instinctively knows what you will look best in. And she is sooooo much fun.....head and shoulders above any other store experience.

Iris

Married on 03/10/2017

I had a great experience at Angelus. They worked with my schedule. Every appointment was ALL about me! I love the size of the shop as well and it is also very organized and does't have an overwhelming amount of gowns. CAN'T wait to wear my dress soon!!!

Brittany

Married on 02/03/2017

I cannot say enough great things about this place. Rhonda is BEYOND helpful. She helped me find a dress ONE day before I was getting married, literally 24 hours before I was getting married and made sure she could accommodate everything I was looking for. She was knowledgeable, compassionate, and made me VERY excited about what I was doing. I wish I could give her more than 5 stars in all of those categories, she makes you feel like you are the only person in the entire place. She made the entire experience one to never forget. It is hard to find the exceptional customer service that Rhonda provided to us on Thursday February 2, 2017. Incredible experience, she made my special day everything I could have hoped for in LESS than 24 hours. How amazing. Thanks again Rhonda!!!

Harley

Married on 02/01/2017

This store is amazing!!! Rhonda and her team were extremely helpful and took their time to help me as I tried on different dresses. This was the third bridal shop I visited and I was extremely impressed with the level of service and with the beauty of these dresses.

Shari

Married on 09/24/2016

THEY ARE AMAZING. I needed a larger dress and they had an incredible selection. I felt comfortable and beautiful and was able to get a dress on the first visit. It was exactly what I was looking for.

Hildy

Married on 03/12/2016

I didn't know what to expect wedding dress shopping , and it turned out to be quite a pleasant experience. Stephanie was great and I ended up falling in love, and buying the 1st dress I tried on! So, I said "Yes to the Dress", and quite happy I did.

I had anxiety at the thought of dress shopping. My sister called around to a few dress places to find out who carried a certain designer I was looking for. She spoke to Rhonda and told me that we have to make this location our 1st stop as Rhonda was amazing and helpful over the phone. She was totally right!! I made an appointment and Stephanie and Rhonda were the ones who helped me. I picked out about 10 dresses and Rhonda picked out 2 dresses and told me she wanted me to try them on b/c they would look great on my body type. At 1st look, it seemed like nothing I would want. However, I was very open minded knowing they are the professionals and I tried both of them on and one ended up with my perfect dress! Actually the 2 Rhonda picked out for me were my top 2 choices. Rhonda was there every step of the way and was beyond helpful! My dress was delayed a bit and she remained in communication with me and put me at ease. Rhonda went above and beyond during this process and made my experience amazing. I even had her come to the hotel to help put me in my dress as it was a corset and she was able to tug, nip and push things around to make me look amazing!

Marilyn

Married on 09/18/2015

If you need a dress this is the place. Rhonda is magnificent.

Keith

Married on 09/18/2015

Rhonda, she is the person, lovely and ready to help. Beautiful dresses.

Angelus Bridal was AMAZING! Rhonda was attentive to all of my needs and kept great communication.

Jessica

Married on 05/30/2015

This is my second time using Angelus Bridal. The first was when I needed a bridesmaids dress for my friend's wedding 3 years ago. I went in a little late and they not only accomodated me, but rush shipped my dress and had it altered perfectly. I was so pleased with the service, I went in for my own wedding dress in February of last year and ended up purchasing the 3rd one I tried on. They listened to what I wanted and helped me pick the perfect dress. They measured me so well that my dress needed no alteration. It fit absolutely perfectly first fitting! Since my mom lives out of state and was visiting me at the time, I wanted to have that experience of dress shopping with my mom and they provided that so well. My wedding on May 30th was flawless and everyone loved my dress!

Jenna

Married on 01/25/2015

All the ladies at Angelus were very helpful when I was looking for a dress. I brought my mom, grandma and friend and they were accommodating to all of us! I found the perfect dress and they got it in so fast! We then used Reina for alterations in the back and she was excellent and did it all in such a timely manner as well! I would recommend!

Paige

Married on 01/11/2015

I had been to a couple different shops and tried on COUNTLESS a dresses prior to stopping in at angelus. My first appointment there, first dress I tried on- it was a done deal. My gown was actually on the clearance rack and it was like it was made for me! Can't beat the price and couldn't be happier with the staff!

Christina

Married on 08/09/2014

Whatever you do, GO SEE RHONDA! She is absolutely stellar at what she does and just goes above and beyond. I felt like we were friends from the beginning. After trying on dress after dress at a different place, I felt like they were not listening.
Rhonda took me in, asked me to look and a budget... Found what I wanted on the third dress and the deals are AMAZING!!! Do not pass this place up! Everyone is helpful and super sweet.

Ticondria ".

Married on 07/26/2014

All I can say is Rhonda, Rhonda, Rhonda!!!! She was phenomenal and she truly has a gift. We are "sisters from another mister". LOL. Rhonda and I connected from the moment I shook her hand. With this being my 4th location hunting for a dress, Rhonda made every bit of doubt and disappointment I had vanish instantly!!!! She knows her stuff! Pull here, push there, tuck this, lift that, wear this, switch that! She was AMAZING!!!! Her loving, warm, and down to earth personality, along with her extensive knowledge for her craft, helped me to feel comfortable, feminine/soft, and sexy for my big day. She poured her all into making my experience successful. And CoCo was awesome and inviting as well! This is the place to be when you are buying a wedding gown!!! I know now that your undergarments make all the difference too. Dont leave there without purchasing one of CoCo's "Flattering Me" corsets!!! You will regret it. Thank you to the Angelus Bridal & Formal family for making me finally feel like a Bride-to-Be!!! I will remember it always. Xoxoxo
-Tee-

Ruth

Married on 05/03/2014

This store is the best. They have wonderful service and best of all they have incredible dresses. I regret not coming here from the beginning. I found my dream dress here!!!!
Are you interested?
Send a message