Reviews
5.0 out of 5 rating
Quality of service

5 out of 5 rating

Average response time

5 out of 5 rating

Professionalism

5 out of 5 rating

Value

5 out of 5 rating

Flexibility

5 out of 5 rating
100%
Recommended by couples
12 User photos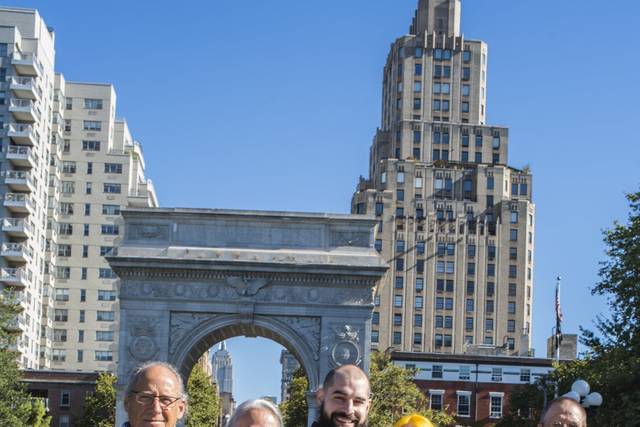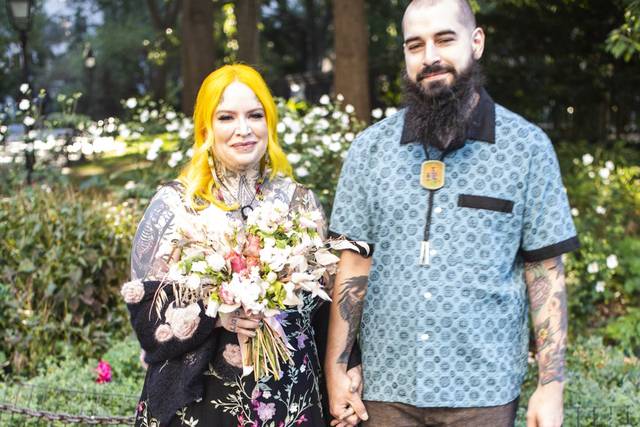 + 8

photos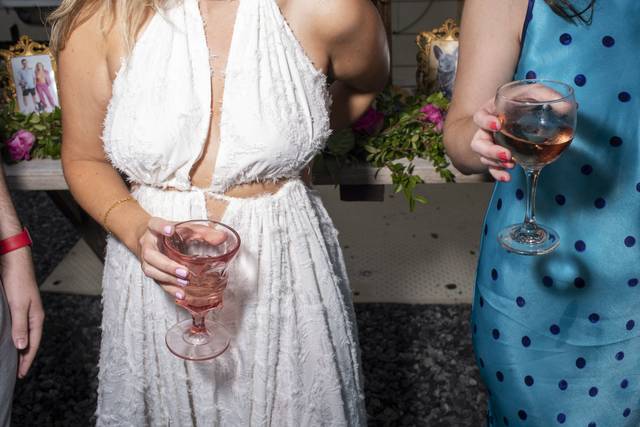 Sara T.

Sent on 10/02/2021

Absolutely magical

Working with Angela was nothing short of magical, from start to finish. If you want someone to help you with absolutely everything, and I mean everything, Angela is your person. From finding the perfect beauty team, to styling tips, to just being an awesome person who put me at complete ease prior to the shoot. I cannot recommend Angela enough. The way Angela was able to navigate busy Washington Square Park on a Saturday morning and still manage to make me feel like the most beautiful and special bride there ever was, was beyond impressive. Managing 6 people, and being able to create such beautiful images. The whole experience was and will always be so precious to me. If you want a truly memorable experience with an amazing human who obviously cares about what they do, and has an amazing team working with them, I highly recommend Angela. You will not regret it.

Angela Cappetta's reply:

Dear Sara,
Shooting you and your fam was the most fun a shooter could have in the insanity of Washington Square Park on a Saturday morning. What a fun time it was! Your wedding session was my utmost pleasure. Oh, and meeting Lucy the dog was the best. Thanks for bringing her. Hope to see you again soon!

Warmly,
Angela

Sarah T.

Sent on 09/19/2021

Beautiful and Unique

If you're looking for timeless wedding photography that will stand out from the rest, look no further! We are so happy with the photos that Angela took. Her unique style of candid photography matched our funky little wedding perfectly. Each photo was so special and one-of-a-kind, so we weren't overwhelmed with thousands of the same staged photos. I swear each photo is perfect! We couldn't be more pleased with our choice of photographer.

Angela Cappetta's reply:

Sarah!
Wow you are too kind. You and Mike were wonderful to work with. We had the best time working with you. I'm so happy you love your portfolio, it's been my truest honor.

Much Love!
Angela and Team

Angela is Magical!

Angela is magical! I have never felt more at ease being photographed. From my wedding dress fittings to the day of, beginning to end Angela was marvelous to work with. I felt comfortable - so did my wedding guests! My bridal party also felt special. The process was amazing. I am absolutely in love with the photos and in awe with how natural they are sprinkled with honestly and humor. Looking at my photos made me relive my wedding day in a way that far outweighs any video recording could achieve. The expertise, care and attention to detail begins immediately. My wedding planning occurred during the height of COVID-19 restrictions. I could only bring one other person to my wedding dress fittings and will never regret my decision asking Angela if she could photograph the sessions. Everyone at the boutique asked me if she was family thats how personal and generous her presence is . When I saw the photos from my first fitting and shared them with my mom I knew I made the right choice. The narrative from the fitting is priceless and made me feel like I wasn't getting married during COVID-19. The wedding dress fitting and getting dressed with my bridesmaids was my absolute favorite part - it felt like Angela was one of us and she totally was team bride! I could go on and on however the photos speak volumes. I do highly recommend her and am thrilled with the beauty I can look at to remind me of my special day. Thank you so very much!!

+ 3

photos

Angela Cappetta's reply:

Jen,
My team and I thank you from the bottom of our hearts for such an incredible experience shooting your fittings at Pronovias and your wedding at the New York Botanical Garden. From the very start you and Tyler were warm, kind and too sweet for words. Our company continues to grow because of reviews from wonderful clients like you. Thank you again.

Sincerely,
Angela Cappetta
Cappetta|MEDIA

Are you interested?

Send a message

Y Kumar

Sent on 11/30/2019

Amazing experience!

We had an amazing experience using Angela to capture our engagement and the proposal! She becomes part of the family and does an incredible job getting the best shots! I would highly recommend her as someone who is extremely meticulous, thorough, and an all round great person to work with!!

PS - we got the pictures back within two days!

Yiorgos

Sent on 01/14/2020

A treat to be photographed by Angela Cappetta

It was a treat to have the wonderfully talented Angela Cappetta photograph our wedding in Brooklyn. Having observed her photography for years, I knew that she would make vivid and engaging photographs that upended the cliches of wedding photography. What I didn't know was how easy she'd be to work with, thoughtful, and hard-working.

Cameron

Sent on 02/26/2017

I would most definitely recommend Angela! She was able to help my vision come to life and documented my proposal perfectly!

Chris C.

Sent on 03/13/2019

Angela is the BEST!

Angela shot some beautiful pictures for our wedding last year, her eye for detail is matched by her great personality which really helped to get the best pictures for us. All family members were very pleased with the posed for shots as well as the candids (which turned out great). Our pictures were even featured in NY wedding magazine which speaks volumes of the great work from Angela and her team! Thanks again for helping to make it such a great day! Chris & Carlos

User2133940

Sent on 05/15/2015

Really enjoyed working with Angela.

She took the job on very short notice, kept in touch constantly, and worked with my idea despite it being somewhat unique.

The pictures were great. High quality and excellent value given the cost.

I would certainly recommend Angela to friends and would use her services again if there was a need.

Angela Cappetta's reply:

Thank you for your kind words and for letting me be an integral part of such a special moment. So happy to help you by photographing you popping the question in Central Park on bended knee on a picture perfect day. Just wonderful.

Miriam

Sent on 11/14/2015

I found this fabulous lady last minute (2 weeks before the event) and she made it happen. As a nonprofit, my group works all on volunteer time and I was frazzled and overwhelmed and she blissfully, professionally, was frank about her end of things, up front, fast and responsive, from start to finish, and I never had to worry she'd do her job well or right or have to chase her down. She was EASIER to work with than our major NYC Times Square venue and its "professional" event staff -- and she saved me one less headache for one item on my punch list to throw a big event that everyone loved . She took some great shots! I truly appreciate her. She made it so easy to work with her and THAT my friends is the secret to a true professional!

Well done and THANK YOU SO MUCH!

User2040389

Sent on 02/15/2015

Angela is a gem. Not only does she have talent in her craft, but she's extremely personable and so much fun! I know quite a few photographers since I have worked in publishing and events for years - I've worked with dozens, in fact. It can be hard to find photographers who are both skilled at their work and also a joy to be around. Angela is both. She also knows how to get the best work out of her subjects. She takes charge and makes sure everyone is cooperating so that her client gets the best possible pictures. Angela also has an extremely unique ability to capture emotion in a millisecond. Looking at her photos from an evening, be it a wedding or any other kind of event, is like reading the story of the night. You understand the emotions from beginning to end, get all the juicy details about what happened, see all the fun and feel all warm and fuzzy inside while recalling the night's festivities. I am so happy to have her as a trusted contact and a friend. Her price range is not as low as some photographers I'd contacted but as they say, you get what you pay for and you do NOT want to skimp on a photographer - especially for a wedding. To make it even better, the album she created for us is seriously magic. It's the most beautiful wedding album ever, and not just because it's mine ;)

Lindsay

Sent on 01/18/2015

Angela was an angel!! She was truly one of the biggest players in our wedding process. She was much more than a photographer! She helped plan and schedule, acting as a wedding planner throughout our entire process and big day. The photos that Angela and her assistant, Anton, took were exceptional. They didn't miss a moment!! My husband and I really developed a wonderful relationship with her. We will definitely call on Angela for any big event in our future!!

Angela shot our wedding pics and she's awesome!
We're an Israeli couple who've arrived to NYC for a short vacation and to get married. We have some family in NJ, who told us Angela IS A MUST for the occasion. We had some poor experiences with several photographers before, but we've heard that Angela is pretty amazing.
Well, she is! Angela met us on the day of the wedding, but somehow it seemed like we'd known each other for years. Her sense of humor overcame our shyness and so we had no problems opening up and act naturally even though there were dozens of strangers around us. Angela knew exactly what to do, where she wants us to stand and how, in order for us to get the best pics for our special day.
After the wedding we went celebrating, and Angela recommended a near-by restaurant which had not only superb food, but also superb décor. It was perfect – we enjoyed a delicious meal and had beautiful backgrounds for pics.
Angela is really wonderful, talented, professional, amazing but also funny and easy going! We've had a wonderful day, and we have beautiful pics to proof it!
Lior & Ran


Angela delivered everything we wanted and more. Her talent and skill is obvious by looking at her portfolio. What's not immediately clear yet equally important is the level of professionalism and passion she brings to the project. She took time to get to know us first, which helped make her approach more personal. During the wedding and party afterward, she was able to get outstanding shots without disrupting the flow of the evening. The most pleasant surprise was her charm and personality. Our guests LOVED her, as do we. The photos are fantastic...and so is she. Can't say enough good things about her. Feel free to contact me for more details if needed: jwleenyc@mac.com (JEFF LEE)

No hesitation giving Angela a perfect score! She was a joy to work with--we loved her, our guests loved her (and her second shooter Fernando)--and we couldn't have been happier with the results. Just the style we wanted to capture unguarded moments among the guests and the grandeur of our venue.

Angela is so so awesome! She was so fun to work with and was so attentive to what we wanted on our wedding day. She was like the missing link to our wedding party. It was very intimate and our parents were meeting for the first time. She really helped lighten up the mood! She's really smart and super funny too! The photos were really great - a lot of them made me tear. They were not fancy staged photos. It's not what we wanted. We wanted to capture the moment in it's innocence and the pictures do just that. They are very tender and touching. If you are looking for photos that capture a moment in a journalistic way and are very real, Angela is perfect for you. We can't wait to see our photos framed!

User1088384

Sent on 02/10/2013

I was looking for a photographer to capture a friends 50th birthday dinner at Bouley in New York City in January 2013. After a bit of research, Angela came up as my first choice.

Her documentary style of photography really appealed to me and the results were amazing.

Through the briefing and booking process Angela responded thoughtfully, professionally and warmly. Angela understood what we required, and certainly delivered on it that night.

Angela participated in the event in a very subtle manner, at times documenting the action unobtrusively. At time stopping us so she could capture the perfect shot. In addition Angela capture a series of details of the restaurant or the hotel we had pre-dinner drinks at (Greenwich Hotel), so that the final image collection can tell the story of the night.

I unreservedly recommend her if you are looking for unusual photographs with artistic integrity that are on brief.

Angela Cappetta's reply:

Thank you Jarther! I'll always clear my calender for you. Here is a link to your album, so you can visit it anytime. So glad to have been part of your gang's whirlwind trip around the globe.
http://angelacappetta.blogspot.com/2013/01/our-gang-is-tight.html

Kendra

Sent on 01/19/2013

Easy and enjoyable to work with Angela. Would recommend to anyone. Beautiful photography!

Angela was very professional, made us feel completely at ease and was a pleasure to have around on our 'special day.' Her photography style allows her to capture the event as it happens rather than lots of staged shots (although you can have this if you like). This gives you a natural sequence of shots and we have plenty that we have shared with family and friends who were really impressed also. Angela is quick and precise when responding to e-mails. I felt that we could completely rely on her professionalism which was priceless when you have so many other things to think about. I would highly recommend her and wish her continued success in all areas of her work.

Angélique

Sent on 12/27/2012

Angela Cappetta was fantastic on our wedding day! Our pictures are unique, beautiful, and most importantly, alive. I strongly recommend following her suggestions for shots, as she is truly an artist. If you want something more than the typical "Point-And-Shoot" look to your wedding pictures, go with Angela.

User1050432

Sent on 12/21/2012

Angela shot our city hall elopement and we couldn't be happier. She was there to greet us when we arrived and stayed late to make sure we got the photos we wanted. My partner and I have been together for a long time and we decided to get married last minute, we disnt want to make a fuss, but we wanted it to be special, and Angela was one of the reasons it was so special. If that wasn't enough, she even had the photos ready for us by the end if the week. We're having a hard time narrowing down a few for the album, there are simply no bad pictures. We love what Angela gave us, she is a true talent.

Angela was that perfect combination of professional and accommodating. She cheerfully worked with whatever last minute changes came her way. She made us and everything about our wedding feel beautiful. She didn't leave a single person out of the photos. And, most importantly, the results are fabulous. Spontaneous and artful all at once.

Helene

Sent on 12/07/2011

I cannot begin to say how glad I am that I chose Angela Cappetta to shoot my wedding. From the start, Angela was warm, enthusiastic, professional, friendly, and really listened to us when we met for our initial consultation. She worked with us and made us feel confident that we'd be in good hands on the day of the wedding. From the time we first signed our contract (about a year before the wedding) to the wedding day, Angela stayed in contact with me, which was reassuring and made me feel very special (particularly as many of the wedding industry vendors I've come across are not so responsive or will give that personal touch). On the wedding day, Angela and her wonderful assistant Allison arrived early and, for the rest of the night, were working their butts off to get the best shots and to ensure that our itinerary was covered. But best of all, Angela and Allison were just lovely to be around. It sincerely felt like friends were doing our photos, only amazingly talented artistic friends! Angela was also super prompt in getting our photos back to us, and we are IN LOVE with the product.

I had a pretty streamlined, no-frills wedding -- that's our style and that's what we wanted. We had few splurges and the one I do not regret in the least was hiring Angela. I'd recommend her, enthusiastically and without reservation, to anyone who wants a bad a$!? photographer who will capture, in photodocumentary style, those moments that will slip by you on your wedding day. With every photo that we have, I can look back and know that those memories will forever be there for us to treasure. Angela is DA BOMB. Hire her. You will not regret it!

Chiqui

Sent on 11/02/2011

Angela is truly an artist. She captured our wedding in Montauk in all the subtle details that made it a unique experience. She was painstakingly organized and knowledgeable about how best to achieve our vision. She made it all work in our budget and I cannot emphasize how amazing the results were. She captured precious moments in delicate detail that my wife and I hadn't really noticed until we were going through the images. I would recommend her highly for any event that you would like to preserve in painterly detail. My wife and I are kind of obsessed with her work now so we cannot recommend her enough. AC rocks!

Raven D.

Sent on 09/26/2011

Angela Cappetta shot our friend's wedding and we loved her so much we booked her for our own. Booking Angela was the best decision! I did a lot of the wedding on a budget but I definitely wanted to splurge on the photographs. Even though I was ready to "splurge" when I spoke to Angela she was very accommodating with my budget. The quality of Angela's work is truly amazing. She shoots only in film and develops the pics herself, which is so much more work and more impressive than just shooting digital like 98% of the wedding photographers out there. She really knows how to capture the action, and each picture really does tell a story. If you are looking for a photographer that will capture the fun, love, and excitement of your wedding day then choose Angela. If you only want standard posed pics then she should not be your choice. But if you do book her you will not be disappointed.

Donnamarie

Sent on 12/01/2010

Screw traditional, cookie-cutter, boring "everyone look at me and smile!" wedding photography. These pictures capture moments and emotions that are lost in standard wedding fare. Angela is an artistic genius and her eye is phenominal. Not to mention that she is an absolute riot and a dream to work with. You're a fool *not* to hire her!! I'll send you my wedding pics if you don't believe me (missingdm@gmail.com). She is one of the only expenses we splurged on and she was worth every penny!
Are you interested?
Send a message